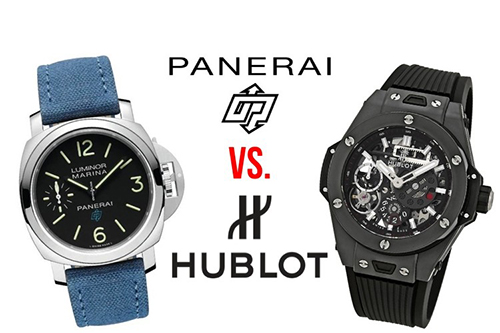 Panerai and Hublot are two excellent examples of luxury watch brands. When it comes to style, build, and overall quality – a top-tier luxury timepiece must exceed all expectations. An interesting fact about these two well-known brands is they have "Italian blood" coursing within the sophisticated watch calibres. Panerai is a watch brand that was founded in Italy, while Hublot maybe a Swiss brand but its founder was Italian. Also, Hublot is relatively new, but it has managed to evolve and grow impressively. Now, we are here to find out how a veteran, Panerai, can match up to the new generation of watchmakers – in this instance, Hublot.
Can Panerai stave off the young and hungry challenger or will Hublot be able to seize the lofty ranking that Panerai has enjoyed for decades? To find out, we will be grabbing two best-sellers from each and see how they compare to each other. Spoiler alert: prepare to be introduced to some stunning timepieces down below.
Panerai Brand Overview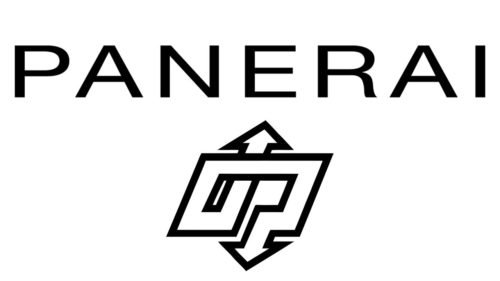 Panerai, or Officine Panerai, was founded in Florence, Italy back in 1860. The company didn't start as a watchmaker, though. Panerai was initially a watch shop and watch showroom. The company first began making waves when they landed a contract to become the Royal Italian Navy's official supplier of timekeeping instruments. During the Second World War, Panerai ramped up their production for the Italian military. They primarily developed dive watches for the army's frogmen or combat divers. Afterward, Panerai utilized the experience they gained during this period to establish high-level dive watches that have become the cornerstone of the company to this day.
When it comes to diving watches, you can expect Panerai to be one of the most sought-after brands in this category. Their dive watch build and design are proven and tested during one of the most tumultuous times in human history. A look at Panerai's dive watches will highlight some of the elements that made the brand highly recommended within diver circles. From the design of the cases to the luminous dials and hands, Panerai timepieces are designed for underwater use.
Panerai also incorporated two types of watch luminescent technologies which they patented as well; these are the radium-based and the tritium-based luminous substances. This also led to the development of Panerai's flagship watch models: the Radiomir which incorporated the radium-based luminescent material that debuted in 1916 and the tritium-based Luminor watches which was unveiled in 1949. Interestingly, it wasn't until the 90s when Panerai started manufacturing watches for the general public. They hit the ground running as their first offering was outstanding Luminor series.
As of this writing, Panerai is under the Richemont Group and is known as one of the top luxury watch brands in the industry. Panerai watches are robust and exude the timeless classic aesthetic. While their timepiece variations appear to be limited, each of their watch entry is backed with decades of impeccable watch craftsmanship that were honed and perfected.
Hublot Brand Overview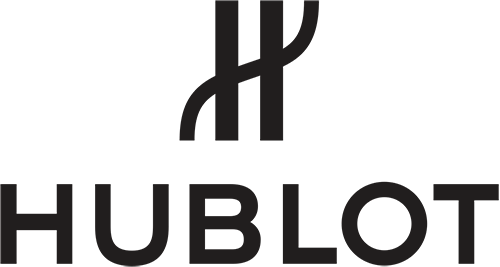 Hublot is a Swiss-based watch company that was founded in 1980 by Italian watchmaker, Carlo Crocco. The brand is relatively new, but its innovative watch designs helped propel the brand to greater heights within just a short period in the market. That achievement in itself is commendable and worthy of praise. One of Hublot's biggest draw is with their highly experimental timepiece construction. Hublot is known for utilizing a broad spectrum of materials from metals, ceramic, rubber, fabric, and leather. Because of the brand's openness to experiment with their build, Hublot also has a reputation for having the most unique looking watches in the market today.
Hublot's goal of innovating the industry first came to fruition when they unveiled the first rubber watch strap. Recently, Hublot also introduced the watch market to the "King Gold" alloy, which became the brand's signature calling card. Though relatively young in the industry, the family-owned Hublot managed to climb the ranks fairly quickly. The fact that celebrities and several members of European royalty are fans of the Swiss-brand undoubtedly helped increase Hublot's prestige.
What makes Hublot timepieces quite interesting is due to the brand's focus on crafting stylish yet highly practical models. Their unique rubber strap is a prime example of this trait as the developers within the company wanted a material that is extremely resistant to breakage, flexible, and does not come with the usual chemical rubber smell. It took Hublot three years to develop a rubber material that fits all three of those requirements which even has a subtle vanilla scent to it.
While Hublot enjoyed a reasonably successful run, the brand did see its shine somewhat fading during the 2000s. The company found its second wind when Jean-Claude Biver became the CEO in 2004. Hublot was reenergized under this new leadership and saw another boom in sales thanks to the brand's new tagline and focus on developing unique and innovative timepieces. This was also the era where Hublot unveiled their popular and best-selling "Big Bang" watch line. Nowadays, Hublot is part of the conglomerate LMVH alongside other famous and longstanding Swiss brands like TAG Heuer.
Panerai and Hublot Watch Comparisons
Chronograph Watches:
Panerai Luminor Chrono Monopulsante 8-Days GMT Review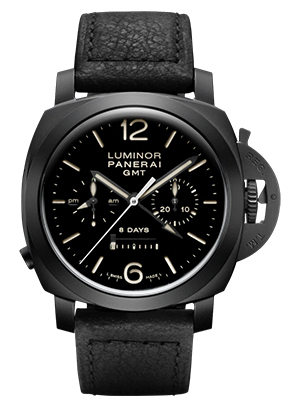 The Luminor Chrono Monopulsante (model# PAM00317) is an impressive timepiece that incorporates Panerai's strengths into one stylish, sleek, and modern build. The 44mm case material is made from black ceramic which gives the watch a right level of luxury and prestige. It also features sapphire crystal glass which is both durable and scratch-resistant. The overall construction of the Chrono Monopulsante can be considered unassuming.
The PAM00317 is generally wholly 'contained' in regard to its functionality. Panerai goes by the book with the Chrono Monopulsante's features. We also see hints of Panerai's history in dive watches as the black dial with luminous white markers and hands are designed to be naturally easy to read. As for the sub-dials, the Monopulsante displays a 24-hour indicator, a minute counter, and a power reserve.
The Chrono Monopulsante utilizes a calibre P.2004 manual winding 29-jewel movement that also comes with an impressive 192-hours of power reserve. If you want to see a perfect example of what Panerai can offer when it comes to horology, look no further than their Luminor watch series.
Hublot Classic Aerofusion Titanium Chronograph Review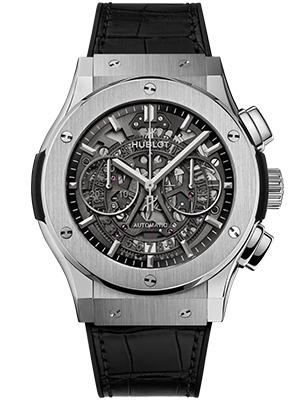 With its robust and modern build, the Hublot Aerofusion Titanium certainly hits the bullseye when it comes to style. With its 'full-metal' 45mm tank-like appearance, you could be forgiven for expecting this Hublot chronograph watch to be considerably heavy. Fortunately, Hublot considered this during the planning stages and opted to utilize titanium as it's the primary material for the case. Of course, titanium is slightly less sturdy than stainless steel, but it balances it out with its significantly lighter weight.
The dial design takes a skeletal approach while the titanium case is polished with a satin finish to complete the premium-grade appeal. The strap combines alligator leather and rubber to give it more durability, flexibility, and comfort while looking quite lovely. As for what makes this timepiece tick, it uses a HUB1155 self-winding chronometer movement and analog dial display. The calibre also provides the watch with a reliable 42-hours of power reserve.
The Hublot Aerofusion Chronograph radiates an air of confidence and sophistication which is further amplified by its metallic design. Fortunately, even with its rather bulky appearance, it is one of the most comfortable timepieces to wear and is deceptively light.
Mechanical Watches:
Panerai Luminor Base Logo 44mm PAM0073 Review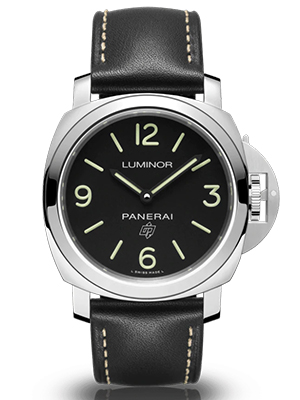 The iconic Panerai Luminor Base Logo is a must-have for any watch enthusiast and collector. The classic build of the PAM0073 model pays homage to the first-gen Luminor watches while infusing and updating it with modern watch technologies to keep the watch relevant. The case is made from durable brushed stainless steel and measures in at 44mm.
The Luminor Base most certainly did not waste any time and resources with impractical bells and whistles. The PAM0073 is a solid functional watch rooted in tradition but sharpens said traditional structure to near perfection. Within the PAM0073's sturdy case lies a P.6000 calibre with the 19-jewel build. The watch calibre also clocks at 21,600VPH.
Other notable features that enhance the Luminor Base Logo's class includes the Incabloc anti-shock technology and decent 100-meter water resistance. There is also the outstanding 3-day power reserve that the P.6000 calibre provides. Simple, reliable, and premium-grade quality structure – just what you would expect from a Panerai timepiece.
Hublot One Click Calavera Catrina King Gold Review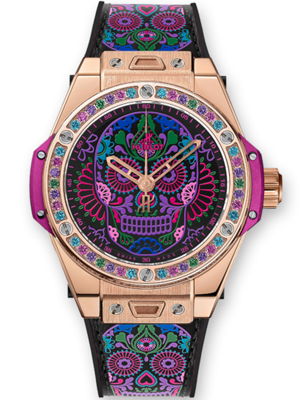 This is what Hublot is all about. It almost seems like the company has decided that the timepiece is their canvas to make a work of art. As you can see, this is a complete deviation from Panerai's entry which leans towards the more constrained and conservative aesthetic. This choice is on purpose to help show you the contrasting styles that both brands apply to their watches. Hublot is all about making art and nowhere is that currently most visible than in the Calavera Catrina King Gold.
Taking inspiration from the vibrant Day of the Dead celebration in Mexico, the Hublot Calavera Catarina is a hyper-colorful timepiece that is designed to catch everyone's attention. The Mexican Skull design displayed prominently on the dial is quite stunning. What's more, is that this Hublot timepiece is limited-edition. How limited, you ask? How about only fifty models were manufactured and released to the market. That's something you can brag about.
Now, enough with the pleasantries with the Calavera Catarina's aesthetic – how does it perform? Quite well. The timepiece uses the Caliber HUB1710 self-winding mechanical movement with analog display. The calibre provides up to 50-hours of power reserve. This is simply a visual feast for the eyes that provides top-notch precision and reliability. The Hublot Calavera Catarina is style and substance combined.
Conclusion: Panerai and Hublot – Which is Better?
Panerai is a longstanding and well-respected watch brand with a solid track record and impeccable prestige in its name and iconic dive watches. While Hublot is relatively new, its fantastic looking timepiece are eye-catching and unique. In terms of style and variety, Hublot takes the proverbial cake. However, if you want a luxury watch that is reliable and comes with a top-notch build, you can't go wrong with Panerai.
Again, this is subjective whether you prefer a low-key and professional wristwatch (Panerai) or a bombastic fashion statement timepiece (Hublot).
One obvious point about all of the watches mentioned is the price tag. If you like the look of either of these brands but can't stomach the investment, you could start off with an affordable alternative Panerai or a Hublot Big Bang Hommage watch. While these watches have nowhere near the quality, there are some options that give you the basic aesthetic of these iconic watches a fraction of the cost.