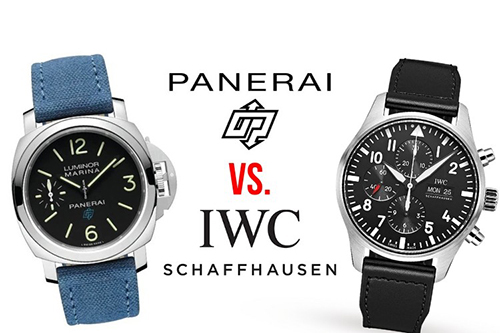 Panerai and IWC have made their mark industry with their highly innovative and top-tier quality craftsmanship in horology. Both are also world-renowned as high-end luxury watch brands. Panerai is an Italian watch brand that has built a reputation for its incredibly stylish timepieces known not only for its design but also with its build and functionality. As for IWC, they take a very similar approach when it comes to their timepieces in that IWC watches are built for function and fashion. With how similar these two watch brands are, it goes without saying how interesting this comparison piece will be.
Are Panerai and IWC cut from the same cloth and are equal beat for a beat? Or do the two watchmakers have something up their sleeves that can significantly elevate their brand from the other? There is only one way to find out, so let's get to it.
Panerai Brand Overview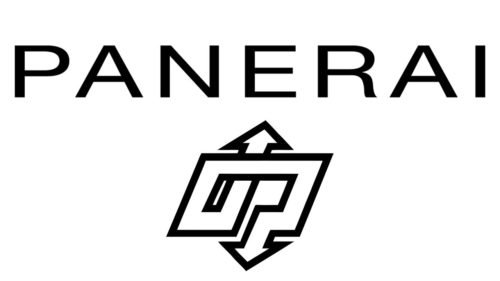 The Officine Panerai, or most commonly known as just Panerai, is an Italian watch brand founded in 1860 by Giovanni Panerai. The company started as a simple little watch shop near the famous Ponte Alle Grazie bridge in Florence, Italy. Panerai wasn't just a watch shop though as it was also used as a watch showroom and workshop. It also became the first watchmaking school in Florence, Italy making it a vital part of horology in the country. That, in itself, is an impressive achievement that only a select few can claim.
In 1890, Panerai shifted their central operation hub to Piazza San Giovanni. Soon after, the company saw Guido Panerai, the grandchild of Giovanni Panera, take the helm of the company. Guido Panerai planned to further develop the company's repertoire with the Orologeria Svizzera brand expansion. This expansion leads to the watch company landing a partnership with the Royal Italian Navy. This began when Panerai introduced radium-based gunsights. This, in turn, leads to their iconic Panerai Radiomir watch series.
Panerai is also well-known for its excellent collaborative timepieces such as the Panerai Granturismo and the Scuderia which they developed in partnership with Ferrari. The company continued its growth throughout the decades with its reputation only seen to further rise through the ranks. By 1997, Richemont S.A., then known as the Vendome Group, purchased Panerai.
After the Richemont S.A. acquisition, Panerai's main headquarters was moved to Geneva, Switzerland. Even though the monumental shift the company is going through, Panerai maintained the overall quality of their timepiece. They soon achieved another milestone when they started developing their in-house watch movements. Also, Panerai's desire to innovate and change the landscape of watchmaking was still pretty much intact. As seen from their most recent innovative timepiece, the Carbotech, it is pretty clear that Panerai hasn't lost its touch.
IWC Brand Overview


Founded back in 1868, the International Watch Company or IWC comes with a rich and illustrious history within the watch industry. Similar to Panerai, though, IWC does not let tradition uproot their mission in innovation. A glance into IWC's long and storied history will show a connecting thread throughout each era, that is, in the form of adapting to the ever-changing trends of the current period.
What's interesting about IWC is how it approaches watchmaking. Indeed, they are a Swiss-based company; however, their approach to the business is more akin to the American style with a far daring strategy than the more conservative form of most Swiss watch brands at the time. They also did not restrict themselves to a specific watch category as they have entries to six watch type markets. IWC offers everything from dress watches to dive watches and almost everything in between.
IWC initially sold pocket watches and managed to place themselves firmly as one of the top watch manufacturers. However, IWC had difficulty breaking that glass ceiling that will propel them to the top-tier names of the industry. During the rise of wristwatches, IWC has yet to discover that special ingredient that will separate their brand from the rest. That is, until the 1930s when IWC finally found that missing spark in their timepieces. This was also the period when IWC started releasing the first models in their flagship watch series. Such as their pilot watches that have a sub-category of its own (Classic, Spitfire, Le Petit Prince, Top gun, and Antoine de Saint Exupery).
Panerai and IWC Watch Comparisons
Dive Watches:
Panerai Submersible Chrono 47mm Review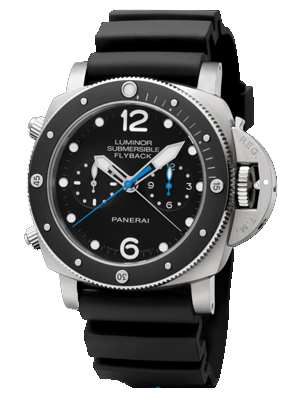 At 47mm the Panerai Submersible Chrono (model #PAM00615) is undoubtedly a large wristwatch. While its size and appearance may give you the perception of a tank-like and heavy timepiece, the truth is far from that notion. The Submersible Chrono 47mm is surprisingly lightweight. This is due to its use of a titanium case. While titanium won't be able to match stainless steel material's durability, it is still relatively robust at almost half the weight. This is an excellent trade-off considering the level of quality that the Submersible Chrono has to offer.
The design of this Panerai dive watch is also what helps separate it from the pack. The visually striking case features a semi-enclosed crown. The titanium case is also coated with corrosion-resistant finish making it a very reliable timepiece for those who are regularly in the open seas.
Within the impressive-looking case is the calibre P.9100 automatic mechanical which uses a 37-jewel construction. The watch movement also gives the Submersible Chrono an exceptional three-day power reserve. You don't need to worry about it stopping even if you forget to wear it over the weekend. As for the dial, the design focuses on legibility which it manages to deliver amicably.
Finally, as a dive watch, the Panerai Submersible Chrono needs to exhibit excellence in one particular category: water resistance. You will be glad to hear that the Submersible Chrono not only looks the part; it also acts the part with its 30ATM (300-meters) water resistance. This guarantees that you can bring the Submersible Chrono with you for swimming and diving.
IWC Aquatimer Black Dial Black Rubber Review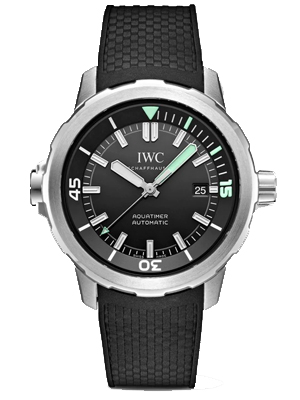 The IWC Aquatimer Automatic is a rugged dive watch that comes with advanced technical improvements that will undoubtedly make it a hit with swimmers and divers. One of its most important aesthetic elements is the bezel design that feels more refined with its sliding grip mechanism design. The build of the Aquameter Automatic allows it to have substantial 300-meter water resistance, more than enough for swimming and some recreational diving.
The IWC Aquatimer Automatic utilizes a calibre 30120 mechanical movement with its analog dial display. The watch movement packs a power reserve of up to 42-hours. The watch movement here is incredibly reliable and precise with its 28,800VPH, and it incorporates 21-jewels. Other notable features in the IWC Aquatimer Automatic includes its anti-magnetism and shock-proof construction. This dive watch also utilizes luminous finish on strategic places on the dial to ensure that the wearer gets the right information wherever and whenever they need it.
GMT Watches:
Panerai Radiomir GMT Power Reserve 45mm Review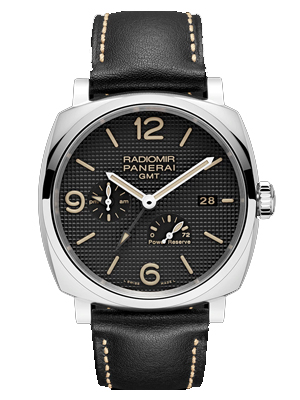 The iconic Radiomir watch series makes an appearance in the GMT arena with a sublime Radiomir GMT Power Reserve 45mm watch (model# PAM00628). An exciting feature here is the power gauge display which is located over on the bottom sub-dial. With this handy little feature, wearers will be able to track the Radiomir GMT's battery levels easily. Thus, eliminating the need to estimate how much juice is inside your calibre P.4002 automatic movement.
The dial also comes with a date display on the 3 o'clock position and GMT 24-hour indicators on the left sub-dial. The polished stainless-steel case also gives this watch a striking appeal with its smooth equilateral shape. Additionally, Panerai did not skimp on other components as shown by its use of durable and scratch-resistant sapphire crystal window.
Another impressive aspect of the Radiomir GMT Power Reserve is with its moniker as the watch movement gives it an astounding three days of power reserve. Again, if you found yourself not wearing it over the weekend, you needn't worry about it stopping within that period. The Panerai Radiomir GMT is an impressive timepiece that exudes a professional and sophisticated charm, perfect for formal gatherings and business meetings where first impressions are essential.
IWC Pilot's Watch UTC Spitfire Edition MJ271 Review
The IWC Pilot's Watch UTC Spitfire Edition (model#MJ271) brings a sense of class to this proceeding. The bronze case gives the UTC Spitfire Edition timepiece a vintage touch that has a broad appeal. Add to the fact that the case is quite sleek and slim with its 41mm case diameter. IWC is also known for developing its in-house movements, watch movements that are highly rated in the industry.
With the Pilot Watch UTC Spitfire, IWC incorporated their calibre 82710 automatic self-winding watch movement with analog display. This watch mechanism also packs an impressive 60-hours of reserved power and clocks at a fantastic 28,800VPH. The watch mechanism inside also utilizes a 22-jewel build.
As for the critical features of this watch, it comes with all the essential elements needed for a reliable pilot or GMT watch such as anti-magnetic build. The dial also features a second local time display and a date display. The construction of the UTC Spitfire Edition also ensures that it can withstand the varying air pressure that is common in aviation. The dial window is made from sapphire crystal which is a material praised for its scratch-resistance and durability.
Conclusion: Panerai and IWC – Which is Better?
Both Panerai and IWC are comparable in terms of watchmaking history, and quality of watch movements features, and precision.
However, the final decision is very subjective to the individual. Budget will also be a major factor between these two brands – as many Panerai models sell double the price or more compared to IWC.
With its historical connection to the Italian Navy, Panerai is known for its dive watches The brands submersible watches and robust tank-like dials on the Radiomir and Luminor are now iconic.
As for IWC, the brand is known for its impressive level of watch variety and dress watches such as the Portugieser or the Portofino lines have a classy and vintage dress watch aesthetic that are highly regarded.