Tag Heuer is mostly known for its top-notch sports watch while Luminox primarily enjoys a good spot within the outdoor community. Two vastly different approaches with their business model with vital specific points of similarities. Needless to say, a comparison between the two is quite fascinating, seeing as both can't be more different from one another. Both Tag Heuer and Luminox have different strengths and weaknesses, as well.
Of course, we also need to factor in the reputation of each brand. Tag Heuer is a luxury watch brand through and through, with timepieces that cost in the thousands. Luminox is a far more affordable brand, but you can still find Luminox watches that fall in the ballpark of a thousand dollars. So, which one offers the better deal? Let us find out.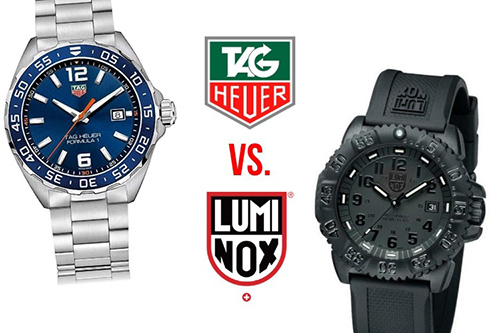 Tag Heuer Brand Overview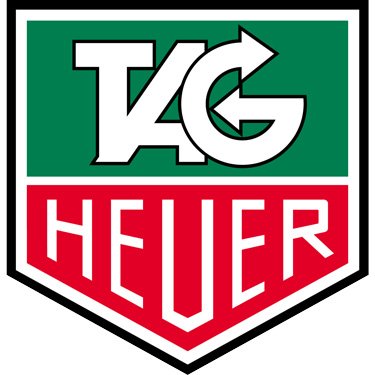 Founded back in 1860 by Edouard Heuer, Tag Heuer was initially known only as of the Heuer Watch Company. During its early years, Heuer focused on building a reputation within the sports industry. When Heuer debuted their Mikrograph timepiece, it pushed the brand to the forefront of extremely accurate sports watches. The Mikrograph also helped Heuer land a deal as the official timekeeper of the 1920s Olympics.
Their focus on delivering impeccable sports watch hit another milestone with the release of the Heuer Autavia. The Heuer Autavia was the first timepiece explicitly designed to be installed on car dashboards. Also, the Autavia held excellent scores in regards to its precision in tracking time to the millisecond, making it a favorite in racing circuits.
Another noteworthy milestone in Tag Heuer's storied history came during the Mercury Friendship 7 Mission that saw astronaut, John Glenn, wearing a Heuer 2951A when he successfully orbited the planet three times. It wasn't until 1985 when the TAG Group Holdings purchased Heuer Watch Company, thus, becoming Tag Heuer. Tag Heuer also purchased the watch brand LVMH in 1999, further bolstering its watchmaking capability and quality.
Luminox Brand Overview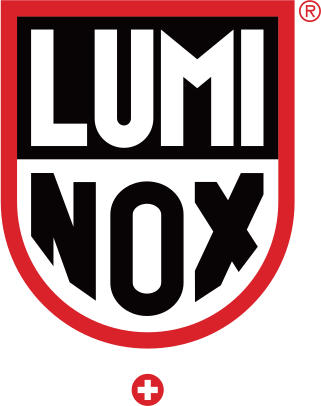 Luminox is a relatively new watch brand that was just founded back in 1989. Founder Barry Cohen wanted an outdoor and sports watch that provides absolute legibility at all times. Hence, the name Luminox which is a combination of Latin words: "Lumi", which means "light", and "nox", which translates to "night". Luminox forged a path within the market with its proprietary Luminox Light Technology which was designed for both low-light and no-light environments.
Luminox emphasis on crafting robust and reliable timepieces helped land the company an official partnership with the US Navy Seals shortly after the company's debut. Of course, this partnership didn't just materialize out of thin air. Luminox was among several other brands that went through a rigorous testing phase and were the only brand to make it to the final stage. That is testament enough to Luminox watches reliability and durability.
It wasn't until 1994 when Luminox gained worldwide acclaim when they unveiled the Luminox 2001 Original Navy Seal. The brilliant design, durability, reliability, and precision of this outdoor tactical watch made Luminox into one of the must-have timepieces for military and outdoor use. The Luminox 2001 Original Navy Seal was such a hit that even police and military from other countries took notice.
Nowadays, Luminox is one of the premier brands for both tactical/military/police and outdoor use. Luminox watches has proven itself time and time again in delivering impeccable durability that can handle anything from extreme weather conditions to rough and tumble shocks and impacts. For more details on the brand, see our Luminox overview here.
Tag Heuer and Luminox Watch Comparisons
Chronograph Watches:
Tag Heuer Formula 1 Chronograph Review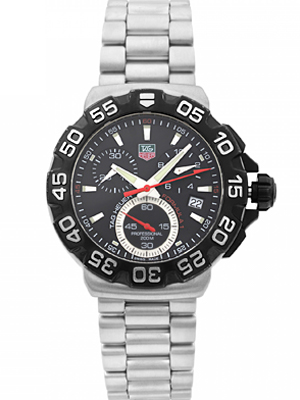 $US Price | See on eBay | UK Price
Tag Heuer has been a staple in the sports industry for decades, particularly in the racing circuit. This comes as to no surprise since most of their famous watch lines all take inspiration from the sport of race car driving, for example, the Tag Heuer Formula 1 Chronograph. Tag Heuer has revolutionized and innovated the world of sports circuit timekeeping more than once. That in itself is a testament to the quality of timepiece they can bring to the table.
This extreme level of precision is present and accounted for in Tag Heuer's Formula 1 watch series. With a fantastic and rugged-looking stainless-steel design, Formula 1 already nails every facet of what it means to 'look the part', in regards to being a sports watch. Furthermore, the inclusion of the chronograph further heightens the overall functionality of this Formula 1 watch model.
This iteration of the Formula 1 watch series comes at a solid 41mm and features brushed stainless-steel case. The back case also features a checkered flag design that showcases its race sports root proudly. While the case is made from durable stainless steel, the unidirectional bezel is made from sturdy yet lightweight titanium carbide material with scratch-resistant finish.
Inside the case is the Tag Heuer Swiss quartz movement that powers the dial and sub-dials. Speaking of the sub-dials, the Formula 1 Chronograph features three that tracks minutes (30), seconds (60), and 1/10th of a second. There is also a date display located in between the 3 and 4 o'clock position. As a bonus, this chronograph sports watch also has a 200-meter water resistance making it ideal for some light swimming and scuba diving activities.
Luminox 3182 Chronograph Quartz Review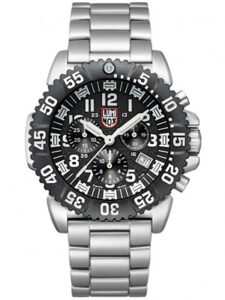 With its black and stainless-steel design, the Luminox 3182 certainly took notes from timeless classic watch aesthetics. Of course, Luminox won't be satisfied with just taking a classic design and slapping their name on it. The Luminox 3182 may look like your traditional timepiece, but in truth, it comes with some outstanding features and functionalities that pushes it beyond the typical.
This chronograph timepiece provides excellent accuracy in keeping time that it can double as a reliable sport watch as well. The attractive polished stainless-steel design gives this that sophisticated charm that makes it blend well with any attire, even formal ones. The watch itself is relatively large with a 54mm diameter case but still manages to appear quite sleek considering the amount of detail a chronograph watch displays within its dial.
The crown utilizes two guards that are subtly placed on both sides of the crown, which helps it blend nicely to the timepiece's overall design. The black dial is also accentuated by the gray index hour markers and crystal white hands which complement each other nicely. Besides the three sub-dials and durable mineral crystal window, the Luminox 3182 also offers up to 200-meters of water resistance.
Dive Watches:
Tag Heuer Aquaracer Review
$US Price | See on eBay | UK Price
The Tag Heuer Aquaracer proves that the watchmaker's strengths not only lie on the ground with its impeccable sports watches but also underwater as well. The Aquaracer hits all the right notes on what makes a quality dive watch. The dial features luminous markers and hands, which is coated with the SuperLuminova technology for optimum visibility, even in a low-light environment.
As for its underwater capabilities, the Tag Heuer Aquaracer is designed to withstand up to 300-meters of submersion. This is more than enough to cover most water activities like swimming, snorkeling, and some light scuba diving. Simply put, the Tag Heuer Aquaracer is an extremely efficient dive watch that effortlessly surpasses most of its competitors.
As for other key aspects about the Aquaracer, it utilizes the Caliber 5 automatic movement which clocks in an impressive 28,800VPH and packs up to 38-hours of power reserve. The case also comes with a double gasket design which ensures that what's outside, stays outside. The polished stainless-steel case also measures in at 41mm, which is considered as a "sweet spot" that caters to both male and female watch enthusiasts.
Luminox 1503 Deep Dive Review
With a name like Deep Diver, it is understandable to expect great things – and greatness it delivered. The Luminox Deep Dive 1500 Series is an excellent watch not only for swimmers but also for professional divers as well. The Luminox Deep Dive also looks the part with its functional and practical design that fits alongside your diving gear.
First of all, let us get to the meat of the matter. The Luminox Deep Diver 1500 Series comes with an ISO 6425 certification. For those familiar with dive watches, this has significant meaning as it guarantees that the watch will be able to accommodate all types of water activities from swimming to some deep-sea scuba diving.
The Luminox Deep Dive 1503 is designed to provide water-resistance of up to 500-meters which meets the minimum requirements for scuba diving gear. In terms of style aptitude, the Luminox Deep Dive 1500 Series takes on a sportier approach and comes in several color variations such as blue, white, yellow, and orange.
All Luminox Deep Dive Series watches also feature a unique signature Bezel Locking System which ensures that the bezel stays in position at all times. As for its construction, all Deep Dive watches use PVD coated stainless-steel case that measures at 44mm in diameter. The Deep Dive Series also incorporates Swiss-automatic movement with its analog display.
Under the hood is an automatic helium escape valve that helps it achieve its outstanding water resistance capability. As for visibility underwater, the hands and markers take full advantage of the tritium tube technology, which gives the top-notch timepiece lamination.
Conclusion: Tag Heuer vs Luminox – Which is Better?
Choosing between which is better will depend on specific factors. When it comes to style and luxury, Tag Heuer has a definite edge over the more rugged charm of Luminox watches. Tag Heuer also has far better resale value in the market, if that is something that you consider. However, in terms of durability, – Luminox is far superior. Luminox watches are designed to take a pounding and are perfect for outdoor use. Luminox is also considerably more affordable.
Overall, if you are looking for a dress watch to match your attire and turn some heads, Tag Heuer is the right choice. If you are an adventurous and thrill-seeking individual, Luminox will be able to match your exciting lifestyle beat for beat.