In terms of aesthetics and price, Tag Heuer and Movado could not be more different from each other. While Tag Heuer primarily dabbles in a traditional design with a sporty flair, Movado aims to experiment and innovate with their minimalistic timepieces. Besides the vast difference in aesthetics, what other aspects separate Tag Heuer and Movado? Which delivers the better watch movement? Which brand incorporates more features into their timepiece?
As a fan of both brands, this is quite a fun and exciting match up as we will be highlighting the critical aspects of these two well-known Swiss watch brands that made me fall in love with their timepieces.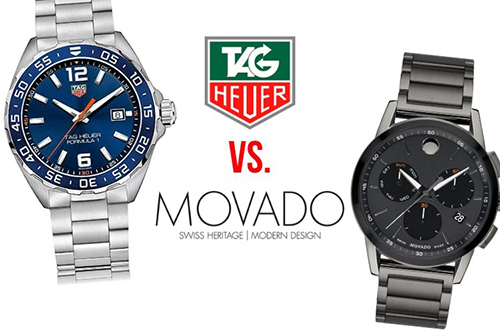 Tag Heuer Brand Overview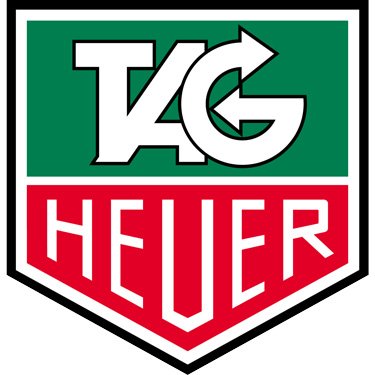 Founded way back in 1860, Tag Heuer, then known as the Heuer Watch Company, hit the ground running. Their impeccable list of premium-grade sports watch was undeniable. With their excellence in execution, Heuer Watch Company quickly rose the ranks. Their timepieces' high-level of precision helped the company get a foot into the lucrative sports world. Building a reputation and connection within this industry helped give the Heuer Watch Company a unique mystique to their brand.
Around the 1900s, Heuer Watch Company unveiled the Mikrograph watch that showcased the level of precision their watches can achieve. Its ability to measure up to 1/100th of a second and clocking in an outstanding 360,000VPH made sure that a particular industry took notice (i.e. sports). The Mikrograph helped land Heuer a partnership with the Olympics committee and made the watch brand the official timekeeper of the 1920s Olympics.
By the 1920s, Heuer further planted their roots within the sports industry when they debuted the Heuer Autavia. What made this particular watch special is that it is the first dashboard stopwatch developed for use by racecar drivers. Around the 1980s, Heuer Watch Company was purchased by the Tag Group Holdings. It was around this time that Tag Heuer was born. To this day, Tag Heuer continues to soar as one of the flagship Swiss watch brands in the market today.
Movado Brand Overview


The Swiss watch brand Movado was founded back in 1881. The company was initially known as the LAI Ditescheim & Freres SA – yes, quite a mouthful, I know. The company might have been aware of this as by 1905; they changed their name to the much catchier and easier to pronounce – Movado. A perfect name for a watch brand, might I add, as Movado translates to "always in motion". Movado primarily stayed within the European market through the 1900s.
It wasn't until 1983 when the North American Watch Corporation purchased Movado that the Swiss-brand finally managed to enter the U.S. market. Movado quickly found a spot for itself in the international market due to its signature modern minimalist design, primarily with its flagship Museum watch line. The Movado Museum is the epitome of minimalistic finesse; its defining feature is the so-called Movado dot which is the only prominent feature in its clean and pristine looking dial.
Movado has also purchased MVMT which is one of the more promising new watchmakers in the industry today. What this means is that expect more great things from Movado down the line. In terms of unique style, Movado is definitely on a league of its own.
Tag Heuer and Movado Watch Comparisons
Dress Watches:
Tag Heuer Swiss Quartz Review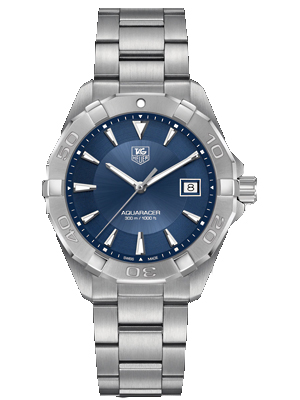 $US Price | See on eBay | UK Price
The Tag Heuer Swiss Quartz Watch is oozing with style with its traditional aesthetic with some modern twists thrown into the pot. With its dodecagon-shaped stainless-steel casing and bracelet topped off with a beautiful blue dial, this particular dress watch takes a more hard-edged approach to its design that gives it a unique no-nonsense appeal.
The polished index hour markers and hands give the blue-toned dial perfect contrast. There is also a date display located at the 3 o'clock position. Finally, it also includes a rotating unidirectional bezel. Also, the Tag Heuer Swiss Quartz Watch offers up to 300-meters of water resistance. That's more than enough to cover most water activities except for deep-sea scuba diving.
As the name implies, this particular Tag Heuer timepiece utilizes Swiss quartz movement with analog display. The 40mm diameter stainless-steel case strikes a delicate balance in size and weight, making this dress watch suitable for both men and women. The stunning blue dial is also well-protected by a sapphire crystal window which is not only durable but extremely scratch-resistant as well.
Overall, the sophisticated charm of this Tag Heuer watch makes it a lovely addition to your attire. It can easily accentuate your style whether you like to wing it with a casual shirt or dress to impress with a three-piece suit.
Movado Museum Core Review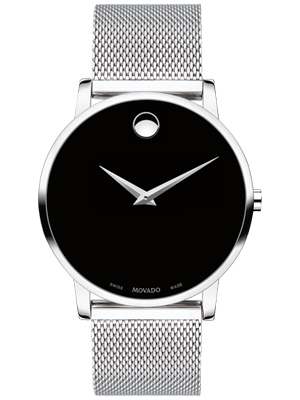 $US Price | See on eBay | UK Price
Movado's Museum watch line is one of the most visually striking and distinct timepieces in the market today. If you are looking for a minimalist yet incredibly stylish clock, you owe it to yourself to check out the highly acclaimed Movado Museum series. The Movado Museum's signature design revolves around the neatness of the minimalist aesthetics, and it does so with finesse.
The Movado Museum features a simple design, the signature Movado Dot which is prominently on display and located on the 12 o'clock position. The Movado Museum is an icon in the industry; it is also the first timepiece ever to be inducted into the Museum of Modern Arts in New York City. Gives it the moniker, Museum, that much more credence.
Nowadays, the Movado Museum still features the same signature design. Surprisingly enough, each iteration of the Movado Museum is unique in its way. Here, for instance, we have a 40mm stainless steel case that features a mesh bracelet to give it an added flair of luxury and sophistication. The dial, as expected, is mostly devoid of any display other than the hands and the signature Movado Dot.
Within the sleek and straightforward aesthetic lies a Swiss quartz movement with the analog display. The dial is encased inside a sapphire crystal window which is both robust and scratch-resistant. People know what they are getting into when they buy a Movado Museum. It is a perfect complement for the modern watch enthusiast.
Smartwatches:
Tag Heuer Connected Modular 41 Review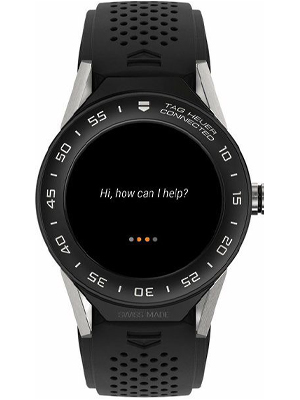 $US Price | See on eBay | UK Price
Tag Heuer is one of the few watch brands that have tapped into and experimented with modern technology in their timepiece designs. Enter, the Tag Heuer Connected Modular 41, which is a sleek looking smartwatch that comes with the brand's signature premium-grade construction. Compared to most smartwatches that feature hard plastic casings, the Tag Heuer Connected Modular features a lightweight titanium case measuring in at 41mm in diameter.
It also incorporates sapphire crystal glass on top of its AMOLED multi-touch digital dial for enhanced protection. Also, the dial window uses anti-glare coating, which is crucial since digital displays tend to produce glares in broad daylight. This smartwatch from Tag Heuer is packed with features and is compatible with Android (4.4) and iOS (ver. 9) smartphones. It features Google Wear as its primary operating system (OS) as well.
In terms of memory, users will have up to 8GB of internal storage and 1GB of RAM. Some of the notable features that wearers can look forward to including NFC payment, GPS, accelerometer, gyroscope, microphone, and a tilt detection feature. Overall, this is an impressive entry from Tag Heuer, and it says a lot when a brand steep in history and tradition is willing to step out of their comfort zone. Fortunately for us, Tag Heuer hit every significant mark in regards to an authentic and functional smartwatch.
Movado Connect 2.0 Review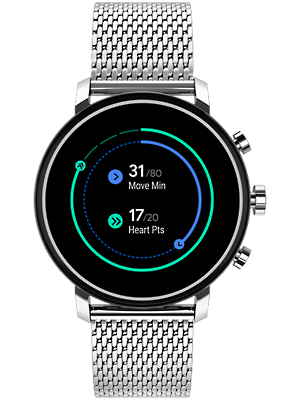 $US Price | See on eBay | UK Price
This isn't Movado's first entry into the smartwatch arena, and judging with how well-received their line of smartwatches are – this definitely won't be the last. Not by a long shot. While Movado is primarily known for their minimalistic yet incredibly stylish timepieces, they also have several entries into the high-tech smartwatch market.
The Movado Connect 2.0 comes in at a hefty 42mm black ion-plated stainless-steel case. It also utilizes a ceramic back case which further enhances its overall high-end appeal. The digital display is slightly more substantial compared to Tag Heuer's which, in regards to smartwatches, a fine line to tread. While a bigger screen is always welcome, having it too large may leave you with a bulky and cumbersome smartwatch. Overall, a 40 to 41mm case is a safe number to aim for in a smartwatch as it offers enough space for the digital display to be legible without looking like an oversized contraption on your wrist.
The Movado Connect 2.0 comes with 8GB of internal storage with 1GB of RAM and is compatible with both Bluetooth and Wi-Fi connectivity. Battery life is also on point here as it can last for up to 24 hours before running completely dry. As for features, there is a heart rate monitor, altimeter, and accelerometer built into the device, and you can also install a bunch of other apps.
Conclusion: Tag Heuer vs Movado – Which is Better?
Tag Heuer most certainly has the edge when it comes to watching mechanisms. However, Movado has more visual flair. For those who prefer a contemporary, out-of-the-box, and unconventional timepiece – Movado has some of the most visually unique watches in the market today. Tag Heuer is a more traditional watch brand whose claim to fame is with their high-precision and sporty timepieces. Choosing between the two will mostly fall on which style catches your fancy more as both brands have a solid reputation in regards to accurate and precise wristwatches.