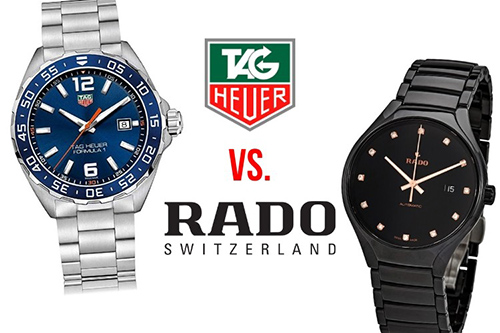 Here we have two of the most respected Swiss watchmakers in the world today. On one side, we have Tag Heuer, a world-renowned luxury watch brand best known for its high-quality and stylish sports watches.
On the other hand, Rado, a brand synonymous with innovation and cutting-edge watch technology. Needless to say, this is a highly exciting matchup between two Swiss watchmaking giants that take a vastly different approach when it comes to their timepieces.
Well, then – it is time to bring out the big guns from both brands and find out which holds the actual lead when it comes to premium-grade timepieces.
Tag Heuer Brand Overview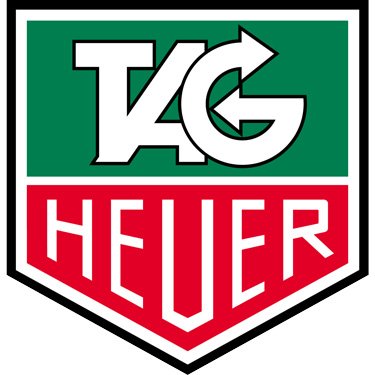 Tag Heuer didn't receive the first part of its famous name from the get-go. Back when it was founded in 1860, it was initially known as the Heuer Watch Company. Named after its founder, Edouard Heuer, the Heuer Watch Company had a solid game plan in place on how they will tackle the market – that is, with building a reputation within the lucrative sports industry. This tactic allowed Heuer to showcase the high level of precision that their timepieces can deliver. Also, since sports is a multibillion-dollar global industry, it is a superbly effective way to market themselves to the public.
Heuer Watch Company first hit its milestone in 1916 with the debut of the legendary Heuer Mikrograph. The Heuer Mikrograph is a true marvel in watch craftsmanship with its outstanding timekeeping performance. For one, it managed to clock in an astounding 360,000VPH which is ten times more accurate than the best watch movements of that era. This impeccable accuracy also made measuring 1/100th of a second easy as pie for the Mikrograph.
In hindsight, the Mikrograph became a highlight reel for Heuer – a highlight reel that was noticed by the Olympics committee. This led to Heuer Watch Company becoming one of the official timekeepers of the 1920s Olympics – a recognition that only a handful of watch brands can claim to hold. Their standing within the world of sports did not stop there, though.
Around a couple of years later, Heuer then unveiled the Autavia. The Heuer Autavia was the first watch of its kind, a timepiece designed specifically for race car drivers. The Autavia was the first dashboard timepiece with stopwatch features – a convenient watch feature for race cars drivers trying to push their skill on the race track.
Tag Heuer also earns the distinction of being part of a very exclusive club of watch brands that managed to break through the planet's atmosphere. This significant milestone came when astronaut John Glenn wore a Heuer 2951A watch during the historic Mercury Friendship 7 Mission which saw the astronaut orbit the Earth a total of three times.
By 1985, the Heuer Watch Company was officially purchased by the Tag Group Holdings and ever since became known as Tag Heuer. To this day, Tag Heuer maintains its spot as one of the best Swiss brands for sports watches, among other types of timepieces. If you are looking for nigh-flawless precision and clocks with a more adventurous and thrill-seeker vibe, Tag Heuer is the brand for you.
Rado Brand Overview



Rado is another long-standing Swiss watch brand that was founded back in 1917 in Lengnau, Switzerland. Rado was founded by brothers Ernst and Werner Fritz. The company was initially known as the Schlup & Co. and didn't change its name to Rado until 1950. About a decade later, the company managed to expand its reach in the market to over 60 countries.
It was also in the 60s when Rado first unveiled their first worldwide best-seller and "game-changer", the DiaStar 1. What made the DiaStar 1 unique is that it was the first timepiece to incorporate sapphire glass crystal material for its dial window. As we all know by now, sapphire crystal is a highly scratch-resistant material. Rado was the first to utilize this crystal's properties into watchmaking, and it has since become the standard for modern, high-quality watches.
Rado was also the first watchmaker to introduce the use of hard metal material which has also become quite common in most current high-end watches. Rado has also built a reputation as being one of the top watch manufacturers that incorporate high-tech ceramic material into their watch designs.
Around the 90s, Rado managed to once again hit a new bar in the company's storied history with what they dubbed as "The Ceramic Revolution". During this period, Rado pushed the metal to the pedal with the back-to-back release of the Rado Ceramica and the Rado Sintra. Both timepieces feature high-tech cermet and ceramic watch materials.
When it comes to unique aesthetic flair, Rado is a luxury watch brand that has mastered this art form. If you are looking for genuinely inimitable timepieces that feature the finest and deluxe builds – Rado is an excellent choice to start your search.
Tag Heuer and Rado Watch Comparisons
Chronograph Watches:
Tag Heuer Formula 1 Chronograph

The Tag Heuer Formula 1 series is one of the company's flagship timepieces and is a staple within the sports industry due to its impressive level of accuracy in timekeeping. This particular Formula 1 model takes it a step further with its chronograph features while keeping the level of precision its predecessors are known for intact.
The Formula 1 Chronograph incorporates stainless-steel case with a black finish with red accents to enhance its overall sporty appeal. The case measures in at 44mm, which is considered as the "sweet spot" by most as it will look beautiful on both men and women's wrists.
At first glance, the Formula 1 Chronograph might feel a bit cumbersome with its rather sizeable design, but that notion can't be further from the truth. The Formula 1 Chronograph watch is designed for optimum comfort. Wearing the timepiece for hours on end won't be an issue thanks to the flexible rubber straps.
As for features, the Formula 1 Chronograph comes with; you guessed it – chronograph functionalities. It comes with the standard sub-dials that displays hours, minutes, and seconds. There is also a tachymeter bezel and a date display that is located on the 3 o'clock position. The dial is encased within sapphire crystal glass window and also has an anti-glare finish for added measure. The watch's remarkable level of precision is due to its use of high-grade Swiss automatic movement with its analog dial display. Also, the build of the Formula 1 Chronograph gives it an excellent 200-meter water resistance rating. Overall, Formula 1 Chronograph is a reliable sports and chronograph watch that is as tough as they come yet still exuding confidence and style with its aesthetics.
Rado HyperChrome

Rado is known for taking chances and pushing the envelope in regards to their timepieces. One perfect example of this is with the Rado HyperChrome, which is a fantastic blend of tradition and innovation. The combination of polished emerald green-toned dial and shiny silver hands and index hour markers gives the watch a rather exotic luxurious charm. Not a surprise if you know how Rado rolls when it comes to their timepiece designs.
The Rado HyperChrome is slightly larger than the Formula 1 Chronograph with its 44.9mm diameter stainless steel case. Due to its more massive build, the HyperChrome might be too large for some, especially for women. That said. The beautiful green dial and polished silver case and bracelet is truly a sight to behold. The addition of three sub-dials that tracks and displays hours, minutes, and seconds further pushes the watch's capability past just looking pretty.
The Rado HyperChrome spared no expense during its development. This is a perfect example of a high-end luxury watch: top-tier design, top-quality materials, and top-notch build.
Dress Watches:
Tag Heuer Carrera Calibre 5 Day-Date Watch

The Tag Heuer Carrera watch line is mostly known for its superb precision and sporty aesthetics, the Calibre 5 Day-Date model, on the other hand, takes a different approach. This Carrera timepiece model features a smarter and more executive design with the Caliber 5 Day-Date watch. This makes the Tag Heuer Carrera Cal 5 excellent dress watches as well as being a reliable sports watch.
While the Carrera Calibre 5 does appear to cater to a more luxurious lifestyle, it did not drop it's signature robust build to achieve this goal. The Carrera Cal 5 is still a tough-as-nails and dependable timepiece that features all of Tag Heuer's signature qualities.
The Carrera Cal 5 also focuses on a minimalist approach with its dial, which will surely persuade the general audience as well as watch enthusiasts. The sleek aesthetic is not just skin deep though, with its 41mm polished stainless-steel case, the Carrera Cal 5 is also surprisingly compact and sexy. This timepiece uses the Tag Heuer Calibre 5 watch movement and analog dial display.
The stunning blue brushed dial gives it a more classical, almost weathered charm to it. The silver-toned hands and markers with the luminous finish are the cherry on top that completes the Carrera Cal 5's aesthetics. Additionally, the watch mechanism also provides an impressive 38-hour power reserve.
Rado Centrix Jubile Gold-Plated Stainless-Steel Watch

Simple yet strikingly elegant, the Rado Centrix Jubile is a magnificent minimalist timepiece that exudes an air of elegance and sophistication while keeping things contained. Visually, the two-toned designed with black and gold-accent is a perfect combination.
Rado's Centrix series is known for its signature use of high-tech ceramic when it comes to its build. This lends to the Centrix Jubile's lightweight and sleek design. The Centrix Jubile also comes with a 38mm case which makes it suitable for both men and women for all types of occasions from formal to casual affairs.
As for the mechanism used, it utilizes quartz self-winding automatic movement for its analog dial display. While visually innovative, Rado typically stays within the tradition in regards to the inner workings of their timepieces. Overall, the Rado Centrix Jubile delivers robust performance with a remarkable sense of style to cap things off.
Conclusion: Tag Heuer vs Rado – Which is Better?
Tag Heuer and Rado, while competing in the Swiss luxury watch market, take on two vastly different approaches when it comes to their design.
When it comes to timepiece mechanism quality (i.e. precision), Tag Heuer undoubtedly has the lead with their impeccable watch calibre movements. As for aesthetics and visual flourishes, Rado is on a league of its own. Choosing between the two brands will fall on whether you prioritize precision and reliability (Tag Heuer) or stunning aesthetics (Rado).