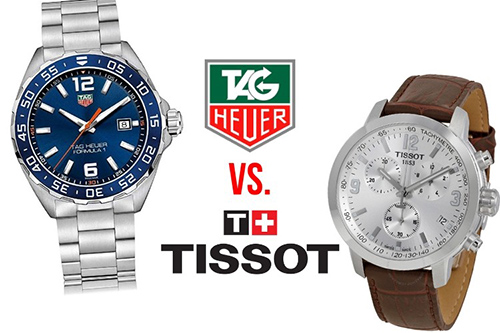 While many of our readers enjoy these brand comparisons, others have told us that they find some of these matchups very odd and even pointless.
Many watch aficionados would say that a comparison of Tag and Tissot is "apples to oranges" and that they don't even compete on the same level – so why compare them? While this is true in many regards, we think it's a useful tool for new watch buyers to get a balanced overview of the two brands and point out the main factors that separate the two – before they spend hundreds or thousands on their next watch.
If you ask a car enthusiast what watch brand is their favorite, you might get two particular answers: Tag Heuer and Tissot. Both Swiss brands are well-known within the sports industry, particularly the racing circuit. A glance at their catalog of watches will yield a veritable list of timepieces with a distinct racing car design. This is to be expected as both Tag Heuer and Tissot each have exclusive partnerships within the world of automobile sports racing.
This is as close to a mirror match as we are going to get with Tag Heuer, making this particular match up quite an exciting one. Well, then – time to find out who is the true king of racing sports watches.
Tag Heuer Brand Overview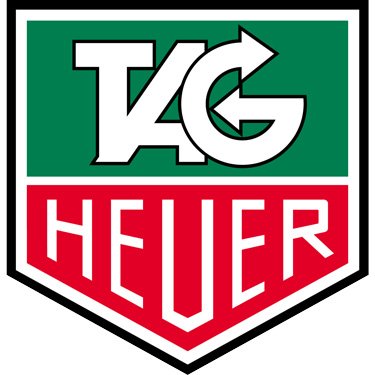 Tag Heuer is a Swiss watch company that began its operation in 1860. It was named after its founder, Edouard Heuer, and was initially named as the Heuer Watch Company. The brand quickly grew its reputation thanks to its partnership with several sports companies, specifically within the racing circuit. From the get-go, Heuer Watch Company focused on delivering top-tier precision with their timepieces. This eventually led to their partnership with the Olympics in the 1920s.
A substantial contributing factor to their signing by the Olympic committee was due to their impeccable Heuer Mikrograph watch. This timepiece went above and beyond when it came to what you would expect from a high-end timepiece. With its 360,000VPH, the Mikrograph demonstrated Heuer Watch Company's skill in crafting extremely accurate watches. In what could very well be described as a highlight reel, the Mikrograph got the attention of the Olympics committee, thus, giving Heuer a worldwide exposure to the masses.
The Mikrograph was simply a marvel during its time, and it still is today. With its top-notch mechanical movement build, it managed to measure 1/100th of a second. Also, that 360,000VPH is even more impressive when you considered that most of the best chronograph movement at the time clocked in at 36,000VPH – that's ten times more than its competitors.
Now, you might be wondering why the brand is called Tag Heuer now. They didn't make the transition up until 1985 when the Tag Group Holdings purchased the Heuer Watch Company. Once the purchase and merger were official, the company was finally renamed to Tag Heuer. Tag Heuer also purchased LVMH in 1999, further boosting its company in regards to quality watchmaking.
To this day, Tag Heuer maintains its position as one of the top luxury watch brands in the market. A feat that only a select few can proclaim.
Tissot Brand Overview



Founded relatively around the same time as Tag Heuer (about seven years earlier), Tissot is another famous Swiss watch brand that has firmly placed itself among the list of top-tier watch brands today. One of the defining aspects of Tissot that made it quite popular is its high-level of precision combined with a reasonable price tag. While still considered as a luxury watch brand, Tissot manages to tread the fine line between high-end and mid-range to give consumers a vastly more flexible number of options.
With Tissot's use of highly accurate quartz movement, the company was able to build a solid reputation within the sports industry as well, particularly in the automobile racing circuit. Tissot has formed quite a reputation within this particular sports category, primarily with F1 racing teams. Being one of the trusted official timekeepers of F1 racing events is a testament to the level of precision that their timepieces can offer.
In terms of innovation, Tissot is no stranger to that as well when they unveiled the first timepiece to feature dual time zone functionality. Additionally, Tissot is known for attaching a two-year warranty for all of their clocks which just showcases the confidence that the brand has for their watches.
Another noteworthy aspect of Tissot is their willingness to experiment with their watches. Tissot has produced watches that utilize out of the box materials such as wood and stone. That's one way to separate yourself from the crowd. Currently, Tissot is one of the most popular luxury mid-range watches today with a veritable list of excellent timepieces to back up its fantastic reputation.
Tag Heuer and Tissot Watch Comparisons
Sports Watches:
Tag Heuer Monaco Calibre 11 Automatic Chronograph Review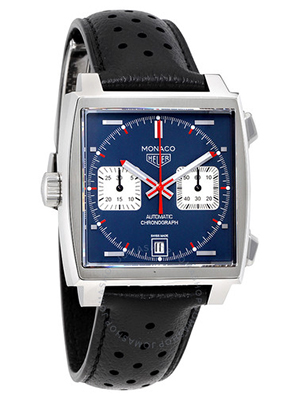 See on Tag Heuer | See on eBay
Let's start this match up with a band and bring out two timepieces from both brands' most prominent watch categories: the sports watch. One defining trait about the Tag Heuer Monaco Caliber 11 is its retro-classic design and square-shaped stainless steel. Along with the stunning blue dial and race car dashboard like detailing, the Monaco Cal 11 is a magnificent timepiece that exudes style and finesses like no other sports watch in the market today.
A little trivia for you: the Monaco Cal 11 was used in the classic Steve McQueen racing film, "Le Mans". McQueen himself hand-picked the Tag Heuer Monaco Cal 11 to be his character's preferred timepiece. If you see this sports watch in person, you will understand why the legendary Steve McQueen himself liked it so much he decided to include it in the film officially.
The mat blue dial merely is striking. At 38mm in diameter, the Monaco Cal 11 is surprisingly sleek despite initial appearance. The aesthetics of this timepiece exudes that thrill-seeking racing spirit. If you enjoy the classic look of race cars from decades before, you will undoubtedly appreciate what Tag Heuer offers with this Monaco watch model.
As for crucial aspects about the Monaco Cal 11, this is a chronograph watch that incorporates two sub-dials which displays and tracks minutes (30) and seconds (60). As the name states, this Tag Heuer watch utilizes a Calibre 11 automatic movement which is based on the ETA 2892-A2. This watch mechanism comes with an outstanding 59-jewel build and meets the required 28,000VPH that guarantees absolute precision. Additionally, the watch movement also provides an extra 40-hour power reserve to ensure reliability at all times.
If you like the look of this watch but not the price tag – check out these more affordable Tag Heuer Monaco alternatives.
Tissot T-Race MotoGP 2019 Limited Edition Review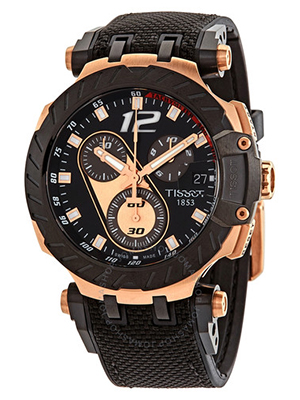 See on Tissot | Read Amazon Reviews
Tissot is also a well-known and highly respected brand that also has a solid reputation within the sports industry. This affinity to the world of sports is nowhere more visible than with the limited edition Tissot T-Race MotoGP 2019. This beautiful two-toned black and rose gold sports watch does not shy away from its inspiration – the two-wheeled crotch rockets from the Moto GP (Grand Prix) racing circuit.
This chronograph watch from Tissot is incredibly stylish and embodies that rugged and fast-paced appeal of motorcycle racing. It does come with a considerable size to it with its 48.8mm diameter case and bezel. This is a timepiece designed for larger hands/wrist. Interestingly enough, the case features a brake disc design which further pushes its motorcycle aesthetic.
Within the gearhead-like design of the case is the high-precision ETA Caliber G10.212 quartz movement. This mechanism operates the three sub-dials with extreme accuracy – each of the sub-dials track seconds (60), minutes (30), and 1/10th of a second. The dial is also well-protected within a scratch-resistant and anti-glare glass window made from sapphire crystal.
This Tissot sports watch is a limited-edition model with only 3,333 pieces in circulation. This is a watch that enthusiasts would want in their collection, especially if they are a fan of the motorcycle racing circuit.
Dress Watches:
Tag Heuer Carrera Calibre 5 Day-Date Review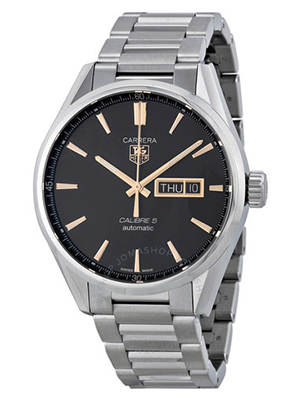 See on Tag Heuer | See on eBay
The Tag Heuer Carrera Calibre 5 is a sleek looking timepiece that somewhat strays away from the brand's typical sporty watch design. If we go by charm, the Tag Heuer Carrera Cal 5 comes filled to the brim with swagger. This is a timepiece designed to be worn by professionals, nothing too flashy or extravagant, just a simple yet sleek dress watch that is powered by Tag Heuer's signature precision.
The highly polished 41mm stainless-steel case gives the Tag Heuer Carrera Cal 5 an added sense of prestige that will be the cherry on top for your formal attire. No space is wasted with its minimalist and traditional design. Inside the Carrera Cal 5 further showcases its strength. The watch is powered by the Calibre 5 automatic movement which is based on the ETA 2824-2 mechanism. It utilizes 26-jewels and clocks in at 28,800VPH, and also comes with an impressive power reserve for up to 38-hours.
In addition to its precision, the Carrera Cal 5 is also built to withstand water pressure of up to 100-meters. Simple and to the point, the Carrera Calibre 5 is a classy and straightforward dress watch that delivers what is needed with finesse.
Tissot Chemin Des Tourelles Powermatic 80 Review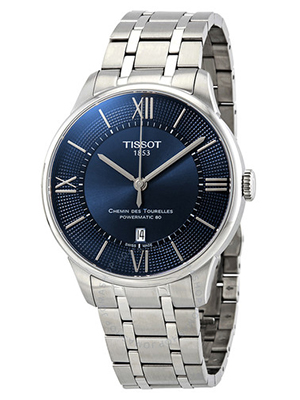 See on Tissot | Read Amazon Reviews
Tissot threads a fine line when it comes to their watch models. While they are well-known for their sporty-looking timepieces, they also develop some truly stylish dress watches. The Tissot Chemin des Tourelles Powermatic 80 delivers the sizzle as well as the steak with its "meaty" watch mechanism build.
On the outside, the sleek and refined look of the Chemin des Tourelles Powermatic 80 is pure eye-candy. The traditional look is further accentuated by the dial that features a threaded outer rim. The stunning mat blue dial also enhances its sophisticated charm.
Of course, this is Tissot we are talking about so expect an impeccable mechanism underneath the fancy exterior. As its name states, this Tissot watch is powered by the company's premiere watch movement, the Powermatic 80.111 automatic movement with analog display. This watch mechanism features a 23-jewel construction and an impeccable 28,800VPH. The Powermatic 80 is also known for its fantastic power reserve, which clocks in at 80-hours.
The 42mm stainless-steel case employs beautiful blue dial which is protected by a sapphire crystal window. Take note though that this handsome dress watch only has 50-meter water resistance. It can withstand the occasional splash of water but refrain from submerging it.
Conclusion: Tag Heuer vs Tissot – Which is Better?
The general consensus is that Tag Heuer surpasses Tissot on reputation and brand recognition. However, do not count Tissot out just yet. For starters, Tissot use of quality accurate movements at a realitively affordable price While Tag Heuer certainly has more resale value, I lean towards Tissot for one specific reason: versatile selection.
Tag Heuer primarily holds the crown if you are looking for high-precision sports watches. While Tissot may not compete at the level of Tag on build quality, they do offer a wide variety of watch models and styles at a considerably more affordable price tag.