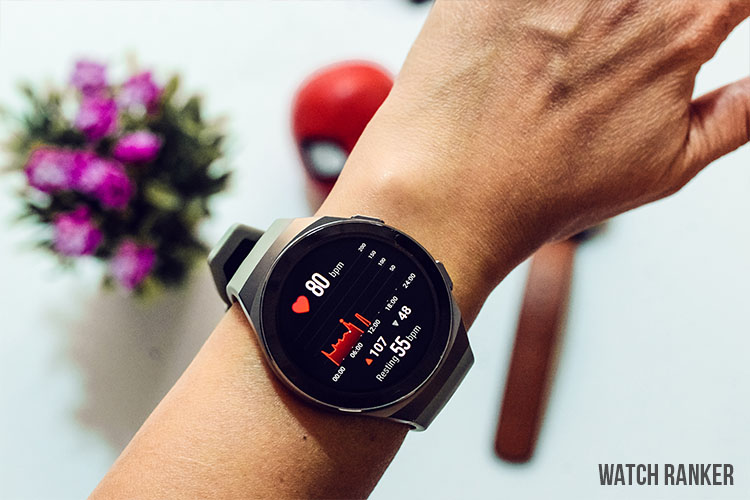 Winner: Huawei Watch GT 2e
Out of these two budget watches, the Huawei Watch GT 2e has more features and better overall design and build.
TicWatch GTX vs. Huawei Watch GT 2e 
Mobvoi is primarily known for its high-end smartwatch offerings. They often stand at the forefront of smartwatch innovation and are always looking to break the limits of the traditional smartwatch. 
However, Mobvoi has recently been making moves on the budget smartwatch. And while the results have been hit or miss, we always appreciate larger brands making budget versions of their watches. 
One of the budget watches that we have recently checked out is the TicWatch GTX. You can check our full review if you want to learn more. But in a nutshell, given its lower price, the TicWatch GTX offers unbeatable value. 
But one question that may be in budget-oriented consumers' minds is, what exactly do you get by upgrading to higher-priced budget Non-Wear OS watches? That is what we will be answering in this comparison. 
In today's comparison, we will be putting the TicWatch GTX against Huawei's value-oriented Huawei Watch GT 2e. And by the end of this article, you should have a good idea of whether or not it is worth spending extra on the GT 2e. 
Please note, we purchased the TicWatch GTX was bought directly from mobvoi.com on 03/04/2021, click here to check their current prices.
TicWatch Brand Overview  


Mobvoi is a tech company based in Beijing, China. They were founded in 2012 by Nokia employees, researchers from top universities such as Harvard and Cambridge and Google AI experts. The primary goal of this company is the integration and advancement of voice AI communication.
Some of their revolutionary products include voice search engines featured on WeChat. Mobvoi has also developed its own voice search app engine called Chumenwenwen. 
It was in 2014 when Mobvoi started venturing into the consumer electronics market. They developed an Android-based smartwatch operating system called TicWear OS. And soon after, they worked together with Frog Design to release the TicWatch. 
The TicWatch brand differentiated itself from other smartwatches by having a strong integration with their AI technology. Its launch was very successful and only trails behind the Apple Watch in the domestic Chinese market. 
Mobvoi continues to bring its expertise to the smartwatch market with the newer versions of the TicWatch.  
Huawei Brand Overview




Huawei is no stranger to the smartwatch market. They have made successful smartwatches in the past, such as the original Huawei Watch and Huawei Watch GT. However, the success of their watches has largely been overshadowed by the success of their smartphones. 
Their wearables have been mostly a side project in the past. However, in recent years, they have been consistently revamping their lineup and are proving to be a fierce competitor in the smartwatch market. This is evident with the successful release of the Watch GT Series. 
Huawei has most notably moved away from Google's Wear OS platform and has developed its proprietary operating system called the Huawei Light OS. Their current lineup is simple and is easy to follow. It consists of the flagship Watch GT 2,  the midrange Watch GT 2, and the original Watch GT (which may be discontinued in the future). 
You can learn more about Huawei's history and product lineup in our Huawei Brand Overview. 
Packaging and Unboxing Experience 

Winner: Huawei Watch GT 2e
As we always mention, the unboxing experience is mostly irrelevant to the value proposition of the product. However, we highly value them since they give the users a first look at their product. And in this case, the packaging alone makes it clear that one of these products is superior. 
The extremely budget-priced TicWatch GTX does a great job given its price constraints. It has the same general design philosophy as the higher-end TicWatch models. It sports an all-black finish with a relatively clean design. The interior part of the packaging is less impressive but still gets the job done. 
The Huawei Watch GT 2e, on the other hand, takes things to the next level. It has a packaging that is very similar to Huawei's high-end smartphones. Most users might even think that the GT 2e is part of Huawei's premium offerings based on the packaging alone. 
Everything from the exterior to the interior of the box feels premium. Even the way the GT 2e is presented makes you want to immediately experience the smartwatch. 
Overall, both companies did well in terms of packaging. However, the GT 2e pulls ahead thanks to its more high-quality presentation. 
Design and Build Quality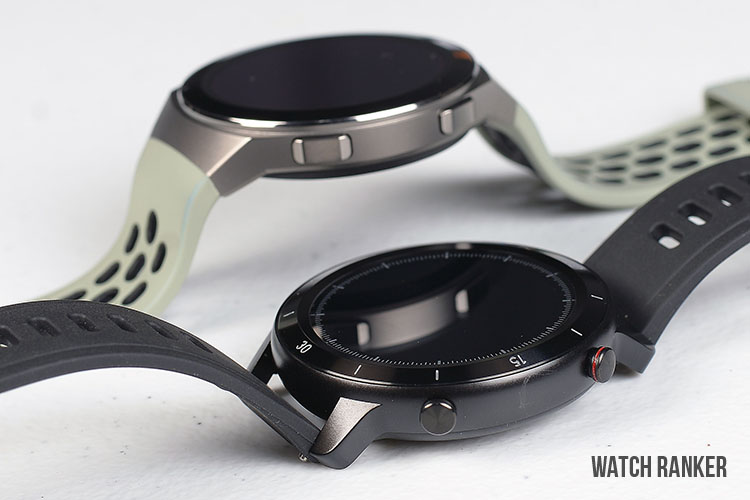 Overall Winner: Huawei Watch GT 2e
Both companies show that they can design a great-looking smartwatch even with a limited budget. The TicWatch GTX and GT 2e are arguably some of the best-looking watches in their respective price brackets. However, when we compare these two, there is a clear winner. 
The TicWatch GTX has a very impressive design that is almost reminiscent of Huawei's premium Watch GT 2. It is based on the classic wristwatch look and even sports engravings on the watch face. Of course, these aren't quite as authentic as the Watch GT 2, but they are a welcome addition to the GTX. 
Additionally, the TicWatch GTX has two side buttons. This was a pleasant surprise considering the TicWatch E2 and S2 only had a single side button. And in terms of materials, the GTX is made with a combination of metal and plastic. 
The overall build is very impressive for a budget smartwatch, and we believe that it will survive most users' daily routines. However, when compared to the higher-priced GT 2e, the limitations of the GTX start to show. 
The GT 2e has a very similar build quality to the GT 2. This is saying a lot since the GT 2 has a significantly higher price tag. The GT 2e has an aluminum + plastic build, which feels heftier and more premium than the GTX. It isn't a heavy watch, but the added weight prevents the watch from feeling cheap. 
And in terms of the side buttons, the two flat buttons of the GT 2e feel way better than the GTX. The stock strap also seems to be made of better materials compared to the GTX. The only thing that we did not like with the GT 2e's strap design is that it cannot be laid flat. 
But aside from those minor gripes, the GT 2e feels very similar to Huawei's flagship offering. The GTX, on the other hand, has too many compromises, which make it feel like a more entry-level offering. But again, we highly consider it to be better than most budget smartwatches. 
Display Quality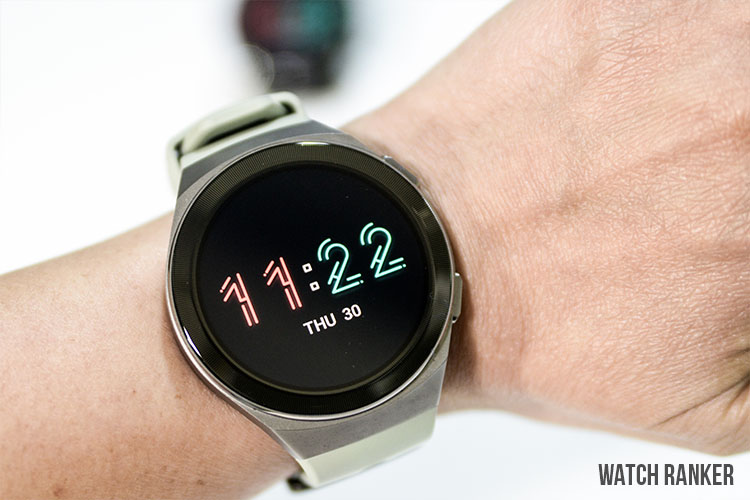 Winner: Huawei Watch GT 2e
The display on the Huawei Watch GT 2e is clearly superior. It uses AMOLED and is able to display clear, sharp, and vibrant images. It can get fairly bright and is easily usable in both indoor and outdoor conditions. 
The TicWatch GTX, on the other hand, only uses a TFT LCD display. This isn't usually a problem since a lot of TFT displays can still look good with proper implementation. But sadly, the GTX's display doesn't get very bright and only has three brightness levels. 
It is also no match when it comes to sharpness and vibrance. Of course, these are a given considering the large disparity in their prices. The GTX's display is perfectly usable as long as it isn't directly compared to an AMOLED display. 
Both watches do not offer any form of screen protection. However, throughout our testing, both watches survived occasional bumps. But again, we'd give the edge to the Huawei Watch GT 2e and are willing to bet that it is using better glass. 
Features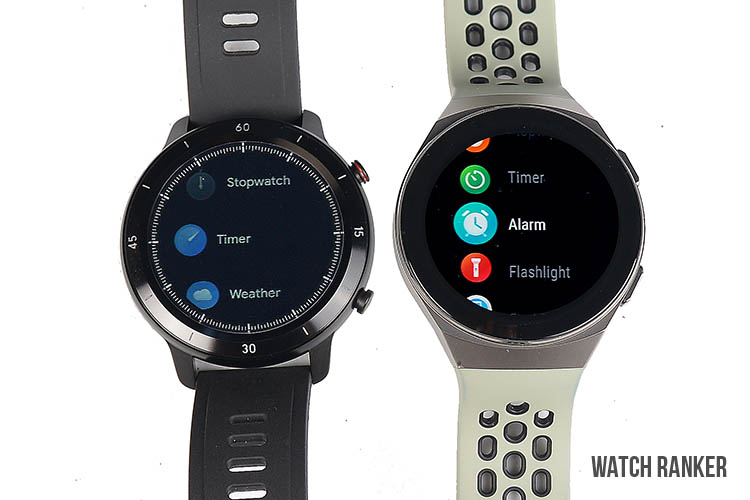 Winner: Huawei Watch GT 2e
The TicWatch GTX has an excellent feature set for its price. But again, the GT 2e beats it in almost every way. 
The GTX covers most of the basic features. It has limited notification support that is only capable of showing notifications from allowed apps. There is no option to respond to them. 
It also has an optical heart rate sensor as well as a built-in accelerometer. The GTX also has basic features such as a stopwatch, timer, weather, flashlight, and find my phone. It also has music control which is nice to have but a feature that I often do not find useful. It has no internal storage and cannot connect to Bluetooth headphones. 
That's pretty much it. It is enough for users coming from smart bands/fitness trackers or users with basic needs. 
The GT 2e, on the other hand, has way more features than the GTX. It also has an optical heart sensor and an accelerometer. However, it also has a built-in GPS as well as a load of other sensors. 
Both watches have sleep tracking. However, we found Huawei's implementation to be more accurate. 
The Huawei GT 2e is considered a basic smartwatch since it doesn't have deep customization or the ability to connect with Wi-Fi. However, it not only fulfills the user's basic needs. It delivers it in a very seamless way making it an essential tool for daily tasks, 
Overall, the premise of both watches is similar. However, the GT 2e does more and executes everything the GTX can with vast improvements. 
Health and Fitness Tracking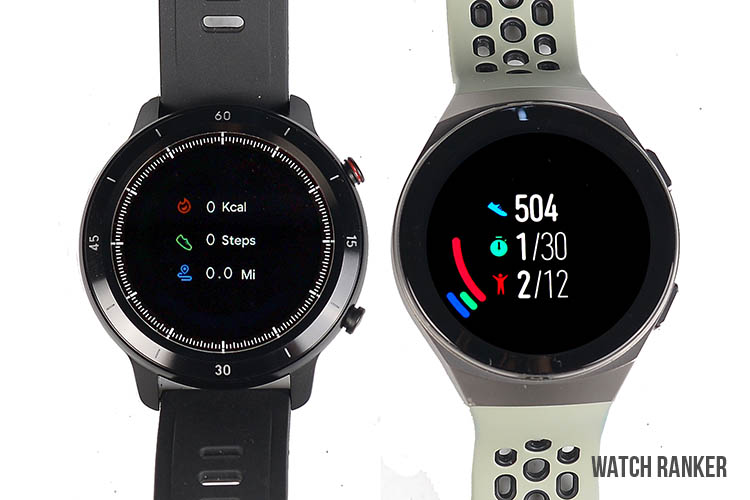 Winner: Huawei Watch GT 2e
The health and tracking features of the GTX are arguably its weakest point. It has a heart rate sensor as well as support for fitness tracking activities. However, it only has 14 workout modes. It covers the basics, but even a more basic fitness tracker has more activities available. 
In comparison, the GT 2e has more than 100 sports activities right out of the box. This doesn't even include the other fitness activities and the free training mode. Additionally, Huawei has added activities in the past, which indicates that they will keep on supporting watches part of the GT 2 series. 
Overall, there is no competition. The GTX has some workout modes, but it falls flat to the number and quality of activities found on the GT 2e. 
Watch Software Performance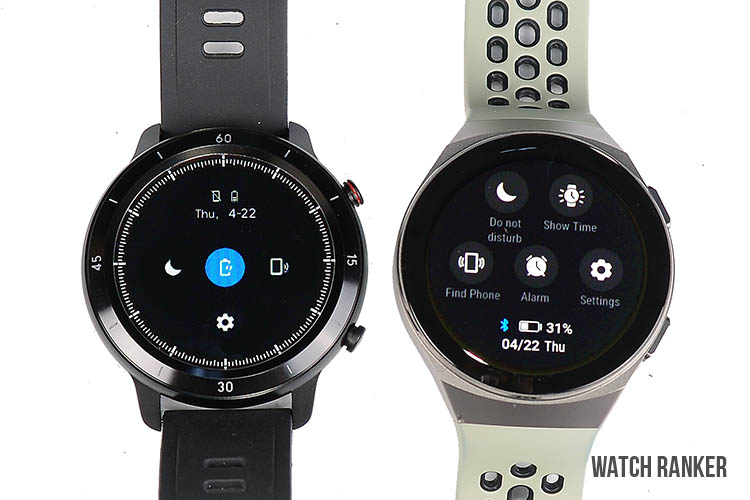 Overall Winner: Huawei Watch GT 2e
The best part about these two watches is their software experience. Both show that having a simpler but smooth-performing OS beats out more complicated software with lots of bugs and performance drops. 
The TicWatch GTX utilizes proprietary software that is very similar to the GT 2's Light OS. Navigation is very simple and easy to get used to. There are some design elements that are similar to the icons used on the Wear OS TicWatch models, which certainly help give the OS some flair. 
The surprising thing about the GTX's software is that it is significantly faster and smoother than the TicWatch E2 and S2's Wear OS implementation. Of course, those two watches beat the GTX in terms of features, but the speed and responsiveness of the GTX were very astonishing. 
The Huawei Watch GT 2e has a similar but more refined approach. The UI is snappy with a well-thought-out layout to quickly access essential menus and features. The GT 2e is also powered by the same Kirin A1 processor found on all of Huawei's other GT 2 Series watches. 
It isn't free from slowdowns or bugs, but these are kept to a minimum. Most people would be very happy with using this watch as their daily driver simply due to the reliability of the software. 
Watch Faces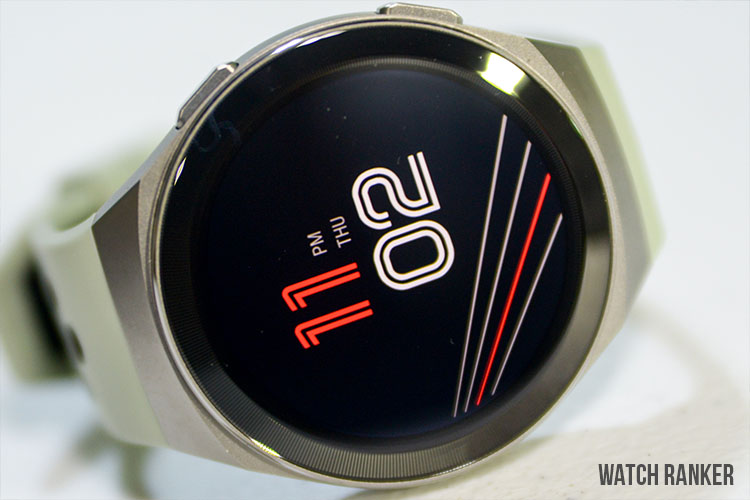 Winner: Huawei Watch GT 2e
Despite its excellent software performance, we highly consider the watch faces to be a weak point of the GTX. Despite having some stand-out designs, most of the selection is pretty bland and uninspiring. The watch face selection is also fairly limited. 
Additionally, adding new watches is a huge pain since you have to wait a few minutes. This discouraged us from trying out different watches and instead settled for a simpler look. It is also unclear if Mobvoi is interested in developing the GTX's platform, given how most of their flagship smartwatches utilize Wear OS. 
The Huawei Watch GT 2e, on the other hand, has a far superior watch face library. They have steadily built it from the ground up and now sports lots of unique and interesting designs as well as collaborations with different artists. The watch face syncing is also very seamless. 
Battery Life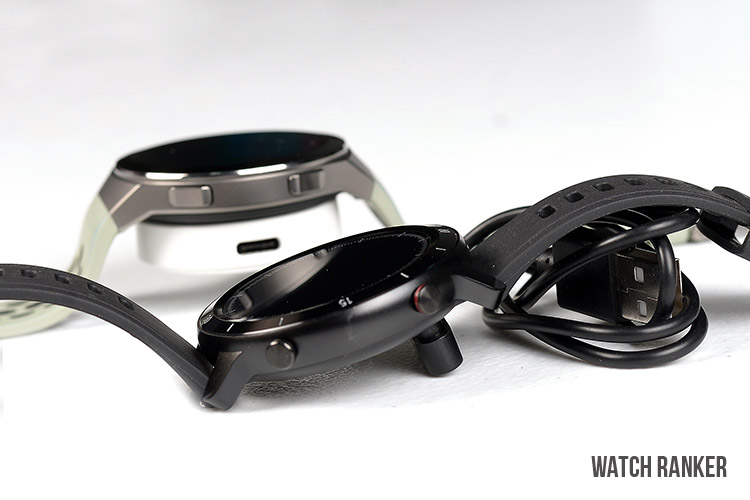 Winner: Huawei Watch GT 2e
Both watches offer excellent battery life. The Huawei Watch GT 2e offers two weeks of battery life. And even while using features such as GPS and Always-on display (AOD), you can still expect at least one week of use. 
The TicWatch GTX, on the other hand, can last up to a week. This is very impressive given its price point but is pretty much expected given its fairly basic feature set. 
Unfortunately, the GTX's charger doesn't offer a removable cable, and the magnet isn't very strong. The GT 2e's charger, on the other hand, offers stronger magnets and a removable Type-C cable. Of course, this shouldn't matter since you won't be needing the chargers too much. 
Comparison Winner: Huawei Watch GT 2e
The TicWatch GTX is without a doubt an excellent budget smartwatch and is an easy recommendation if you are on a tight budget. However, the Huawei Watch GT 2e easily proves that you get more if you pay more. 
It is superior in every way and is a better fit for both casual users and fitness enthusiasts. If you have the extra cash, we highly recommend going for the Huawei Watch GT 2e. 

Specifications 
Huawei GT2e


Mobvoi TicWatch GTX


Brand
Huawei
Mobvoi
Model
GT2e
TicWatch GTX
Screen Size
1.39" AMOLED Display
1.28" TFT LCD
Screen Protection
No Official Certification
No Official Certification
Screen Resolution
454 x 454 pixel
240 x 240 pixel
Pixel Density
326 PPI
–
Input Type
Touch Screen
2 Physical Buttons
Watch Dimensions
46.9 x 52.2 x 12.9 mm
48.7 x 48.7 x 11mm
Weight
53.2  grams
57.6  grams
Watch Case Material 
Stainless Steel + Plastic
Stainless Steel
Bezel Material
Polycarbonate
Stainless Steel
Watch Design
Circular
Circular, Curved
Strap Size
22 mm
20 mm
Watch Colors
Graphite Black, Lava Red, Mint Green, and Icy White
Black
Water Resistance
Waterproof (5ATM)
IP68
Swim-proof
Yes, recommended
Not recommended
NFC
Not Supported
Not Supported
GPS
GPS/GLONASS/Beidou
No
CONNECTIVITY
     Wi-fi
No
No
    Bluetooth
Yes 
Yes 
 SENSORS       Accelerometer  
Yes
Yes
    Heart Rate
Yes
Yes
    Compass
Yes
No
    Gyroscope
Yes
No
    Altimeter
Yes
No
    SPO2
No
No
    Elevation  
Yes
No
    Ambient Light
No
No
    Barometer
Yes
No
FITNESS TRACKING
     Sleep tracking
Yes
Yes
    Steps
Yes
Yes
    Floors Climbed
No
No
    Heart Rate Monitoring
Yes
Yes
    Calories
Yes
Yes
    Distance
Yes
Yes
    Stress
Yes
No
    VO2 Max
Yes
–
    Blood Oxygen
Yes
No
    Blood Pressure
No
No
    Menstrual cycle tracking
Yes
No
    Swim tracking
Yes
No
    Underwater heart rate  
          tracking
No
No
    On-screen workout modes
No
No
    Triathlon mode
Yes
No
    ECG tracking
No 
No 
    Preloaded sport modes
Yes
Yes
    Safety tracking
No
No
Battery Life
14 days
Regular: up to 7 days
Battery Saver Mode: 10 days
Battery Technology
Li-Ion
Li-Ion
Charging Time
About 1-2 Hours
About 1-2 Hours
Charging Type
USB based charging dock
USB based charging dock
Compatible OS
Android
 iOS
Android
iOS 
NOTIFICATIONS
     Email Alert
Yes
Yes
    SMS Alert
Yes
Yes
    Calls Alert
Yes
Yes
    Event Reminder
Yes
Yes
    Weather
Yes
Yes
    Third-party Apps
No
Yes
MEDIA
     Audio
mp3/mp4
No
    Music Streaming
No 
No
    Bluetooth Music
Yes
No
    Radio
No
No
    Loud Speaker
Yes
No
    Microphone
Yes
No
CLOCK FEATURES
     Time/Date
Yes
Yes
      Stopwatch
Yes
Yes
    Alarm
Yes
Yes
OTHER FUNCTIONS     Control camera
Yes
No
    Music Control
Yes
Yes
    Find Phone
Yes
Yes
    Text Response
No
No
    Answer Call
Yes
No
MISC 
     Payment System
No
No
      Companion App
Huawei Health
Mobvoi App
Customizable watch face
Yes
Yes
Interchangeable band
Yes
Yes
Voice command
No
No
Internal Storage
4 GB
16 MB
Operating system
Huawei Light OS
Proprietary OS