Huawei is arguably one of the most successful brands in the tech industry. They have boasted multiple achievements in the past couple of years and are now capable of going toe to toe with tech giants such as Apple Watch and Samsung smartwatches. 
However, if you live in western countries, then chances are that you cannot get your hands on most of Huawei's products.  With all the issues surrounding Huawei, you might be unsure if you should purchase their wearables. 
In this article, we will be diving into Huawei's history, product offerings, and ultimately help you assess whether or not Huawei's wearables are worth your hard-earned cash.
Huawei Brand History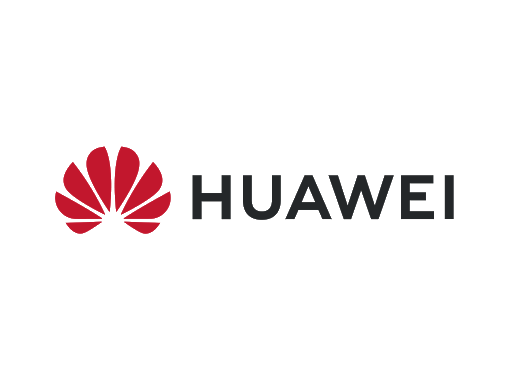 Smartphone Company
Before we dive into Huawei's smartwatches, let us briefly take about what they are best known for. They currently produce a wide array of products such as smart wearables, tablets, laptops, and a lot more. However, they are best known for manufacturing smartphones.
Huawei Technologies was founded in 1987 by Ren Zangfei, who was a former officer of the Chinese Liberation Army. They were originally meant to be a rural sales agent for Hong-Kong-based phone and cable network businesses. 
In 2009, they started manufacturing smartphones. They primarily made mid-range smartphones such as the Huawei Ascend D Quad XL. These smartphones were mostly experimental and arguably did not have any special features that made them stand out. 
It wasn't until the release of the P series when Huawei started getting some serious attention. Huawei secured various partnerships, most notably their partnership with Leica. Huawei has since then started competing with flagships from brands such as Apple and Samsung. 
Huawei also worked with Google and released the Huawei Nexus 6P. The Nexus series eventually evolved into the Google Pixel Series and is now one of Huawei's competitors, mainly due to its camera system. Today, the P and Mate series is highly regarded as some of the best smartphones in the market. 
Huawei's involvement with the Chinese government has led to some criticisms from the West. They were accused of several crimes, such as spying on their consumers. This has escalated in recent years, which we will be going into further detail later in the article. 
Huawei Smartwatch

Huawei's success in the smartphone industry has led to its expansion. One of the products that have come out of this expansion is smartwatches. Huawei entered the smartwatch market in 2015. Their first entry was the Huawei Watch, which had competitive specs and featured Android Wear OS. 
Their smartwatches saw decent success, but it was arguably not as successful as their smartphones. The Apple Watch and Samsung Gear Watch were better alternatives. 
They did not stop with manufacturing smartwatches, but it was only with the Huawei Watch GT when they started to become a major player. They slowly started breaking away from the norm and created their watch OS and watch ecosystem. 
Their current lineup brings several advancements, such as the implementation of their software  (Huawei Light OS) and their microprocessor (the Kirin A1). Huawei also revamped their budget offerings by updating the Huawei Band series with the Huawei Band 4 Pro. Overall, despite not making as many models and revisions as other competing companies, Huawei has a strong lineup. 
Huawei currently has a simple lineup consisting of the GT Watch 2, GT Watch 2e, and the Band 4 Pro. They may not have as many products as their competitors, but their simple lineup allows them to have a unified and optimized experience. 
Honor 

Huawei also has a sister company that produces smartphones and wearables. This company is known as Honor and specializes in the budget price category. Chinese companies are known to expand their businesses and acquire smaller manufacturers, which is what has happened with Honor and Huawei.  
Both companies feature similar products, but Honor's products are generally regarded as budget-oriented ones. This is also true for Honor's wearables. Each Huawei smartwatch and fitness tracker has a counterpart with Honor. There are, of course, several differences but such as the quality of the materials used.
United States and China Conflict and Huawei Ban in the West 
In 2019, Huawei encountered a major setback in its business. The Trump Administration limited Huawei's presence by including them in their entity list. This was largely due to their fear of tactical espionage since Huawei is directly linked to the Chinese government. As a result, Huawei was prohibited from acquiring parts and selling units in several parts of the West, including the United States. 
This move has massively hurt Huawei's business since most of their partners and manufacturers pulled out. They were no longer able to implement American software Google's Android Build in their smartphones and smartwatches as well as Microsoft's Windows on their laptops.  
Huawei still uses a custom build of Android on some of its devices, such as the Huawei P40 Pro and Mate 30 Pro. However, they have decided to develop their operating system for their smartwatches. 
At the time of writing this article, the conflict between the two parties is still ongoing. Several deals were made, but Huawei's presence in the West is still not as strong as in the previous years. 
However, despite their sales taking a hit, they have shown that Huawei can adapt to their new business environment and are still manufacturing class-leading smartphones, wearables, etc. They are still maintaining their spot as a big player in the smartphone and smartwatch market despite not being able to sell in the West. 
It is also worth noting that their smartwatches are not affected as much as their smartphones. Huawei's smartwatches had moved away from the Google ecosystem before the conflict arose.  
Huawei Smartwatch Collections
Huawei GT Watch 2
Read Amazon Reviews | Read our full review
The Huawei GT Watch 2 is currently Huawei's flagship model. It is the follow-up to the original GT Watch and brings several improvements. The highlight of this release is the new Kirin A1 processor that is also seen on other current generation Huawei products such as the Huawei Freebuds 3. 
This new processor is accompanied by Huawei's new operating system, the Huawei Light OS. The efficient processor and OS allows the GT Watch 2 to have incredible 2-week battery life. It allows efficient use of the several hardware and features of the GT Watch 2. You won't have to charge your smartwatch at the end of each day. 
One downside of the GT Watch 2 is that it no longer features the Android Wear OS. What this means is that the GT Watch 2 is not compatible with third-party Android Wear apps. For most users, the immediate effect is that you cannot change watch faces. 
Overall, the GT Watch 2 presents Huawei's bold new direction. They are now utilizing their operating system and are slowly building their ecosystem. It may be lacking several features found in most of its competitors, but it has several unique features that make it extremely competitive. 
Head over to our detailed Huawei GT Watch 2 review to learn more.  
You can also see our head-to-head comparison of the Huawei GT 2 and the Amazfit GTR here.
Huawei Watch GT 2e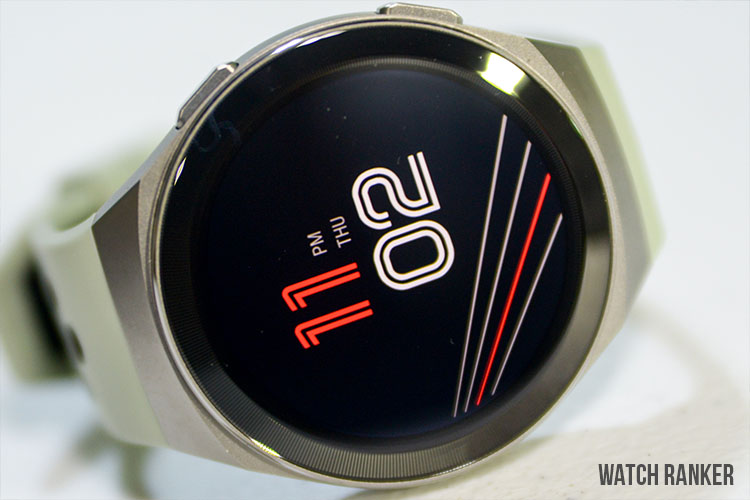 Read our detailed review | Check Amazon Price
The Huawei Watch GT 2e is Huawei's mid-range model in its current smartwatch lineup. It is primarily targeted towards a younger audience and is meant to be used as a sports fitness tracker.
The GT Watch 2e and the GT Watch 2 are very similar in terms of their specs. They both have the same Kirin A1 processor, the same two-week battery life, the same Bluetooth 5.1 connectivity, etc. 
What separates these two models is the design. Both are high-quality and premium feeling smartwatches, but the GT 2e has a simpler look that is reminiscent of digital watches. This allows the GT Watch 2e to be more lightweight and better optimized for workouts. 
Both the buttons and the wristband have also been redesigned. The large buttons and strap locks often on the GT 2e bumped into the wrist when doing exercises. This is why the buttons are smaller, and the strap locks no longer allow the GT 2e to be laid flat.
Another notable difference is the missing microphone and speaker on the GT 2e. Several sound cues such as exercise voice prompt and music will no longer be possible with the GT 2e. Making phone calls will also no longer be possible. 
The RAM has also been cut by half. This is not noticeable when initially turning off the device and when navigating through the menu. It is only noticeable when using apps such as 
The wristband is also different and is more optimized for sports. The holes in the wristband allow for better airflow. The buttons have also been changed in order to bump less with your wrist during heavy workout sessions. 
The downside of the GT Watch 2e is that it does not improve on the weaknesses of the GT Watch 2. It still does not have Qi wireless charging, support for third-party watch faces and apps, and it still does not have cellular data and Wi-Fi. 
But overall, a GT Watch 2e is a great model considering you get most of the flagship GT Watch 2's features at a lower price point. 
You can read more in our full Huawei GT 2 vs. GT2e comparison. 
You can also see our head-to-head comparison of the Huawei GT 2e and the Amazfit GTS here.
Huawei Watch GT 
Huawei also offers its previous generation Huawei Watch GT. While it is technically outdated and inferior compared to the rest of the GT 2 lineup, the original Watch GT still has some compelling features that may fit those who are on a tighter budget. 
It shares the same classy design, build quality, and high-resolution AMOLED display as the Huawei Watch GT 2. It also shares the same Huawei Light OS, which gives them similar features. What's different is that the Watch GT is utilizing a slower and overall inferior CPU. The Bluetooth connection is also not as solid as the Huawei Watch GT 2.
There is also no speaker and microphone, which has become a standard in most of its competitors. The Watch GT is also significantly heavier than the GT 2. 
If you want the modern features of the Huawei Watch GT 2 and are willing to sacrifice the gorgeous design, then we highly recommend checking out the Huawei Watch GT 2e. But if you are willing to give up the modern specs for the design, then the Huawei Watch GT is still competitive at its current price point. Just be aware that the original Watch GT may stop receiving software updates in the future.  
Huawei Brand Reputation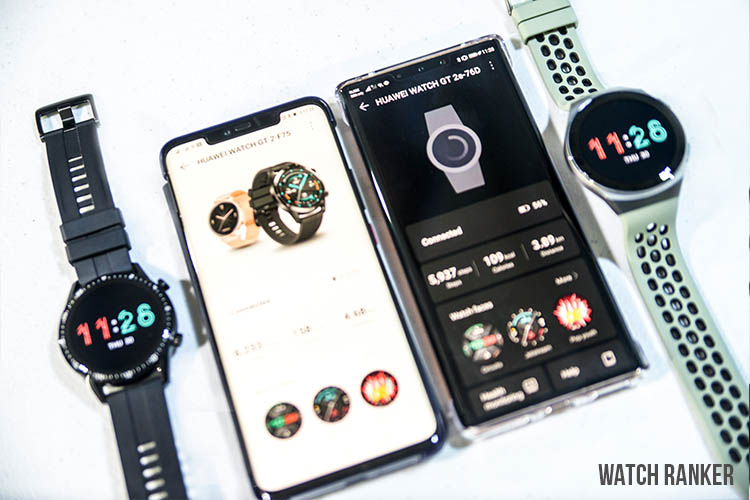 Huawei has seen massive success during the past couple of years. They were one of the fastest-growing brands and have overtaken most of their Chinese competitors.
They were also able to overtake Apple in the annual smartphone race in 2019, a feat that has not been done by other Asian manufacturers aside from Samsung. 
Through various refinements, Huawei has turned its smartphones from flagship alternatives to true flagship competitors. They have also done the same in their smartwatches. Their current offerings are some of the best smartwatches in the Android market. 
However, the biggest problem with Huawei is its ban in the West. The situation does not seem to improve, and more countries are siding with the USA. While this mostly applies to their smartphones, their smartwatches may also be affected in the future.
Huawei's smartwatches are still currently available in most online retailers such as Amazon. And unlike their smartphones, their smartwatches do not have any software or hardware restrictions since it does not have access to online services. 
Is Huawei A Good Smartwatch Brand?
Huawei's current smartwatch lineup is more competitive than ever. By not running the traditional Android Wear OS, Huawei was able to create a brand new and unique user experience that heavily focused on efficiency and long-lasting battery life.  This has been done without sacrificing traditional features such as GPS, health trackers, notifications, etc. 
It is also worth noting that all of Huawei's current offerings are premium models. They are all strategically priced and target different kinds of people. Overall, Huawei offers a different approach and brings something new to the smartwatch market. 
Huawei's offerings may not fit everyone. Apple users, in particular, are left out with a lot of Huawei's features. But for those who are looking for a smartwatch brand that puts a lot of emphasis on design, battery life, and efficiency, Huawei is an easy sell.
Where To Buy Huawei Smartwatches?
Huawei's smartwatches can be bought directly on their Official Website and on Amazon. 
Where Are Huawei Made?
Like most of Huawei's products, Huawei smartwatches are manufactured in China.
Huawei Watch Warranty
Huawei's Smartwatches and Smart bands have a one-year warranty. They also provide a 7-day replacement if the unit has a factory defect.