Winner: Huawei GT 2
The battle between these two watches is close. However, we will have to give it to the GT 2 due to its better software implementation.
Huawei GT 2 vs Amazfit GTR Summary
The sub 200 USD smartwatch market is packed with great options for different kinds of users. But two of the most notable brands in this price range are Huawei and Amazfit. They are both well-respected brands, which is why we will be putting their best sub 200 USD offerings against each other.
We will be comparing Huawei's flagship Watch GT 2 against the Amazfit GTR. Both smartwatches are designed as luxury smartwatches and are packed with the most modern smartwatch features. Both offer a proprietary operating system that is unable to install third-party apps.
With how good these two watches are built, it all comes down to which model delivers a better software experience. Join us as we put these two watches head to head.
Note: In this comparison, we will be referring to the GTR's 47 mm version and the GT 2's 46 mm version. Both of these smartwatches also have a lite version in the form of the Huawei GT 2e and Amazfit GTS.
If you are interested in how well those two fares against each other, check out our Amazfit GTS vs. Huawei GT 2e comparison.
And if you are interested in how well the GTS compares against the GTR, make sure to check out our Amazfit GTR vs. Amazfit GTS comparison.
And if you are interested in the GTS, take an in-depth look head on to our Amazfit GTS Review.
Huawei Brand Overview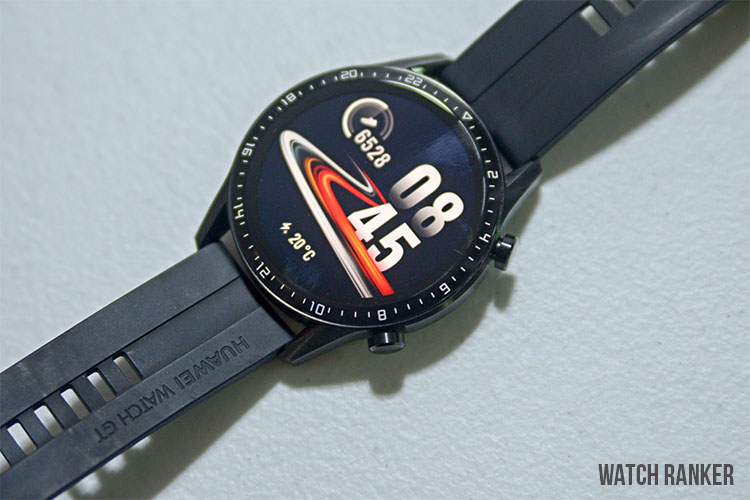 Huawei is no stranger to the smartwatch market. They have made successful smartwatches in the past, such as the original Huawei Watch and Huawei Watch GT. However, the success of their watches has largely been overshadowed by the success of their smartphones.
Their wearables have been mostly a side project in the past. However, in recent years, they have been consistently revamping their lineup and are proving to be a fierce competitor in the smartwatch market. This is evident with the successful release of the Watch GT Series.
Huawei has most notably moved away from Google's Wear OS platform and has developed its proprietary operating system called the Huawei Light OS. Their current lineup is simple and is easy to follow. It consists of the flagship Watch GT 2, the midrange Watch GT 2, and the original Watch GT (which may be discontinued in the future).
You can learn more about Huawei's history and product lineup in our Huawei Brand Overview.
Amazfit Brand Overview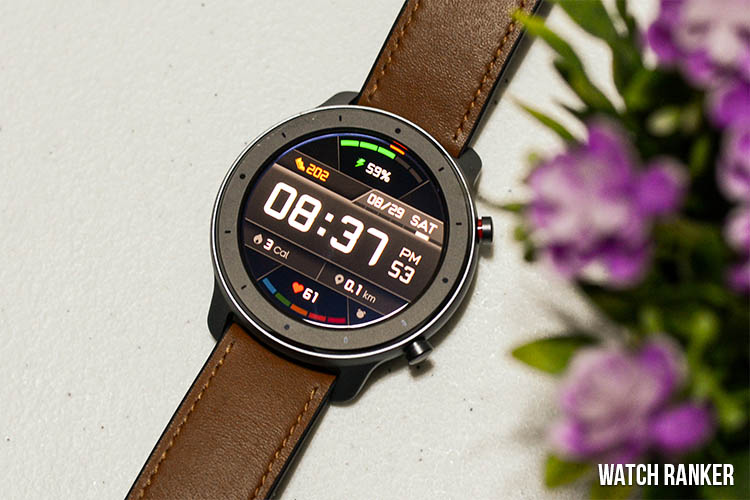 Compared to Huawei, Amazfit is a newcomer to the smartwatch industry. They are a US-based company that was only established in 2016. However, they have mostly been getting more attention due to the number of products that they produce each year.
Amazfit is currently the exclusive partner of Xiaomi. Together, they have become the second-largest wearable manufacturer. This is an impressive feat, given their relatively young age in the industry.
Their current lineup is more diverse and targets a wide range of audiences. They have budget offerings such as the Pace series as well as more high-end watches such as the Stratos Series. The Amazfit GTR and GTR, are, of course, their midrange and fashion-oriented offerings.
Specs
Huawei Watch GT 2
Amazfit GTR 47mm
Screen size
1.39 inch 3D Glass AMOLED
1.39 inch AMOLED
screen resolution
454 x 454
454 x 454
Colors
6
3
Weight
41g
aluminum alloy:36g
stainless steel:48g
titanium:40g
IP rating
5ATM
NFC
Supported
Battery capacity
220mAh LiPo
410mAh LiPo
Charging time
2hr
Battery life
Daily use mode:14 days
Daily use mode:24 days
Location technique
GPS+GLONASS
GPS+GLONASS
Sensors
Accelerometer sensor
Gyroscope sensor
Geomagnetic sensor
Optical heart rate sensor
Ambient light sensor
Air pressure sensor
Capacitive sensor
BioTracker PPG Biological tracking optical sensor
6-axis acceleration sensor
3-axis geomagnetic sensor
barometric sensor
capacitive sensor
ambient brightness sensor
Supported Devices
Android 5.0 and above, iOS 10.0 and above
Packaging and Unboxing Experience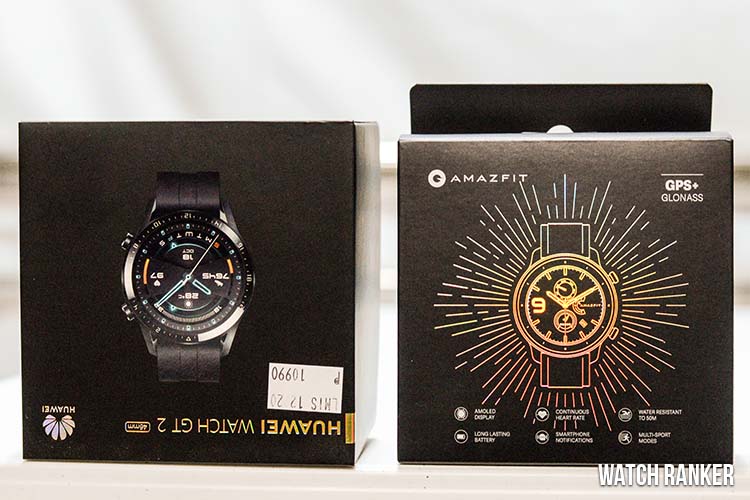 Winner: Huawei GT 2
Before we get to the comparison, I would like to go over the packaging and unboxing experience of these two models. It does not directly affect the performance of the overall value of the smartwatches. However, we still want to be critical on this aspect as it can gauge how much effort a company puts in to impress the users on their products.
The Huawei Watch GT 2 has an impressive packaging that mimics the ones found on high-end wristwatches. The overall design language and the unboxing experience is also highly reminiscent of Huawei smartphones. Overall, it is a very clean presentation that should hype up anyone who's laying their eyes on the GT 2 for the first time.
The GTR, on the other hand, has a less stellar packaging but still quite impressive. The box art is well done with its holographic 3D art, and the overall design language is classy. However, it feels like opening the GTR is like opening a piece of tech rather than a luxury smartwatch.
Both models come with a proprietary magnetic charger and some paperwork to help you get started. We will be talking more about their respective chargers later.
Overall, both models had a very satisfactory unboxing experience. We will give this round to the Huawei Watch GT 2, but anyone should be happy with the GTR's presentation.
Design and Build Quality
Overall Winner: Huawei GT 2
Design Language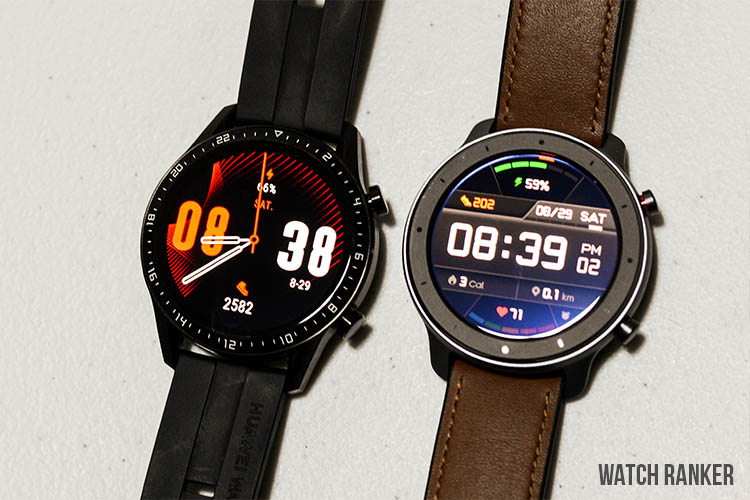 Winner: Tie
The Huawei GT 2 and Amazfit GTR share similar design elements. Both of them have two buttons, have a round display, and have a similar size. Both of these watches are also going for that premium analog wristwatch look.
In terms of their physical aspects, most of the differences can be seen in the aesthetic choices that they have made on the screen, as well as on the overall build quality. We will be talking more about them in their dedicated sections. But in terms of the overall design language, both of these watches are classy and should not feel out of place in any kind of event.
Build Quality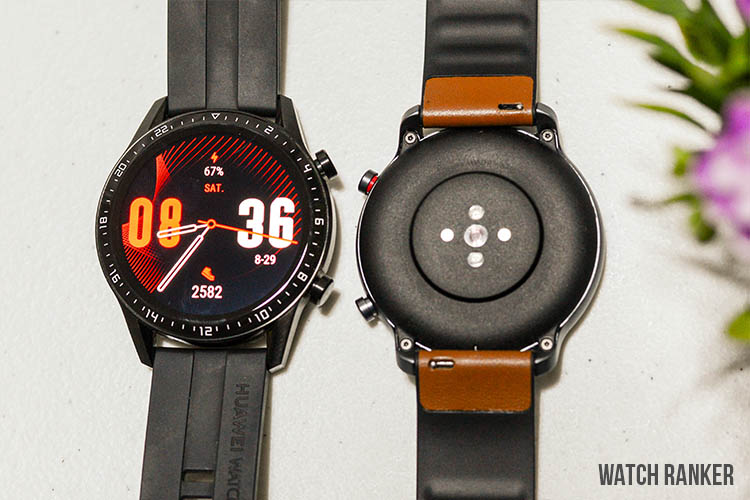 Winner: Huawei Watch GT 2
Both of these watches are well built. The GT 2 that we have is made of stainless steel, while the GTR is made of aluminum. The GTR is also available in stainless steel and titanium.
The GTR and GT 2 both feel solid. They do not have any noticeable weak points and should be durable enough for daily use. There is, however, one noticeable difference between the two.
The backside of the GTR, where the heart rate sensor is found, is noticeably lower quality compared to the rest of the watch. It feels like it is made of high-quality plastic. It feels great but isn't up to par with the backside of the GT 2. We'll give this round to the Huawei GT 2, but both smartwatches are well built, and we don't have any major issues with either smartwatch.
Weight
Winner: Tie
The Amazfit GTR is the lighter smartwatch and only weighs 36g. The GT 2, on the other hand, is substantially heavier at 41g.
The Huawei Watch GT 2 is not uncomfortable. And even the slightly heavier Huawei Watch GT 2e can be comfortably worn during exercises. But the GTR takes comfort to a whole new level. It feels as if you are not wearing anything on your wrist.
Ultimately, the better watch will come down to personal preference. If you associate weight with a better and more premium build, then the GT 2 will win you over. But if you prefer a lighter watch, then the GTR may be more appealing.
Dimensions
Winner: Tie
Both smartwatches have similar dimensions. The GTR has the following dimensions: 47.2 x 47.2 x 10.75 mm (47 mm)/42.6 x 42.6 x 9.2 mm(42 mm). The Watch GT 2, on the other hand, has the following dimensions: 45.9 x 45.9 x 10.7 mm(46 mm)/41.8 x 41.8 x 9.4 (42 mm).
The difference in size is pretty much negligible. When both of these watches are sitting side by side, you'll barely notice the differences.
Display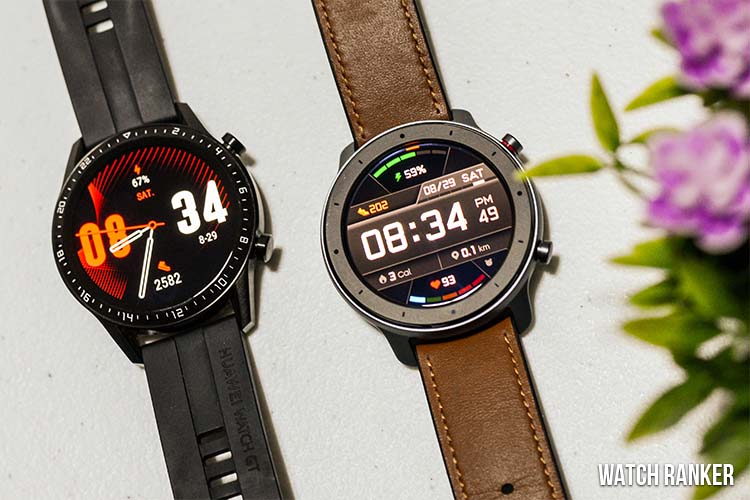 Winner: Huawei Watch GT 2
Both of these watches have an excellent OLED display. They are both capable of producing sharp images and text that can easily be seen regardless of the lighting condition. Both screens are also vibrant, which makes looking at their watch face designs a treat. The most noticeable difference can be seen in the presentation of their screens.
Both watches have a significantly large bezel. They both try to hide this by integrating the bezel to the overall design of the smartwatches. However, we think the GT 2 executes this better.
Both smartwatches have markings on their bezels, which recreate the design language of analog wristwatches. However, the GT 2 looks more elegant and better integrates these markings with the rest of the design.
Additionally, the GT 2 has a curved display that Huawei is officially calling the 3D Curved Display. This essentially alters the feel of the GT 2's display and makes the overall presentation better.
Of course, having a flat display on the GTR should not be a deal-breaker. However, it is these extra additions to the GT 2 help make it feel more premium compared to the GTR.
Buttons
Winner: Check Software Performance Section
Both smartwatches feature two buttons that are located on the right side. They both look and feel the same, with the exception of the red marking on the GTR's primary button.
They both offer tactile presses that perfectly registered all of my inputs. The real difference between these two buttons is the implementation. We'll talk more about it in its dedicated section below.
Strap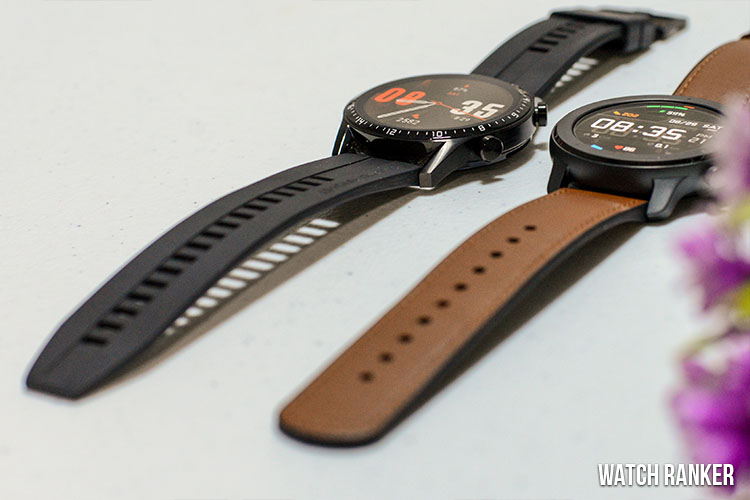 Winner: Tie
Both smartwatches come with a high-quality strap. The GTR came with a faux leather strap while the GT 2 came with a silicone strap. Both of these watches come in a number of different strap designs and materials. They are also compatible with a wide variety of third-party straps, so it shouldn't be hard to find one that fits your style.
And in terms of comfort, they both felt great and can be worn throughout the day regardless of what type of activity you are doing.
Features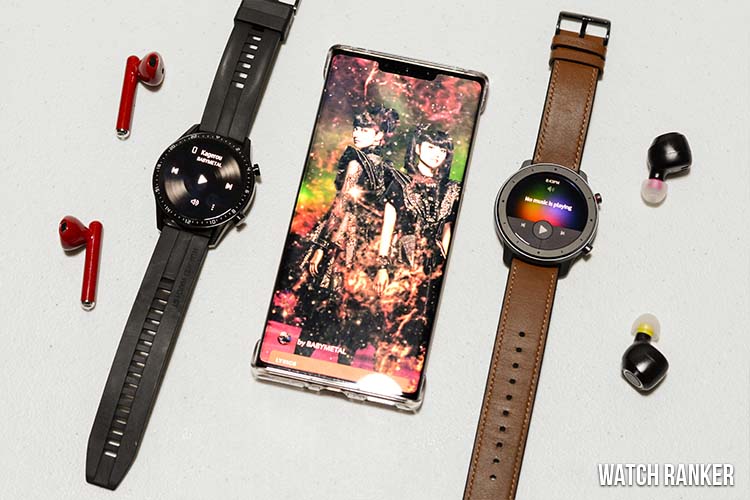 Winner: Huawei GT 2
Both of these smartwatches offer similar features. But in terms of the number of features available and their execution, the GT 2 pulls ahead.
The Huawei GT 2 features the new Kirin A1 processor that helps make the operating system fast and responsive and also helps the watch more efficient, which makes the battery last longer. The GTR's processor was not disclosed, but it was able to keep up in terms of its performance.
The GT 2 is utilizing a newer 5.1 Bluetooth chip while the GTR is utilizing a Bluetooth 5.0 chip. The difference isn't too big, and both smartwatches offer a solid Bluetooth connection.
One feature that the GT 2 has that is missing from the GTR is the speaker and mic. Despite the microphone currently having limited functionality in the GT 2, it is still useful to have since it is giving you more options with how you approach phone calls.
The speaker has several functions. Aside from being a loudspeaker during calls, the speaker can be used to trigger ringtones for notifications. It can also give voice prompts during workouts (which can be disabled).
Lastly, the Huawei Watch GT 2 can store contacts that you can quickly call without the watch. This can be useful in emergency situations or in situations where you can't reach for your phone.
The GT 2 is also rumored to receive a software update that gives it a voice assistant. It hasn't been confirmed, but this can potentially further increase the use of the speaker and microphone.
Both smartwatches also offer weather, compass, timer, stopwatch, and find my phone. Interestingly enough, the GTR also has a find my watch feature, but this functionality is quite limited since the GTR does not feature a speaker.
The GT 2 can also store music files since it has internal storage. It isn't the biggest, but 4 Gb is enough to store some MP3's that you can listen to while working out.
And as a bonus feature, if you have Bluetooth earbuds connected to your phone, you will be able to use them to answer calls. So if you want to listen to music without being distracted by your phone, but you still do not want to miss important phone calls, then this is a great addition.
Both watches also offer media controls for your smartphone. However, the GT 2 executes this feature better since there is virtually no lag. The GTR has a bit of lag but is enough to distract users like me who want to quickly change songs or fast forward videos.
It is worth noting that the GT 2's smaller 42 mm version does not have the microphone and speaker functionality. The battery life of this model has also been reduced to one week, something that we did not see with the GTR's smaller version.
The GT 2 also has a remote shutter, which was added on a later update. This is highly useful for taking shots, such as group selfies.
Health Tracker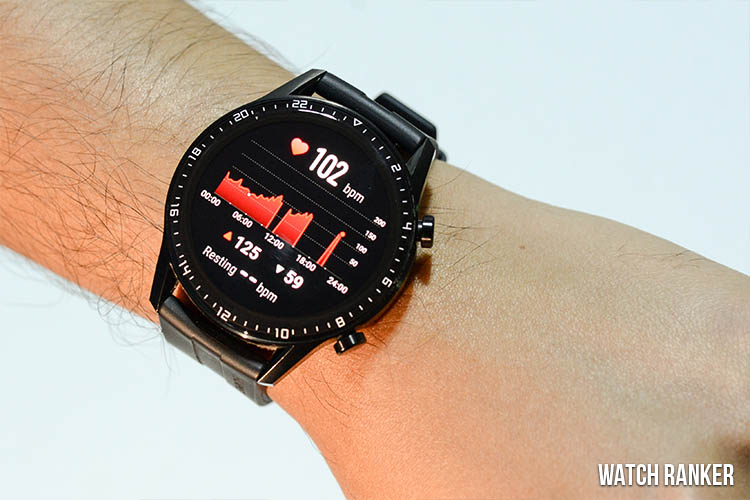 Winner: Huawei GT 2
Both smartwatches nail the basic health monitoring features that any smartwatch should have. Both have a heart rate sensor, sleep tracker, step tracker, and various workout modes.
The GTR and GT 2 both support 24/7 heart rate monitoring. Both of them mostly displayed accurate results. However, the GTR occasionally made some mistakes and showed unrealistic results. This was evident when the heart rate monitoring was still working and kept showing results even if I wasn't wearing it.
Both smartwatches also offer sleep tracking. However, this feature is not executed well on the GTR. The Amazfit GTR cannot show your sleep stats on the watch. You'd have to access the App just to see your results. This is incredibly annoying and inconvenient when you are half asleep in the morning, and you just want to check if you already completed your 8-hour goal.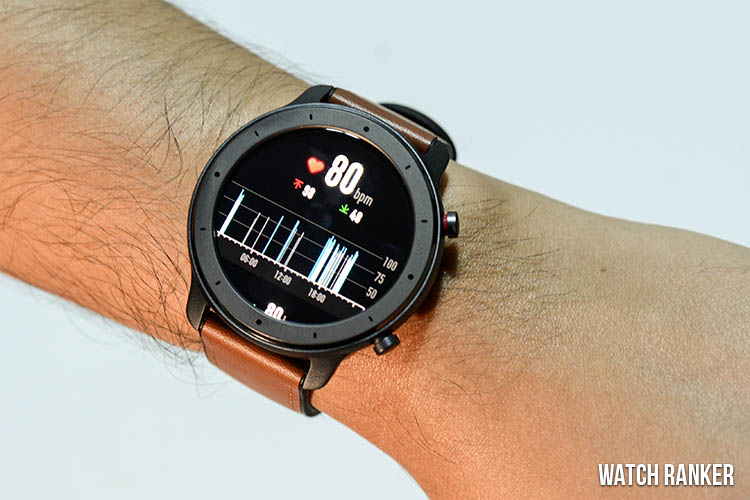 The Huawei GT 2, on the other hand, allows you to see basic sleep data on the watch. You can then see a more detailed breakdown in the Huawei Health Application. This App also gives you access to Huawei's True Sleep Feature that can help you improve the quality of your sleep.
Both watches track your activities. They also remind you to stand up if you have been sitting for too long. Unfortunately, they both make mistakes sometimes. They will tell you to stand up even if you are currently standing.
Lastly, the GT 2 offers automatic stress monitoring. However, during our testing period, I found the results to be inaccurate. The results were showing to be normal, even when I was extremely stressed. It's a nice feature to have, but Amazfit GTR users shouldn't be bothered by its exclusion.
Fitness Tracker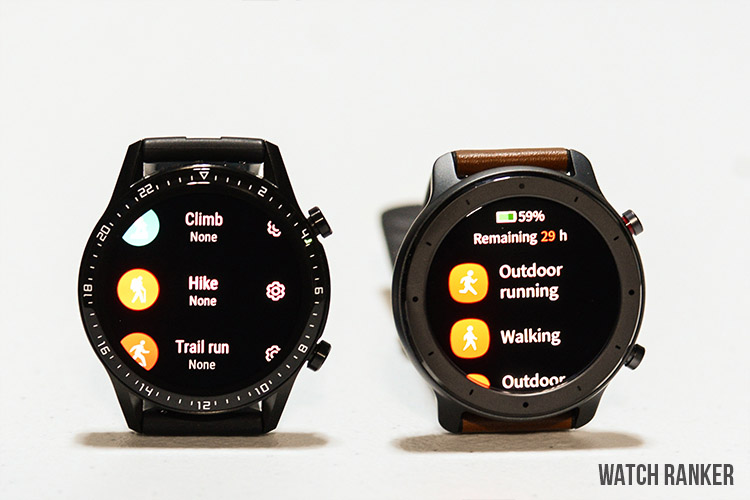 Winner: Huawei GT 2
Both smartwatches perform well in terms of fitness tracking. However, when it comes to the number of workout modes, the GT 2 beats the Amazfit GTR.
The Amazfit GTR covers all of the basics, such as Outdoor Running, Walking, Outdoor Cycling, Treadmill, Indoor Cycling, Open Water Swimming, Pool Swimming, Elliptical Trainer, Climbing, Trail Running, Skiing, and Freestyle.
The Huawei GT 2, on the other hand, has similar workout modes. But it has recently integrated the GT 2e's 100 workout modes. So in total, you get basic workouts, sport-oriented workouts, and custom workouts.
It is, however, worth noting that both smartwatches are not perfect. They both make mistakes, especially when counting steps. But that is a problem that is shared by most smartwatches.
Overall, the GTR does the job if you want to use it for some occasional workout sessions. But if you want more workout modes, then the GT 2 may be a better fit.
Battery Life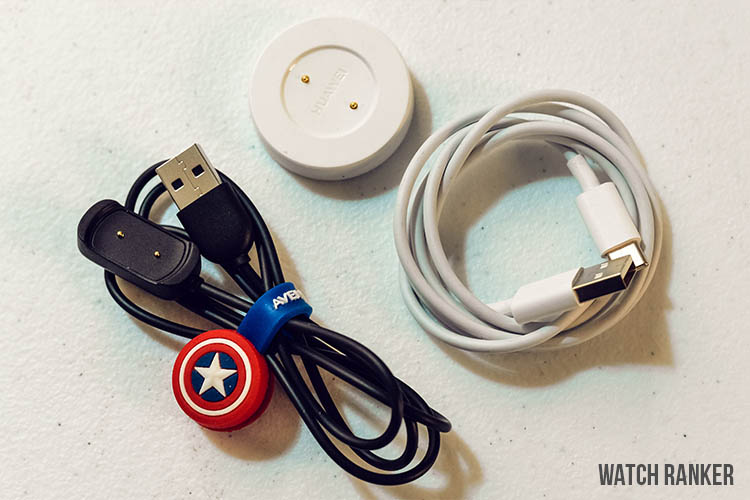 Winner: Tie
Both smartwatches have excellent battery life. They can both last up to two weeks of regular use. Of course, features like Always On Display and GPS will drain their batteries faster. But you will still be enjoying both of them for at least one week before needing a recharge.
The Huawei Watch GT 2 has a 455 mAH battery, while the Amazfit GTR has a 410 mAH battery. The GT 2's Kirin A1 processor makes sure that battery consumption is kept to a minimum. The Amazfit GTR, on the other hand, has a battery saver mode that can help it last up to 24 days.
Both smartwatches offer proprietary magnetic chargers. However, I find Huawei's implementation to be better. The cable on the magnetic charger is removable and connects via USB-Type C.
This means that you only need to carry the small magnetic charger and use the Type-C cable found on your smartphone's charger. The GTR's magnetic charger does not feature a removable design, meaning you have to carry the whole thing with you.
But then again, this shouldn't be too much of a deal-breaker since you probably won't need to charge your smartwatch often due to its superb battery life.
Watch Software Performance
Overall Winner: Huawei GT 2
Icon Aesthetics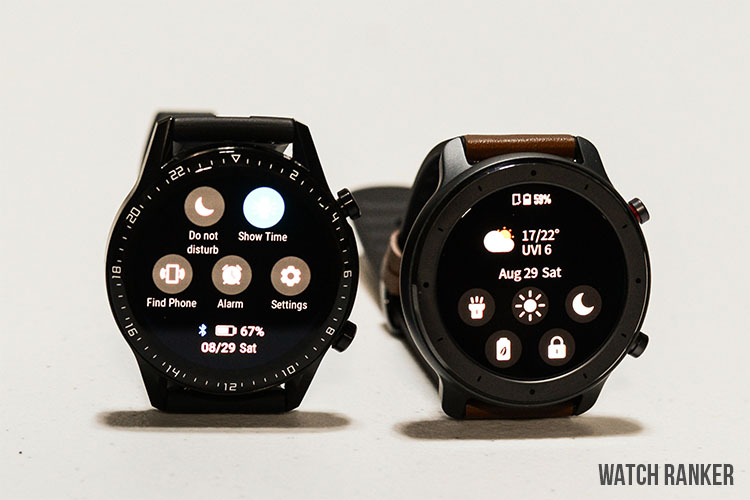 Winner: Tie
Both smartwatches have a similar menu layout. However, what sets them apart is the aesthetics and design choices that each company made. Both are clean looking, but Amazfit seems to be drawing a lot of inspiration from the app icons used in Xiaomi smartphones.
The Huawei GT 2 icons look slightly better, but this will come down to personal preference. Both look great and should fit whatever smartphone you are using.
User Interface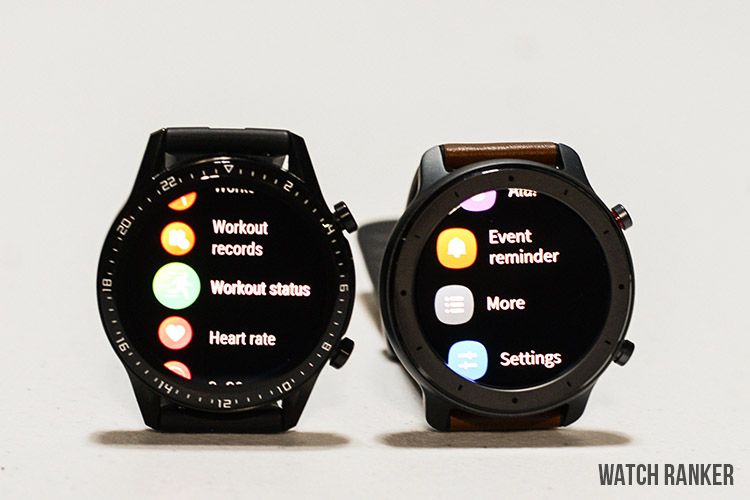 Winner: Huawei GT 2
Both smartwatches have a similar user interface. However, the Huawei GT 2 has better execution. Its UI is more optimized and helps you get things done faster.
The GTR's main screen contains the main watch face as well as several fitness apps such as the heart rate scanner and activity tracker. The GT 2 improves upon this by adding more apps such as weather, stress tracker, and music playback. This is a lot better and faster since you do not have to dig through the menu just to access these apps.
I will have to say that the GTR executes the daily stats better. The GT 2 shows you a rough breakdown of your daily stats but cannot show additional detail such as calories burned. You'd have to access the Huawei Health App to see those kinds of information. But on the GTR, you can simply tap to see more details.
As for accessing the main menu, the GT 2 has a better implementation. You simply have to press the first button to get to the various menus. On the GTR, you'd have to swipe up. Swiping up seems to be the more natural gesture until you realize that this means the GTR no longer has access to a notification shortcut.
Also, the GTR has no quick access to the settings menu. Both have a shortcut for some quick settings such as the screen's brightness (swipe down), but it is odd that you cannot change a lot of settings on the fly for the GTR.
You can reprogram the GTR's menu layout to put the notifications and the settings at the top, or you can opt to reprogram the second button to quickly access those. However, I think both of these are still slower than simply having to swipe up for notifications like in the GT 2.
Now in terms of the performance, both encountered some slight frame drops in the home screen. But overall, the performance was smooth, and both UI did not experience crashes or freezes.
It is worth noting that the scrolling through the GTR's main menu seems to be smoother. This is a minor point but still worth mentioning since it seems to be smoother than both the GT 2 and the lower-priced Amazfit GTS.
Watch Faces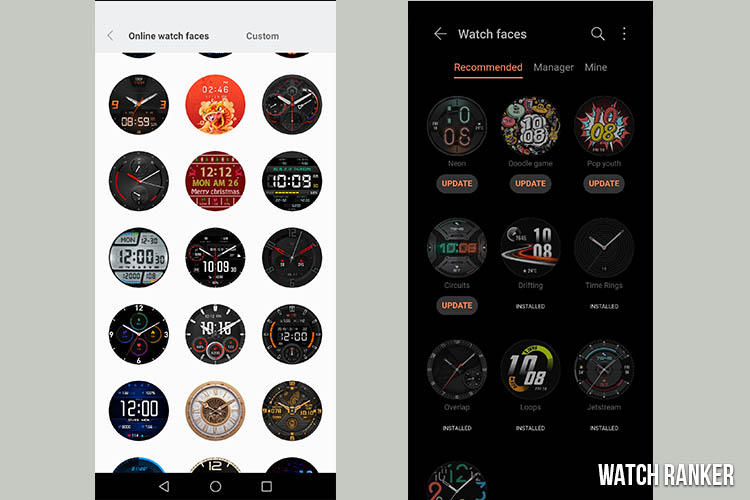 Winner: Huawei GT 2
In terms of the watch faces, we simply have to give this one to the Huawei Watch GT 2. Both smartwatches had great looking watch faces, but in terms of the overall selection and how seamless the whole process is, the GT 2 does it better.
Both smartwatches have a good selection of watch faces. They both offer classic analog watch faces, digital watch faces, and also futuristic/modern looking designs. But in terms of the library of available designs, I feel like the GT 2 offers a lot more variation and quality.
The GTR has some repetitive designs and some that don't even fit the overall classy aesthetics of the watch. Choosing one that fits your style could sometimes feel like a chore since you have to dig through the App.
But the designs aren't the real issue here. It is the way these watch faces are installed.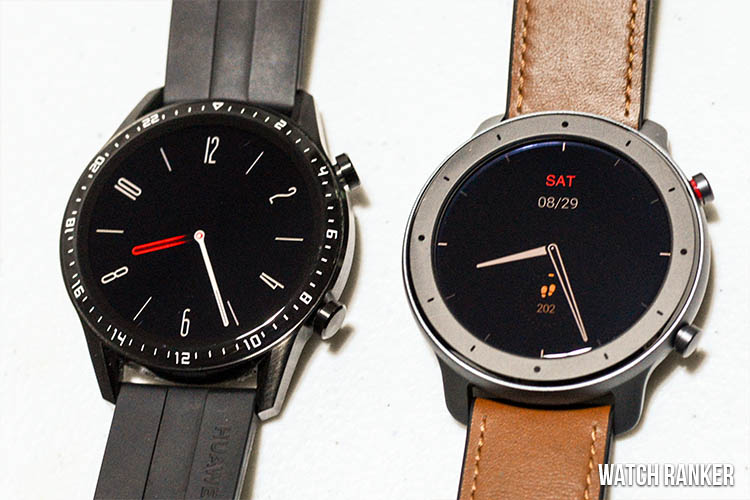 The GTR can only hold up to one watch face at a time. The GT 2, on the other hand, can have more than ten watch faces that can be applied without using the App. On top of its limited capacity, the installation process is also a pain on the GTR.
Installing watch faces takes around a minute, which may not seem that long until you compare it to the GT 2's instantaneous installation. This entire process is discouraging, especially if you wish to cycle through different watch faces.
Both smartwatches are, unfortunately, not officially compatible with third-party watch faces. Overall, the GTR has some clear issues with installing watch faces that highly detract from the overall experience.
Additionally, both smartwatches support Always On Display (AOD). However, the GTR's implementation just seems to be an afterthought. There are just two watch faces available on the GTR. The GT 2, on the other hand, has four AOD watch faces. Two of those have some level of customization by giving you the ability to change the color. Overall, the watch faces are better implemented by the GT 2.
Notifications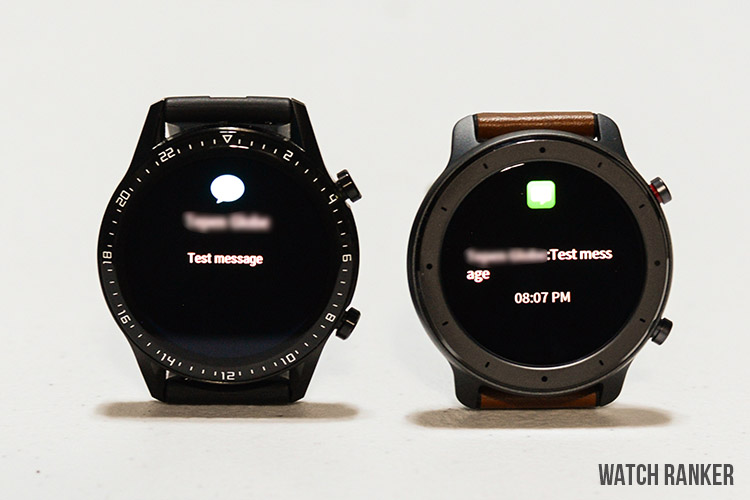 Winner: Huawei GT 2
I am not a big fan of how notifications are handled by the Amazfit GTR. Like the Huawei GT 2, your notifications pop up as soon as you receive them. You cannot interact with these notifications on either model.
However, if you miss your notifications on the GTR, then you will have to navigate to the notifications tab (which is buried under the main menu). This takes significantly longer compared to the Huawei Watch GT 2, where you simply have to swipe up to access all your notifications.
There are several ways to get around this. You can change the order of the GTR's menu via the smartphone app, or you can reprogram the second button to quickly access the notifications. However, I still think it would have been easier, faster, and more natural to have a smartphone-like gesture instead.
Another gripe I have with the GTR's notifications is that you do not have a quick way of clearing all your notifications unless you reach a certain number. You have to delete them one by one by swiping and pressing the delete prompt. The 'clear all' option will only be available once you have more than five notifications.
I also do not like how notifications are presented on the Amazfit GTR. Long texts are broken into two lines. This can be confusing, especially when reading usernames on your social media alerts.
This was the same problem that the Amazfit GTS had, and it is quite odd why Amazfit has not addressed this on the GTR's larger display. The GT 2 does a better job and utilizes the larger space better.
Overall, the notifications work on both models. However, Huawei's implementation is better.
Buttons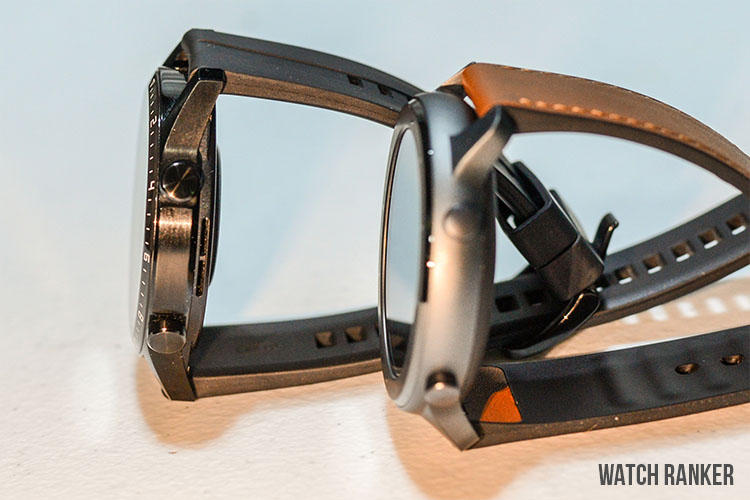 Winner: Huawei GT 2
The biggest misstep that Amazfit took with the GTR (and the GTS) is the button implementation. The Amazfit GTR has the same button configuration as the Huawei Watch GT 2. However, the buttons are highly inefficient due to how Amazfit chose to utilize them.
As mentioned earlier, the second button on both smartwatches accesses the various workout modes. They can also be reprogrammed to quickly access most apps on these watches. However, it is the first button that is different between these two.
The first button wakes up the screen on both watches. It also acts as a home button if you are anywhere outside the home screen. However, its primary function is different on both smartwatches.
On the GT 2, it accesses the main menu. And on the GTR, it simply turns the screen off. I think that's pretty much useless since you never need to turn the screen off. Just put your wrist down, and the watches should automatically turn off the screen.
Smartphone App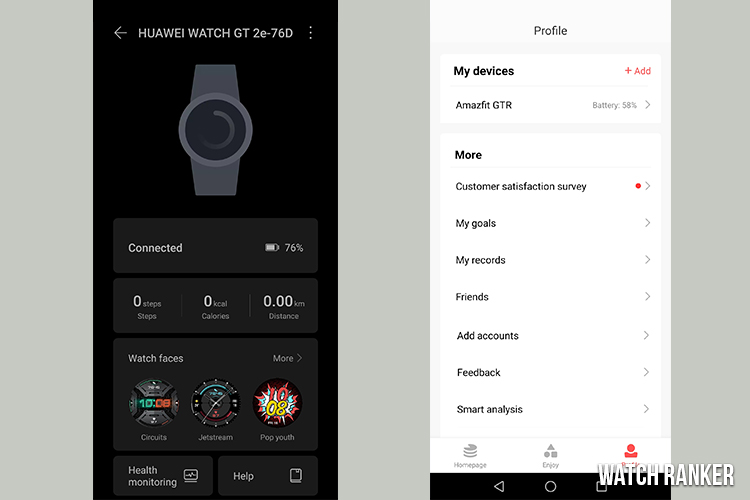 Winner: Huawei GT 2
Unfortunately, Amazfit's smartphone application is just as cluttered as the watch's user interface. There are a lot of settings that you can modify on the smartphone app. However, I think it would have been better to have these options on the watch instead. Huawei's implementation may not be the best, but at least it is far cleaner and easier to understand compared to Amazfit's App.
Setting up the Amazift app and the smartwatch is also not a great experience.
The Amazfit App offers you the option to log in with your social media accounts. But this option ironically doesn't work. Tapping on the various social media icons results in an error, regardless of which device I used.
This then leads us to the incredibly tedious account creation process. Instead of being a quick one-minute process, the App continues to ask for lots of information even if it is not related or directly usable by the smartwatch.
Once you have your account on both models, you will have to do a basic setup before you can use them. However, the GTR forces you to do some updates that take several minutes before you can use the watch.
But the biggest issue that I have with the Amazfit smartphone app is that it constantly needs to sync with the smartwatch. Every time you open the app, it takes a few seconds to update various data such as sleep tracking and steps. Again, this is incredibly annoying when you are half asleep in the morning, and you just want to have a quick look at your sleep stats.
There were also several occasions where the GTR suddenly stopped showing notifications. This was then fixed by opening the Amazfit App, which automatically syncs the data.
Again, both applications are not perfect, but Huawei's App is the clear winner here. Amazfit needs to rethink its approach to its smartphone app if they want to be competitive in this price range.
Both applications can be acquired via Google Play Store (Huawei Health, Amazfit) for Android users and Apple Play Store for iOS users (Huawei Health, Amazfit).
Comparison Winner: Huawei GT 2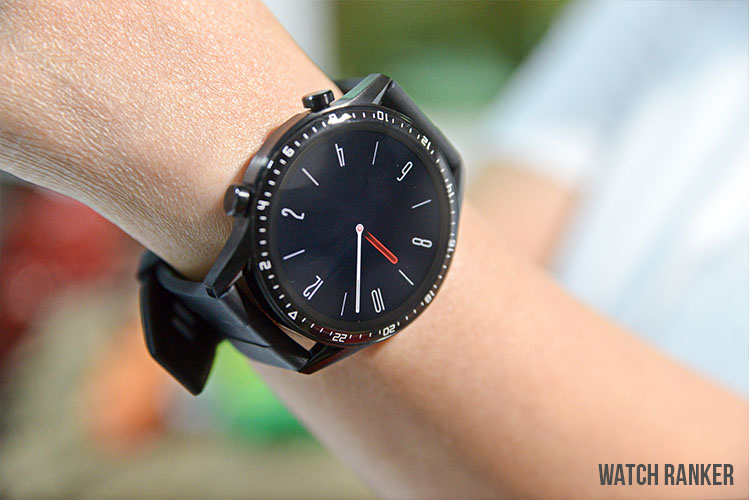 Both smartwatches are highly competitive, especially at this price range. They get a lot of things right from the hardware to the aesthetics. However, the Amazfit GTR feels as if it is strictly made for its price point.
And that means needing to compromise on some aspects such as the software experience. The Huawei GT 2, on the other hand, feels more like a refined product. It is, after all, Huawei's best offering.
If you want good looks and premium build quality, then both smartwatches deliver. But if you want more features and want a better software experience, then the Huawei Watch GT 2 is the clear winner.