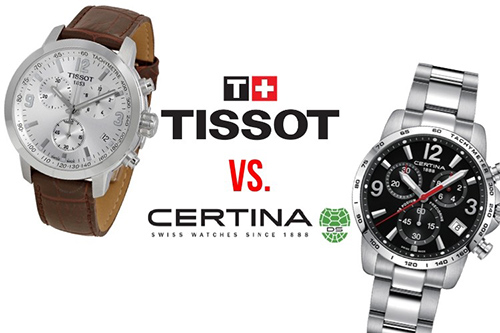 Tissot and Certina are both Swiss watch brands that seem to focus on two vastly different timepiece aspects. Tissot is a more well-rounded watch brand that offers a wide variety of timepieces that range within a more affordable price range. Certina, on the other hand, is considered as a luxury watch brand that built its reputation from manufacturing some of the most robust timepieces around. How do the two match up against one another?
In this article, we will be taking a look at two of Tissot's best timepieces and two from Certina. Can Tissot overtake Certina via the variety it offers or can Certina watches power through the competition with its outstanding build?
Tissot Brand Overview



Tissot is considered as a quality mid-range watch. It started as such and maintained this reputation throughout its illustrious history. Founded in 1853, the Swiss-based watchmaker company quickly rose to prominence with its combination of top-notch precision, stylish timepieces, and reasonable prices. Tissot's preferred timepiece mechanism is the precision quartz movement. Quartz movement is known for its impeccable level of accuracy, which is a massive factor as to why Tissot managed to form a partnership with several F1 racing teams.
Tissot has a somewhat similar reputation with Tag Heuer in that a lot of their timepieces are designed with the racing circuit being the primary source of inspiration. As for innovation in the market, Tissot is the first watchmaker to develop dual time zone watches for the general public. Tissot is also known for offering a lengthy two-year warranty for all of its timepieces.
Tissot is also known for taking chances and experimenting with some completely wild timepiece designs. Browse through their highly unique catalog of timepieces, and you are likely to see watches that feature stone and wood as components. This is the primary aspect of Tissot that I respect; they are open to thinking outside the box when it comes to their watch designs. This quality helps separate the brand from its competition.
Add to the fact that Tissot delivers some of the most elegant watch movements in the industry, and you have yourself a truly unique watch brand. Tissot watches are also more affordable in comparison to other high-end luxury watch brands.
Certina Brand Overview



Certina is a Swiss watchmaker and is primarily sold within Europe. If you haven't heard of Certina watches, then that is the main reason why. This is a luxury watch brand whose claim to fame revolves around their robust clock builds. Because of the durability of their timepieces, Certina's most popular watches all fall within the sports and tools watch category.
Certina has built quite a reputation in Europe for its robust outdoor watches and reliable dive watches. The only issue here is that finding a Certina watch outside of Europe can be quite tricky. Certina has some similarities with Tag Heuer in that both are luxury watch brands that primarily develop outdoor, sports, and tool watches. However, Certina offers more variety in this regard than the mostly spots watch-centric Tag Heuer.
Certina has been around for quite some time as well. The company is one of the original members of the Swatch Group. Certina was already a member when the multi-watch company conglomerate was still known as ASUAG. The company was founded back in 1888 and is the epitome of a success story as it initially began with only three employees.
Around the 1950s, Certina has grown quite well and was able to employ around 500 people at this point. They were also able to produce around a thousand high-quality timepieces per day. It wasn't until the 1960s when Certina debuted their iconic turtle logo. The turtle was complementary to what Certina has to offer in regards to their timepiece: sturdy, secure, and reliable. This was also the period when Certina started producing top-notch dive watches such as the Certina DS-2.
In terms of unique features that Certina has to offer, they have the unique shock-resistant floating watch movement in their arsenal. This technology has been their premiere feature with almost all their timepiece. As you would have guessed, this unique feature is more than enough to carry Certina to the upper echelons of watchmakers.
Certina might not have the same level of reputation as other world-renowned watch brands. However, it would be remiss to overlook what Certina has to offer if given a chance. You won't be disappointed.
Tissot and Certina Watch Comparisons
Chronograph Watches:
Tissot PR 100 Chronograph Review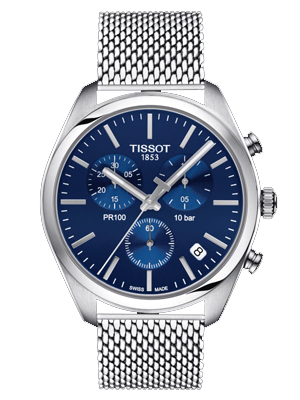 See on Tissot | Read Amazon Reviews
Chronographs are commonly thought of as having a bulkier build. It is somewhat difficult to find a sleek looking chronograph that can even double as a dress watch for formal occasions. Good news for you as we found one that fits that bill – the Tissot PR 100 Chronograph. This particular Tissot chronograph takes on a similar aesthetic to another popular Tissot watch series, the T-Classic collection.
The PR 100 Chrono comes in at 41mm, which is considered the sweet spot for watch sizes aiming for both men and women demographics. The PR 100 Chrono also comes in three variations, each with its unique aesthetic value that it brings to the table. Each model variation brings something different, making each version of the PR 100 Chrono stand on its own.
The watch comes with the standard three sub-dials that track minutes (30), seconds (60), and 1/10th of a second. To help ensure stability and precision, the PR 100 Chrono incorporates Swiss quartz ETA G10.211 movement.
We thoroughly enjoyed what the Tissot PR 100 Chrono has to offer. The sleek build and three unique variations give this particular Tissot watch model excellent aesthetic marks. It gives the PR 100 a broader appeal from casual, sporty, to formal functions.
Certina DS Caimano Chronograph Review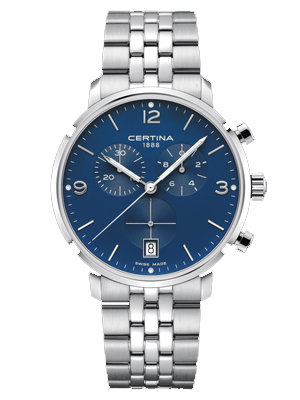 See on Certina | See on Amazon
The silver-toned polished stainless-steel case of the Certina DS Caimano also puts it within the range of chronograph watches that can double as dress watches. The stunning blue dial with silver-toned markers and hands are the aesthetic icing on the cake for the DS Caimano. This is undoubtedly one robust chronograph timepiece that you can bring with you even at formal galas.
The Certina DS Caimano also incorporates a minimalist approach to its design, giving it a modern charm while keeping overall appeal very traditional. The beautiful blue dial is also well-protected within a scratch-resistant sapphire crystal glass with anti-reflective coating implemented as well.
The watch features a 42mm stainless-steel watch, considered to still be well within the sweet spot in regards to the size. Additionally, the DS Caimano is designed to deliver water resistance for up to 100-meters. As for what makes the DS Caimano tick, the timepiece incorporates quartz G10.212 movement for its primary and three sub-dials.
Pilot Watches:
Tissot T-Touch Expert Pilot Analog and Digital Revier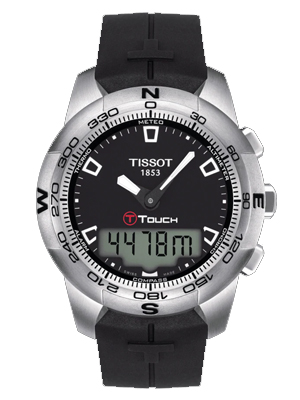 See on Tissot | Read Amazon Reviews
In terms of functionality, the Tissot T-Touch Expert Pilot is among the best in the market. It comes with a whopping 15 different functionalities and even a touch screen feature. Blending analog and digital elements in a watch might seem like overkill, but the Tissot T-Touch manages to pull it off with finesse. The aim of the T-Touch Expert Pilot is convenience, and it hits its mark perfectly.
The T-Touch Expert Pilot is jam-packed with features such as an altitude gauge for aviators, chronograph functionality, several measuring gauges such as a thermometer, pressure gauge, and barometer. The watch also comes with a backlight and overall build is top-tier, making it ideal not only for pilots but also for outdoor enthusiasts.
Additionally, the watch is also not that expensive. It manages to maintain excellent precision in timekeeping thanks to the Swiss quartz ETA E48.311 movement. What's even more amazing is that with all of the features included within the T-Touch Expert Pilot, it still manages to maintain an incredible sleek build considering everything it has to offer.
Certina DS Podium GMT Review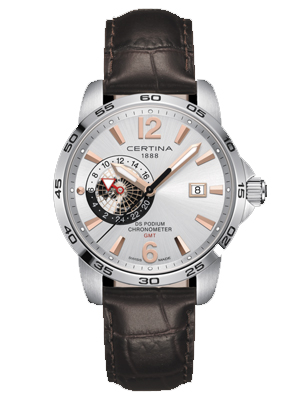 See on Certina | See on Amazon
The Certina DS Podium GMT features a highly stylish timepiece that caters to the avid traveler. The DS Podium GMT exudes an air of sophistication. It comes in with a 42mm stainless steel case with polished bezel. There is also a tachymeter functionality, and the glass is made from scratch-resistant sapphire crystal.
The dial itself is quite legible, a vital aspect of a pilot watch as wearers need to determine the time at a glance. The watch window is made from durable and scratch-resistant sapphire crystal glass. The window is also coated with an anti-glare feature for more enhanced visibility.
The dial features a prominent GMT 24-hour indicator along with a day and date display. The GMT dial also features an image of a globe to give it more character. We also like to note how the watch itself has a conventional construction that provides it with up to 100-meters of water resistance. Overall, the Certina DS Podium GMT is ideal for those who travel around the globe regularly and want a stylish and reliable timepiece to accompany them during their trips.
Conclusion: Tissot and Certina – Which is Better?
Tissot and Certina are considered to be entry-level Swiss luxury watch brands. In terms of quality, Tissot and Certina are very comparable. The Swatch group places them together in their mid-range tier along with Hamilton and Mido so they do compete against each other.
In regards to design, based on my personal preference, I would give Tissot the definitive edge and the broad selection of watches seems to target a wider audience.
As for watch build and technical prowess and build quality, as far as finish and feel, Certina might have Tissot's number.