Tissot and Rado are two Swiss watch brands that are well-known and respected in the market. What helps separate the two from the group is their affinity with crafting innovative and almost experimental timepieces. In this article, we will be taking a look at the myriad of fantastic watches that Tissot and Rado have to offer. Each brand has a unique signature trait which endeared them to watch enthusiast around the world. How do Tissot and Rado compare to one another? Does one watch brand have a definitive edge over the other?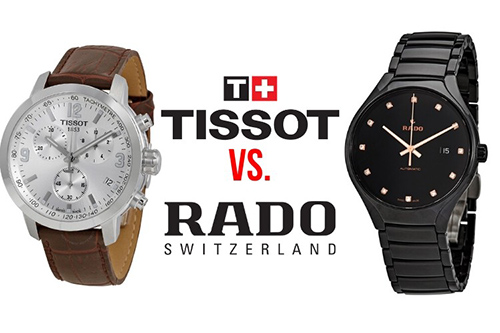 Tissot Brand Overview



Tissot is a well-known Swiss watch brand that was founded in 1853. No doubt, the company has a rich history. Their longevity alone gives credence to their watch quality. From the very beginning, Tissot focused on delivering traditional yet impeccably precise timepieces. So much so that the brand managed to land partnership within the sports industry, namely in the F1 racing circuit.
Tissot primarily develops high-precision quartz movements for their timepieces. Their use of quartz movement is one of the main reasons for their popularity within sporting events. Because of their connection within the F1 racing industry, a lot of their timepieces incorporate a sporty 'racecar' aesthetic. Of course, Tissot also produces some excellent dress and tool watches.
One of the most notable characteristics of Tissot is its incredibly unique and wild timepieces. Tissot is the only brand that offers wristwatches that utilizes 'out of the box' materials such as wood and stone. That's one full-proof way to separate yourself from the crowd. Amazingly, or not that surprising all things considered, Tissot still manages to retain excellent timekeeping accuracy on these left-field type watches.
Another notable accomplishment by the Swiss watch brand is its dual time zone timepiece, which was the first of its kind in the consumer watch market. This made Tissot quite a fashionable wristwatch of choice for world travelers around the globe. All Tissot watches also comes with an excellent two-year warranty which further highlights the brand's confidence in their timepieces.
If you are looking for mid-range or entry-level luxury Swiss watches, Tissot is a good brand to start your search. They have a wide variety of timepieces ranging from the modern and sporty to traditional and elegant timepieces.
Rado Brand Overview



Another longstanding Swiss watch brand with a unique repertoire in the industry is Rado. Founded in 1917 in Lengnau, Switzerland – Rado initially used the name, Schlup $ Co. before changing it to its current iconic moniker, Rado, around the 1950s. One of the most astounding facts about the Swiss watch brand is how quickly it rose through the ranks. By the 1960s, the Rado brand managed to crack the market of up to 60 countries.
When it comes to iconic timepieces, Rado also has its cream of the crop lineup. First and foremost, the DiaStar 1, which was the first timepiece in the world to incorporate a scratch-resistant design from the case to the dial window. Rado debuted the use of sapphire crystal to the market, as well as the equally robust and scratchproof, hard metal material. Up to this point, both materials were never used and taken advantage of by the watch industry. Nowadays, it is pretty common to find timepieces that utilize these two durable materials.
Rado is also well-known for one particular and unique type of timepiece that they manufacture – the ceramic watch. The Rado Integral is another flagship Rado watch and features a characteristic that will become Rado's calling card; the implementation of ceramic material into the timepiece itself. This turned out to be a massive hit with watch enthusiasts as Rado now offers a luxury ceramic watch line that includes other notable Rado watch series like the Ceramica and the Cintra.
Nowadays, Rado's reputation is that of top-notch luxury and style. While not in the same breath as brands like Rolex, Rado is still a significant competitor in the market that offers a unique experience for timepiece enthusiasts looking for something entirely different.
Tissot and Rado Watch Comparisons
Chronograph Watches:
Tissot Courtier Chronograph Review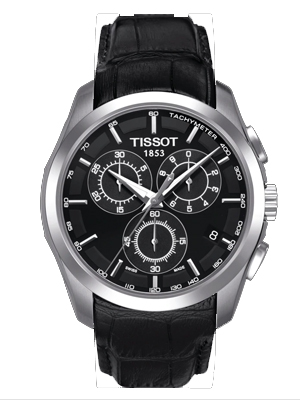 See on Tissot | Read Amazon Reviews
Let's mix things up a bit with this category. Rather than solely focusing on chronograph functionalities, we will be including design and style into the mix as well. In short, these chronograph watches must also be able to fit into the dress watch category perfectly well. In that regard, the Tissot Courier Chronograph hits all the right notes.
The stylish and sleek chronograph delivers an aesthetic that complements casual and formal attires. The professional charm of the Courtier Chronograph is a sweet cherry on top of its impeccable functionality and precision. First off, the Tissot Courtier Chronograph utilizes high-precision Swiss quartz movement within its 42mm stainless steel case. A high-grade black leather strap accompanies the rugged steel case. Some variations use an all-stainless-steel build for people who are looking for that extra luxurious charm.
The main feature here is the chronograph functionality. Three sub-dials track minutes (30), seconds (60), and 1/10th of a second. There is also a stopwatch functionality and a date display located at the 4 o'clock position as well. The use of synthetic sapphire crystal equates to top-notch scratch resistance. The build of the Courtier Chronograph also provides it with 100-meters of water resistance, making the watch suitable for some light water-based activities such as swimming.
Rado New Original Chronograph Review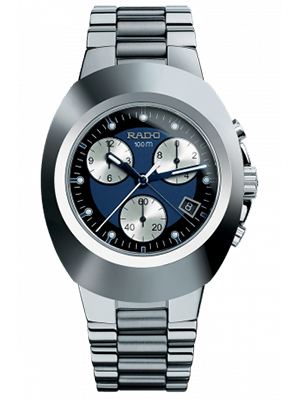 Rado almost always delivers when it comes to unique and stunning watch designs. The Rado New Original Chronograph takes it even further with its premium-grade and high-end aesthetics. We thoroughly enjoyed the futuristic-retro charm of the 38.5mm stainless steel case. The dial features a two-tone design of black and blue with silver accents.
The distinct thick outer rim of the dial gives it a robust feel. The watch also uses precision quartz movement with analog display. The three sub-dials incorporate a silver-tone finish to help provide contrast from the black and blue main dial face. There is also a date display located at the 4 o'clock position. The dial features sapphire crystal glass to provide it with high levels of scratch resistance and an anti-glare finish for enhanced visibility.
The Rado New Original is quite a charming timepiece and is as stunning as it is precise. Rado never fails to deliver watches with its signature innovative design. The New Original Chronograph offers in both performance and style.
Dive Watches:
Tissot Seastar 1000 Review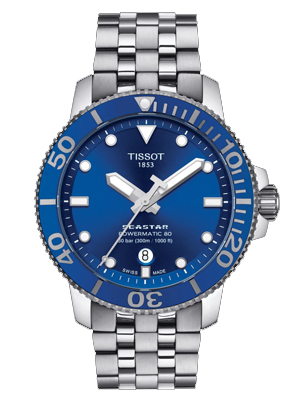 See on Tissot | Read Amazon Reviews
The Tissot Seastar 1000 is the Swiss watch brand's flagship dive watch series, and it is easy to see why. The Seastar 1000 is also available in chronograph versions which further enhances its already amazing functionality and reliability. This level of precision is possible thanks to its use of Tissot's proprietary Powermatic 80 movement. The Powermatic 80.111 Swiss automatic movement provides the Seastar 1000 with impeccable accuracy as well as an 80-hour power reserve.
As for its amphibious capabilities, the Seastar 1000 provides wearers with substantial 300-meter water resistance. The Seastar 1000 also incorporates a sportier look and design. The price of this luxury dive watch is also considerably more affordable compared to other high-end brands. Aesthetically, the Seastar 1000 sticks to a fairly traditional design but offers it in a variety of color tones.
This particular model uses rose gold-toned stainless-steel casing that measures in at around 43mm. Other notable features include an anti-clockwise rotating ceramic bezel, a transparent back case, and a scratch-resistant sapphire crystal glass window. There is also a date display found at the 6 o'clock position.
Rado Captain Cook Automatic Review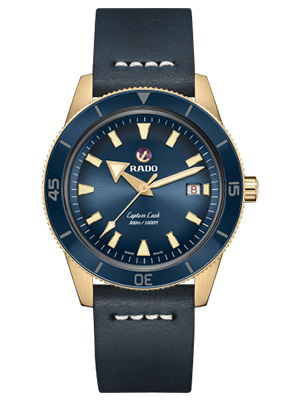 See on Rado | Read Amazon Reviews
The Rado Captain Cook Automatic is one of Rado's longstanding dive watch series, with this particular iteration – Rado decided to bring back the classic aesthetics. The traditional design takes full advantage of Rado's current watch technologies, and it does so with absolute finesse. Rado brought back the 1962 original design of their Captain Cook watch series, and it is a treat for Rado fans. The fact that the classic Captain Cook design can still go toe to toe with current aesthetics is a testament to the watch's timeless appeal.
Let's get to the meat of this dive watch, shall we? First off, the Captain Cook Automatic delivers an impressive 300-meter water resistance rating. This means that the watch is suitable for most water-based activities from swimming to diving. As for features, the Captain Cook Automatic incorporates a traditional design, so don't expect much in terms of added functionality. However, the Captain Cook Automatic performs impressively well thanks to the Swiss automatic movement and analog display. The watch movement also provides an excellent 80-hours of power reserve.
Overall, the Captain Cook Automatic is a classy dive watch for outdoor lovers who would like to add some luxury and sophistication when it comes to their timepiece accessory.
Conclusion: Tissot and Rado – Which is Better?
All in all, Rado appears to be on a different level of prestige, and luxury build will be the primary deciding factor. Rado has its distinct signature style that quickly elevates its timepieces above most of the competition.
That said, Tissot offers far more watch models that cover a broader customer base. Tissot is also much more affordable, considering that it is a luxury watch brand. Rado is a worthwhile investment, but if budget is a significant factor, I say go with Tissot.