Image Credit: MTV Live via Creative Commons
The Mission Impossible film series is now at movie number six with more in the pipeline. The longevity of this Tom Cruise-led action franchise is quite impressive with the first entry into the series dating back to 1996 and it is as strong now as it has ever been. It is also quite interesting to see the evolution of the Mission Impossible film series as the makers were still experimenting with the first couple of entries before deciding on a definitive style for the spy-action film series.
This style not only reflects the tone of the movies, but also the style of each character in the franchise. The main protagonist of the film series, Ethan Hunt (played by Tom Cruise), is known for his headstrong, fearless, and sometimes cocky attitude. If we were to ask you what type of watch a tough, brash, and oozing with personality secret agent would wear, what brand fits those traits well?
If you said Casio, then you nailed it right on the head. Throughout all six Mission Impossible movies, Ethan Hunt can be seen wearing various types of timepieces. With some research and a keen eye, we were able to determine the watch models that were used in this high-octane action film series.
In this article, we will be giving the spotlight to these tough and modern timepieces that shared the big screen with Tom Cruise.


We will also be including watches worn by other key characters in the series as well. But before we begin, here are some fun facts about the popular spy-action film franchise for the movie buffs out there.
Started as a Classic TV Series, Now a Box-Office Movie Franchise
The Mission Impossible franchise didn't start as a big-budget action movie – it was first a popular TV series. The first Mission Impossible TV series ran from 1966 to 1973 and the second one ran from 1988 to 1990. The first movie was released in 1996 and, except for including the character of Jim Phelps (the MIF leader in the television series), was a complete overhaul from its TV counterpart. However, the iconic Mission Impossible theme, the lighted fuse intro, and self-destructing messages were kept intact.
Only One Character from the TV Series Made it to the Big Screen
The character of Jim Phelps, played by Peter Graves in the series and was re-casted to Jon Voight in the movie, is the only original character to appear in both the television and movie adaptation. However, the portrayal of the character differs greatly in both adaptations. While Jim Phelps was the honorable leader of the MIF in the TV series, the movie version painted him as a more malevolent and manipulative light who turned out to be the main antagonist of the first film.
Tom Cruise did the Majority of His Stunts
For an A-list actor, you would think that Tom Cruise would leave the dangerous action scenes to his stunt double – well, you would be wrong. For most of the big action-packed sequences in the Mission Impossible film series, Tom Cruise decided to do it himself. From scaling the highest building in the world, the Burj Khalifa, to hanging from outside an airplane as it is taking off – Tom Cruise did those stunts himself. You can imagine the absolute anxiety that the director might have been feeling during those scenes as the last thing you'd want is for your lead actor to go splat.
Watches Worn in Mission Impossible by Tom Cruise
For a character like Ethan Hunt who utilizes a slew of high-tech gadgets at his disposal, you would expect him to have a collection of modern and multi-functional timepieces to help accomplish his missions. We will be going through each of the six installments of the Mission Impossible film franchise and see what type of watch Tom Cruise wore for each entry.
Mission Impossible (1996) – Casio DW-290
The Casio DW-290 can be seen here during Ethan Hunt's "Magic Trick" scene:


Which brand best represents a modern and multi-functional timepiece than Casio? During the first Mission Impossible film, we can see Ethan Hunt wearing a Casio DW-290, which is often mistaken as a G-Shock model, which it isn't. This is a classic digital Casio watch and equipped with all the standard features that help bring the brand to the dance.
With its battery-operated quartz movement, the Casio DW-280 comes with several functionalities such as a 1/100 second stopwatch, lap timer, split time, calendar, and alarms. The DW-290 also comes with a 200-meter water resistance rating. The Casio DW-290 fits right into Ethan Hunt's character as it is low-key, functional, dependable, and durable.
Mission Impossible 2 (2000) – Casio G-Shock DW-6900
You can get a good look at the G-Shock DW-6900 during this fun and over the top motorcycle chase scene near the climax of the sequel:


A classic G-Shock watch that has been around for decades, the DW600 model makes its big-screen debut in Mission Impossible 2. The second entry to the Mission Impossible film series was certainly a product of its time with the long black trench coats, shades, and fancy gunplay. The ultracool gunfights were a signature of director John Woo and gave the second Mission Impossible film extra brownie points in the 'coolness' department. As for the DW6900, this is a G-Shock watch so you probably have an idea as to what it offers.
First of all, the DW600 comes with a top-tier shock-resistant build designed to withstand the roughest activities, intense firefight while riding a motorcycle at top speeds, included. The watch also comes with 200-meter water resistance and comes with several functionalities that have become standard features in G-Shock watches such as a timer, stopwatch, and alarms. The DW6900 is equipped with a Japanese quartz movement and has a rather bulky build with its 45mm hard resin case.
Mission Impossible 3 (2006) – Casio G-Shock MTG-910D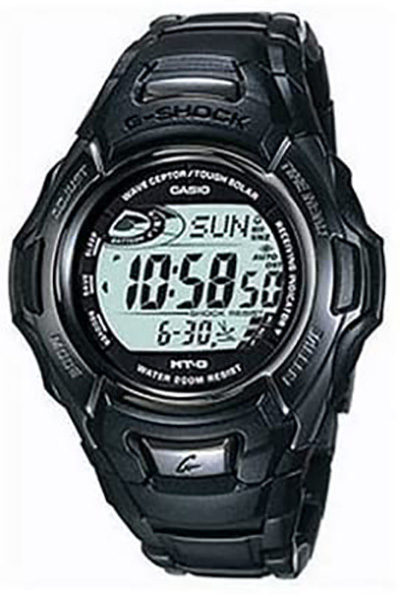 Tom Cruise can be seen wearing the G-Shock MTG-910D during the intense bridge attack scene:


This particular G-Shock watch is quite difficult to find nowadays, making it even more enticing. The MTG-910D also appears to be a tailormade timepiece for Ethan Hunt with its black and silver color tone and sleeker aesthetic. This G-Shock model is also loaded for bear with a Tough Solar and Wave Receptor technology equipped. The former allows the MTG-910D to recharge its battery via absorption of solar light and the latter is used to keep the watch accurate as it automatically synchronizes depending on its location. Due to the limited availability of the MTG-910D, searching for it online can prove to be difficult. You can find a couple in eBay though, but stocks are quite limited there as well.
Mission Impossible: Ghost Protocol (2011) – Tudor Heritage Chronograph
In the fourth installment of the spy-action film series, Ethan Hunt can be seen wearing a Tudor Heritage Chronograph timepiece instead of a Casio watch. As the plot of the film heavily involves infiltrating a dangerous criminal organization, it is logical for Ethan Hunt to also wear a more luxurious yet equally reliable timepiece to complete the façade that the character was going for.
As for the timepiece itself, the Tudor Heritage Chronograph brings a certain level of sophistication with its aesthetics. Case in point, the ribose-style grey hour markers, and striking black dial. The Tudor Heritage also features an automatic movement with an analog dial display. It comes with a 42mm stainless steel case with a bi-directional rotating bezel and a water resistance of up to 150-meters.
Notable Watches Worn by Other Characters in Mission Impossible Ghost Protocol
Tom Cruise wasn't the only one wearing a well-known watch brand in Ghost Protocol. Benji Dunn (Simon Pegg) and William Brandt (Jeremy Renner) are also seen wearing a Casio G-Shock GX-56-1B and a Rolex Submariner Date respectively during certain scenes in the movie. Again, the wristwear choice reflects both characters with Benji leaning towards the more modern and multi-functional watch (Casio) and the CIA operative, Brandt, having a more professional and classier timepiece (Rolex).
Mission Impossible: Rogue Nation (2015) – Tissot T-Touch Expert Solar (T091.420.44.051.00)
Tom Cruise doesn't sport any particular watch in the whole movie, but we do get a zoom-in shot of the uber-stylish Tissot T-Touch timepiece worn by Simon Pegg's character, Benji Dunn:


Strangely, Ethan Hunt did not wear any notable timepiece in Rogue Nation. Fortunately for us, Simon Pegg had a super-cool Tissot timepiece to show off in the film.
This model is the Tissot T-Touch Expert Solar timepiece which features a notable textured grey dial and brushed 43mm titanium case. This timepiece comes with an excellent multi-functional build which is a perfect watch for the nerdiest member of MIF. The T-Touch Expert Solar comes with chronograph features, altimeter, barometer, compass, calendar, dual time zones, and even a thermometer.
Simon Pegg was also shown wearing a Casio G-Shock during this surprisingly humorous car chase scene:


Simon Pegg's character, Benji, was specifically wearing a G-Shock G-Aviation GWA-1100-1A3 watch. This is another watch that matches Benji's tech-savvy character with its excellent list of features that include multi-band atomic timekeeping, Tough Solar technology, incredible durability, and a Triple G Resistant build.
Mission Impossible: Fallout (2018) – CWC GS Sonar Watch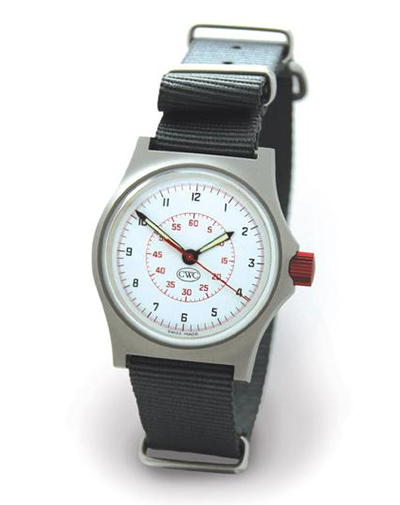 The latest entry into the Mission Impossible series, Fallout, gives Ethan Hunt a more rugged and traditional timepiece in the form of the CWC (Cabot Watch Company) GS Sonar Watch.
In a Mission Impossible movie that might have the most exhilarating 'race against time' scene in the franchise, the CWC GS Sonar Watch is the perfect companion for our intrepid special agent operative. The CWC GS Sonar features a 38mm satin-matte stainless-steel case and is equipped with an ETA 955.102 quartz movement with an analog dial display.
Simple, classy, and tough – the CWC GS Sonar is an excellent outdoor timepiece for when hiking, camping, or saving the world from mass destruction.
Notable Watches Worn by Other Characters in Mission Impossible Fallout
Henry Cavill's character, August Walker, also sports a notable timepiece in the film. The CIA double-agent and assassin can be seen wearing a Suunto Spartan Sports Watch in this memorable brutal fight scene in the movie:


The Spartan Sports is a Suunto smartwatch packed with features such as a built-in GPS, and as you can see in the scene above, it is also incredibly tough and sleek.