In the watch industry, we can often forget how a certain style became popular or why a model was originally made.
A lot of iconic watches, especially luxury brands become synonymous with a certain look and the original reason for that design is obscured.
However, in the case of watches like the Tag Heuer Monaco or the Rolex Daytona,  the name is a huge clue as to its origins, even though these watches have become style icons outside of the motorsports world. 
In this quick guide, we will be covering racing watches, how they became popular, their features, how to find a good racing watch, and some of the most popular racing watch designs on the market today.
An Introduction to Racing Watches


A racing watch does exactly what it says on the tin, it is a timepiece designed to help capture race times for a range of different racing mediums, from horse to running to bikes, to cars, to boating and more. 
One of the most popular watch complications to this day is a chronograph. A chronograph watch has a series of dials that allow for precise racing timing, in addition, they are often used by divers and pilots and have a rich and compelling history within watch culture.
It is often overlooked how important timekeeping is to a race, but without knowing race times, the whole point of a race is irrelevant, regardless of the type. 
Yes, technically knowing who won is the most critical part, but knowing lap times, how much they won by and other technical details can help us improve races, performances and add some additional stakes to racing.
There are many reasons that luxury timepieces and race cars have become synonymous with each other, it could be down to the precise designs, technical prowess or the rich history of their partnership. 
History of Racing Watches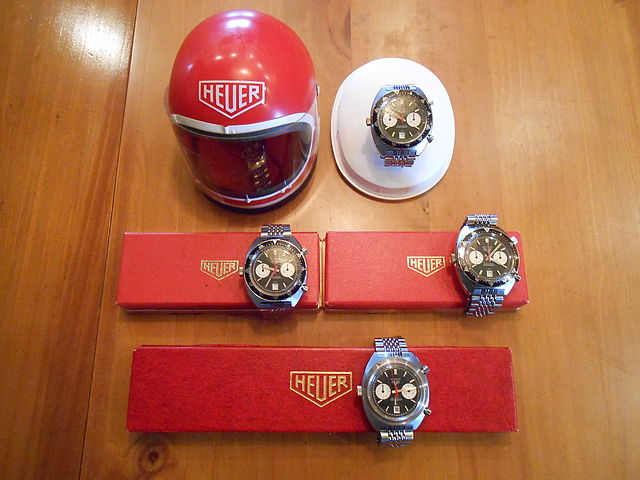 There is some debate exactly when the first race was timed with a watch, but some reports date back to the late 19th century and the early 1900s. With the increasing popularity of pocket watches around this time period, it is fairly likely to assume the 1890s would be the accurate conception of race timing.
The world's first motor race in 1894 in France is infamous for inaccurate timekeeping and multiple varying reports of the actual race timings have been reported. So, if we are talking about the popularisation and wide usage of watches in racing, we would be looking nearer the 30s.
Watchmakers' agendas shifted from racing needs and the importance of chronograph features on their timepieces due to the changing technology and two world wars, pushing the need for military innovation and a lot of industries pushed towards war efforts and away from more leisure and sporting endeavors. 
By the end of the 1960s, one of the biggest updates came to racing watches and their complications, the automatic chronograph movement was invented. 
Depending on who you speak to, the company that first came up with it is moot, it is believed to be Seiko, Heuer, or Breitling or a mix of different watchmakers.
Racing Watches in Pop Culture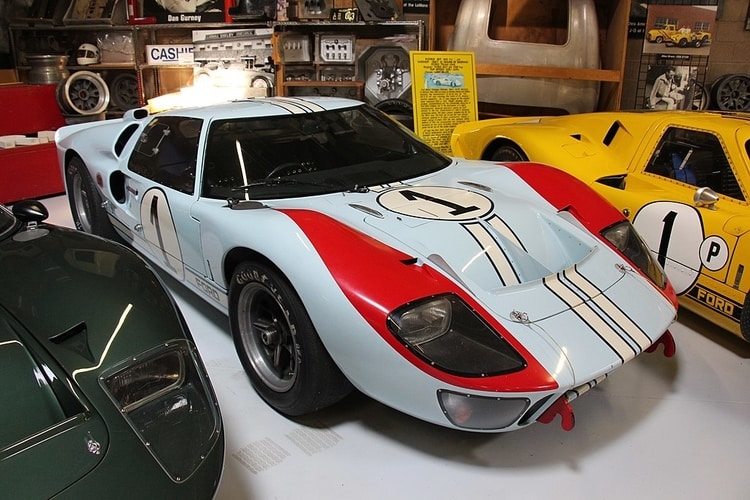 To say both racing and watches have had an impact on each other would be an understatement, as both industries have grown and shifted, so have their unique partnership and they are destined to be entwined for countless years to come.
To put this into context, a lot of popular racing watches have been inspired by race cars and F1 vehicles, such as the Heuer Monaco and Rolex Daytona, more on those a little later.
Racing watches have had their share of the limelight too, especially in pop culture surrounding racing. Due to their prevalence within the racing industry and the culture, films, documentaries and shows surrounding racing will often have some iconic timepieces in them.
A great example of this is in the 2019 film Ford vs Ferrari ('Le Mans '66' in Europe) which centers around two infamous drivers played by Matt Damon and Christian Bale.
The racing watch collection in the film is second to none with Breitling, Rolex and Heuer (now TAG Heuer) models on display.
Features of a Racing Watch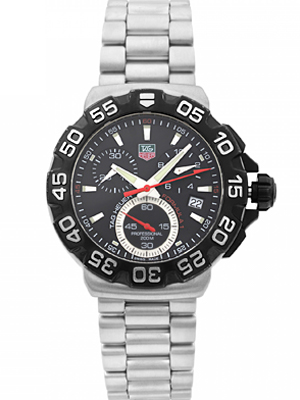 Every watch is unique and will have its own style and features, but there is definitely some overlap in the majority of racing watches, as they have been created for the same primary purpose.
Chronograph
You would struggle to find a racing watch that did not have some form of chronograph dials on it, and this is because it is primarily used as the stopwatch or basic timing function. A chronograph is quintessential to a racing watch.
Breathable Straps
Although some racing watches may have metal straps, the theme is definitely comfort and materials such as rubber or other styles of breathable straps. There has been a recent shift towards lightweight metals or stainless steel, but the classic models had 'comfort' straps. Rally straps, made of leather with ample holes for ventilation, are a popular choice for racing watches. 
Dual-Tone or High-Contrast Dial
Being able to quickly read a racing watch is incredibly important, so most models have a dual-tone or high-contrast dial so you can easily distinguish timings. This has been a feature that has been prominent since the inception of racing watches.
Tachymeter 
One of the popular complications on a racing watch is the tachymeter, which is used to measure speed. This is typically part of a chronograph, certain racing watch models will have multiple stopwatch functions alongside the traditional watch face.
Angled Case 
In a lot of the traditional racing watches an angled case was a core feature of the timepiece, but as watches have evolved, the need for this has diminished. Originally it was designed so the driver could read the watch without moving their hands from the wheel, but newer designs have rendered this mostly defunct.
What to Look for in a Racing Watch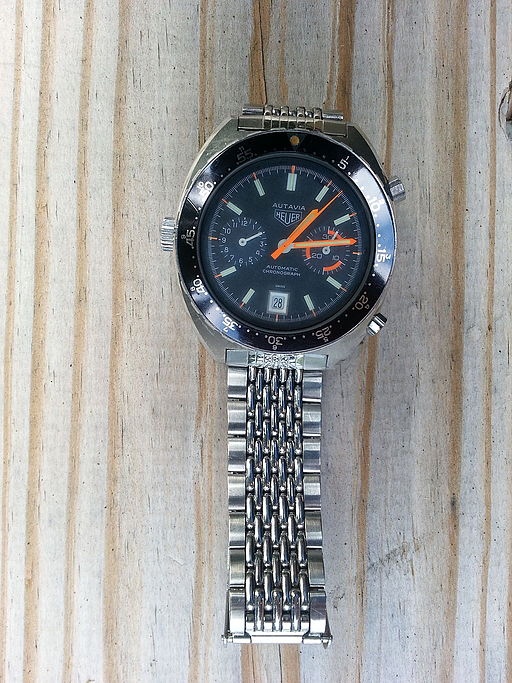 There are a lot of things you can look for when selecting a racing watch, and although their origins are from racing, a lot of non-competitive drivers and people wear them due to their unique designs, rich history and flashy styles.
When you are buying a racing watch you need to consider when you are going to wear your new timepiece, as the designs are often much more overt, so are often paired with more casual outfits. You would rarely pair a racing watch with a suit for instance. 
One of the best things about racing watches is that they can appeal to a wide range of watch enthusiasts and have branched out past their original intention. 
There is still a huge backing from the racing industry, but it is very common to see people with zero interest in motorsport or competitive races sporting a racing watch
The most important thing to remember when buying a racing watch is to find a style that works for you, there is no magic answer on what makes the perfect racing watch. That is the beauty of racing watches, they are completely at your discretion and can be worn by anyone at any time.
Iconic Racing Watches
With racing watches being popular for just shy of a century, there are countless models and versions of racing watches. Let's look at a few of the most iconic ones that have come out or had an impact on the racing and watch industries.
Rolex Daytona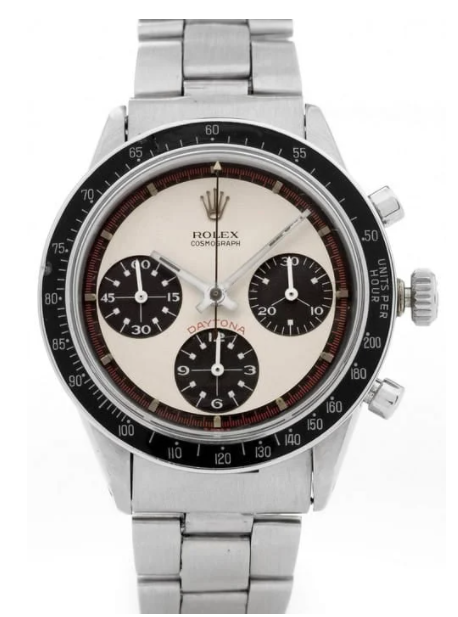 This racing watch, as you can probably guess, is named after the famous Daytona Speedway in Florida. Originally released in the early 60s at the height of Daytona's popularity, it has evolved with the times despite being around almost 70 years.
The Rolex Daytona is one of the most recognized lines in racing watch history, and with a huge variety of styles and colors, it is still in huge demand even after all this time and shows no signs of slowing down, no pun intended.
Even to this day, the Daytona racing watch sells out and causes shortages, some have even speculated the second-hand market is even more lucrative than buying the watch new.
(TAG) Heuer Monaco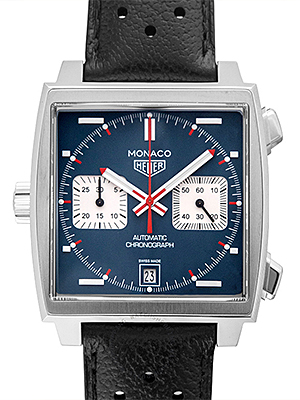 Now widely known as TAG Heuer, the Heuer brand has been synonymous with racing and luxury timepieces since the late 1960s. With a range of high-end models within the racing niche, it is hard to select just one, but the Tag Heuer Monaco is iconic due to its namesake.
As you can probably guess, it is named after the Monaco Grand Prix, which itself has a storied history and a special place in all racing enthusiasts' hearts.
Omega Speedmaster
Often confused with the Seamaster, most likely due to their similar names, styles and due to both being chronograph watches, the Speedmaster is the racing counterpart to the ironic diving watch.
Sometimes referred to as the Moonwatch, the Speedmaster was actually introduced in the mid to late 50s. It is believed to be the first chronograph that had an engraved tachymeter scale on the bezel as opposed to the scale, this made it easier to read.
Breitling Bentley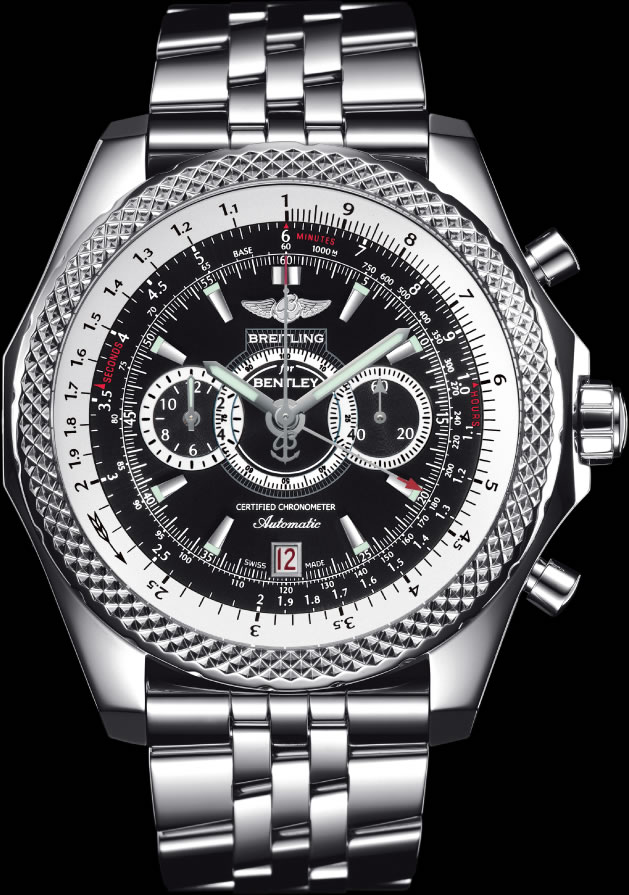 A much more recent racing partnership is Breitling and Bently, who teamed up in the early 2000s to create a unique clock for the vehicles, which later became a special edition watch.
Now, there is a wide range of watches that showcase the unique style and flair of both brands perfectly. The racing watch line encapsulates the two brands effortlessly and is a stunning line of chronograph timepieces.