The 2013 award-winning, biographical, black comedy film, The Wolf of Wall Street, features an all-star cast of actors and is directed by the legendary Martin Scorsese. The film tells the story of banker and stockbroker Jordan Belfort, who gets tangled up in financial fraud activity and lives a life of extreme excess vice.
The film stars a solid cast led by Leonardo DiCaprio, Jonah Hill, Margot Robbie, Matthew McConaughey, Jon Bernthal, and Jon Favreau. The Wolf of Wall Street comes in with a three-hour run time, a daunting watch for some, but the film's acting and overall pacing make for a must-watch experience.
As with pretty much all of Scorsese's work, The Wolf of Wall Street is a well-crafted piece of cinema that garnered numerous nominations and awards from The Golden Globes and the Grammys, to name a notable few.
Now, since The Wolf of Wall Street follows the dark and decadent side of the financial industry, you can expect to see a lot of luxurious cars, yachts, and timepieces. This aspect will surely be a treat to watch fans as we go through the timepieces worn in the film.
But first, there are several interesting facts about the production of this film that we need to highlight. So, here are some interesting facts about The Wolf of Wall Street that you should know:
The Long and Rocky Road from Script to Film
The movie is based upon the life of stockbroker Jordan Belfort who lived a life of excess, thanks in part to stock-market manipulation, which landed him in jail. After his release, Belfort decided to write an autobiography of his wild and tumultuous life before being convicted.
The manuscript was quickly on Hollywood's radar, with big names such as Brad Pitt and Mark Wahlberg interested in adapting it to the big screen. Ridley Scott was even attached to the project before Scorsese got the directing chair.
The casting process was also quite chaotic, with several actors vying at the audition. First, Jonah Hill met with DiCaprio and Scorsese to convince them to give him an audition, which he landed.
Next, casting for Belfort's second wife had names like Amber Heard and Blake Lively floating around. Finally, the relative newcomer and highly talented Margot Robbie got the role and promptly showcased her acting chops alongside DiCaprio.
A Lot of Name Changes
Since The Wolf of Wall Street is based on real-life events, events that led to several incarcerations, it is understandable that some of the real-life individuals involved would like to distance themselves from the film. For example, Jordan Belfort's first wife's name is Denice, and not Teresa as it was in the movie. His second wife's real name is Nadine, which became Naomi in the film.
There is also Belfort's friend, the co-founder of Stratton Oakmont, Danny Porush. However, after discovering that his name was in the book, Porush threatened to sue the film producers if his name appeared in the movie. Hence, the change Donnie Azoff for the film adaptation.
One of the Most Memorable Scenes in the Film was Improvised
You have probably seen the one we are talking about here, even if you haven't seen the movie. The scene with DiCaprio's Belfort and Matthew McConaughey's Hanna pretty much went viral with how over the top it was. But leave to McConaughey to add a layer of subtlety over the insanity, which made this particular scene a classic.
The part when McConaughey started humming and beating his chest was improvised and was not in the script. This is a rather weird technique that the actor does before shooting a scene to help prepare mentally.
DiCaprio noticed this little ritual by his co-star and asked Scorsese if they can include it in the actual scene. The rest, as they say, is history.
The Real Jordan Belfort Has a Cameo in the Film
You can see the real Jordan Belfort during one scene of the film. He is the motivational speaker who introduced DiCaprio's Belfort at an Australian convention. The real Jordan Belfort introduced his fictional counterpart on-screen.
Watches Worn in The Wolf of Wall Street
Jordan Belfort (Leonardo DiCaprio)
Seiko Solar Blue Dial Watch (SNE057)
Early in the film, wherein DiCaprio's Belfort is still quite green in the stock market business, we can see that he wears a Seiko Solar Watch. This watch choice reflects the character's inexperience in the industry as the Seiko Solar is quite an affordable timepiece for a Wall Street stockbroker to wear.
This statement is not a knock at Seiko as it is one of my favorite entry-level brands. The Seiko Solar SNE057 comes with practical functionalities along with solar-powered batteries. The baton-style hour markers and analog hands incorporate a luminous finish, which complements the blue dial finish.
There is also a day, and date display at the 3 o'clock position and the case provides a decent 30-meter water resistance protection.
The Seiko Solar SNE067 is quite a practical watch and does deliver a rather refined and professional aesthetic.
TAG Heuer 1000 Quartz 18K Gold Watch
Leonardo DiCaprio wears a TAG Heuer 1000 Quartz 18K Gold in the film.
This watch is often mistaken for the Rolex GMT Master II 18K (16718), which is understandable as both look virtually similar at a glance.
However, since DiCaprio is a TAG Heuer ambassador, we believe that he is wearing a TAG Heuer watch in the film. Unfortunately, the TAG Heuer 1000 Quartz 18K Gold Watch was discontinued in the 90s, so you will only find these sweet gold luxury timepieces pre-used.
The watch itself lands all the high-end luxury timepiece requirements. The all-gold aesthetic and detailed design are a marvel to look at. The 38mm gold case features a black unidirectional rotating bezel with bold Arabic numeral minute markers.
Over on the dial's side, we see that the 1000 Quartz 18K Gold Watch features a jet-black color tone. The black dial perfectly complements the gold-tone round hour markers. To enhance the elegance of the design, the analog hands use a Mercedes-Benz design. Both analog hands and hour markers have a luminous finish for optimum visibility in low-light environments.
Other notable aspects about this timepiece include a solid 200-meter water resistance rating and a date display that substitutes for the 3 o'clock hour marker.
TAG Heuer 2000 Exclusive Watch (WN5141)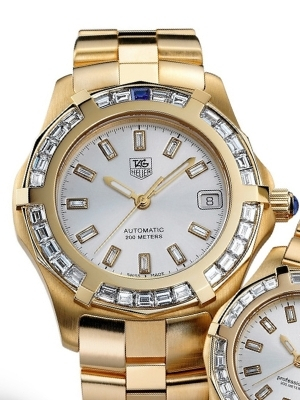 This particular TAG Heuer 2000 Exclusive timepiece is pretty hard to find nowadays, and it is quite a deluxe watch. This TAG Heuer 2000 model features a gold-tone case and bracelet with elegant diamond-studded hour markers. This timepiece commands attention, to say the least.
This TAG Heuer 2000 Exclusive features a 38mm gold-tone case with jubilee bracelets. The bezel features silver diamonds embedded around the outer rim. This timepiece is a dazzling and stunning addition to any watch enthusiasts' collection.
Within the deluxe exterior aesthetic lies a high-precision Swiss automatic movement. There is also a date display that takes up the spot of the 3 o'clock hour marker.
Search eBay for TAG Heuer 2000
Mark Hanna (Matthew McConaughey) – Rolex Datejust Stainless Steel Yellow Gold Watch (16233)
Check Price on Amazon | Search on eBay
Matthew McConaughey played Mark Hanna, Belfort's boss, and helped shape Belfort's career as a stockbroker. Hanna enjoys the fruits of luxury; as such, we can see him wearing an expensive vintage Rolex Datejust in the film. Specifically, the Rolex Datejust 16233 model.
The Rolex Datejust is pretty much a symbol of luxury. The 36mm diameter stainless-steel case is significantly enhanced by the two-tone gold and silver aesthetic. In addition, a Jubilee two-tone steel bracelet accompanies the elegant timepiece, which further enhances its overall charm.
The gold-tone bezel also adds to the overall mystique of this Rolex Datejust timepiece. This watch is the epitome of elegance and grace, with the white-tone dial featuring polished gold-tone baton hour markers and slim dauphine hands.
Within the stunning exterior frame lies a sophisticated Swiss automatic movement with COSC certification that guarantees absolute precision in timekeeping.
Donnie Azoff (Jonah Hill) – Rolex Cosmograph Daytona 18K Gold Watch (116528)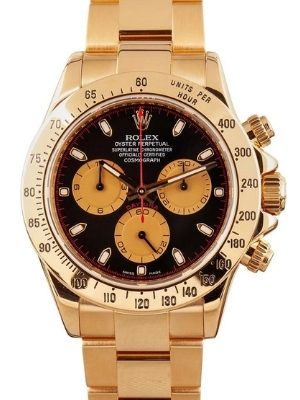 Check on Bob's Watches | Check on eBay
Jonah Hill plays Donnie Azoff, based on the real-life friend of Jordan Belfort, Danny Porush. Azoff was there alongside Belfort during the peak of their decadent and excessive lifestyle, so it is not surprising to see that he wears a Rolex watch.
The watch that Azoff wears in the film is the Rolex Cosmograph Daytona 18K Gold Watch.
This Rolex timepiece features chronograph displays and a highly luxurious gold and black aesthetic. Donnie Azoff is somewhat eccentric and undeniably has an affinity towards extravagance – which makes his pairing with this stunning Rolex watch a no-brainer.
Despite the high-end aesthetic, the Rolex Cosmograph Daytona is quite robust. The almost industrial design of the 40mm case, crown, and lugs add a rugged appeal to an otherwise luxury timepiece. In addition, the black dial incorporates bullet-shaped luminous hour markers with pencil-style analog hands.
The three sub-dials feature a gold-tone finish that offers a nice contrast against the jet-black background. Additionally, this Rolex timepiece comes with a 100-meter water resistance rating, making it a suitable companion when you are relaxing on your yacht.