We've featured several aviation-inspired watches on this website. For instance, a piece on AVI-8, which produces watches that pay homage to different types of aircraft; and a list of the 10 Best Pilot Watches Under $500.
We're adding another brand to this roster of topics by introducing Bell & Ross, a French watchmaker that produces watches inspired by aviation history and military professionals. Below, we'll talk about the brand's beginnings, its watch collections, and talk about its general reputation. We'll also take a closer look at some of its watches.
Bell & Ross History


The brand was founded in 1992 by two friends, Bruno Belamich and Carlos Rosillo (thus the name Bell & Ross), as a university project. Vekamich is the watch designer, and Rosullo is the head of operations. According to an article, some of the brand's first watches were rebranded Sinn watches, which is a popular German watchmaker.
Soon, Bell & Ross started to make their own designs while still being manufactured by Sinn. In 2005, the brand started to shift to a new direction, with the famous BR-01 Instrument, which is now an iconic round dial within a square-shaped case. We'll discuss this collection further below.
Bell & Ross draws its inspiration from the history of aviation and the military specifications that accompany it. The company started with a team of watch designers and aeronautical control panel specialists. The group's goal was to make utilitarian watches for professionals and to make durable and reliable watches for extreme conditions, such as extreme temperatures.
The company's watchmaking is inspired by aviation history and military specifications that go with it, "each time carrying out a technical or visual feat to produce an instrument of the highest quality."
Bell & Ross may not be as popular as other luxury watch brands (it does not have celebrity endorsers, which could have contributed to the lack in popularity), but the brand has been popular among watch enthusiasts for many years and continues to gain fans all over the world due to its constant evolution and innovation.
All Bell & Ross watches are conceptualized and assembled at the company's facility at La Chaux-de-Fonds.
Below, we'll introduce you to some of the brand's best models and the unique technologies used in creating them.
Bell & Ross Watch Collections
Bell & Ross has three main collections: Vintage, Instrument, and Experimental. We'll pick one or two models off each line and take a closer look at each of them, as well as describe some of their most notable features.
This collection has three categories: the BR V1 (38.5mm models), BRV2, (41mm models), and BR V3 (43mm models). There are too many watches to choose from, so we're picking specific models that are either new or have enjoyed popularity over the years. We'll also talk about the inspirations behind some of the watches.
Bell & Ross Vintage Collection

The BR V1 line is composed of simple yet powerful watches. The BR V1-92 is a black steel automatic mechanical watch with caliber BR-CAL.302. The case has a simple black dial, satin polished steel, and a combination of Arabic and stick index marker coated with Superluminova® and metal skeletonized Superluminova®. This watch has a power reserve of up to 40 hours, has a sleek black calfskin strap, and a water resistance to 100m–a simple yet sophisticated watch that you can use every day.
There's also the Bellytank-inspired BR V1-92 Bellytanker, which was inspired by the drop tank of fighter planes, and is also a hot rod used in speed races
The BR V2-92 has a rotating steel bezel with a 60-minute scale a matt black dial with the Superluminova features mentioned above. The buckle is a choice between satin-polished steel (a leather black calfskin model), and there is a date window placed between four and five o'clock. This one has a diver-inspired look, and like all the Vintage collection models, it is easy on the eye and can be easily matched with different outfits, casual or dressy.
The BR V3-94 R.S. 19 line, has either satin-polished steel or carbon-effect calfskin. These limited editions are driver chronographs for the Bell & Ross and Renault F1® team. Powered by a calibre BR-CAL.301 automatic mechanical movement, the main functions of this watch include hours, minutes, and small seconds, as well as 30-minute and 12-hour counters and central chronograph seconds. The rotating steel bezel is bi-directional, and the dial is carbon fiber with luminous hands and markers.
Bell & Ross Instrument Collection

This collection highlights the brand's four basic principles: legibility, functionality, precision, and reliability. The Instruments collection has a wide range of models that share the same square-shaped dial. This has many models to choose from, from a simple design to chronometers and limited editions.
The BR 03-92 Black Matte model with an automatic mechanical movement has a 42mm matte black ceramic case and hands/markers with a photo-luminescent coating. This has heavy-duty canvas straps, so it's a good watch for outdoor activities.
One of the most popular lines from the collection is the Marine Instruments collection, which temporarily takes a break from the aviation-inspired timepieces and to naval history. This collection was inspired by the marine instruments that guided vessels and timepieces designed for shipboards. This line has three models that use different materials: Indian Rosewood, Bronze, and Rose Gold, all of which have the popular square case. See all of the models and their distinctive features here.
The limited-edition BR 01 Burning Skull (500 pieces) is an analog watch with hours/minutes function. The watch is designed with an engraved and micro-blasted steel skull on the dial and is hand-filled with black lacquer. The dial is coated with Black Superluminova, and the strap is made of brown alligator and ultra-resistant black synthetic fabric.
Bell & Ross Experimental Collection

Like the Marine collection, Bell & Ross Experimental is composed of square-shaped watches. This line is divided into three types: The BR-X1 Tourbillon Sapphire, the BR-X1 Chronographe, and the BR-X1 Tourbillon.
The collection has many limited-edition models, such as the BR-X1 Phantom, which is off the Chronographe category. This sleek and sporty watch only has 250 pieces in circulation. Powered by calibre BR-CAL.313 with an automatic mechanical movement, this is a skeleton chronograph watch with 56 jewels, 28,800 VPH. This is a 45mm timepiece with black PVD titanium and matt black ceramic rubber inserts and a marker with Metal applique Super-LumiNova®.
Some of the latest releases are the BR-X1 Rose Gold & Ceramic chronograph watch, which is limited to only 99 pieces; and the BR-X1 Tourbillon R.S.19, which only made 20 pieces.
A popular model from the Experimental collection is the BR-X1 Military, which is limited to 250 pieces. This is an automatic mechanical watch with calibre BR-CAL.313 and a skeletonized dial. The case is a khaki high-resistance titanium with 45mm dials with metal applique Superluminova® C3-filled markers.
Bell & Ross Brand Reputation
Bell & Ross's motto is "the essential is never compromised by the superfluous." The brand guarantees that its watches are made for professionals by professionals. To ensure quality, all Bell & Ross watches are analyzed and constructed with experts in their fields—from watchmakers and designers, as well as pilots, astronauts, and divers.
The brand has many excellent reviews by watch experts in reputable watch-focused websites. The Instruments De Marine collection, for instance, is widely praised for the brand's construction of the watch—from the materials to movements used. There's also this review by musician and watch aficionado John Mayer, who talked about the Bell & Ross BR126 Sport Heritage Chronograph, which he says stood out during the Grand Prix d'Horlogerie de Genève event in 2013.
Is Bell & Ross A Good Brand?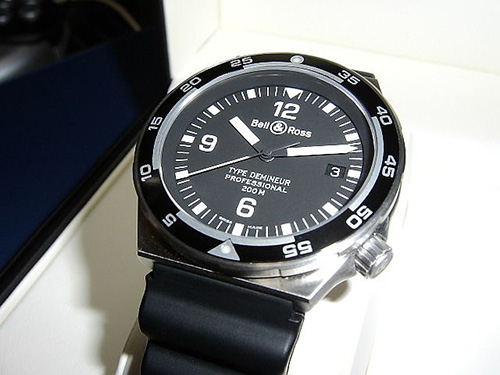 Bell & Ross is a respected watch brand that continues to innovate in its watches and other ventures like the hot rod we mentioned above. They are known to produce watches with high-quality materials and reliable movements.
The watches can cost from $1,500 to almost half a million dollars—such as the BR-X1 Tourbillon Sapphire was sold at around $480,000 to $495,000.
Because of the meticulous process and reliable partners in watchmaking, the company's customers are composed of experts themselves—such as elite Armed Forces units, pilots, astronauts, law enforcement officials, submariners, bomb disposal divers, and so on.
To see a complete list of the brand's partners, you can check out their Professional References page here.
If you would like to see Bell & Ross compared to other big watch brands like Tag Heuer and Omega, there are many forums online such as this one that provide good feedback on all brands.
Some of the other brands that are commonly compared to Bell & Ross are Breitling (see a comparison between two models here), Sinn, Rolex, and Panerai.
If you would like to learn more about French watch companies, you can also check our article on some of the most famous French watch brands. Aside from Bell & Ross, you'll also get to know companies such as Baltic, Merci, Cartier, and Pequignet.
Where to Buy Bell & Ross Watches?
You can buy Bell & Ross watches on the brand's official website or see Bell & Ross watches on Amazon and eBay.
Shoppers in the EU UK may want to check out websites like Mr. Porter, and Farfetch also sell some models.
Customers who already have watches can also join the Bell & Ross Club—"to maintain a privileged relationship with the brand."
The prices are not readily available on the website—those who are interested need will need to request it.
You can go to the Bell & Ross Store Locator on its website to see branches of boutiques and retailers all over the world. All you need to do is enter an address or select a city, and the site will do the rest of the work for you.
Bell & Ross Watch Warranty
All Bell & Ross watches have an international warranty of parts and labor for two years from the date of purchase (and date on the warranty card).
The warranty does not include the following: scratches of the PVD coating, oxidation of the silver material, aging from everyday use, damages brought about by improper handling, and accidents. A third-party repair or handling will also render the warranty null and void.
The website's warrant page also adds that the warranty card to be presented must include the following: "watch model, full serial number, purchase date, the official stamp of the Approved Bell & Ross retailer."
You can visit their Customer Care page for more information on the brand's warranty policy, maintenance, and other services. You can also find details on the brand's servicing on the same page. This section outlines a range of services: maintenance, full service, polishing, battery replacement, and service centers.
The website also has a helpful maintenance advice section, which has a comprehensive list of things that Bell & Ross customers can make sure that their watch is in top shape. Aside from general recommendations on water resistance and temperatures, this section also has specific suggestions for automatic and quartz watches.