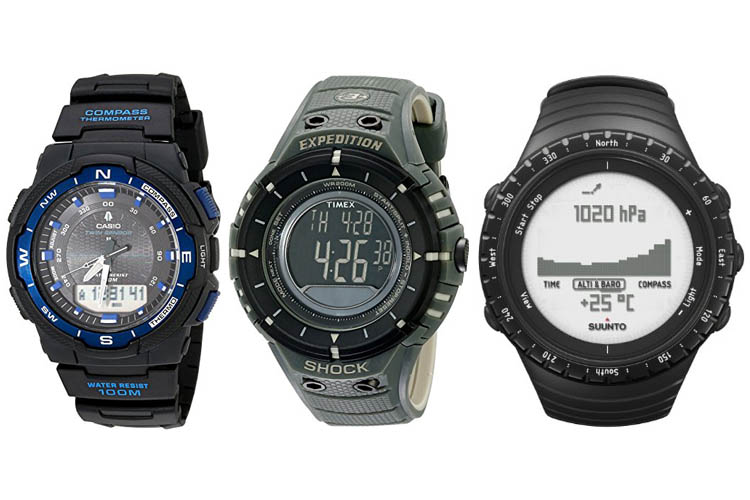 If you ever plan on, or enjoy, going on hiking and camping trips, then you know the importance of being able to properly navigate through the maze-like wilderness. This is doubly true if you want to go about this activity on your own in locations that you are still unfamiliar with. Knowing how to read the map and compass will help you through this endeavor without any hitch.
A compass watch adds to the convenience by combining two essential outdoor items into one – a watch and compass. There are even compass watch models that come with several other key features such as a GPS, altimeter, barometer, and thermometer. As you would have guessed, these watches are highly recommended for outdoor enthusiasts as they can help you pack efficiently and make the most out of your bag inventory.
Watches from Casio, specifically their G-Shock and Pro-Trek collections, provide users with their patented Twin Sensor and Triple Sensor features. Casio's Twin and Triple Sensors incorporate additional environmental sensors into their timepiece. These sensors include a thermometer, altimeter, barometer, and a compass. As you can see, this type of watch will deliver a great deal of advantage to those who enjoy spending time traversing the wilds. There are also watches that incorporate a more traditional design with models that feature compass bezels.
In this article, we will be listing down the best compass watches in the market that you can buy today. We will be compiling this list with the goal of covering a broad spectrum of watches. From budget-friendly to high-end models and feature-rich to basic compass watches – our list will cover them all. Oh, and if you are unfamiliar with using a compass watch, don't fret as we have you covered in our guide on how to use an analog watch as a compass.
Best Compass Watches
Casio SGW500H Multifunction Watch
Give it to Casio for delivering the most bang out of your buck. Over at the lower end of the spectrum comes the Casio SGW500H Multifunction Watch. Despite the extremely low price tag, the SGW500H packs a wallop in terms of its performance. It also comes in a variety of color variations to cover all kinds of personal styles. The SGW500H is equipped with a built-in compass and incorporates an analog-digital dial design. This is a Twin Sensor watch, so it also comes with a thermometer to go along with the compass.
Other notable features include a stopwatch, countdown timer, up to five daily alarms, and sunset/sunrise time data. As for its primary specifications, it has a 46mm resin case with a mineral crystal window. Underneath is a Japanese quartz movement that operates both the analog and digital display. The SGW500H also has a solid 200-meter water resistance. As stated earlier, if you want the best value for money in terms of a compass watch, you should check out the Casio SGW500H Multifunction Watch.
Casio SGW100B-3V Digital Compass Twin Sensor Sports Watch
Casio's SGW100B-3V Digital Compass Watch is one of the most affordable in the market today. Fortunately, affordable doesn't always equate to sub-par quality, especially if we are talking about a Casio product. In terms of design, the Casio SGW100B-3V is a pretty basic-looking digital timepiece. It features a 47mm resin case diameter and uses a mineral crystal dial window which has a pretty solid scratch-resistance. This is also battery-operated and comes with some barebones digital watch features such as 1/100th second stopwatch, countdown timer, day/date display, and auto-calendar. In addition, it also comes with a World Time feature that can display up to 29 time zones from 48 cities.
What helps elevate this highly affordable digital watch from the rest is its Twin Sensor design. This feature provides the SGW100B with a digital compass and thermometer to help users in navigation. Due to the affordable price tag, performance can be a bit iffy at times. We found ourselves constantly needing to recalibrate the digital compass. We suggest you use the SGW100B's digital compass as an alternative to your main compass. The thermometer is pretty accurate, but we find it more reliable as a way to gauge the environmental temperature on average rather than a 100% precise reading.
The Casio SGW100B may be a bit rough around the edges, but its construction is without question. The 200-meter water resistance allows this digital watch to be worn even during certain marine activities. We also liked the clear and scratch-resistant dial window which also has an anti-glare finish that improves legibility when outdoors at high noon. Overall, if you are looking for a decent digital compass watch with a low-price tag, this is one of the better options out there in the market.
Timex T49612 Expedition Digital Compass Watch
The Timex T49612 is another affordable yet outstandingly built outdoor digital sports watch from the world-renowned brand. The T49612 was designed to handle the toughest terrains and the roughest of uses with its ISO standard certified shock-resistant build. It features a durable black with silver accent 48mm resin case and a flexible rubber band strap with standard buckle closure. It is also designed to have a water resistance of up to 200-meters. The digital display is also equipped with Indiglo backlight for optimum visibility no matter the time of day.
Despite the affordable price tag, the watch still packed with features and a surprisingly robust construction. User will get access to multiple timers (stopwatch and countdown timer) as well as alarm. Pretty basic digital watch functionalities. Then, we get to the digital compass and excellent water and shock-resistant build. It is not common to find a digital compass watch at this price range, let alone a digital compass watch that has a pretty good accuracy. You can also bring this during quick dips in the water with its 200-meter water resistance. The band is also waterproof so it won't get awkwardly soggy when wet.
The Timex T49612 also has a very tactical design with its low-key all-black color-tone. Fortunately, it doesn't just look tough as it is a legit beast in terms of durability. We can even place it right beside the G-Shock in terms of toughness. If you are looking for a budget-friendly outdoor compass watch, we highly recommend the Timex T49612 as it is one of the toughest, most reliable, and most affordable models in this particular niche watch category.
Timex T2N721 Intelligent Quartz Compass Watch
The Timex T2N721 Compass Watch features a rugged aesthetic featuring a 45mm stainless steel case with a silver-tone finish. This robust build is complemented by the genuine brown leather straps that properly nails that outdoor style to the letter. The dial itself takes design cues from an actual compass with the orienting arrow in full display. The off-white color tone of the Timex T2N721's dial gives it a more subdued charm and allows all the detail to be legible without overlapping one another.
The Timex Intelligent Quartz also comes with additional features that will prove to be indispensable when you out and about in the great outdoors. This compass watch also comes with a thermometer and tide tracker. It also features an Indiglo backlight and luminous hands for better legibility in low-light environment. To cap off its outdoor capabilities, the T2N71 model also has a 100-meter water-resistant case.
At first glance, the watch may appear quite intimidating due to the somewhat complicated dial. The truth is that it looks complex, but once you understand the basics, this compass watch is quite simple to operate and read. Each functionality in this model has its own dedicated button, so you won't need to worry about fumbling over the controls to switch in-between its different functionalities. When it comes to using the compass, the T2N721 will beep to indicate that you are now using the compass. The case also features a bidirectional bezel which will help in orienteering. The Timex T2N721 Compass Watch is an old-school outdoor timepiece excels in both aesthetics and performance.
Suunto Core
Another brand that has made its mark in the outdoor and fitness market, Suunto is well-versed in developing gadgets that take full advantage of GPS navigational systems. So, it comes as to no surprise that one of Suunto's products is able to break into this list of the top compass watches in the market today. The Suunto Core is very stylish modern smartwatch that incorporates a sleek and ergonomic aesthetic. It is also reasonably priced, which is always a plus. The Suunto Core is not just equipped with a compass, but it also makes full use of its GPS capabilities.
Along with the excellent navigational capabilities, the Suunto Core also comes with a thermometer, altimeter, and barometer – akin to Casio's Triple Sensor watches. The all-black finish of the case is complemented by the negative display screen which gives it a stealthy appeal. Additionally, Suunto Core is literally filled to the brim with extra features. These features include a sunrise/sunset data, and storm alarm, which will both prove to be helpful if you plan on going camping.
Garmin Instinct 010-02064-00
Garmin is one of the most popular brands in the smartphone market thanks to its vast array of features and functionalities that covers navigation to fitness tracking and everything in-between. The Garmin Instinct is chockfull of features that make it one of the most recommended in this market. While the smartphone design might give you pause as you consider its level of durability, you can rest easy knowing that the Garmin Instinct is designed to meet U.S. military 810G standards. What this means is that the Garmin Instinct 010-02064-00 is built with excellent shock, thermal, and water resistance (up to 100-meters).
As we have noted earlier, the Garmin Instinct is filled to the brim with features. It comes with several functionalities that will be of great assistance for travelers and navigators. One of its main features is its built-in 3 axis compass and altimeter-barometer, and along with its GPS system that connects to the GPS, GLONASS, and Galileo satellites, provides a complete set of modes to help you keep track of your location anywhere in the world.
Garmin is known for their compass technology which is one of the most comprehensive in the market. We also liked the trackback feature which allows you to trace your steps back to where you activated this mode. This is a great feature for people like me who has a terrible sense of direction. Additional features include a slew of health and fitness tracking apps such as a heart rate, activity, and stress tracker.
The Garmin Instinct's battery life is also pretty adequate. It can last for up to 14 days in smartwatch mode and 16 hours if the GPS mode is activated. It also has a power-saving mode that can help push the battery life to 40-hours even with certain apps operating in the background.
G-Shock Rangeman GW-9400
G-Shock's reputation precedes itself and that is well-earned. G-Shock watches never misses a beat no matter which generation of watch we are talking about. G-Shock watches always deliver in terms of extreme durability and functionality. One of their top watch lines is the impressive Rangeman series. The Rangeman GW-9400, to be exact, is one of the best digital compass watches available today. It features top-of-the-line features and technology that boosts its capabilities through the roof. The black with red accent aesthetic of the GW-9400 is certainly stunning and bold as well.
The Rangeman also features a premium upgrade from standard G-Shock watches with its stainless-steel construction. The material and build are not the only premium-grade element of the Rangeman GW-9400 as it is also equipped with Casio's signature Tough Solar technology. The Rangeman GW-9400 also comes with the Triple Sensor design, meaning it comes with a compass, altimeter-barometer, and thermometer. Now, combine that with the signature G-Shock toughness and you have yourself an excellent multi-functional wristwatch that can accompany you through the roughest terrains.
G-Shock Pathfinder PAG240-1CR Compass Watch
When it comes to overall quality and performance, we will definitely give the G-Shock Pathfinder PAG240-1CR the nod in regards to its outdoor capabilities. This compass watch was designed specifically to be used outdoors. It comes with a solar-powered battery (Tough Solar) and is equipped with the Triple Sensor build. With the Pathfinder PAG240-1CR, users will get a high-precision compass, altimeter-barometer, and thermometer. The PAG240-1CR is also designed to have an excellent level of low-temperature resistance (-10C) and even a decent 100-meter water resistance. The aesthetics of the Pathfinder PAG240-1CR lands that rugged charm effortlessly. It manages to exude an air of class and toughness at the same time which makes it a suitable wristwear not only for camping and hiking, but also for casual everyday use as well.
The G-Shock Pathfinder PAG240-1CR is an all-in-one package and is reasonably priced as well that it won't be burning a hole through your pocket. If you are looking for the best all-around compass watch, G-Shock's Pathfinder series is definitely right up there with the best choices that you can get.
Casio Pro-Trek PRW-3500T-7CR Digital Sports Watch
The Casio Pro-Trek watch line is one of the best options for outdoor enthusiasts due to its features, durability, and versatile price range. This particular Pro-Trek watch model, the PRW-3500T-7CR, is packed with features that will greatly assist those who enjoy various types of outdoor activities, specifically, hiking and camping. Pro-Trek watches all feature Casio's signature Triple Sensor design, which means users will have access to a thermometer altimeter-barometer, and compass. The Pro-Trek PRW-3500T-7CR is also equipped with Casio's Tough Solar technology which further complements its outdoor capability and performance.
Other notable features include a 1/10th second stopwatch, countdown timer, dual time format, sunrise and sunset data, World Time, and a power-saving mode. The PRW-3500T-7CR has a pretty substantial size with its 56mm case. Pro-Trek balances out this bulky build by using resin as the primary material for its case. In addition to the wealth of features included in this Pro-Trek model, the PRW-3500T also has excellent durability and a low-temperature resistance of up to -10C. This outdoor sport watch also has a 200-meter water resistance which allows it to withstand recreational aquatic activities such as swimming and snorkeling.
The Casio Pro-Trek PRW-3500T-7CR also has one of the most accurate altimeter-barometer performances among its competition. We also checked to see how the thermometer fairs and we found that it is accurate up to within 10 degrees. While not completely precise, that is a pretty good number overall. As for its compass functionality, it was average at best as we noticed it was slow to reorient itself whenever you change direction. This would be a great alternative to your main compass if you need to double-check on your location.
Garmin Fenix 6S
The Garmin Fenix 6S is one of the brand's premier models and it shows not just with its excellent build, but with the top-tier features that it comes with. One of the most noticeable elements of the Fenix 6S is its display measures in at 1.4-inches in diameter. This is significantly larger than previous versions of the Garmin Fenix, which is good news for those who have trouble reading from small screens. In addition, the Garmin Fenix 6S is also solar-powered which extends its battery life considerably. You can learn more about Garmin's solar-powered technology by reading this article about Garmin's new Solar line. There is little risk of having the Fenix 6S running out of juice, especially, if you are wearing it outside.
One of the main features of the Fenix 6S is its Pulse Ox support and heart rate monitor. The Pulse Ox is a program that provides advanced sleep monitoring capabilities. This program is also designed to monitor altitude acclimation, which might be an essential feature for athletes. It also comes with the PacePro app which is designed to assist in workout planning. As for navigation, the Fenix 6S is equipped with TOPO maps and a GPS system that utilizes GPS, GLONASS, and Galileo satellites. In addition, users will have access to a 3-axis compass, barometer-altimeter, and gyroscope.
Of course, the Garmin Fenix 6S also has several smartphone features that provide enhanced convenience on various aspects of your daily life. When it comes to the battery life, the Garmin Fenix 6S can last up to 21 days on smartwatch mode, around 3 days if with solar charging, and 15 hours with GPS mode activated. The Fenix 6S is a sleek and modern smartwatch with a bunch of functionalities in tow. This is definitely one of the best smartwatch brands in the market at the moment.