Dress watches are more than just simple timepieces that help you keep track of time, this type of watch is designed to also enhance your style and is also a means of self-expression. A well-chosen watch should complement your attire and can act as the final accessory that polishes off your style.
A good dress watch should elevate your fashion game and give your outfit a well-rounded look. While these watches obviously work well in formal situations, an all-around dress watch can still be worn for business or casual occasions.
As you would expect, this style of watch tends to gravitate towards the classical or traditional timepiece design although some modern minimalist watches can also work well. As the name implies, dress watches are often worn with a long-sleeved dress shirt.
One of the key aspects of this type of timepiece is its sleek build with a case thickness that easily lets the watch slide under the cuff of a long-sleeved shirt. Most of the models we've selected below have a single-digit thickness (under 10mm) including a few ultra-slim watches.
In addition to the sleek case and a smaller, more elegant-looking case diameter, these watches feature either a leather strap or slim metal bracelet. Although all those characteristics might make this style of watch sound expensive, you'll find a fantastic selection of affordable dress watches below all from reputable brands.
(Please note, at the time of publishing, all these watches were selling for $100 or less. Prices may have fluctuated since then, possibly pushing them over the original budget).
Best Dress Watches Under $100
Timex Southview TW2R63900
Timex is well-known for their entry-level watches, but they also have a reputation for providing traditionalist dress watches at a highly affordable price tag. With its 41mm silver-tone brass case with a thickness of 8.5mm, the Southview is one of the sleekest made by the brand. The Timex Southview also comes in a variety of designs that allows customers a good deal of freedom to choose which version will suit their style.
The dial features silver-tone Roman numeral hour markers. The hands are luminous to help legibility in the dark. Also, the Timex Southview incorporates a 20mm genuine leather strap to fully deliver that classic dress watch aesthetic. This is a simple dress watch from Timex that hits all the right notes.
Casio Classic Silver Watch MTP1239D-1A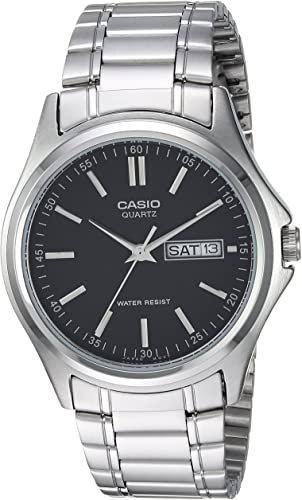 While Casio is best known for their digital sports watch, they also have a fantastic selection of dress watches under their own Casio watch line, as well as their Edifice watch brand. This is a model from Casio's own timepiece collection, and it definitely shows the brand's signature modern aesthetic contained within a classic timepiece build.
This all-stainless steel watch build features a sleek 39mm diameter case with a 9mm thickness, making it incredibly lightweight. The polished design of the case is complemented by a fold-over deployment clasp bracelet. The black dial features silver-tone hands and index markers. There is also a day and date display over on the 3 o'clock position. There is also an hour/minute marker over on the outer rim of the dial for use as a countdown timer. Additionally, the Casio Classic Silver Watch comes with a decent 30M water resistance rating.
Citizen Casual Dress Watch BI5000-01A
The Citizen BI5000-01A model exudes an air of confidence and sophistication despite its conservative aesthetics. It features a round silver-toned stainless-steel case that measures 39mm in diameter. The case is also quite thin with a thickness of only 8.5mm, making it a perfect dress watch to wear with a long-sleeved shirt. The elegant white dial is accentuated by silver-toned hour markers and luminous hands, there is also a little date display window over on the 3 o'clock position.
The watch is battery operated and features the ever-reliable Japanese quartz movement with an analog dial display. We would also like to highlight the crocodile skin embossed leather band that gives the BI5000-01A model added character and flair.
Orient Capital Dress Watch UG1R003W
The Orient Capital watch is as rudimentary a dress timepiece as you can be, with its traditionalist aesthetics. That is not a downside though as the Orient Capital is also quite well-made and affordable to boot. The pristine and elegant aesthetic is on full display with its pure white dial which is accompanied by polished silver-tone hands and hour markers. It also features a polished stainless-steel case that measures 40mm in diameter with a thickness of 7.9mm. The white and silver case is balanced by a dark-brown alligator embossed leather strap.
What made us include the Orient Capital watch in this list is its use of domed mineral crystal which is always a visually enticing inclusion into a timepiece's design. Other notable features include a day and date display beside the 3 o'clock hour marker. The Orient Capital also uses a Japanese quartz movement with an analog dial display.
Seiko SUP880 Analog Watch
Next up we have an entry from the iconic Seiko watch brand. As expected, Seiko manages to deliver a highly refined timepiece in the form of the rectangular SUP880 Analog Watch. The retro appeal of the SUP880 is definitely its main selling point. The gold-toned rectangular stainless-steel case has a diameter of 28.5mm and a thickness of only 6mm. The white dial features a vertical line pattern to add a touch of finesse, while the Roman numeral hour markers complete that classical aesthetic.
One of the Seiko SUP880 watch's special traits is that it is a solar-powered watch. This is not a common feature to have in dress watches within this price range, making the Seiko SUP880 a step above the competition. The SUP880 can operate for up to 12-months with one full charge, even without sunlight. The watch operates using a Japanese quartz movement with an analog dial and has a water resistance of up to 30-meters as well.
Bulova 96B104 Watch
Bulova is another highly rated watch brand and has a reputation for delivering outstanding minimalist timepieces. The Bulova 96B104 model showcases Bulova's unique sense of style with its subdued yet refined appearance. The Bulova also refrains from infusing its watches with a bunch of bells and whistles, as can be seen in this 37mm stainless-steel timepiece. The 96B104 also has a 5.4mm thick case, making it one of the thinnest watch entries on our list.
Within the sublime timepiece is a Japanese quartz movement with an analog dial display. There is also a date display located right beside the 3 o'clock-hour marker. The silver-toned case is partnered up with a crocodile skin patterned calfskin leather band which does add a rugged charm to the 96B104. The minimalist design of the case will surely appeal to modern watch enthusiasts.
Citizen Stainless-Steel Dress Watch BI1030-53A
The Citizen BI1030-53A features an almost immaculate aesthetic with its silver-toned design. The brushed stainless-steel finish of the case gives it a rugged charm while the sunray dial adds a layer of finesse to the relatively simple design. The blue second hand gives a prominent respite to the all-silver aesthetic, and the striking blue second hand definitely complements this timepiece's overall design.
The dial features luminous hour markers and hands. There is also a tiny date display located at the bottom of the dial. The Citizen BI1030-53A model features a stainless-steel case measuring 42mm and is 9mm thin. The watch is also water-resistant for up to 30-meters, meaning it can withstand brief submersion, but should not be worn during swimming.
Stuhrling Ascot 601.3345K1
If you prefer minimalist dress watches, then Stuhrling is another brand you should keep an eye out for. The Ascot 601.3345K1 features a black and rose-gold aesthetic. The stainless-steel case measures in at a petite 38mm in diameter with an 8mm thickness. The case comes with a polished rose-gold finish which is complemented by the black dial and black crocodile-skin pattern leather straps. The super-slim aesthetic of the Ascot is also applied over to the dial's design.
The black dial features pin-like hour markers and hands which also come with a rose-gold finish. Within the sleek and elegant case is a Swiss-quartz movement with an analog dial display. The analog dial is also encased in a shatter-resistant Krysterna crystal glass for an enhanced level of durability. The Ascot also provides 30-meter water resistance.
Orient 3-Star Automatic Watch FAB0000DB
The Orient 3-Star watch might be compact, but it definitely has an air of toughness built into its small frame. The Orient 3-Star features a 37.5mm diameter stainless-steel case and bracelet. The case comes in with a relatively hefty 10.8mm. The silver-tone case and bracelet is accentuated by the black and gold tone used in the dial.
The main feature and selling point of the Orient 3-Star is its use of a self-winding 21-jewel automatic movement. The automatic movement has an outstanding oscillation frequency of 21,600 oscillations per hour or 6 beats per second. That makes the Orient 3-Star incredibly precise in its timekeeping capability. As for other notable features, the Orient 3-Star also comes with a day and date display and a 30-meter water resistance rating.
Armitron Swarovski Crystal Accented Stainless-Steel Watch
The Armitron Swarovski Crystal-Accented Watch certainly went full-steam ahead with its design. The 32.5mm diameter stainless-steel rectangular case gives the Armitron that retro charm, but it did not stop there. The gold-tone finish for both the case and bracelet gives this timepiece an added level of luxury. The case is also quite slim with its 9mm thickness.
Where the Armitron stands out is with its application of Swarovski crystal as its hour markers. The crystals are further made prominent via the pitch-black dial. The hands also feature a gold-tone finish for that added visual extravagance flair. Within the refined aesthetic of the Armitron lies a Japanese-quartz movement with an analog dial display. The construction of this timepiece also provides it with solid 50-meter water resistance – making it suitable for light recreational water activities.
Seiko Dress Watch SNE495
The Seiko SNE495 is pretty basic in terms of its design. It features a 42mm silver-toned stainless-steel case with a dark brown leather strap. The black dial uses Arabic numeral hour markers and sword-shaped hands, both of which have a polished stainless-steel finish. The Seiko SNE495 does come with solar-powered technology, which significantly reduces the need for a battery replacement every other year. Other features include a date calendar which can be found over on the 3 o'clock position. Overall, this is a dress watch steep in the fundamentals and will accentuate any formal and casual attire.
Timex Milano XL Watch
The Timex Milano XL incorporates a pseudo-modern design that projects an air of sophistication, perfectly complementing its 'Milano' moniker. The Timex Milano XL does come in several color variants, right now we are focusing on the black and gold-tone model with its deluxe appeal. The saddle-shaped case measures around 38mm in diameter with an 11mm thickness. The dials feature luminous hands and hour markers with a date display found over at the 3 o'clock position. The brushed stainless-steel case is accompanied by a genuine leather strap for that added rugged charm.
Peugeot Vintage 14K Gold-Plated Watch
The Peugeot 14K Gold-Plated Watch features the iconic rectangular case, giving this particular dress watch a certain degree of class and finesse. The rectangular stainless-steel case measures 31mm in diameter. It is also quite slim with a thickness of 9.5mm. The dial features a textured pattern to give it that added classical charm. The black leather band completes the retro look. Underneath the case is a Japanese quartz movement with an analog dial. Overall, this is a pretty straightforward timepiece in terms of performance. That said, the rectangular case definitely helps set it apart from the rest with its traditionalist appeal.
Caravelle Designed by Bulova Dress Watch 43C119
The Caravell 43C119 watch features a classic round case, measuring 40mm in diameter with a 10mm thickness. The stainless-steel case is attached to a black leather strap that complements the aesthetics found on the watch frame. The most eye-catching aspect about the Caravelle watch is its dark blue degraded dial finish, which gives it the appearance of a calming clear blue sky.
The saddle-shaped case is also equipped with a domed mineral crystal window, further enhancing its overall luxurious appeal. The Caravelle 43C119 is a great example of how the right blend of little aesthetic furnishes can significantly boost the appeal of a relatively simple timepiece.
Braun Classic Analog Watch
The rudimentary and symmetrical design of the Braun Classic Analog Watch is certainly its strong suit. The 38mm round stainless-steel case is incredibly slim with its 8mm thickness. The smooth leather strap also accentuates the simplicity of the case with its broad design. The dial design is equally simple with its use of linear markers and hands. The black-tone hands and gold second hand gives the Braun timepiece a refined charm that gives kudos to the relatively stoic shape of the watch. Overall, the Braun Classic somewhat brings back the old-timey charm with its blend of class and sturdiness.