Some of the best-selling smartwatches on the market at any given time are the newest generation watch from top brands like Samsung and Apple. These flagship smartwatches are packed with cutting-edge features but also come with a high price tag. If you landed here, it's likely you've set aside a budget of $200 for your next watch. That's a smart choice and luckily, and while it won't get you the very best, it's an amount that will still get you a very good quality wearable from a reputable brand with more features than we could have wished for only a short time ago.
To find a quality watch in that price range, you have two basic options. One is to skip the premium brands mentioned above and go for a brand new watch that retails in that price range, a good example would be the Amazfit GTS 2.
Another option would be to go for a previous generation watch from one of the high-end brands, we recommend the Samsung Galaxy Watch (vs the new Galaxy 3), or the  Apple Watch Series 3 (vs the Series 7).
This second buying strategy gets you a slightly older model for somewhere around half the price of the newest models from the same brand. However, it's important to point out that you're still getting a very high-quality watch with tons of features. It might be slightly outdated compared to its younger sibling but just a couple of years ago these were the top watches you could find and for the price is still one of the top watches.
Below we've included a variety of styles depending on your lifestyle and personal taste.
(Please note, at the time of publishing, all these watches were selling for $200 or less but prices may have fluctuated since then)
Best Smartwatches Under $200
Amazfit GTS 2
The Amazfit GTS 2 is the successor to the midrange Amazfit GTS. Just like its predecessor, the GTS 2 aims to provide the best experience in the sub $200 price point. And with the number of improvements, it is proving to be one of the best options available.
Compared to its predecessor, it has better construction and better display. It has a larger display that is capable of producing more vibrant colors. Also, the display is now a 1.65″ HD AMOLED curved touchscreen covered in 3d glass.
The bezel-less design also gives the watch a nice look similar to smartwatches thrice or twice its price point. Additionally, the GTS 2 comes in black, gold, and grey color design.
It has most of the smartwatch features and health tracking options that you would expect in a smartwatch at this price point. In terms of health tracking and workout modes, it has a heart rate sensor, activity tracker, step tracker, sleep tracker, and various workout modes.
Overall, if you are looking for a great looking square smartwatch, then the GTS 2 is one of the best in the under $200 price range. Also, if you are interested in hearing our thoughts about the GTS 2's predecessor, make sure to check out our review of the Amazfit GTS. 
Samsung Galaxy Watch GPS
Samsung is no stranger in the smartwatch market. They have been in the game since 2013 and are one of the few companies that can challenge Apple. Their newly refreshed Galaxy Watch Series is easily one of the best options that you can get at any price point. 
The Samsung Galaxy Watch is the predecessor to 2020's Galaxy Watch 3. It may be an older model; however, it is still easily one of the watches to beat for under $200.
In terms of its design, the Galaxy Watch has a traditional analog watch look. It has a metal body with two physical buttons on the side, a rotating bezel for easy navigation, and a changeable wristband. It is a rather big smartwatch, but it is lighter than its similarly sized competitors.   
The display is still flagship level and easily beats other entry-level smartwatches in this price range. This is to be expected since Samsung is one of the best providers of OLED screens. 
In terms of its build, the Galaxy Watch has a military-grade certification that can withstand drops up to 9 feet. Also, it can withstand extreme temperature, dust, shock, and vibration.  These watches are also water-resistant up to 50 meters in salt or freshwater.
The features are no slouch either. It has both a microphone and speaker for phone calls and has all the primary fitness features. It can track activities like distance, steps, sleep, measure pace, calorie count, and count calories burned. Also, the watch is packed with sensors like GPS, Accelerometer, Barometer, Gyrometer, heart rate, and ambient light sensor.  
Overall, the Samsung Galaxy Watch still performs just as good as when it was first released. If you want a feature-packed premium smartwatch, then the Samsung Galaxy Watch is without a doubt the smartwatch to beat.
Apple Watch Series 3
The Apple Watch is highly considered to be the standard when it comes to smartwatches. But with its high price tag, it was generally out of reach for a lot of consumers. But with the budget-oriented Apple Watch Series 3, consumers can now enjoy the Apple Watch experience at a budget price point. 
The Apple Watch Series 3 does cut some corners compared to newer models such as the Apple Watch Series 6, Series 5, and Apple Watch SE. However, a lot of the missing features aren't deal-breakers, which means the Series 3 is still a great purchase. 
One of the main differences between the higher-end models and the Series 3 is their display. The Apple Watch Series 3's screen isn't as bright as the Series 6. It also doesn't offer Always-On Display (AOD), which has been one of the most requested features on the Apple Watch.  
Another major difference is the battery life. Since the Series 5 and Series 6 are larger than the Series 3, they can accommodate a larger battery. You can also turn off the AOD feature on those models to squeeze even more battery life. 
The higher-end models also have a faster processor and more storage for apps. The faster processor is quite a big deal since it will allow a smoother user experience. 
But apart from those, the Series 3 still delivers the Apple Watch experience. It uses the same software, same heart features, and same fitness and health tracking features. 
So overall, if you are looking for the Apple Watch experience and can tolerate some of the missing features, then the Apple Watch Series 3 will surely deliver. 
Fitbit Versa 2
The Fitbit Versa 2 is the embodiment of a modern fitness smartwatch. It has an appealing design, a gorgeous OLED display, 5-day battery life, and an onboard virtual assistant (Alexa). 
This watch has a rectangular design similar to higher-end models such as the Apple Watch. It also offers a great looking screen and an overall cleaner design. Its band is made of flexible, durable materials that provide a comfortable experience. 
This watch has a 1.4 inch AMOLED screen that gives a clear, bright, and vibrant display.  It also uses Corning Gorilla Glass for maximum protection from accidental bumps and drops. 
However, this watch is not only aesthetically pleasing. It also has a superb sleep and health tracking features. The Fitbit Versa 2  comes with sensors such as a 3-axis accelerometer, optical heart rate monitor, altimeter, ambient light sensor, vibration motor, relative SpO2 sensor,  and it has a built-in microphone.  
In terms of its battery life, the watch can last up to three days. This is quite the feat given its features. You will be able to use the watch with different activities for a longer period of time compared to similarly priced options.
Overall, if you are looking for an aesthetically pleasing watch with advanced health and activity tracking features, then the Fitbit Versa 2 is a great choice. 
Garmin Vivoactive 3 GPS Smartwatch 
The Garmin Vivoactive 3 is the first wearable from Garmin that features Garmin Pay. This device can pay purchases contactless just tap this watch. The Garmin Vivoactive 3 is compatible with the Connect IQ store, where you can download watch faces, widgets, and apps. You can personalize your watch with thousands of free faces available on the Connect IQ store.  
The Garmin Vivoactive 3 has a Corning Gorilla Glass 3 lens protection with stainless steel bezel material and fiber-reinforced polymer with stainless steel rear cover case material.  This watch has a silicone strap and is compatible with quick release bands with 20mm, industry standard.  The physical size of this watch is 43.4×43.4×11.7mm, and it weighs 43 grams.  This watch has a 1.2 inches display size and a display resolution of 240×240 pixels and with a display type of sunlight-visible, transflective memory-in-pixel(MIP).          
The Garmin Vivoactive 3 can connect with Bluetooth, ANT+ and features the Garmin Pay.  This watch is compatible with Androids and iOS.  On health monitoring features, this watch has a wrist-based heart rate, daily resting heart rate, abnormal heart rate alerts(high), fitness age(in-app), all-day stress tracking, relaxation breathing timer, sleep, hydration, and menstrual cycle.  
Other sensors are available in this watch, like a thermometer, barometric altimeter, and VO2 max.  The battery life of this watch using smartwatch mode lasts up to 7 days, and using GPS mode lasts up to 13 hours.  
Overall, if you are looking for the Garmin experience at a budget price point, then the Vivoactive 3 should be a great fit.
HUAWEI Watch GT 2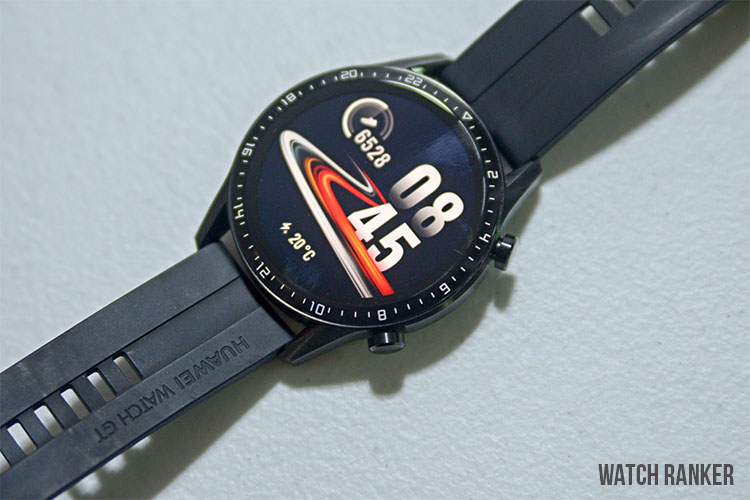 Read Amazon Reviews | Read our full review 
The Huawei GT Watch 2 is one of Huawei's high-end smartwatch models. It is the follow up to the original GT Watch and brings several improvements. The highlight of this release is the new Kirin A1 processor that is also seen on other current generation Huawei products such as the Huawei Freebuds 3. 
This new processor is accompanied by Huawei's new operating system, the Huawei Light OS. The efficient processor and OS allows the GT Watch 2 to have its incredible 2-week battery life. It allows efficient use of the several hardware and features of the GT Watch 2. You won't have to charge your smartwatch at the end of each day. 
One downside of the GT Watch 2 is that it no longer features the Android Wear OS. What this means is that the GT Watch 2 is not compatible with third-party Android Wear apps. For most users, the immediate effect is that you cannot change watch faces. 
Overall, the GT Watch 2 presents Huawei's bold new direction. They are now utilizing their operating system and are slowly building their ecosystem. It may be lacking several features found in most of its competitors, but it has several unique features that make it extremely competitive. 
Ticwatch Pro GPS Smartwatch 
The TicWatch Pro 4G/LTE is Mobvoi's attempt at making a revolutionary smartwatch. It is one of the only smartwatches that you can get at this price point that has a smart dual-layered display and great implementation of Wear OS.  
This watch can do most of the basic smartwatch features such as answer calls, receive, and read notifications. But the catch is that it can do that even if you don't have your smartphone with you. It is able to do this thanks to its great wireless and cellular functionality. 
The TicWatch Pro 4G/LTE is also no slouch in terms of its health and fitness features. It can give automatic activity detection and accurate tracking. It also has 24-hour heart rate monitoring, with a daily comprehensive line chart, a daily heart rate zone, a 7-day heart rate history, and has abnormal heart rate warnings.  
The TicWatch Pro 4G/LTE has a proactive motion tracking powered by TicMotion.  This watch proactively detects your motion and provides your fitness records all click free.  Just focus on your activity, and TicMotion will do the rest.  Just activate the TicMotion on your watch, and you're good to go.  
The TicWatch Pro 4G manages to have great battery life despite the number of features that it has. It can last from two to five days. This is thanks to its dual-layered display. 
It utilizes its LCD display that shows basic information such as the date and time to conserve battery life. And when you need to access the more advanced features, the TicWatch Pro 4G switches to the AMOLED display.
Overall, if you are looking for a feature-packed smartwatch with a unique dual-layered display, then the TicWatch Pro 4G/LTE is a great option.
Honor Magic Watch 2
Honor is primarily known as Huawei's sub-brand.  Most of their products are usually budget versions of Huawei's flagship products.  Their current flagship is their take on Huawei's Watch GT2: The Honor Magic Watch 2.
This watch has similar specifications to Huawei Watch GT2.  The Honor MagicWatch 2 comes in different colors like Charcoal Black, Flax Brown, Agate Black, and Sakura Gold.  Honor Magic Watch 2 is dustproof and water-resistant. Water-resistant devices can resist the penetration of water, such as powerful water jets, but not being submerged into water. Damage-resistant glass (such as Corning Gorilla Glass or Asahi Dragontrail Glass) is thin, lightweight, and can withstand high levels of force.
The Honor Watch Magic 2 runs Huawei's in-house Lite OS, which covers the basics but is a little limiting. On the hardware front, the 46mm variant packs a 1.39-inch AMOLED display with a 454 x 454-pixel resolution and 326 PPI pixel density. The display is crisp, and the brightness is surprisingly good. We didn't face any issues with content visibility even while using the device in broad daylight.
Honor has used Huawei's in-house HiSilicon Kirin A1 chip, and the Watch Magic 2 packs 4GB of internal storage.  The internal storage can be used for music files, and it takes around 30-40 seconds to transfer a low-quality track of about 3MB size. Only the MP3 and LC-AAC formats are supported.
The Honor Magic Watch 2 is claimed to last up to 14 days on a single charge using a 455mAh battery. It supports Bluetooth 5.1, dual-frequency GPS, and GLONASS for tracking outdoor activities.
If you are a big fan of the aesthetics and software experience of Huawei watches, then make sure to check out the Honor Magic Watch 2.
Amazfit GTR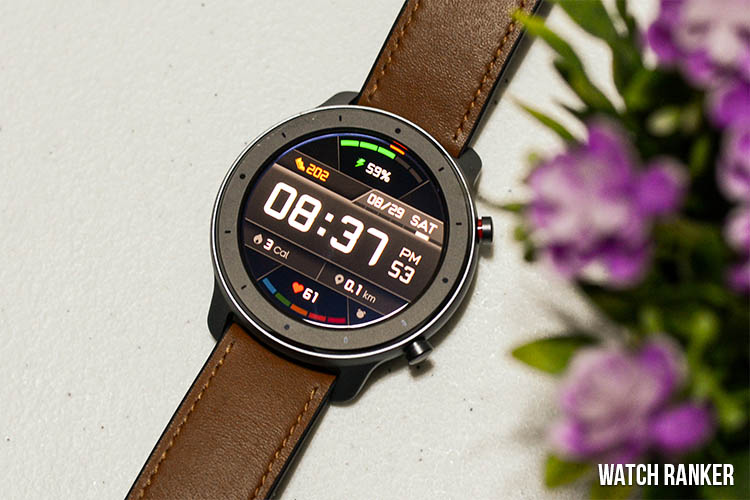 Read Amazon Reviews | Read our full review 
The Amazfit GTR is one of Amazfit's midrange smartwatches. It is the higher-end version of the Amazfit GTS. It sports a traditional rounded look with more premium materials compared to its GTS counterpart. 
In terms of the software, it is utilizing the same one that is seen in the GTS. However, the menus have been slightly redesigned to fit the round display. The performance is also noticeably better and is overall smoother than the GTS. 
Unlike the GTS, the Amazfit GTR has two variants. One is the larger 47 mm variant, while the other is the 42 mm variant. Here are the physical dimensions of the watch: 47.2 x 47.2 x 10.75 mm(47 mm version)/42.6 x 42.6 x 9.2 mm (42 mm version). 
As for the display, the GTR is rocking a 1.39 inch (1.2 inch for the 42 mm version) AMOLED display that is sharp and vibrant. It also features several high-quality watch faces that further adds a layer of customization. However, it is worth noting that the GTR does not feature custom watch faces (aside from the ones where you can change the background image).  
Both the GTR and GTS do not share the same software as their higher-end siblings. This means that the GTR cannot do more advanced features such as install apps, connect through Wi-FI, make and answer calls, or interact with notifications. 
Overall, the GTR is not only a premium version of the GTS when it comes to looks. It is also a way better performer in both its form factor and its software. 
Ticwatch S2
The TicWatch S2 is aimed at the sporty audience and is made to keep up with the harsh environments of outdoor activities.  It is built to withstand extreme temperature fluctuations, shock, dust, and water. Its durable nature is made possible thanks to the Military-grade materials used on the watch.
In terms of the health tracking features, the TicWatch S2 offers a complete feature set, including a 24-hour heart rate sensor, and is fairly competitive with other smartwatches within its price range. In terms of the fitness tracking features, the TicWatch S2 has a built-in GPS.  It also has a powerful built-in navigation system that will help keep you connected in remote areas and high altitudes.
The S2 also has self-prompted sports tracking supported by TicMotion AI Algorithms.  The S2 also features multiple sensors that help with the accuracy of the data for the smart fitness mode. And, the watch also has a self-activating fitness assistant.   
The watch is waterproof up to 5 meters. It is also swim-ready and can go up to 50 meters underwater. The TicWatch S2 still manages to do all of these while maintaining its two-day battery life. In terms of the technical specifications, the TicWatch S2 is powered by Qualcomm's Snapdragon Wear platform, with a 1.39inch AMOLED display with 400×400 pixels.  This watch can connect through Bluetooth v4.1 and WiFi 802.11 b/g/n.  This watch has an internal memory of 4GB and 512RAM. The S2 is compatible with Android 4.4+ excluding Go edition and iOS 9.3+
Fitbit Versa Lite 
The Fitbit Versa Lite Edition comes with the Versa family of health and fitness smartwatches.  It has 24/7 heart rate tracking, fitness, and sleep tracking.   This watch compiles all the fitness stats you need to know to stay healthy. The Fitbit Versa Lite Edition has a variable and pleasant to use every day as a smartwatch with vibrant colors and an easy one-button design.
The Fitbit Versa Lite Edition has a 1.34 screen size with a display resolution of 300×300 pixels and has an always-on display capability and a clearer view design.  This watch has a color LCD display, OLED display, and Corning Gorilla Glass 3 lens protector.  The Fitbit Versa Lite is waterproof and has a  rating of 50 meters, and it is not recommended to use this watch in a hot tub and sauna.  
On the health features of this watch, the Fitbit Versa Lite has a personalized cardio fitness score, sleep tracking with light, deep, and REM sleep stages to help you improve your sleep.  It also has female health tracking(menstrual cycle flow), guided breathing sessions, 24/7 heart rate tracking, and all-day activity tracking.  
On the fitness side, the Fitbit Versa Lite has personalized reminders to stay active, get hydrated, stick to a sleep schedule, and more.  Reminders to stay active when you are too long in a sitting position or inactive for a while.  It has a smart track automatic exercise recognition, 2o+ goal-based exercise modes, and others.
The Fitbit Versa Lite syncs wirelessly with Android and iOS.  It also connects with wireless headphones.  It also has a sleep mode when you want to mute smartphone notifications and stop the screen from turning on at night.  This watch also has a do not disturb mode when you want to mute call, text, calendar alert, and app notifications during the day.  
The battery life of this watch lasts up to 4+ days.  The battery life and charge cycles vary with use, settings, and other factors.
HUAWEI Watch GT 2e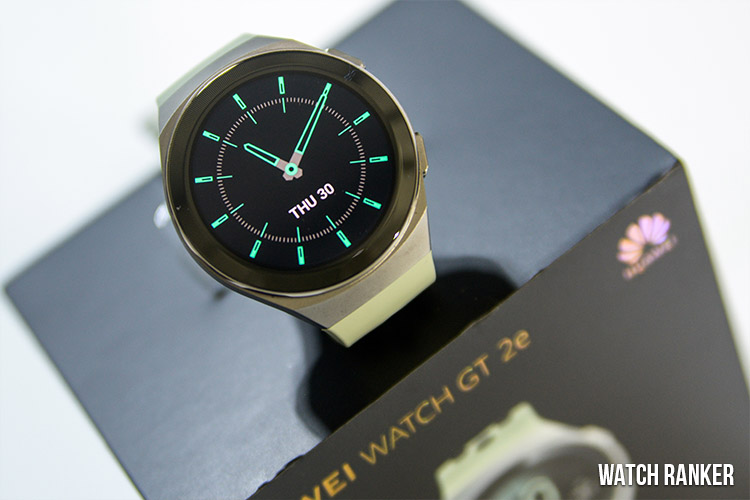 Read Amazon Reviews | Read our GT 2e review 
The Huawei Watch GT 2e is Huawei's mid-range model in its current smartwatch lineup. It is primarily targeted towards a younger audience and is meant to be used as a sports fitness tracker.
The GT Watch 2e and the GT Watch 2 are very similar in terms of their specs. They both have the same Kirin A1 processor, the same two-week battery life, the same Bluetooth 5.1 connectivity, etc. 
What separates these two models is the design. Both are high quality and premium feeling smartwatches, but the GT 2e has a simpler look that is reminiscent of digital watches. This allows the GT Watch 2e to be more lightweight and better optimized for workouts. 
Both the buttons and the wristband have also been redesigned. The large buttons and strap locks often on the GT 2e bumped into the wrist when doing exercises. This is why the buttons are smaller, and the strap locks no longer allow the GT 2e to be laid flat.
Another notable difference is the missing microphone and speaker on the GT 2e. Several sound cues such as exercise voice prompt and music will no longer be possible with the GT 2e. Making phone calls will also no longer be possible. The RAM has also been cut by half. This is not noticeable when initially turning off the device and when navigating through the menu. 
The wristband is also different and is more optimized for sports. The holes in the wristband allow for better airflow. The buttons have also been changed in order to bump less with your wrist during heavy workout sessions. 
The downside of the GT Watch 2e is that it does not improve on the weaknesses of the GT Watch 2. It still does not have Qi wireless charging, support for third-party watch faces and apps, and it still does not have cellular data and Wi-Fi. 
But overall, a GT Watch 2e is a great model considering you get most of the flagship GT Watch 2's features at a lower price point.