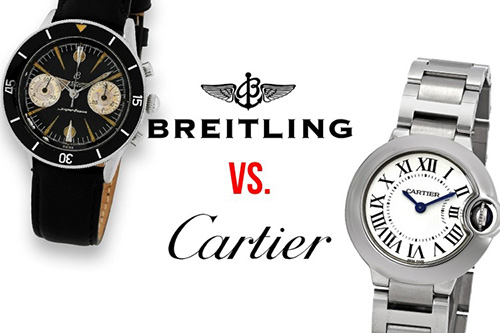 Both Breitling and Cartier are well-known and sought-after in the luxury watch market. Their stunning design and top-notch watch construction elevated both to the upper echelons of the industry. To this day, both watch brands are highly regarded by enthusiasts and are recommended to those who want the classiest timepiece they can buy. However, the brands couldn't be much different, some experts may even say this is an odd comparison with little middle ground. However, to the newbie looking to buy their first luxury watch, we hope this may shed some light on the two brands and which might be a better pick for you.
In this article, we will put these two watchmakers side by side and discuss how they compare.
Now, then – time to begin, pun intended.
Breitling Brand Overview



Breitling was founded in 1884 by a young German entrepreneur, Leon Breitling in Bern, St. Imier. Leon Breitling began as a watchmaker apprentice and quickly grew fond of it. Breitling also showed potential in this particular field which further fueled his passion in watchmaking. As we all know now, this passion helped sparked one of the most innovative watch companies in the world and named after the intrepid young watchmaker that founded it – Breitling.
From the get-go, Breitling focused on a particular type of timepiece. While most honed their skills on crafting standard mechanical watches – Breitling instead opted for a bigger challenge. This is with developing top-notch chronographs. Throughout the next couple of decades, Breitling tinkered with chronograph pocket watches and looked for ways to innovate the design to offer accuracy and reliability.
It wasn't until the early 1900s when a shift in the market forced Breitling to turn their attention away from pocket watches and onto the future of the industry – wristwatches. Still, the company poured its focus on chronograph watches, but this time they will need to apply their knowledge onto a slightly different type of timepieces.
In regards to innovation, Breitling managed to deliver it in spades with their introduction of chronograph watches that utilize push-pieces rather than relegating all forms of watch control to the crown. This proved to be a highly efficient design to use with chronographs as this type of timepiece comes with several functionalities. By 1923, Breitling also applied a start/stop and reset function to their chronograph watches.
Of course, chronograph watches are not the only thing that Breitling has going for it. The brand is also well known for other types of watches such as their dive watch line, the SuperOcean. They provide military watches (Colt Skyracer and Avenger Hurricane) as well.
Cartier Brand Overview



Cartier's beginnings run parallel to Breitling in that both were founded by a young and skillful watchmaker. In Cartier's case, that man was Louis-Francois Cartier who was an apprentice watchmaker and jeweler. Louis-Francois built a reputation with his skill in crafting jewelry and timepieces using platinum. His skill in crafting platinum helped propel him to the top as platinum was considered a difficult metal to use in this field. Cartier's ability to provide platinum timepieces during that era undoubtedly helped build their reputation in the market.
One of Cartier's milestones came when they started developing aviation watches alongside Brazilian aviation pioneer, Alberton Santons-Dumont. Cartier helped develop aviation watches that offered convenience to pilots – something that pocket watches simply cannot offer. Cartier once again showed their skill in watchmaking during the first World War. Cartier developed the first Tank watch during this period. The Cartier Tank watch is still a notable timepiece series to this day, a testament to its construction and reliability.
Nowadays, Cartier is well-known for its luxury unisex timepieces such as the Tank and Ballon Bleu. They still also produce top-quality aviation watches such as their Santos Dumont series. This highlights the brand's focus on remembering tradition while pushing the envelope in terms of craftsmanship and innovation.
Breitling and Cartier Watch Comparisons
Dress Watches
Breitling Navitimer 1 Automatic Watch Review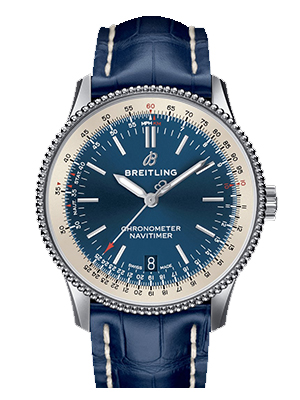 Let us start things off with one of Breitling's crowning glories, the Navitimer watch series – the Navitimer 1, in particular. The most noticeable aspect of this particular timepiece is its fusion of tradition and modern aesthetics. The sense of refinement seen from the Navitimer 1 perfectly encapsulates Breitling's reputation in the industry.
The Breitling Navitimer 1 comes in a surprisingly compact and sleek design with its silver-toned stainless-steel 38mm case. The dial elevates this wristwatch single-handedly with its intricate attention to detail while maintaining a neat and organized look. Within the beautiful case and dial lies the Breitling calibre 17 automatic movement and analog dial display. This watch movement is based on the ETA 2824-2 and contains 25 jewels and clocks around 28,800VPH.
The striking polished blue dial combined with the silver-tone markers and hands help complete the premium luxury charm that Breitling is known for with this particular model. There is also a tachymeter scale located on the outer rim of the dial. This brilliant timepiece from Breitling summarizes the traits that make Breitling such a renowned brand in the industry – functional, reliable, and stylish.
Cartier Tank Anglaise Watch Review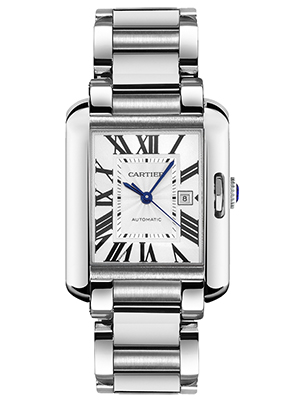 From Breitling's finest to Cartier's, let me introduce you to the legendary Cartier Tank series. The first Cartier Tank was introduced during World War 1 in 1917 but was only available to the public in 1919. It maintained its signature rectangular design, blue gemstone crown, and impeccable construction which is all present and accounted for with the Anglaise model.
Cartier Tank may sound like a rough and tumble timepiece but it is quite the opposite. While the watch is designed to survive a war, it still captures the elegance and sophisticated beauty of a luxury timepiece. The sunburst and guilloche pattern used in the center of the dial is made with incredible care and detail. As you would expect, the Cartier Tank was inspired by the metallic behemoths used during the first world war. This particular model clock in at a hefty 47mm stainless-steel case with silver-dial. The two-tone bracelet is also made from 18k rose-gold and stainless-steel for that added elegant charm. As for what's inside – the Cartier Tank Anglaise incorporates the Cartier caliber 077 automatic movements with analog display.
The Cartier Tank Anglaise is simply a stunning and timeless timepiece from one of the brands best known for elegant design.
Aviation Watches
Breitling Exospace B55 Watch Review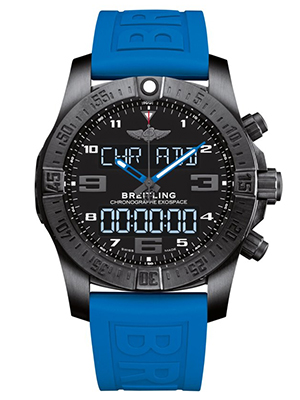 This amazing timepiece from Breitling blends modern innovation with tradition, the result? The highly-recommended Breitling Exospace B55. This timepiece is designed with a focus on functionality, comfort, and convenience – something I believe Breitling pulled off with flying colors. Before we head on over to the meat of this mini-review, let's go over some of the secondary aspects.
The Breitling Exospace B55 incorporates a sporty aesthetic. What this means and what you can expect is a wristwatch that is built for comfort. This is proven by its use of durable and flexible rubber straps. This gives the premium-grade aesthetic of the dial a nice little casual charm to balance its appeal. One of the main features included in the Exospace B55 is its ability to connect to a smartphone. This fusion of modern technology and classic chronograph construction gives the Exospace B55 an edge against its competition.
With all that technology in place, the Exospace B55 understandably needed to provide an adequate room which is why this timepiece measures in at 46mm diameter. While it may sound that the Exospace B55 is heavy and bulky, the truth is that it is quite light. This was achieved with the use of lightweight titanium material for its case and curved lugs that helped Breitling shed additional weight from the Exospace B55.
Additional features include a rotating bezel and LCD digital display. The Exospace B55 also utilizes the SuperQuartz movement for its digital display and the Breitling caliber B55 automatic movement for its analog display.
Cartier Santos 100 Watch Review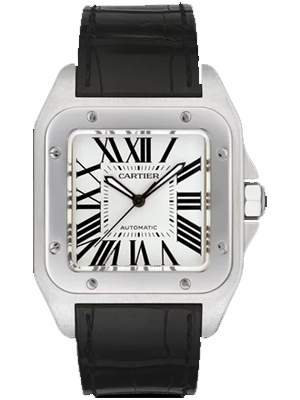 Cartier's first entry into the aviation watch category was the Santos de Cartier which they unveiled to the market back in 1911. To this day, the Santos series is one of Cartier's finest timepieces and showcases the brand's skill in crafting extremely accurate and stunning watches. One notable aspect about the Cartier Santos 100 is that it takes a rather different approach when it comes to aesthetics. The cushion-cornered square case design of the first-ever Santos watch model was retained throughout the years which signifies its timeless appeal.
The polished stainless-steel case and Roman numeral dial give the Santos 100 a distinguished appearance that highlights its luxurious charm. The sword-shaped minute and hour hands also add significantly to the overall look that Cartier was aiming for. This particular model also comes in two variations: a stainless-steel bracelet and a leather band. This lets customers choose whether to go all-in with the premium and formal look or something more casual and comfortable.
As for performance, you can expect the usual top-tier accuracy from Cartier thanks to the use of their proprietary Cartier caliber 049 automatic self-winding movement that powers the analog dial display. To help ensure longevity, the timepiece utilizes a sapphire crystal window which is both durable and scratch-resistant.
Conclusion: Breitling vs Cartier – Which is Better?
Breitling and Cartier are both backed with a rich and colorful history and both have earned their spot among the watch market.
Breitling is known for functional and highly accurate watches using technology such as their SuperQuartz™ movement. Many of their watches are packed with technical features, making them more of a professional tool worn by pilots and astronauts, divers, and military personnel. Breitling has also moved into the smartwatch market with it's Breitling B55 line of connected watches.
Cartier on the other hand is known for elegance and simple design. The classic "Tank" is now an iconic watch with a timeless design. The slime profile and make it a perfect dress watch that can be handed down to future generations and still not go out of style.
While these brands are vastly different in terms of aesthetics, one could easily add both to their collection with a sporty and feature-rich Breitling to wear to match their active lifestyle and a classic Cartier any kind of formal setting.