The California watch dial style dates back to the 1930s when Rolex was making movements for Panerai to supply watches to the Italian Navy, which asked the company to make a luminous watch for divers. The end product is the Panerai Radiomir (then called Ref. 3646). In the decades that followed, this dial style became more and more popular and has inspired many different brands.
A California dial (or "Cali") has a very distinct design that's easy to identify. This type of watch dial combines Arabic and Roman numerals and index markers. The most common style has Roman numerals from 10 to 2 o'clock, and Arabic numerals from 4 to 8 o'clock. The 3, 6, and 9 positions usually have index or dash markers, and 12 o'clock is marked by an inverted triangle.

In this article, we're going to talk a bit about the history of California dial watches and some of our favorite models where you can buy them. We've included everything from the most recent and affordable options from Timex to the classic luxury of the original Rolex Cali so hopefully, you'll find something that matches your style and budget. We've also included a couple of unique variations on the classic interpretation of this dial.
Best California Dial Watches
UNDONE Cali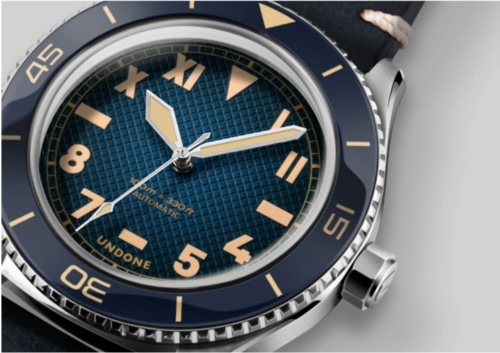 Undone is a watchmaker out of Hong Kong, known for its customized watches and collaborations with well-known brands and beloved characters such as Peanuts and Star Wars (which we've also featured on the site).
This is a brand that combines modern and classic designs as well. One example is the Undone Cali Blue watch, a modern Cali dial-style timepiece with a vintage feel. The watch is a 40mm model with a mechanical movement, a 316L stainless steel case, and a water resistance to 100m. This watch is fully customizable. The customer can pick features like dial color, case, bezel, hour and minute hands, and strap.
Undone, known for unique themed watches based on pop culture and artist collaborations, has some of the most singular California dial designs we've ever seen. Some of their creative takes on the Cali dial include this 420 Reefer's Gladness with a marijuana leaf at the 12 o'clock position and a highlighted green "4" on the dial, or this UNDONE Texas Holdem California dial watch that's a perfect gift for a card player. The dial features five playing cards with the option to pick your own two "pocket" cards that will show don't the watch movement.
There are several other models including one with Buddhist teachings written in Japanese Kanji characters. Check out all of UNDONE's unique California dial watches here.
Timex Marlin Hand-Wound California Dial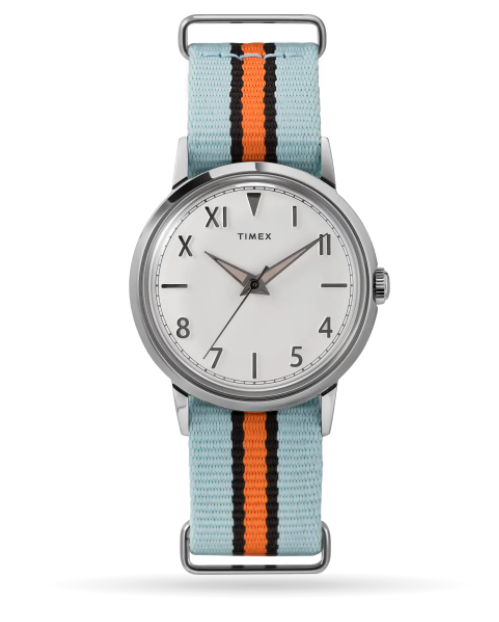 Timex is an American watch brand, dating back to 1854, set up to manufacture affordable watches and clocks.
In this new 2021 release, Timex unveils a Cali version of their classic Marline line with the new hand-wound Marlin California watch line.
The previous editions of Timex's California dial have come with an automatic movement.
With the 2021 model, Timex has engineered this timepiece with a hand-wound mechanical movement in a 34 mm polished round case. Offering a clean design, pleasing to look at, the Timex Marlin reinvents the original 1960s edition with this new modern look. Resistant up to 165 feet underwater, this California dial takes inspiration from retro-vintage style.
The brand also allows you to customize the strap, letting you play with the aesthetics based on your choice.
Available in multiple variants, including leather strap or fabric strap, and dial choices include black, white, or a subtle creamy sunburst dial – all elegant interpretations of this classic style of watch.
This would make a great everyday watch, with a classic fun design at an affordable price, this Timex Marlin can make for a worthy companion. The brand recommends winding the crown until you feel a slight resistance, at the same time every day. This will ensure the continuous precision functioning of the watch.
Spinnaker Men's Hull California Dial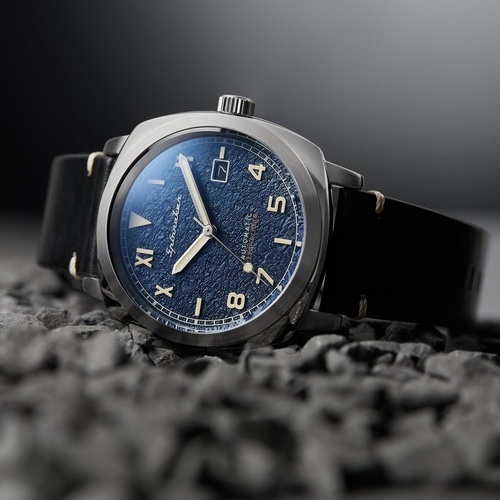 Spinnaker is another Hong Kong-based watch company. The brand specializes in diver-inspired watches with automatic movement.
The Spinnaker Hull California watch is a 42mm model with a stainless steel case and a genuine leather strap. The Cali-style blue dial has the standard Cali design but has a date window at 3 o'clock. The watch runs on a Seiko NH35 Automatic movement, and the water resistance is up to 10m. The hands and indexes are luminous, making it visible even under low light conditions.
There are other Spinnaker models with a Cali dial including Volcanic Black with an ionic plated black dial or the Granite Black with deeply textured dials. See them all here.
Panerai Radiomir Manual Wind Black Dial Watch (PAM00424)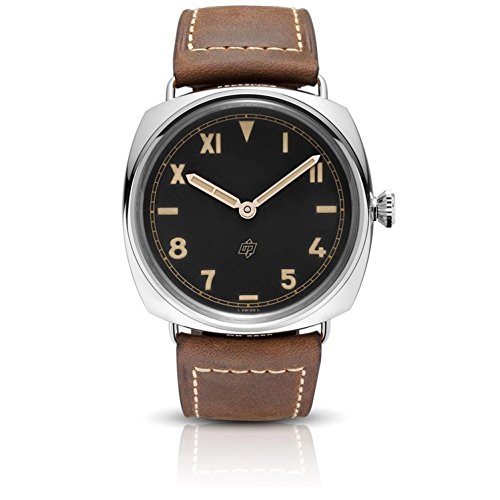 The Panerai Radiomir dial has evolved into different versions over the years, but the original California dial version remains one of the most popular: the classic design of Roman and Arabic numeral markers, as well as a railway track minute circle.
Panerai has made the dial more luminous, in response to the need of commandos to use the watch in darkness. According to Panerai, this was achieved by manually adjusting the numerals of the paint and using a specific brush with a sharp point. You can read more about the history here. Panerai has made the dial more luminous, in response to the need of commandos to use the watch in darkness.
The Panera Radiomir became very popular over the decades that followed and continues to be available today. This watch is a 47mm polished steel model with a black dial with luminous numeral and hour markers. Having a hand-wound mechanical movement, this model has a power reserve of up to three days and has a see-through sapphire crystal case back. The strap is a handsome Scamosito dark brown leather with beige stitching, and the strap is trapezoidal brushed steel.
Find the Panerai Radiomir – PAM00424 on eBay.
Nomos Club Campus 38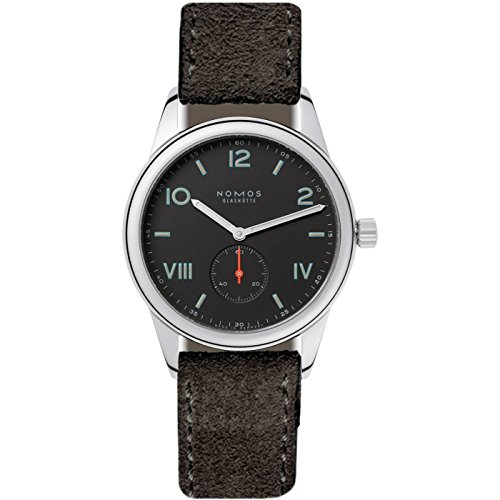 German watchmaker Nomos Glashutte is known for its clean, minimalist, and some of the best Bauhaus-inspired watch designs.
The brand's take on the California dial is the Nomoc Glashutte Club Campus, a line of watches with a combination of luminous Roman and Arabic numerals.
One of these is the Nomos Club Campus 38 Running on the manually-would Alpha caliber with a power reserve of up to 43 hours, this is a 38.5mm watch with typography that has a style of US highway signage. The glass is a domed sapphire crystal, and the hands ate rhodium-plated with SuperLuminova. The strap is a velour leather anthracite, and the water resistance is up to 100m. This watch is available in both black and white dials.
One noticeable thing about this model is the placement of the markers—the classic Cali dial has the Roman numerals on top, but Nomos formatted it in a slightly different way, where the Roman numerals are at the bottom, and the Arabic numerals are on top.
Technomarine 'Cruise California' Swiss Quartz Watch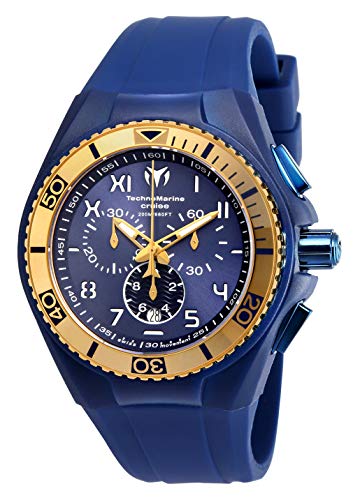 This Technomarine Cruise California chronograph watch with a Swiss quartz movement (model TM-115021) is for those looking for a big sporty timepiece with a Cali-style dial.
This is a 40mm watch with chronograph functions (60 seconds, 30 minutes, and 1/10th of a second), a blue silicone strap, unidirectional bezel, and water resistance to 200m. The blue dial has a predominantly purple theme—from the Arabic and Roman numeral markers to the subdial at 6 o'clock, which has a date marker.
Apple Watch Series 6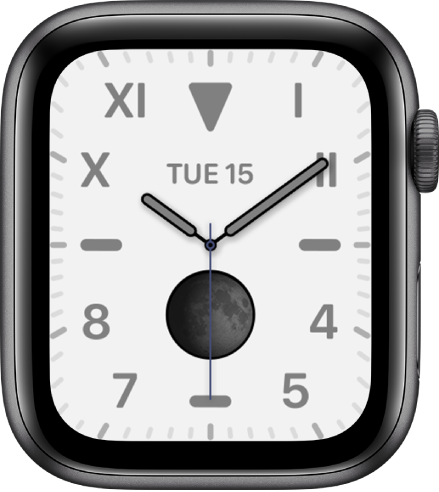 The Apple Watch, which is on its Series 6 version, has many watch faces to choose from–including a California dial.
The brand recommends three Apple watch models on its website: the Series 6, SE, and Series 3 versions. The latest is the Apple Watch Series 6, which has a 40 or 44mm case with an Always-On Retina Display. Some of the main features include Blood Oxygen and ECG apps, water-resistance up to 50m, and high/low heart rate notifications. See the rest of the features and explore alternative models here.
If you have an Apple watch and would like to change the face to a Cali-style dial, you can visit this page to learn how to customize an Apple Watch face.
Rolex Oyster Viceroy Watch Authentic California Dial (Ref.3359)
We mentioned in the introduction that it was Rolex and Panerai are two of the brands that made the California-style dial popular. Rolex patented the design in 1942, and called it the "error-proof radium dial" and "error-proof radium hands."
One of these models can still be found today, available in luxury watch resellers. This model on Chrono24, for instance. This one is called the Rolex Bubble Black watch Reference 2940, with a refinished Cali-style dial and a black leather strap. The 32x38mm watch has an automatic movement with a stainless steel case.
Another Cali-style Rolex dial is this 1941 Rolex, Oyster Perpetual "Bubble Back" (Ref. 2764) or the 1944 Oyster Viceroy model Ref. 3359, a stainless steel 38mm model with a pink gold bezel and a leather strap.
Find California dial watches on eBay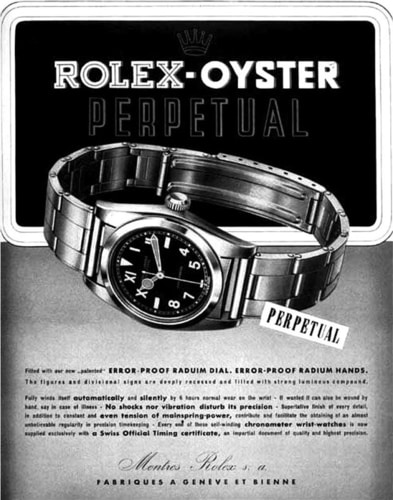 Nicholas Hacko Rebelde
View this post on Instagram

Australian watchmaker Nicholas Hacko is a small company that created its own watches in response to the restricted supply of watch spare parts in Australia about a decade ago. What came out is a watch called the "Rebelde" series," a 44mm California dial watch.
This 2014 blog post by the brand discusses how the watch is not exactly a Panerai tribute, as the California style is not owned by Panerai. The post pointed out that there are many other brands (such as Rolex) that made use of the Cali dial starting in the 1930s when it started gaining popularity.
The Rebelde had solid rose and yellow gold versions and was limited to 10 pieces each. A special version, the "fifty," was released in 2017 and had a guarantee for services like services and replacements for fifty years. You can read more about the watches and the brand's journey here.
See a photo of the Rebelde watch on this Reddit discussion.
Because the brand is an independent watchmaker (they have since released the first and only watch that's manufactured in Australia), they release a very limited number of watches. You can check out this page on their website to see what's on sale, or you can send them an email if you're interested to have one made.
Rpaige Barrage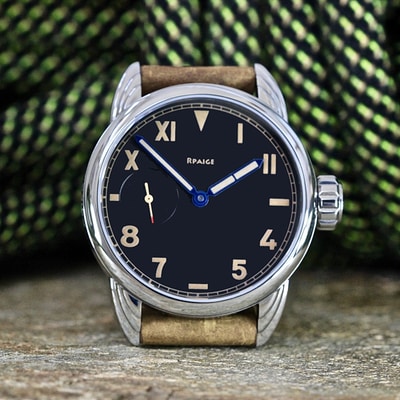 This is a watch designed by Richard Paige, a fourth-generation watchmaker who is known for California watch stores.
The RPaige "Barrage" is a limited-edition, military-style Cali dial watch with a 44mm polished stainless steel case, convex sapphire crystal, and a vintage American pocket watch movement. This model, which also has luminous hands, is limited to only 50 pieces worldwide.
Paige is known for creating military-style watches. You can read more about his brand, as well as what he refers to as an indirect involvement to the term California dial in this A Blog to Watch article, which he wrote.
Where Does The Name Come From?
It was in the early 1940s that Rolex patented the design. The luxury watch brand, however, did not really call it a "California dial", the actual origin of the name is not clear.
In watch circles, we've heard of three possible origins of the term "California dial"
It's a nickname by Californians because they loved the design.
It's also a term used by California watch dealers who were hunting for watches with the dial.
Lastly, the term was used to describe the work done by Melrose-based Kirk Rich, who was popular for refinishing dials with the design.
Here are some of the most popular Cali dial watches today.