French jewelry and watchmaker Cartier, one of the most prestigious jewelry and watch manufacturers in the world, is widely known for its uniquely-shaped watches–the rectangular-shaped Tank, the square Santos, and the tonneau-shaped Roadster. However, a collection introduced in the late 2000s changed this. After the maison introduced the Cartier Ballon Bleu or the Ballon de Cartier, a watch with a more conventional round shape, with the equally elegant craftsmanship, Cartier is known for.
The Cartier Ballon Bleu was introduced in 2007 when Cartier released a range of round timepieces. Several models are available–from the smaller 28mm women's watches to more robust 46mm for men. The watches have a sculptural case and polished bracelet. The key feature is the elegant blue bubble sapphire cabochon on the winding crown, the sword-shaped hands, and the large Roman numeral markers. A modern classic loved by both men and women, it's understated and elegant—a watch that looks good with casual and formal wear.
It did not take long for the Cartier Ballon Bleu to enjoy the same popularity as its older counterparts. This is one of the maison's top-selling watches and continues to be one of the brand's most popular models, with the brand reportedly selling more of it than other luxury watchmakers sell overall.
In this article, we'll get to know the model better by discussing its design and functions and talking about its value in the market. We've also listed some of the most famous celebrities and personalities who have been spotted wearing it. Finally, we're providing some suggestions on trusted sites where you can buy both brand new and pre-owned Ballon Bleu models.
What movement is in the Cartier Ballon Bleu?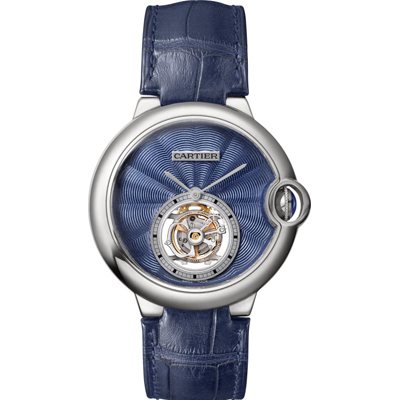 The Cartier Ballon Bleu has both automatic and quartz movements. The Ballon Bleu has a wide range of models, with the stainless steel editions being the entry-level models. The ladies' models are between 27mm and 37mm, and the men's sizes are around 36 to 42mm. Some of the materials to choose from include stainless steel, rose gold or yellow gold, white gold, and a combination of gold and steel. According to Chrono24, one of the more affordable models is the ref. W69010Z4, a stainless steel model with a quartz movement, is available in 28mm and 33mm sizes.
Some models have special luxury features like dials studded with diamonds. There is also the exquisite Ballon Bleu tourbillon model (the Ballon Bleu Flying Tourbillon), a 39mm watch with a mechanical movement, an 18k white gold case, and a guilloche dial. The watch also has a power reserve of up to 50 hours. This model does not come cheap–it's priced at $75,000 on Cartier's official website when publishing this article.
For those who would like a more robust appearance, the Ballon Bleu de Cartier Carbon has sporty features: a carbon-based ADLC coating that makes it more durable and scratch-resistant. The chronograph version is powered by an in-house caliber 1904-CH2, a 44mm model with a 30-minute counter, date display, and small seconds.
A 2021 article on Hodinkee featured some of the latest Ballon Bleu models, with an in-house movement and a 40mm case (a size that is usually considered as a watch sweet spot by collectors). The article, which said that this was the "best Ballon Bleu yet," discusses the in-house 1847 MC automatic movement, as well as the choices in features: a choice of steel or gold case, grey and sunburst dial, steel and alligator strap bracelet, and an option of having with or without diamonds. Visit the article here.
Celebrities That Wear The Cartier Ballon Bleu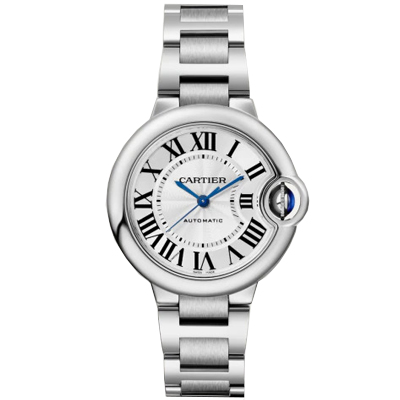 The Ballon Bleu, though a relatively newer line, is slowly becoming a favorite among collectors. It's a modern classic commonly seen on more and more celebrities.
One of the most famous celebrities spotted with the Ballon Bleu is Kate Middleton, Duchess of Cambridge. According to Kate Middleton Style, a blog that featured the Duchess of Cambridge's style, she owns the 33mm silver stainless steel, with the iconic blue sword-shaped hands, opaline dial, Roman numeral markers, and the blue cabochon. The site also has a gallery of photos where the Duchess wears the model.
Cartier is a popular choice among royals. Princess Diana owned a Cartier Tank and a Cartier Tank Francaise. Meghan Markle has been seen wearing one of Diana's watches and owned a Tank watch that she purchased as a gift to herself in 2015. You can read more about this in our article on Iconic Cartier Watches on Watch Ranker.
Other celebrities who have been spotted wearing the Ballon Bleu are Oscar Isaac, Jennifer Love Hewitt, Lindsay Lohan, Sofia Vergara, Kris Jenner, and Simon Cowell.
Does The Cartier Ballon Bleu Retain Value?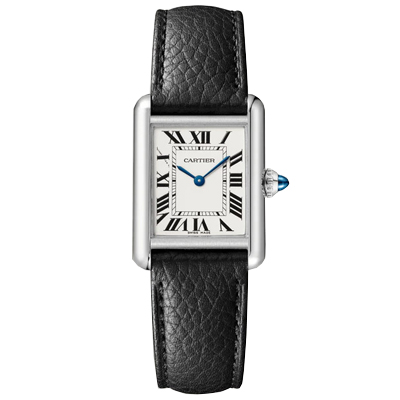 It would be difficult to predict the resale value of watches, as it all depends on the consumers' demands and tastes. Still, sources suggest that many Cartier watches and jewelry hold their value. In some cases, they even increase over time (although pre-owned items from the brand's jewelry line are more likely to have a higher value).
According to Watches Guild, you can resell the classic and vintage Cartier models at higher values because of the gold material used, as well as the vintage look. Gold models will naturally have higher resale values than stainless steel ones, especially if the seller keeps the original box and documentation.
One brand that is commonly compared to Cartier in the resale market is Rolex. Cartier watches are significantly more affordable compared to Rolex models. One reason for this is the movement—Cartier has both quartz and mechanical watches, while Rolex has stopped producing watches (the Swiss watchmaker stopped the production of the Oysterquartz in 2001).
The article, however, mentions that while Cartier watches do not hold their value as well as Rolex pieces, they still have a good resale value compared to other luxury brands.
Though Cartier is also widely known as a jewelry maker, the brand has an excellent reputation in the horology world. It is considered one of the world's most influential luxury watchmakers. With their elegant and timeless designs, Cartier watches are an excellent watch investment.
Where To Buy Cartier Ballon Bleu Watches
If you're not able to go to an actual Cartier store or Cartier dealer, there are plenty of places online to purchase Ballon Bleu models. The brand's official website, Cartier.com, has nearly a hundred Ballon Bleu models to choose from.
If you would like to purchase pre-owned models, an excellent place to start is Bob's Watches, a popular reselling website known for the resale and trade of watches. While the site is known to focus on pre-owned Rolexes (they are known as the "World's First and only Pre-Owned Rolex Exchange)," they also sell other big names like Cartier. According to an article by Insider, this is a trusted website. Every watch sold here is certified authentic (both model and its parts), with specialists inspecting the watch before a transaction is completed.
Another website that sells pre-owned Cartier Ballon Bleu models is Jomashop, a grey market watch seller (meaning they don't sell fakes or counterfeits) that sells luxury watches at a lower price. They can sell the watches for a lower price than the dealership because they purchase them at a lower price from manufacturer-authorized dealers and then mark the watches with a relatively affordable price tag. Check out Ballon Bleu models on Jomashop here.
Those looking for a pre-owned Cartier Ballon Bleu can also check out the models sold on eBay. This page has a wide range of models, including this unused 28mm stainless steel model and this pre-owned XL chronograph.
If you would like to visit a physical Cartier store, you can find branches on this site, which lists all of their locations worldwide.