Founded in 1908 in Biel, Switzerland, Concord is a luxury watch brand known for incorporating precious stones and metals in their watches. It is part of the Movado Group, which manufactures and distributes other high-end watch brands, such as Movado, Hugo Boss, Coach, and Ebel.
Considered one of the top watch designers of today, it was established with American consumers in mind. It is recognized as a pioneer in watch design, being the first private-label luxury watch line to add precious metals and gems to its watches and the first ever to design a wristwatch that is entirely made of coins.
Throughout its more than 100 years of history in watch designing and making, it has revolutionized many more unique and revolutionary ideas that have helped expand and enrich the watch industry. It is ranked as one of the best watch designers in the world, and its timepieces remain to be some of the most lauded and desired up to this day.
Concord Brand History


Concord is regarded as a top luxury watchmaker for many years now. However, looking back at its long history, it has seen many highs and lows — massive sales, financial setbacks, changes in ownership, awards, and competition.
In 1908, Concord Watch Company SA was created by five Swiss entrepreneurs — watchmakers Charles Bonny and Walter Hugenin, and their business partners Droz, Konz, and Boillat — in the town of Biel in Switzerland, to produce high-quality timepieces for the American market.
Less than a decade later, in 1915, it launched its initial private label luxury watches and started collaborating with various companies, such as Cartier, Tiffany & Co., and Van Cleef & Arpels, producing luxury watches made with precious gems and metals for them.
Concord's reputation got a major boost in the 1940s when US President Truman gave Concord brand watches to Soviet Union leader Joseph Stalin and UK Prime Minister Winston Churchill as gifts during the World War II peace conferences and talks.
In 1970, it was purchased by New York-based North American Watch Corporation and transitioned into becoming a quartz watch company. Despite going up against big competitions like Rolex, it performed quite decently and managed to take a good chunk of the market share that helped keep it afloat.
One of the most important breakthroughs in Concord history happened in 1979 when the company introduced the Delirium watch collection. With a thickness of 1.98 millimeters, it was the thinnest watch at the time. Not long after, an even thinner Delirium version was launched, with a thickness of 1.5 millimeters.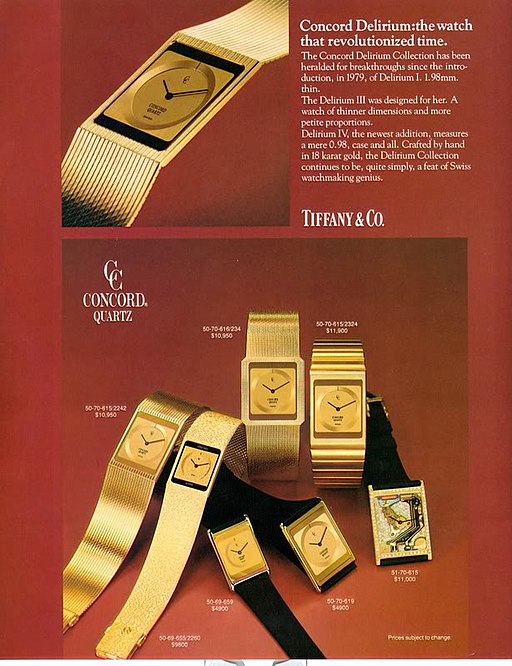 See Vintage Concord Delirium on eBay
A year later, in 1980, Concord came out with another groundbreaking watch — the Concord Mariner. The design featured a seamless blend of the elegance and sophistication of a dress watch and the functionality and durability of a sports watch.
During the 1990s, Concord was put in the back burner by the North American Watch Company who wanted to pay more focus on its mid-range and high-range watches marketed to the middle-class Americans. It was put in an even worse situation when its parent company decided to rebrand as Movado, robbing Concord of its exclusive branding.
It took Concord almost two decades to make a drastic vision change. In 2007, it shut down numerous dealerships because of poor sales performance. It then ventured into the luxury sports market by releasing the Concord C1. Despite tough competition against highly popular brands like Hublot, Audemars Piguet, and Panerai, Concord saw a resurgence, thanks to C1 winning the Grand Prix d'Horlogerie de Geneve's Best Design Of The Year 2008 award.
In 2009, Concord named Alex Grinberg as its new worldwide CEO. It remains a member of the Movado group and has earned back its place as one of the world's leading luxury watch brands.
Concord Watch Collections
Concord has come out with a wide range of luxury timepieces over the years. Today, it has five watch collections designed for men and women — Mariner, Saratoga, Impresario, Delirium, and Mariner SL.
Mariner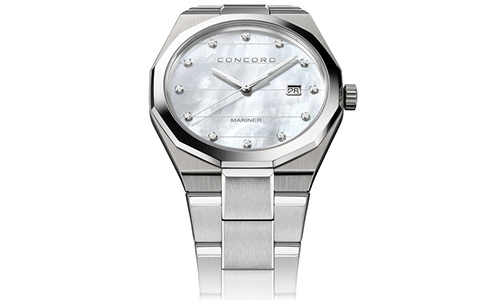 Offering watches for both men and women, the Mariner collection features quartz watches made with a stainless steel case and polished, engraved, or diamond-studded bezel. Its watches have rhodium- or gold-plated hands, and dials that come in a variety of colors, such as black, pink, and blue. Most of the models have a date window and a push-button deployment clasp, and some are even water-resistant.
Saratoga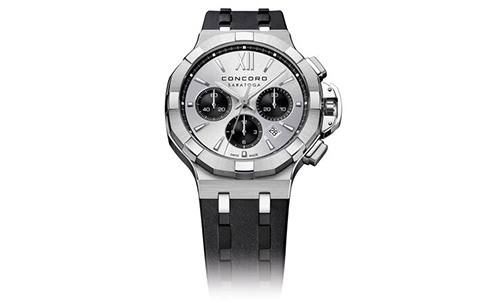 With a stainless steel case and plated hour and minute hands, the Saratoga collection consists of watches for men and women. The men's watches are bold and commanding, with engraved crown protectors, metal-plated dials, push-button deployment clasp, and stainless steel, rubber, or alligator brown straps. Some even have chronograph functions. The women's watches, on the other hand, are fine and elegant, with stainless steel or rose gold bracelet link, diamond-studded bezels, and engraved crown protectors. Some even have mother-of-pearl, rhodium-plated, or patterned dials.
Impresario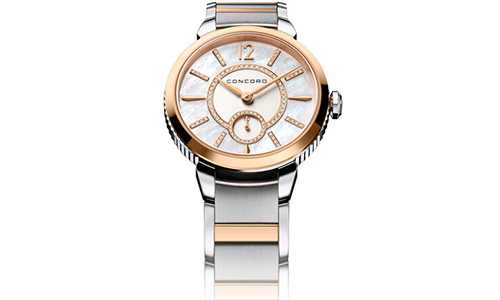 Available in classic, dressy, or sport style, the Impresario collection is made up of quartz watches suitable for both men and women. Its watches bear Concord's signature coin-edge bezel and have stainless steel encasement with a push-button deployment clasp. It also has rhodium-plated dials that come in silver, brown, pink, red, green, or blue. Some of the women's models feature diamonds or rose gold, and some of the men's are chronograph watches with day, date, and moon phase sub-dials.
Delirium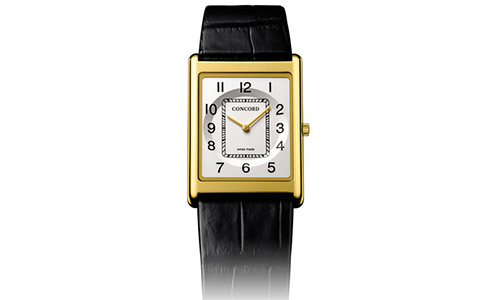 Featuring a rectangular encasement made of yellow gold or red gold case, the Delirium collection includes watches that are remarkably thin, with silver dials that have black painted Arabic or Roman numerals and yellow gold- or rose gold-plated hands. Available for both men and women, its watches have black alligator straps with an 18k yellow gold or red gold classic pin buckle.
Mariner SL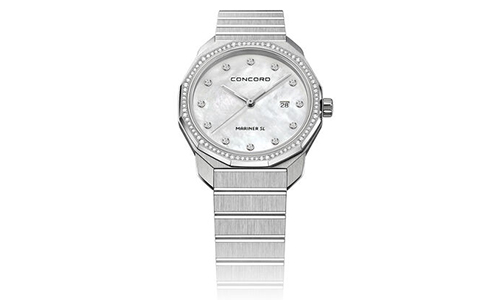 With a thick, brushed, and polished finish, the Mariner SL collection is made up of quartz watches encased in stainless steel. The men's Mariner SL watch offers a sapphire anti-reflective underneath and silver galvanic dial with diamond-polished and rhodium-plated hands. The women's Mariner SL watch, on the other hand, has a diamond-studded bezel, white mother-of-pearl dial, and diamond-polished and rhodium-plated hands. Both have polished stainless steel bracelets with push-button deployment clasps, and are 5 bars water-resistant.
Concord Brand Reputation
Since its founding, Concord has shown that it is not afraid to be different. It has given us styles and designs that pushed the limits of watchmaking, without compromising quality and functionality.
In the history of watchmaking, it has left its mark as one of the first watchmakers to feature precious gems, metals, and coins in their watch designs. It has also made history for producing the Delirium watch in the 1970s, which became the thinnest watch at the time, with a thickness of only 2 millimeters.
In terms of quality, its use of strong and sturdy metals, such as stainless steel, titanium, and gold, to make watch cases, and scratch-resistant and rock-hard precious gemstones, such as sapphire crystal, to protect the watch dials adds to the longevity of the watches.
When talking about utility, it offers practical and handy functions for the convenience of the user by producing models that have quartz movements, automatic mechanical movements, chrono features, or a combination of these.
Despite all the financial, management, and other challenges it encountered over the years, Concord never stopped being creative, experimental, and revolutionary, and that has immensely helped in keeping its good reputation in the world of high-end luxury watches.
Is Concord A Good Watch Brand?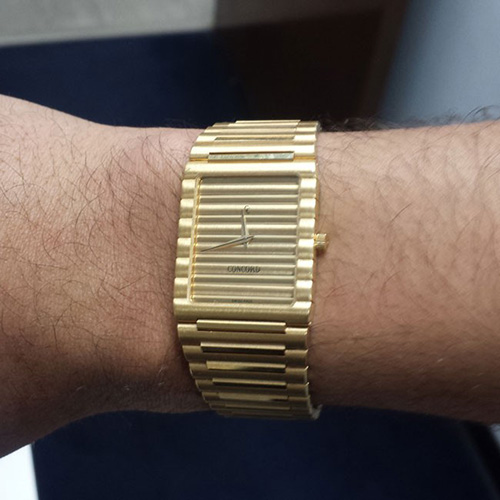 There are a variety of factors that come into play when evaluating the quality of a timepiece. Things like a customer's taste or preferences, what collection a watch belongs to, and what kinds of materials a watch is made with influence customer feedback and reviews.
If you are a fan of innovation, Concord watches could be right for you. It has a good collection of watches that represent uniqueness and distinctiveness, such as the ones that feature a coin-edge bezel or mother-of-pearl-plated dials. If you love precious gems, many of its collections have watches that are designed with diamonds, silver, and other gems and crystals that help enhance overall aesthetic. If you need a watch for formal occasions, daily use, or outdoorsy activities, it also has several options available for both men and women.
On the internet, many customers have praised Concord's aesthetic. They think its unique and sharp design embodies high quality and good taste. They love its good mix of fineness, elegance, and purpose, making their purchase all worth the money.
However, there have also been customers that find certain Concord watch models overpriced, and have advised others who are in the hunt for luxury and fancy watches to instead look into other more famous high-end watch brands that may cost less and would retain their value longer.
Concord, if compared to other brands such as Ebel or Movado may be a good place to start when it comes to aesthetics. It is up to the customer to come up with a list of criteria to help them make a decision on which to buy.
Where To Buy Concord Watches?
Concord watches make for a nice present for yourself or others. If you want one, you can go to Concord's official website shop and directly buy it there.
Alternatively, you can visit a Concord store near you and see the watches up close before buying. You can use Concord's store locator to find a store near you by simply inputting your country, city, state, or zip code.
JomaShop sells Concord Watches and you can also sometimes find deals on Overstock.
See pre-owned and new Concord watches on eBay.
Where Are Concord Made?
The Concord watch brand started out in Biel, Switzerland more than 100 years ago, and it continues to make watches out of Switzerland up to this day.
At present, its timepieces are sold by 120 authorized retailers worldwide.
Concord Watch Warranty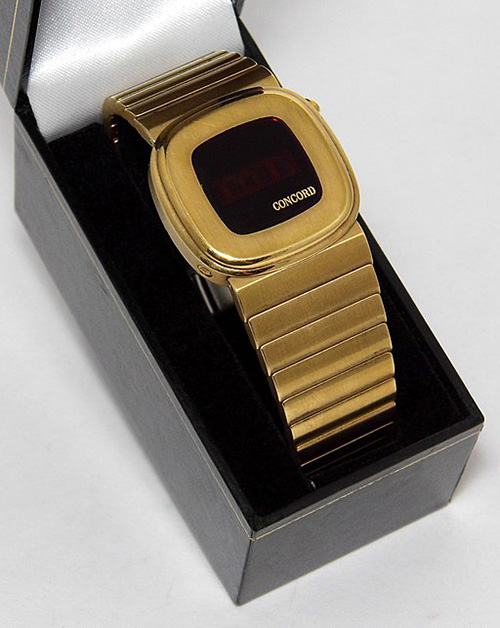 Concord and all watches by Movado have a two-year limited warranty that takes effect from the date of purchase. The warranty covers defects in materials and workmanship that prohibit it from working properly. However, it does not cover the straps, crystals, analog batteries, gold- or ionic-plating, bracelets, and cosmetic issues like normal wear and tear, scratches, or damage caused by misuse, alteration, accidents, or repair mistakes by non-authorized service centers.
For warranty concerns, send an email to [email protected] or call 1-800-810-2311. You can also go to Concord's official website and fill out the contact form.
And, if you need your Concord watch repaired, you have three options. One, you can go to an authorized Movado after-sales service center near you, which you can locate by clicking here. Two, you can visit Movado's after-sales service website.