'Tradition meets Luxury' is an appropriate tag we can give to Ebel watches. If you are someone who has an eye for traditional Style than look no further. Ebel manufactures watches that are of simple, fluid beauty combined with technical mastery and striking aesthetics.
Ebel is a Swiss watch brand that was founded in 1911 by Eugene Blum and Alice Levy, Husband and wife. The very name E.B.E.L is an acronym of the initials "Eugene Blum Et Levy". Since 1990, the company has launched several sports and dress watches.
These watches are not as easily available in stores as other luxury watch brands as they are not mass-produced but the brand is well known for being a quality watch brand. So, you won't find this brand on par with Omega and Rolex, But then the prices are also not the same either. The watches are not too overly priced but not cheap enough to be picked by everyone easily.
Ebel falls into the often forgotten gray area of luxury watches that were hurt in the recession period and after being owned by Movado, the brand falls under the category of affordable luxury.
Ebel Brand History


Ebel has seen three successful generations of watch entrepreneurs. It is interesting to see how the couple who started the company grew their watch business and went through a journey. Here is a glimpse of the company's history:
In 1911:
Eugene Blum along with his wife Alice Blum established a workshop in La Chaux-de-Fonds and started their company, Ebel. In 1932, Charles the son of the founder took over the management of the company and expanded the business internationally.
Ebel was the first watch company to set up the "Western Electric" Precision system. In 1939 Ebel went into production for British royal airforce.
In the 1970s:
Under the direction of Charles, The company took a significant upturn and started producing wristwatches for Cartier. The brand won a great reputation in the 70s and 80s under the slogan of "Architect of times". The company later launched the 'Sports Classique' line
In 1980s – 1990s:
In 1982, Ebel launched the Chronograph Sport-Automatik followed by a perpetual calendar chronograph. And later launched Voyager, Beluga Lichine, and Sportwave. Investcorp, one of the primary shareholders in Ebel took the company over in 1994 and immediately sold it over to LVMH.
In the 2000s:
The company became a part of the LVMH Group. In 2001 Ebel launched 'Classic Wave', which was the remake of the 1911 watch. In 2002 Ebel introduced jewel watches on the theme of Southern seas.
At the end of 2003 Ebel was incorporated by the Movado Group. One main decision made by Movado company was to increase the production of watches.
Ebel Watch Collections
To give you a better idea of Ebel watch brand, here is a list of collection for you to go over and see for yourself what the company has to offer
EBEL SPORT CLASSIC
See Amazon Reviews | See on eBay
The Sport Classic was an instant global success and even today remains one of the most popular luxury watch brands. The watch has a classic historical look to it. The Ebel sport classic has a 40mm wide steel case. The delicate leaf shape hand of the watch looks quite trendy. This model has definitely excelled in terms of its case design.
Sport Classic is the brand's best selling collection. Particularly striking is the wave-shaped bracelet, which sets it apart visually and is also very comfortable to wear
The collection has watches designed for men and women, with lots of variety in terms of casing and dials.
See Ebel Sports Classic Collection Here
EBEL WAVE
See Amazon Reviews | See on eBay
After launching the sports classic in 1979, Ebel launched its Wave collection intending to have a revolutionary effect on the watchmaking world and it is still a brand icon today.
The watch was introduced with a lot of innovative and distinctive features. The Hexagonal shaped case with its soft curve gave it a distinguishing feature from the classic sports collection. The watch case had a unique monohull and the bracelet created a watch that looks and feels perfect. The bracelet has wave-shaped links giving the watch an elegant edge.
See Ebel Wave Collection Here
EBEL DISCOVERY
See Amazon Reviews | See on eBay
Ebel's discovery watch collection is for free-spirited and adventurous individuals. So if you can relate to this type, the collection is for you. Whether you are fond of stainless steel style or a precious golden finish, this collection has something for everyone. These watches have distinctive hallmarks like fluid and smooth cases and bezels, that effortlessly blend in, so if its style that you are looking for Discovery should be your pick.
See Ebels Discovery Collection here.
EBEL BRASILIA
See Amazon Reviews | See on eBay
The brand launched its Brasilia collection in 2011 and as claimed by the brand it is, "the quintessential spirit of the architects of time". The watch has a sleek style and geometric design and it is available in two feminine sizes which are no doubt a very thoughtful move by the brand.
The watch has a rectangular case and is highlighted by alternating polished and satin-brushed steel finish. The dial features a patterned center and blue hands.
See Ebels Brasilia's Collection here.
EBEL BELUGA
See Amazon Reviews | See on eBay
This watch collection is a luxurious one. If you are into diamonds and flashy timepieces, investing in Ebel's Beluga would make perfect sense. The collection has a combination of yellow and gold cases, with sapphire crystals and diamonds framing bezels. Polished stainless steel and gold link gives the watch the 'luxurious look' that it aims to market with the Beluga collection.
The appearance of the watches is ultra-feminine and timeless, made for delicate wrists.
See Ebel's Beluga Collection Here.
E-TYPE
See Amazon Reviews | See on eBay
E-type is a true classic but in a sporty look. This watch has an eightfold screwed case back, the scratch-resistant sapphire crystal and hard-wearing rubber strap. You can also enjoy a water resistance feature making it a perfect every-day watch for sports enthusiasts.
X-1
See Amazon Reviews | See on eBay
X-1 was designed by an American design team. The collection has sporty watches with quartz or automatic movements and a unique diver's watch look. The interesting aspect is that these watches are accented with gold tones and diamonds making them quite aesthetically appealing for the users.
Ebel Brand Reputation
Ebel watches have a long history of watchmaking, with its roots going back over 100 years and based in La Chaux-de-Fonds, Switzerland, the brand heritage cannot be denied.
The reputation of Ebel watches has waxed and waned over the decades, much in part to the everchanging ownership and changes in marketing direction leaving some serious watch aficionados doubting the brand at times.
The ownership of the brand transferred to the LVMH Group (which includes Tag Heuer, Bvlgari, Zenith, Hublot and other luxury watch brands and then later they sold Ebel to Movado in 2003, which left some fans claiming the brand reputation had been weakened by so many changes.
The watch has also progressed in terms of feature and innovation with time, but it is still stuck with the tag of an 'old watch'. It has produced fine pieces in its time, but it still has a historic look to it. So if you love having that 'old school' feel to your watch Ebel watches should be a decent choice.
After their acquisition by the Movado company, the brand increased its mass production but the high volume does not sell out so Ebel often heavily discounts its watches like Invicta does to reduce its inflated suggested retail prices.
Due to this move, the reputation of the brand took a hit. The company is priced at what many would call "affordable luxury" yet want quality horological and heritage values in their timepieces. Still many of the brand's entry-level watches sell in the $1,500 range with prices going up from there so really not the "affordable" to many shoppers.
The bottom line is that Ebel watches are well constructed, affordable and luxurious that resonate valuable and reliable timepieces. The only downside is that the watches do not have any resale value and most of their watches are not suitable for water sports so this is a market the brand doesn't yet cater to.
Is Ebel A Good Watch Brand?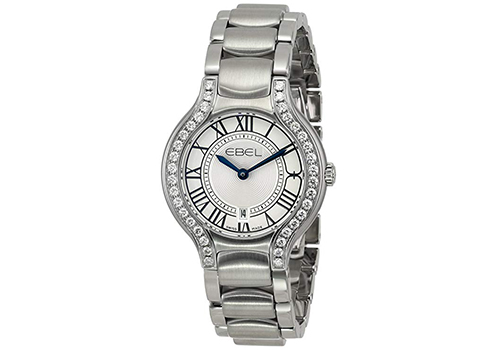 Ebel watches feature successful design, comfort, and sophisticated watchmaking. The brand has an independent design language compared to other luxury brands, that have always been appreciated by watch collectors.
When compared to other brands, the quality of the built of Ebel watches is very high. But practically speaking, Ebel is comparable to brands like Longines and Baume & Mercier.
Ebel does not have the status that brands like Omega, Rolex or Breitling do, but the prices are also not at the same level although many watch aficionados would consider the brand as a mid/high-end watch-house to rival Tag Heuer.
For some users who are brand conscious, EBEL does not really serve the purpose because they like the brand's features but also recognize the fact that it's not as recognized in the market as other luxury brands.
The fact that Ebel watches are often heavily discounted, has reduced the image of the company in the watch collector's mind. It has nothing to do with value but It's just how a buyer's perception is shaped about the brand. The decision of discount though was taken by Movado company and it did somewhat worked in favor of the brand as it helped in promoting sales but it also depreciated the brand's value in the mind of watch collectors.
Where To Buy Ebel Watches?
To buy Ebel watches, look for the closest authorized stores through Ebels Official Website.
You can also find Ebel watches online on Amazon, new and pre-owned Ebel watches on eBay,
Well known online retailers such as Ashford and JomaShop also sell Ebel watches.
Readers in the UK can check out Ebel watches on Jurawatches.co.uk.
Many authorized jewelry stores keep the brand as well.
Where Are Ebel Watches Made?
Ebel watches are Swiss-made and have been manufactured in Switzerland since 1911. They have remained true to their core value .i.e. manufacturing fine Swiss watches that possess technical expertise and distinctive style.
Ebel Watch Warranty
Movado offers a limited warranty to its original consumers for two years from the date of purchase. The warranty does not include replacement or repair of batteries, crystals, gold or ionic-plating.
You can find the details of their warranty and exception here.
The company has been around since 1911, yet the name is not as recognized in the industry of luxury watches. Other luxury brands seem to be better known, and the company has forged their name on the build, quality, and design.
With models for both men and women in a broad price range, chances are good that there is something in the product line that is suitable for everyone who is looking to invest in attractive timepieces.