Founded more than a century ago, Fortis is a Swiss watch brand that epitomizes luxury and function. It originated in Grenchen, Switzerland, thanks to an enterprising 29-year-old named Walter Vogt. He wanted to create a product that could make a name of its own amidst the growing and competitive watchmaking industry, so he began his quest for success by building a factory next to the local train station.
Through the years, Fortis has introduced an impressive catalog of watches. Very notable was the first mass-produced self-winding wristwatch — in 1926. Also, decades later, it came up with the Venus Caliber 230 collection — military watches supplied to forces of Switzerland, Germany, Hungary, Greece, and Taiwan.
And like many other businesses, it has also gone through challenges. In 2017, Swiss newspapers caught wind of its financial difficulties and reported about its impending end. But, not long after, it found a new life with the help of a Fortis aficionado who rebranded it and holds the reins up to this day.
Today, Fortis continues to make timepieces that feature not only good aesthetics but also practical and useful mechanisms.
Fortis Brand History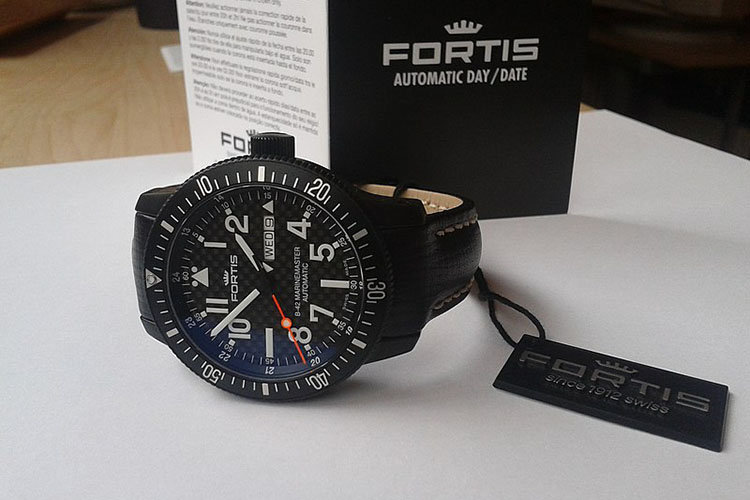 Fortis' story started in Switzerland, specifically in the municipality of Grenchen, in 1912. A 29-year-old watchmaker named Walter Vogt founded a watch factory, making good use of his watchmaking training in Biel and work experience at Swiss watch manufacturer Eterna.
In 1926, he worked with John Harwood, a British watchmaker, to begin mass-producing the world's first automatic watch. Product sales were good, and years later, in 1937, he introduced his company's first chronograph watches, which included the Autorist and the Rolls, in celebration of its 25th anniversary.
In 1940, he manufactured and marketed his brand's first water-resistant watch called Fortissimo. In the 1950s, the Marinemaster line was created, bringing robust, sturdy, rugged yet classy water-resistant timepieces in the limelight. And in 1956, because of the innovativeness of Fortis' the Manager, the first water-resistant watch with mechanical alarm, it won the Swiss Institute's leading chronometer award.
Inspired by the space travel buzz around the world in the early 1960s, Walter's son, Rolf, presented NASA the Spacematic AR (All Risks), the first space watch by Fortis, to honor the efforts and courage of the first astronauts.
In the coming decades, Fortis came up with more styles, colors, and designs, and even released affordable plastic watches, wanting to have products for all ages and budgets. It also has not wavered from its goal of making high-quality and versatile watches, releasing automatic wristwatches that held up well in space and other extreme conditions.
In 2003, Fortis launched its Official Cosmonauts Chronograph watches, which, up to this day, are still worn by Russian Cosmonauts as part of their space suit ensemble. It has also provided specially designed watches to military forces around the world, including Germany's Jagdgeschwader, Hungary's NATO Forces, Taiwan's Thunder Tiger Aerobic Team, Greece's Hellenic Tigers, and Switzerland's Swiss 11 Fighters.
In 2017, due to financial problems, the Fortis company and location were transferred to Jupp Philipp, who is a private investor and a lifetime fan of the brand. Today, the company is officially known as FORTIS Watches AG.
Fortis Watch Collections
Fortis' current catalog consists of watches that are a mix of style and functionality. The list below shows the different Fortis watch collections available today.
Space Collection
With a banner message talking about floating off in space and aspirations of colonizing Mars, it is not foolish to assume that the Fortis Space Collection is space-themed. It features watches with names that bear space-related terms and expressions like "Official Cosmonauts Chronograph," "Spacematic Steel," and "Stratoliner Ceramic AM."
There are four types of watches in the Space Collection — Official Cosmonauts, Classic Cosmonauts, Stratoliner, and Spacematic.
Official Cosmonauts watches have Black PVD coated or brushed stainless steel bodies and they offer up to 200-meter water resistance. They feature black dials, luminous hands, and automatic self-winding chronograph functions, and come with stainless steel or Cordura straps.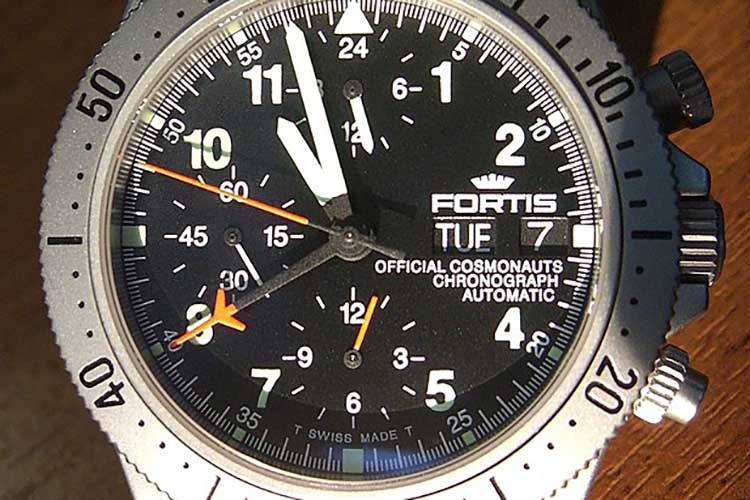 Classic Cosmonauts are up to 100-meter water-resistant. They have metal-coated silver, matt black, or matt white dials, and luminous hands. All are self-winding and Chrono and come with stainless steel straps.
Stratoliner watches feature brushed and part-polished stainless steel bodies, see-through case backs, and ceramic bezels. They have matt white, matt black, or matt grey dials, luminous hands, and have up to 100-meter water resistance. Featuring automatic self-winding Chrono functions, they come with Cordura fabric straps.
Spacematic watches have been manufactured by Fortis since 1960 and they are among the company's timeless pieces. They are made with black PVD coated or brushed stainless steel bodies and stainless steel case backs embossed with FORTIS. They have matt white or matt black dials, metal-coated and finely grained dial structures, and luminous hands. They are also self-winding and come with leather straps.
Sky Collection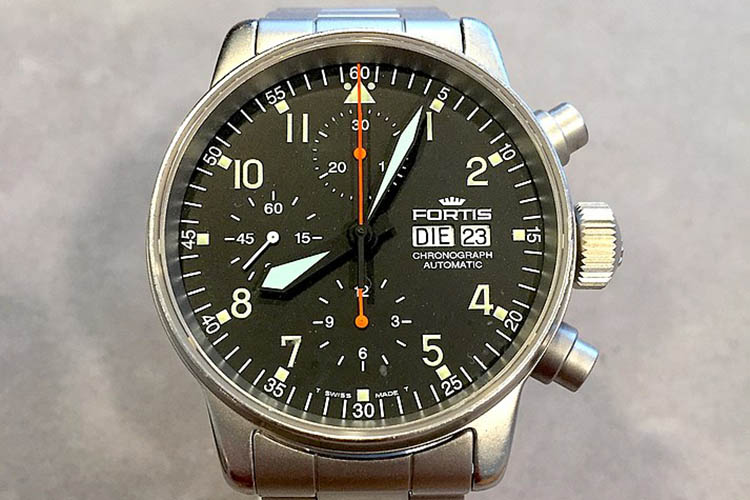 Made for jetsetters, the Fortis Sky Collection is made up of watches that can remain strong and durable despite frequent air journeys. Tried and tested by some of the world's best pilots, its watches are equipped with an array of features that make them functional and stylish at the same time.
There are two types of watches in the Sky Collection — Aeromaster and Pilot Classic.
Aeromaster watches have brushed stainless steel bodies with see-through or embossed case backs. Water-resistant, they feature black or royal blue dials, luminous hands, and chronograph function. They are all self-winding and come with leather or stainless steel straps.
Pilot Classic watches have polished or brushed stainless bodies, see-through case backs, and sapphire-crystal-coated and anti-reflective glasses. Available with black, metal-coated dials, they have luminous hands, automatic self-winding chronograph, and Cordura straps.
Sea Collection
Made not only for watch aficionados and collectors but also for the active and adventure-seeking, the Fortis Sea Collection consists of watches that are rated highly by divers. All timepieces have been tried and tested by many of the world's most skilled divers, and have proven their caliber underwater.
There are three watches in the Sea Collection — Marinemaster Alarm Chronograph, Marinemaster Silver Chronograph, and Marinemaster Yellow Chronograph.
The Marinemaster Alarm Chronograph is made with a brushed stainless steel body, matt black dial, luminous hands, and stainless strap. It offers a water resistance of up to 200 meters and boasts of a very rare feature in wristwatches — the alarm chronograph, developed by Zurich expert watchmaker Paul Gerber.
The Marinemaster Silver Chronograph and the Marinemaster Yellow Chronograph are also made with brushed stainless steel bodies, metal-coated matt black dials, luminous hands, and stainless steel straps. They are water-resistant up to 200 meters too. However, they have the automatic self-winding Chrono and not the alarm Chrono.
Fortis Brand Reputation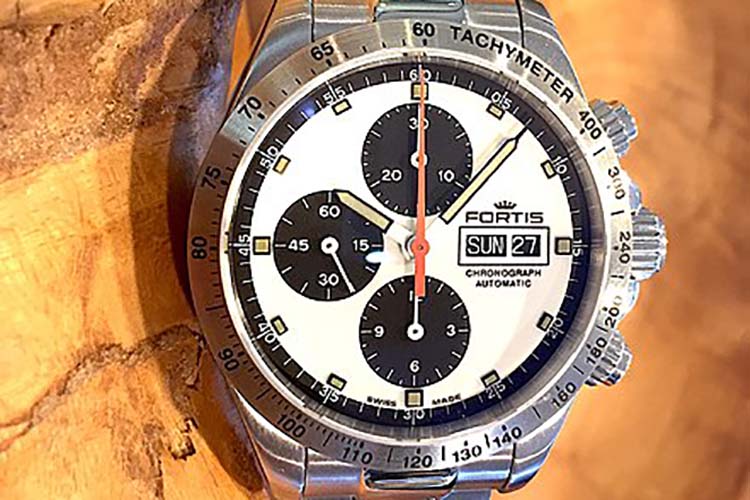 Fortis has been operating non-stop since 1912. Through the years, it has given the world timepieces that embody luxury and elegance, while staying true to its founder's belief on the importance of quality and function.
From inventing the world's first self-winding wristwatch in 1926 and some of the world's first waterproof watches in the 1940s to designing watches that can withstand extreme temperature, pressure, and other environmental conditions,
Fortis can undeniably be considered a pioneer in the watchmaking industry. It has also amassed numerous awards, including International Watch Award in 2001, European Watch Award in 2004, and, most recently, Chrono Award – Premium Class in 2013.
The road has not been completely free of hurdles and obstacles in the more than 100 years of Fortis' existence, but it has managed to get itself out of trouble before things get too bad. While it is somewhat of an under-the-radar watch brand, it has built quite a solid reputation and has established a loyal following.
Is Fortis A Good Watch Brand?
Many watch aficionados recognize Fortis' superior style, design, and quality. They appreciate the stainless steel bodies, clear case backs, and attractive colors of the dials, hands, and straps. They also like that its watches can be worn while working, hiking, or socializing, without having to worry about damage and other things. As Fortis watches offer a variety of useful features, including automatic movement, chronograph, and water resistance, many think that paying more than usual for a watch of this caliber is all worth it.
However, some find Fortis watches a bit overpriced if you end up paying full retail.
Some point out that in a similar price range, they can find other well-designed and functional watches made by equally or more renowned watch brands such as Oris, Alpina, or Longines.
Even though Fortis may not have the same popularity as other Swiss watch brands like Tissot or fashion brands like Armani, its reliability, lasting power, and performance have helped it stay at the top after all this time.
Where To Buy Fortis Watches?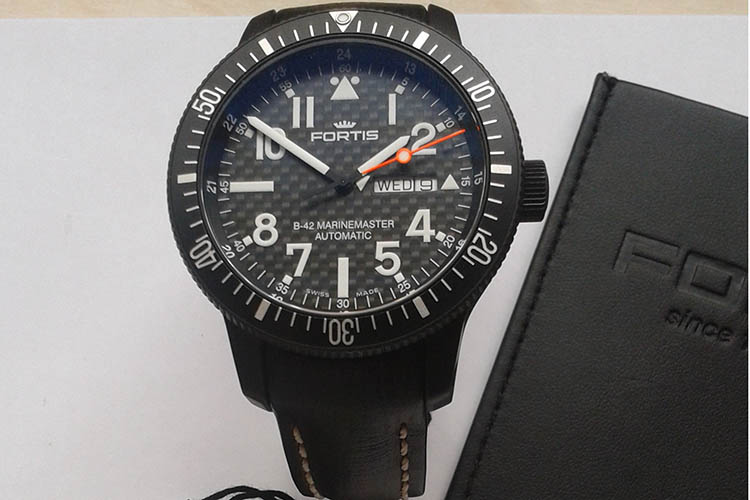 Fortis watches make great gifts for yourself or for others. The Fortis official website offers online shopping and shipping to select European countries. If you are not located in any of them, you can use the store and service center locator to find stores near you. You can also contact Fortis directly for help buying a watch.
See Fortis on Amazon.com.
See new and used Fortis on eBay
Where Are Fortis Made?
All Fortis watches are authentically Swiss-made. They are made and shipped from the FORTIS Watches AG headquarters located in Grenchen, Switzerland.
About 16 miles north of Bern, the country's de facto capital, Fortis is one of the several watch manufacturers in the city that keep the long-standing watch industry alive and thriving.
Fortis Watch Warranty
All Fortis watches have a two-year manufacturer's warranty. It starts from the date of purchase and covers manufacturing and production defects. To avail, you should present the warranty card that you signed upon purchase and the payment receipt from the store where you purchased.
For repairs, you can go to an authorized repair and service center near you. Click here for the Fortis store and service center locator.
If there are no Fortis service centers in your area, you can fill out the repair request form and wait for a response within a week about pickup for your watch.
Bear in mind that the warranty does not cover damage due to negligence, improper use, loss, and natural wear and tear. It also does not include a guarantee on wearing parts like straps and clasps.