Image Credit: Seattle City Council from Seattle via creative Commons
Jeff Bezos is an American entrepreneur and founder of one of the largest online retail stores in the world, Amazon. His contribution to the growth and evolution of the e-commerce industry cannot be understated, as he is one of its trailblazers. He has since stepped down as Amazon's CEO and transitioned into the Executive Chair of the Board in the third quarter of 2021. This decision was made so that Bezos could focus on his other endeavors, such as Blue Origin, which is a private aerospace manufacturing company. 
In this article, we will be taking a look at the watches that Jeff Bezos wears. So what sort of timepieces does a man who virtually has everything prefer? But before that, let us go through some fascinating facts about Amazon's founder.
Interesting Facts About Jeff Bezos
While his achievements as an entrepreneur are impressive as it is, there are also other noteworthy facts about Bezos in the background. 
Early Years of Amazon
Amazon's humble beginnings came in Bezos' garage. Along with a handful of employees, he began developing the software for the website in a garage. First, Bezos had to move meetings at a Barnes & Noble bookstore with a cramped and limited space. Bezos and his team later expanded their operations by moving to a two-bedroom house. Baby steps, indeed. 
Another fascinating story about the early days of Amazon is the company's initial name. Jeff Bezos wanted to name the company Cadabra from the magical incantation Abracadabra. However, Todd Tarbert, who was Amazon's lawyer at the time, shot the idea down as Cadabra sounds too similar to "cadaver". 
Jeff Bezos, fortunately, agreed to that assessment and decided to scrap the name Cadabra. Instead, he went with Amazon, after the largest river in the world, as his goal was for Amazon to become the largest bookstore in the world. Well, Amazon became more than that.
Jeff Bezos Started Early and Fast
Bezos started his first business venture in high school during an educational summer camp for nine to 12-year-olds. His next colossal career milestone came after he graduated from Princeton University. Bezos worked on Wall Street during this period. One notable financial firm is D.E. Shaw. Jeff Bezos worked his way up the corporate ladder and became the firm's youngest vice-president in 1990. 
He stayed as VP of D.E. Shaw for four years before resigning to focus on his online bookstore endeavor. The rest, as they say, is history. 
Jeff Bezos' Biological Father Was a Circus Performer
Jeff Bezos' biological father was a unicyclist and circus performer, Ted Jorgensen, whom journalist Brad Stone tracked down for his autobiography on Bezos. Jorgensen admits that he did not know that Jeff was his son. Bezos and Jorgensen did meet, and both made amends to each other. Ted Jorgensen passed away at the age of 70 on March 16, 2015. 
Jeff Bezos' Other Business Endeavors 
Since resigning as CEO of Amazon, Jeff Bezos pooled his focus on other projects and charities. One of which is his Blue Origin company which is an aerospace manufacturing company. Blue Origin aims to build a suborbital space flight service that will allow space travel to become the norm in the future. 
There is no denying the Jeff Bezos is a man of vision, and it seems that he has commercial space travel in his sights right now. 
Watches Worn by Jeff Bezos
As with another wealthy trailblazing entrepreneur that we covered previously, we will find out what watches Jeff Bezos prefers to wear? Similar to Bill Gates, though, Bezos' timepieces of choice might not be what you expected. 
Ulysse Nardin Dual Time (243-55-7-91)

The Ulysse Nardin Dual Time is the watch often seen on Jeff Bezos' wrist whenever he goes out in public. The Ulysse Nardin is a Swiss luxury watch, and while a relatively expensive brand, Ulysse Nardin is more of a low-key watch option for one of the richest men in the world. Bezos' exact Ulysse Nardin Dual Time is an older model which he has worn for years.
The Ulysse Nardin Dual Time features a traditionalist aesthetic focusing on balancing design, build, and performance. The 42mm stainless steel case makes it a suitable dress watch and a tremendous executive timepiece, thanks to its rather pragmatic dial face. 
The silver-tone dial features polished blue-rimmed sub-dials with luminous hour indices and diamond-shaped analog hands. There is a durable and scratch-resistant sapphire crystal window that guards the dial nicely. Additionally, the case back incorporates transparent exhibition material to give wearers a great view of the intricate Swiss automatic movement. 
Speaking of the watch's complication, the Ulysse Nardin utilizes an in-house Swiss caliber UN-24 automatic movement with 42 hours of power reserve. Other notable features include the Grande Date display, GMT functionality, and water resistance of up to 100-meters. 
Omega Speedmaster Moonwatch Professional (310.30.42.50.01.001)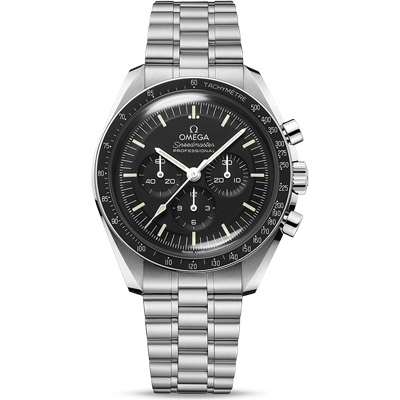 During the historic Blue Origin NS-16 space mission, Jeff Bezos and the other members of the suborbital space travel team were given a specially designed Omega Speedmaster Moonwatch. While these were the reference number 310.30.42.50.01.001 models, Omega made some custom changes to mark the momentous occasion. 
The Omega Speedy that Jeff and the Blue Origin NS-16 mission team featured a Velcro strap that allows it to be worn over their NASA spacesuits. It also has an engraving at the case back of all the crew members' names and flight numbers, along with the Blue Origin logo. 
The Omega Speedmaster Moonwatch is an outstanding timepiece worthy of its reputation. Being one of the few watch brands to reach outer space, the Speedmaster Moonwatch comes with impeccable build and performance. 
The Speedmaster comes with features such as chronograph functionality, tachymeter, and exceptional anti-magnetic build. In addition, the 42mm stainless steel case with a Hesalite crystal window exudes a premium-grade feel. At the same time, the 50-meter water resistance rating provides the Speedmaster with enough protection to withstand splashes and brief immersions. 
The Omega Speedmaster Moonwatch features an in-house Omega caliber 3861 chronograph movement. Also of note is that this complication comes with a Master Chronometer Certification from METAS. 
You may also be interested in see the watches that other top CEOs wear.