Image Credit: Kuhlmann /MSC via Creative Commons
Bill Gates's contribution to the modern world cannot be understated. Born William Henry Gates III on October 28, 1995, Bill Gates is an American business magnate, software developer, investor, and philanthropist. 
He is best known as the co-founder of Microsoft, now the world's largest personal computer software company. So the chances are that you are already using Microsoft software to read this article. You even can say that Bill Gates, along with his friend and Microsoft co-founder, the late Paul Allen, successfully ushered in a new era in computer technology. 
Great Potential from a Young Age
At a very young age, Bill Gates already showed a great deal of intelligence. An excellent example of Gate's intellect was when he recited, without errors, a 2,000-word text from the bible. Reverend Dale Turner, Bill's teacher in his church confirmation class, was stunned by such a feat from an 11-year-old child and, to this day, Bill Gates's flawless performance in that church stands.
From a young age, Bill Gates was already showing glimpses of potential. He met those expectations and more, seeing his list of achievements today. 
However, Bill Gates was not only sharp as a tack, but he also knew when an opportunity came knocking. Microsoft might not have even come to fruition if not for a single small window of opening. Back in the 1980s, IBM was looking for a 16-bit operating system (OS). 
IBM first went to computer scientist Gary Kindall, as referred to by Gates himself. But when Kindall was unable to meet up with the IBM representatives, he was out flying his plane. Nevertheless, Bill Gates saw the opportunity at hand and grabbed it before it slipped away. 
Gates then leased a similar OS from a different company and repacked it as Disk Operating System (DOS) for IBM. This deal went on to propel MS-DOS or Windows as the premier personal computer OS. A distinction that Windows still holds to this day. 
Bill Gates and His Collections
While Bill Gates tends to prefer a more low-key lifestyle, he is known for making some lavish purchases from time to time. From expensive paintings to an antique journal owned by Leonardo da Vinci himself, Bill Gates is not afraid to splurge on things he loves. 
The Microsoft head honcho also owns a $21 million private plane, which is practical, seeing as he has business worldwide. Of course, as he is a full-blooded American, Gates also has an impressive collection of classic sports automobiles, including a Porsche 951, Porsche Taycan, Ferrari 348, and a slew of Mercedes-Benz, BMW, and Corvette cars.
But what about his watch collection? You might think he would be a fan of racing watches and a collection of luxury automobile-inspired watches, but you might be surprised by his everyday watch.
What does a man with the business stature of Bill Gates wear as his timepiece? Well, similar to another highly successful entrepreneur that we covered before in a previous article, Bill Gates's taste in watches might not be what you are expecting. 
Watches Worn by Bill Gates
Casio 200M Duro Analog Watch (MDV106-1AV)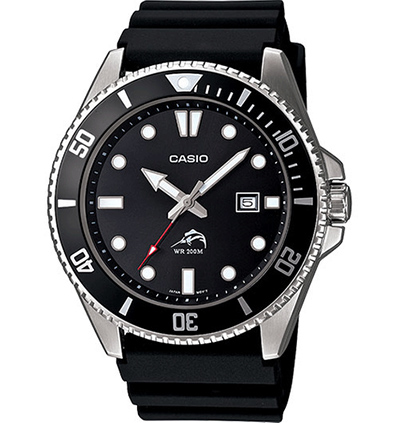 What timepiece do you think one of the richest men in the world wears? A Rolex? A Patek Philippe? A Jaeger LeCoultre? Well, if you are thinking within that ballpark, then you are way off, my friend. Bill Gates, who is currently the second richest person globally, is often seen wearing a Casio Quartz Duro Analog watch. 
Yes, you read that right. Bill Gates's preferred timepiece is the $50 Casio sports watch that you can easily purchase online. The Casio Quartz Duro Analog is what you would call an "everyman" watch. As with most of Casio's timepieces, the Duro Analog is affordable, durable, and reliable. This idea makes Gates's decision to wear it understandable – it is all about practicality and efficiency. 
The Casio Quartz Duro features a straightforward design with its 44mm stainless steel case and black rubber strap. A black-tone unidirectional bezel accompanies the silver-tone case, which offers a solid 200-meter water resistance rating. As a result, the Casio Quartz Duro can easily withstand marine activities such as swimming, snorkeling, and light scuba diving. 
The robust case also incorporates a mineral crystal window which provides it with decent scratch resistance. The black dial mainly focuses on readability thanks to the luminous hour markers and analog hands. 
Inside the Casio Quartz Duro is a high-precision, reliable and affordable Japanese quartz movement. There is also a date display located beside the 3 o'clock hour marker for that extra timepiece functionality. 
Casio Illuminator Sports Digital Chrono Watch (W214H-1AV)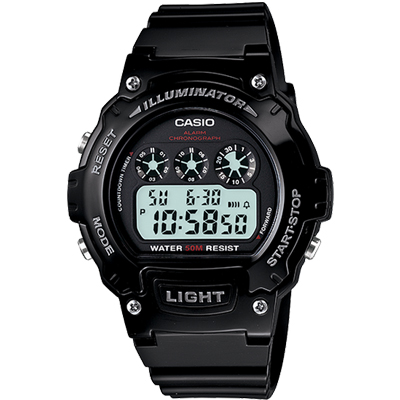 What? You thought that a $50 watch was the cheapest timepiece that Bill Gates wore? Well, here is the Casio Illuminator Sports Digital Chrono Watch to prove you wrong. The co-founder of Microsoft appears to be quite a pragmatic man when it comes to his approach in life. Putting more stock on efficiency and reliability more than aesthetics is a savvy mentality in the business world. 
Case in point, we have the super-cheap yet super dependable Casio Illuminator Sports Watch. This Casio digital watch delivers the level of durability that the brand is known for and a user-friendly layout that makes navigating through its multiple functions a breeze.  
The Casio Illuminator, as its name implies, features an LED backlight for optimum visibility even in the dark. Furthermore, as a sports watch, the Illuminator has essential functionalities such as a countdown timer, stopwatch, alarm, full-auto calendar, and even a 12/24-hour format for tactical use. 
The Casio Illuminator delivers a rather hefty build with its 48.2mm case, which is countered by its lightweight resin case build. Despite the size, the Casio Illuminator is light and comfortable to wear. However, it does only offer about 50-meters of water resistance, so avoid having it submerged underwater.  
TAG Heuer Professional 2000 (WAZ1118.BA0875)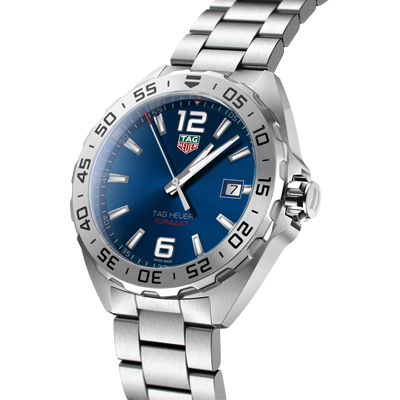 There was one occasion wherein Bill Gates wore a rather expensive luxury timepiece brand. Still, it seems more of a philanthropic act than anything else based on what transpired during this particular event. Bill Gates wears the TAG Heuer Professional 2000 during a conference in the Philippines. However, while Gates went to the conference hall wearing the TAG Heuer Pro 2000, he did not leave the building with it. 
Why? Because Bill Gates went and gave it to an attendee for guessing the price of the TAG Heuer timepiece. That said, the attendee was still way off in his guess as to the TAG Heuer Pro 2000 costs around $1,400, wherein he guessed it only at $600. 
As for the watch itself, the TAG Heuer Professional 2000 is pretty much what you expect from this luxury sports watch brand. The Pro 2000 has a sleek and professional design with its brushed 41mm stainless steel case, which complements the blue sunray brushed dial. 
The dial features luminous hour indices and analog hands, which enhances its overall legibility while looking stylish. Furthermore, to achieve reliable precision, the TAG Heuer Pro 2000 incorporates a Swiss quartz movement which is as dependable and accurate as they come. 
Additionally, this premium watch inspired by F1 racing comes with a 200-meter water resistance rating, suitable for swimming, snorkeling, and recreational scuba diving. 
As you can see from the list of watches above, Bill Gates prioritizes function over fashion with watches from Casio, one of the most affordable watch brands. 
This mentality is a good lesson for most as the goal is to become wealthy and successful, not look rich and successful. 
Some other top CEOs wear these watches that are not quite as humble!