For many people, watches are known as status symbols. A watch can show not only one's good taste but power as well. In this article, we are going to talk about the Chief Executive Officers (CEOs) of some of the world's biggest companies and the watches that they have been spotted wearing. While CEOs are known for wealth and power, not all of them wear expensive luxury watches. There are some here that are very affordable and easy to find.
CEOs are known to wear expensive watches but you might be surprised by some of the affordable watches on this list. Some of them are pretty easy to guess, Tim Cook wears the latest Apple Watch. However, you won't find Mark Zuckerberg (Founder and CEO of Facebook) on this list as he doesn't even wear a watch.
Below, we'll talk a bit about the CEO and provide links where you can find both pre-owned and new models of the watch.
CEOs & The Watches They Wear
Jeff Weiner, LinkedIn – Audemars Piguet Royal Oak

Businessman Jeff Weiner, the current CEO of business and employment online service LinkedIn, is often seen wearing a luxury timepiece by Audemars Piguet, the Royal Oak.
Designed by the iconic Gerald Genta and first released in 1972, the Audemars Piguet watch is known for being one of the first luxury sports watches. The price of this mechanical watch can range from around $10,000 for the most basic model to over half a million dollars. Check out the different Royal Oak watches on the Audemars Piguet website.
Weiner has also been spotted wearing a Patek Philippe Annual Calendar Moonphase watch with a leather strap.
Can't afford an Audemars Piguet? You can find affordable Royal Oak alternatives here.
Bill Gates, Microsoft – Casio Duro Marlin
https://www.instagram.com/p/BqntqucBzQ9/?hl=en
Bill Gates of Microsoft is one of the richest men in the world, with a net worth of $128.8 billion (2022). He can afford to buy even the most expensive watches in the world, but instead, he wears a simple budget watch by Casio.


The watch is Casio Duro Marlin MDV106-1A, a three-hand analog watch with a resin band and stainless steel case. This watch has a simple black dial with round markers, with a date window at three o'clock. The water resistance is up to 200m, making it a dive watch.
This watch was featured on our list of Best Dive Watches Under $100.
Read more about Casio watches here.
See the rest of Bill Gates' Watch Collection here.
Jeff Bezos, Amazon – Ulysse Nardin Dual Time
https://www.instagram.com/p/BmQh4YCBdtD/?hl=en
Jeff Bezos, the founder of the e-commerce site Amazon, is currently the richest man in the world, with a net worth of $196 billion. One of the watches that he is frequently seen wearing is the Ulysse Nardin Dual Time watch.
Some refer to this watch as "modest" considering Bezos's net worth—it costs around $11,000 to $13,000. The Swiss-made sports watch is a 42mm nautical watch with a two-time zone feature.
A relatively modest watch for the world's richest man—but he does have a $42 million 10,000 year clock, which he has installed at his Texas property. This clock is 500-ft tall and is powered by the Earth's thermal cycles. It only ticks once a year, and a cuckoo will emerge from it in the millennium.
Fittingly, you can buy Ulysse Nardin Dual Time watches on Amazon.
See the other watches Jeff Bezos wears.
James Gorman, Morgan Stanley – Rolex Cosmograph Daytona Chronograph
https://www.instagram.com/p/BwY7ZUNl5q_/?hl=en
James Gorman, CEO of investment bank Morgan Stanley, has been spotted wearing a Rolex Cosmograph Daytona Chronograph 116520, a special Rolex model, as it's Rolex's first in-house chronograph movement.
This watch was produced from 2000 to 2016. This is a 40mm model with a stainless steel case and a white dial, with a caliber 4130 automatic with 44 jewels. The watch is priced at around $14,000 to $20,000.
This model is also available on third-party sites including Amazon, check current prices here.
See 100% Authentic Rolex Daytonas here.
For newer models and background on the Daytona, check out this Rolex page.
Randall Stephenson, AT&T – TAG Heuer Kirium
Tag Heuer Kirium ChronographRandall Stephenson is the CEO of AT&T, the largest telecommunications company in the world, providing phone service throughout the United States.
He has been spotted wearing a Tag Heuer Kirium watch (CL111A) which costs around $3,000. This one's a 41mm stainless steel watch with a simple black dial and only two Arabic markers (12 and 6 o'clock).
The Kirium Series was introduced in 1
—you can learn more about the first releases and their history in this collector's guide by Calibre11. These watches, including the CL111A model, have a "liquid metal" design, where the bezel, case, and bracelet seamlessly flow to create a single shape.
Satya Nadella, Microsoft – Breitling Colt Automatic

Microsoft CEO Satya Nadella, who has been the CEO of Microsoft since 2014, has a fancier choice. He has been spotted wearing a Breitling Colt Automatic, a watch that currently costs $3,620 on the brand's website. The relatively "affordable" price and classic designs landed this watch on our list of Breitling watches for beginning collectors.
This robust watch is sporty stainless steel with a water resistance of up to 200m. Available in 41mm and 44mm sizes, this model is an officially chronometer-certified self-winding caliber, with a power reserve of 38 hours.
Doug McMillon, Walmart – Apple Watch
https://www.instagram.com/p/B-AM_OjAaDa/
Walmart CEO Doug McMillion keeps things simple with an Apple watch. The CEO, who has been working for the billion-dollar American company for three decades, is known to be a fan of Apple watches. He is frequently pictured wearing the smartwatch, which is available at Walmart stores.
The Apple Watch is currently on its Series 7, with more powerful features such as the Always-On Retina display, a built-in compass, fall detection, fitness and heart monitoring functions, and many customization options. See the rest of the features on the Apple website.


Another person who is always photographed wearing an Apple watch is, of course, the company's CEO himself, Tim Cook.
Check out our review on the pros and cons of the Apple watch here, or take a closer look at its evolution in our History and Timeline article.
Dara Khosrowshahi, Uber – Chopard Mille Miglia 16/8997

Dara Khosrowshahi, the CEO of Uber (and formerly Expedia), has been seen sporting a Chopard Mille Miglia watch.
The watch, currently priced at $6,800 on the Chopard website, is a 43mm watch inspired by classic and competition cars. This is a limited-edition model, with a chronometer-certified, self-winding movement with 60 hours of power reserve.
The case is a 43mm stainless steel with a blue dial and large Arabic and index markers. There is also a large date window at 3 o'clock. The strap is blue calfskin leather, and the case back is a see-through sapphire crystal.
Akio Toyoda, Toyota – Patek Philippe Calatrava
https://www.instagram.com/p/B_KwknnlCTM/
Akio Toyoda is the President and CEO of Japanese automotive manufacturing giant (and the world's biggest automaker) Toyota Motor Corp.
Toyoda has been spotted wearing a simple yet powerful watch by Patek Philippe: the Patek Philippe Calatrava, an elegant and timeless model with a mechanical movement. The watch is believed to be the 5196G Calatrava, which has a white gold case, and a silvery gray dial, and a black alligator strap.
This watch has a classic design with clean index markers and a small seconds feature at 6 o'clock. The price tag is estimated at around $21,000 to $25,000. See this watch, and other Calatrava models, on the official Patek Philippe website.
Can't afford a Patek Philippe Calatrava – check out these alternatives.
Ginni Rometty, IBM – Rolex Cellini Cellissima

Ginni Rometty, a former CEO of American technology company IBM (and the first woman to head the company, has been seen wearing a Rolex—namely the elegant Cellini Cellissima.
The watch, like many Rolex watches, holds its value well. A second-hand version of this model costs around $10,000. Rometty's version likely cost much more than that since it has a bezel dotted with diamonds.
Rolex calls the Cellini collection watches "traditional timepieces with a contemporary touch." Inspired by artist Benvenuto Cellini, this luxury watch currently has a number of models. To see the new models, check them out on the Rolex website.
David Solomon, Goldman Sachs – Shinola Runwell Chronometer

Investment banker David Solomon, the CEO of American multinational investment bank Goldman Sachs, has been seen wearing a Shinola Runwell watch–a relatively modest timepiece for a powerful individual.
The Shinola Runwell watch is priced at $750 on the Shinola website. This model is a vintage-looking watch with a stainless steel case, applied Arabic numerals on a black matte dial, and a Largo Tan leather strap.
Solomon's choice of watch can also reflect his interesting lifestyle. While making tens of millions a year, he also chooses to ride the New York subway and occasionally plays gigs as a DJ.
You can also learn more about Shinola.
Michael Bloomberg – Victorinox Swiss Army

Former New York City Mayor and Bloomberg founder and CEO Michael Bloomberg is another prominent man who chooses to wear simpler watches.
Bloomberg, whose net worth is $54.9 billion, has been photographed wearing a Victorinox Swiss Army watch, which costs around $125. This 37mm watch has a nylon strap, with a simple white dial with Arabic numeral markers.
The brand is famous for its Swiss Army knives, as well as cutlery and travel gear, learn more about Victorinox watches here.
Bloomberg's version of the Swiss Army watch (24221) is no longer in production, but you can still find it on eBay.
Jeffrey Immelt, General Electric – Breitling Chronospace

Jeffrey Immelt, the former CEO of General Electric, was often spotted wearing a Breitling Chronospace (M78365) watch.
Priced at around $6,000, this robust 46mm timepiece has a titanium or steel case and can withstand extreme conditions. The watch, which is powered by Breitling 78 caliber, has analog and digital features and chronograph functions.
Other features include an alarm, calendar, UTC World Time, and a second timezone with an independent alarm. Strap options are polyamide fabric and rubber. You can learn more about analog-digital (or ana-digi) watches in this article on our site. A Breitling is part of this list as well.
Indra Nooyi, PepsiCo – Cartier Tank

Former PepsiCo CEO Indra Nooyi, wears a classic Cartier watch—a Cartier Tank Francaise, an updated version of the iconic Tank watch, with a chain-link bracelet.
The Tank Francaise models, which you can take a closer look at on the Cartier website, have different versions and price points, ranging from $3,250 to $27,800. Some have diamonds on the bezel, while others have a simpler look, like Nooyi's stainless steel with no diamonds—a relatively simple timepiece for someone who is consistently ranked as one of the world's most powerful women.
The Tank Francaise watch has a quartz movement with a stainless steel case and a silver-grained dial. It has sleek blue-steel sword-shaped hands. This is available in small and medium sizes.
Mark Carney, Bank of England – Swatch Blue SFS103
https://www.instagram.com/p/Bwc0MTXF7Xe/?hl=en
Banker Mark Carney is the former Governor of the Bank of Canada and Bank of England. Like Bill Gates, Carney has been photographed wearing a simple Swatch analog watch that costs about $100.
The model is the Swatch Blue SFS103, a 38mm quartz watch from the brand's Classic Collection. The case is a transparent blue, the dial is plastic, and the silicone strap is 3.9mm thick, the brand's thinnest design. The simple but stylish watch has Arabic numeral markers, and the water resistance is 30m.
You can learn more about Swatch watches, as well as the company's history and collections, in our Swatch Watch Review on our website.
Warren Buffett – CEO of Berkshire Hathaway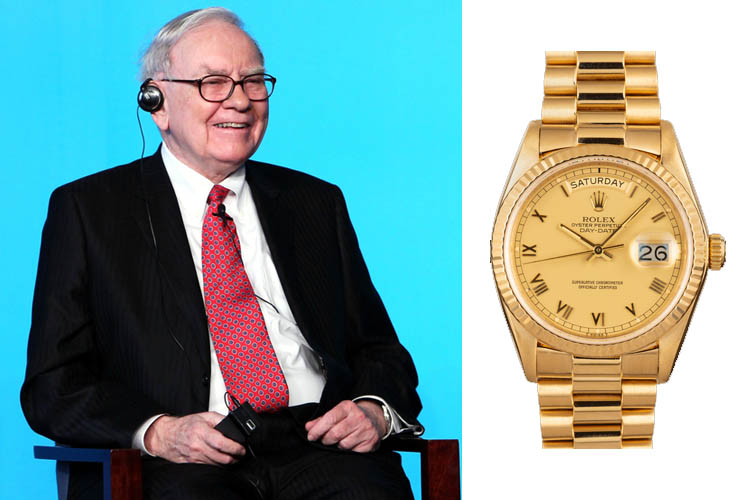 Warren Buffet, also known as the "Oracle of Omaha" is the CEO of Berkshire Hathaway, the multinational conglomerate with 60 plus companies, including brands from Dairy Queen to insurance company Geico. Berkshire Hathaway's Portfolio also includes stocks from leading companies including Coca-Cola, Apple and Johnson & Johnson.
Known as one of the most successful investors of all time betting on long-term value stocks rather than timing trends.
When it comes to watches, Buffet's tastes are as traditional and conservative as his investing. Buffet wears a gold Rolex Day-Date that can be seen on his wrist in almost every public appearance. Buffet has been wearing the "Rolex President" for almost his entire adult life.