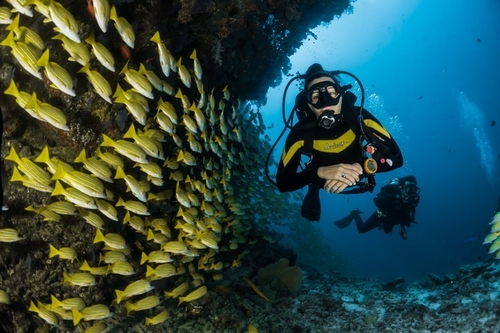 The dive watch is one of the most popular styles. While high-end dive watches offer divers a premium timepiece for deep diving with special features such as screw-down crowns
Now, if you are interested in grabbing a reliable and quality dive watch – chances are you might want to save a bit of cash as these are typically quite expensive. That is not to say that there are no worthwhile cheaper alternatives in the market. In this list, we scoured the market for the best value dive watches that we can find. All of these dive watches cost under $100 while still managing to provide excellent performance and reliability.
So, without further ado – here are the 15 best dive watches under $100.
(Please note, at the time of publishing, all these watches were selling for $100 or less. Prices may have fluctuated since then, possibly pushing them over the original budget).
Best Dive Watches Under $100
Timex Harborside 42mm Watch (TW2R64700)

Timex needs no introduction as this Japanese-brand is known worldwide for delivering budget-friendly entry-level watches that manage to feature excellent quality and features. The Harborside is one such example of Timex's horological expertise. The watch features a handsome design with its two-tone stainless steel and gold case and bracelet. This look is further accentuated by a stunning blue dial and luminous Arabic numeral markers and hands. This Rolex timepiece utilizes Indiglo technology and has a water resistance of up to 50-meters (165-feet); making the Harborside suitable for recreational swimming.
Stuhrling Original Depthmaster Pro Diver (3950A.2)

Equipped with a traditional timeless design, the Stuhrling OG Depthmaster Pro Diver is undoubtedly a treat to look at. With its classic silver-tone case with polished blue dial design, the Depthmaster Pro Diver certainly looks the part of a high-quality dive watch. As this model is in this list, you can expect it to not only look the part but also act the part, as well. Another essential element of a dive watch is legibility – with the Depthmaster's contrasting color-tone for the dial, markers, and hands, this aspect has been achieved perfectly. Underneath the striking aesthetics of the case is a high-precision quartz movement developed by the Miyota.
The distinct dial and markers give the Stuhrling Depthmaster Pro Diver excellent legibility which is further enhanced by a luminescent finish. Additional features include a coin-edge bezel and a screw-down crown. This dive watch provides a solid 100-meter water resistance rating, as well – making it ideal for swimming and some light snorkeling.
Casio 200M Duro Analog Watch (MDV106-1AV)

The Casio 200M Duro Analog is not precisely what you expect a Casio watch would look like. With a more traditional timepiece design compared to your average Casio wristwatch, the 200M Duro Analog certainly hits all the marks correctly. As a dive watch, the Duro Analog is a well-rounded model that takes cues from the best with its robust yet straightforward build. Coming in with a 44mm stainless steel case, it is undoubtedly slightly bulkier, but nothing outside of what you would expect from a dive watch.
A silver-toned polished anti-reverse bezel accentuates the pitch-black dial and resin band. The watch also features luminous white hour markers and hands for enhanced legibility. There is also a date display located at the 3 o'clock position. As for the watch's water resistance capability, the Duro Analog can withstand up to 200-meters, making it an excellent budget-friendly dive watch.
Casio Analog Sports Watch (EAW-MRW-200H-1BV)

Here's a Casio watch that falls in line with the brand's signature modern aesthetics. We do like how it is a more contemporary version of the 200M Duro Analog with its resin build and edgier appearance. As the Casio Sports Watch does utilize a 43mm resin case, expect it to be ultra-lightweight while still delivering decent durability. The Casio Analog Sports Watch features a bi-directional rotating bezel as well as a date display. The all-black design is topped off by pristine white Arabic numeral markers and hands.
You also won't need to worry about the watch's precision as it is equipped with Japanese quartz movement. To top it all off, the Casio Analog Sports Watch provides water-resistance of up to 100-meters. This is a great dive watch considering its highly affordable price tag.
Invicta 8932 Pro Diver Collection (8932)

The Invicta Pro Diver watch is a staple in this category, and it is easy to see why with a look at the Pro Diver's offerings. While the Invicta Pro Diver does feature a rather conservative approach with its design, the subtle features incorporated into its sleek 37.5mm stainless steel case is impressive.
For example, the Pro Diver features a unidirectional rotating bezel and a date display. The date display is placed underneath a cyclops magnified lens for better legibility. In terms of durability, the stainless-steel case and band incorporate a steadfast build.
The watch also utilizes Flame Fusion crystal for its dial window. What we love about this Invicta dive watch is how it combines luxury watch aesthetics perfectly without the expensive price tag that high-end brands come with. Finally, the Invicta Pro Diver delivers up to 200-meters of water resistance, making it suitable for almost all types of water-based activities from swimming to diving.
Henry Jay 23K Gold-Plated Specialty Aquamaster Professional Dive Watch

Affordable yet stylish, that is how we can best describe what the Henry Jay 23K Specialty Aquamaster brings to the table. The electric blue dial perfectly complements the polished silver-tone case and bracelet with a matte finish. This dive watch also comes with a unidirectional ratcheting coin-edge bezel that also comes with a gold center fill. The bracelet is enhanced by 23K gold-plated center links to add some flash to the already impressive visage that the Henry Jay Specialty Aquamaster has to offer.
As for the inner workings that lay underneath the stunning aesthetics of this dive watch, you will find a Miyota Japanese quartz movement that operates the analog dial as well as the date display. The build of this timepiece allows it to withstand about 100-meters of water resistance and utilizes a robust screw-down crown.
Stuhrling Original Aqua Diver Sports Watch (395.33U16)

One of the essential aspects of a dive watch is, besides water resistance, legibility. This is one of the reasons why most dive watch seems to follow a uniform design. If you are familiar with this type of timepiece, then you know this particular watch design that I am speaking of. That said, the Stuhrling Aqua Diver captures the critical elements of that traditional design and molds it into its own.
The dial found in the Aqua Diver incorporates luminescent hands and is a perfect contrast to the beautiful polished blue dial. The watch also comes with a coin-edge bezel accompanied by a screw-down crown. As for the Aqua Diver's aquatic capabilities, the overall construction of this timepiece gives it an excellent 100-meter water resistance rating. The watch also provides excellent precision with its use of a Miyota Japanese quartz movement.
VOSTOK Amphibian Scuba Dude (120059)

The Vostok Amphibian Scuba Dude is developed by the same company that is the official supplier of the Russian Defense Department. That can give you a pretty good idea of the quality of build this watch can deliver. The contemporary design of the VOSTOK Amphibian certainly has a unique charm that separates it from the other entries in this list. The 46mm stainless steel case gives it a rather hefty appearance, but the overall lighter weight of the timepiece certainly caught us by surprise.
The bluish-green hue of the dial evokes an image of the ocean, and it fits this timepiece perfectly as it provides up to 200-meters of water resistance. This allows the VOSTOK Amphibian to be used not only in swimming but also during scuba diving activities as well. This VOSTOK dive watch features an automatic self-winding movement that is equipped with 31 jewels and packs a power reserve of up to 31-hours.
Invicta Pro Diver (89260B)

Here we have another Invicta dive watch from their Pro Diver Collection series. This model is slightly larger than the previous Invicta dive watch that was introduced earlier in this list. Other than the size, the Pro Diver 89260B is virtually similar to the model 8932. This particular Pro Diver model does incorporate a Japanese automatic movement with its analog dial.
When it comes to its water-based functionality, the 89260B comes with a rock-solid 200-meter water resistance rating. The black dial features luminous white hands and markers, which helps enhance legibility and visibility even when submerged underwater.
Casio Chronograph Diver (AMW330B-1A)

The Casio Chronograph Diver is a personal favorite of mine not just because of its affordable price tag and features, but also the stylish aesthetics that it brings to the spotlight. The dial is packed with information without leaving it feeling like a cluttered mess. The main and three sub-dials also feature a sunray effect design that gives the watch a certain level of panache that gives it some sleek charisma.
This Casio dive watch uses a screw-lock case back, which helps it achieve its 100-meter water resistance rating. Underneath the stylish exterior lies a high-precision Japanese quartz movement that powers the dials and sub-dials. There is also a date display located on the 3 o'clock position and in terms of durability, the dial window features scratch-resistant mineral crystal glass. We are talking about Casio here, so strength is never really an issue.
VOSTOK Komandirskie Military Wristwatch

Vostok watches are known for their durability and practicality; the Komandirskie series comes in a wide variety of color variants, making it one of the most stylish timepieces in the Vostok catalog. Of course, as with all Vostok watches, the Komandirksie still manages to deliver outstanding build and functionality. As with other Vostok watches, this dive watch incorporates an automatic self-winding movement that features a 31-jewel design and a power reserve that is no less than 31-hours.
As we have noted, durability is not a problem with Vostok watches which is further established by the Komandirskie's shock-resistant build. As for the watch's water resistance capability, it can provide up to 200-meters of water resistance, making it suitable for swimming as well as recreational scuba diving.
Stuhrling Original Aquadiver Grand Regatta (593.332D11)

The Stuhrling Original Aquadiver Grand Regatta features a unique blend of extravagance and practicality with its design. The polished stainless-steel construction gives it a dash of luxurious charm. At the same time, the luminous white bold Arabic numeral markers and pronounced hands provide a right balance against the matte pitch-black backdrop of the dial. This timepiece is also equipped with the sturdy Krysterna crystal glass which is present in the back case as well. As for the Grand Regatta's dive watch capabilities, it can provide up to 200-meters of water resistance, making it an ideal wristwear for most water-based activities such as swimming and scuba diving.
Casio GA100 XL Ana-Digi G-Shock Watch

Combining the best of both worlds, the Casio GA100 XL Ana-Digi G-Shock watch is quite an impressive wristwear. With an extreme level of durability and wristwatch features galore, this is a perfect companion for the thrill-seeker crowd. This watch utilizes both analog display and digital to provide an in-depth level of functionality while keeping every information easy to understand. While this dive watch comes in at a stocky 51mm, it manages to balance out the hulking frame with the use of durable resin material for the case.
This digital and analog hybrid watch is also well-built and can withstand being submerged underwater for up to 200-meters. It features an all-black design with luminous white hands that makes keeping track of the time extremely easy.
Invicta Pro Diver Collection (0071)
With its eye-catching polished silver-tone aesthetics, the Pro Diver 0071 model is certainly a head-turner. Powered by a Japanese quartz movement, this timepiece also comes with chronograph functionality. The unidirectional bezel operates smoothly. There is also a date display underneath a cyclops magnifying glass for better legibility. In terms of durability, the Pro Diver 0071 utilizes a flame-fusion crystal glass window. As for water resistance, it is designed to withstand water pressure of up to 200-meters.
Lad Weather Snorkeling Master
The Lad Weather Depth Timer takes on a more contemporary design with a sporty twist. This timepiece utilizes a combination of stainless steel and hard plastic in the construction of its 47mm case. The Lad Weather Snorkeling Master earns its moniker not only with its 100-meter water resistance capability but also with the myriad of specific features that it comes with.
These features include a versatile measurement sensor that can accurately track water depth and water temperature. The watch also comes with a stopwatch, dual time, timer, and alarm functionality. All features will be much appreciated when snorkeling. The lightweight build of the Lad Weather Snorkeling Master also provides added comfort.
Iconic Dive Watches
Dive watches have a rich history behind them with entries coming from some of the premier names in horology such as Rolex and Panerai. As you would have guessed, the build of these types of timepieces differs significantly from the standard watch structure. The first commercial diver's timepiece debuted back in 1926, but we can trace the application of dive watch technology further than that.
As for dive watches that were made available to the public, Rolex was the first to tap into this market with their patented Oyster case watches. Rolex Oyster watches featured a case which is made from Oyster steel, a screwed down back case, and a sealing crystal – this design delivered what was to be the first water-resistant wristwatch in the consumer market.
Another brand that is known best in this particular watch category is Panerai. This is not surprising as the company was contracted by the Italian Navy to be the leading supplier of timepieces for the military. The knowledge and experience gained during this time became the prototype of one of Panerai's flagship timepieces, the Radiomir. Panerai also introduced Luminor shortly after.
Radiomir and Luminor are best known for their revolutionary luminescent technology which incorporated radium and tritium, respectively. If you like the look of these iconic Panerai watches, see affordable alternatives here.
The most recent milestone in regard to dive watch technology came when IWC unveiled their upgraded Aquatimer watch model, the Aquatimer Automatic 2000 which delivered an outstanding water resistance of up to 2,000 meters!