Warren Buffet, also known as the "Oracle of Omaha", is a highly successful investor, even probably the most successful of all time. He is the CEO of Berkshire Hathaway, an American multinational conglomerate that currently owns 60 plus companies, including Dairy Queen, Duracell, and insurance company Geico. 
Born in Omaha, Nebraska, in 1930, Warren Buffet began showing a penchant for entrepreneurship at an early age. Warren Buffet was quick to adapt and began investing in various businesses, as well as the stock market. Currently, Buffet is working together with Jamie Dimon (CEO of JPMorgan Chase) and Jeff Bezos (Founder and Executive of Amazon) to develop a new company that focuses on employee healthcare. 
Other than Berkshire Hathaway's companies, Buffet also owns stocks in several large companies such as American Express, Goldman Sachs, Coca Cola, Visa Mastercard, and Apple – to name a few big ones. So it seems that there isn't a well-known, globally successful company that Warren Buffet doesn't have any stake in. That pretty much explains his "Oracle of Omaha" moniker.  
Philanthropist Work
Other than being an incredibly successful investor, Warren Buffet is also known for his philanthropy. Berkshire Hathaway has donated another $4.1bn of its shares to several charities such as the Gates Foundation, Novo Foundation, Sherwood Foundation, Howard G. Buffet Foundation, and Susan Thompson Buffet Foundation. 
With such an illustrious career in investment and businesses in general, you would expect Warren Buffet to sport some pretty impressive timepieces. However, despite being one of the most successful investors of all time, Buffet seems content with living a relatively down-to-earth lifestyle. That's not to say that he is not known for having a fantastic timepiece as you will learn below.
See more about the watches Bill Gates wears, you may be surprised how frugal he is with his watch collection!
Watches Worn by Warren Buffet
Warren Buffet has a net worth of $101.5bn, you would think he currently lives in a vast mansion surrounded by luxury, but you would be sorely mistaken. Instead, Warren Buffet still lives in the house he purchased in Omaha, Nebraska, in 1958. The reason for this is probably for convenience as his home is just a 5-minute drive away from his office. 
Warren Buffet is not known to prefer a luxury lifestyle, though, so him still living in a relatively simple home he bought back in the 50s is not completely surprising. With his philosophy regarding his lifestyle, you would half expect that he owns a rather unassuming timepiece as well. Fortunately, Buffet loves to talk about his favorite watch as it encapsulates his principles regarding life and investment.  
Rolex Day-Date 40 Automatic Champagne 18K Gold Watch (228238)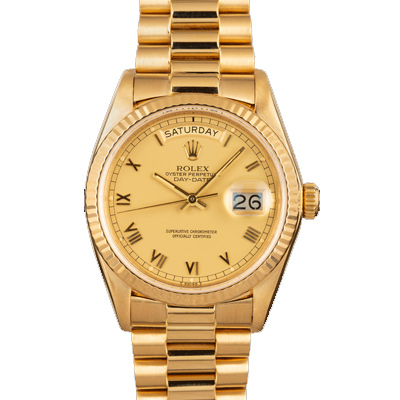 The Rolex Day-Date 18K Gold Watch is Buffet's first and only choice for timepieces. The Rolex Day-Date can be seen in almost every single public appearance that Buffet had throughout his career. Also known as the "Rolex President", Buffet reportedly owns the same timepiece for about seven decades. 
Based on the photos of Buffet wearing the Rolex Day-Date Gold Watch, it seems that he is indeed wearing an older generation model that features a 5-digit reference number. While not sure, we believe that Warren Buffet wears either the 18038 or the 18238 Rolex model. 
Watch Specifications:
If this Rolex President is indeed a 5-digit reference model, it most likely has a scratch-resistant sapphire crystal with an anti-glare coating. Buffet also appears to wear the 36mm version of the Rolex Day-Date, which seems to be the most popular size of this specific Rolex timepiece. If you are looking for a larger watch, then the 40mm is the perfect alternative as it is virtually the same. 
As the name implies, this Rolex watch features the day and date display. The day display is prominently seen on the upper part of the dial, while the date window at the 3 o'clock position utilizes a magnified or cyclops lens to improve legibility. 
The Rolex Day-Date exudes a classic and timeless design, further enhanced by its 18K gold case and bracelet. In addition, the fluted bezel is quite iconic and makes this timepiece instantly recognizable as a Rolex watch.  
Based on this Rolex Day-Date being a 5-digit model, it is safe to assume that it features the in-house Rolex caliber 3255 self-winding automatic movement. An impressive watch complication in its own right, the Rolex caliber 3255 provides a solid 70-hour power reserve and excellent timekeeping precision.
In addition, this Rolex Day-Date is known for its durable build, thanks to the addition of shock and magnetic resistance design into its construction. This Rolex timepiece also delivers up to 100-meters (10ATM) of water resistance, which adds a good deal of reliability to this iconic Rolex timepiece. 
If you like the look and practicality of this watch, but don't make Buffet's salary, check out these Affordable Day-Date Watches.
A Watch that Complements Warren Buffet's Principles
Unlike the watches worn in Billions by fictional billionaires, Warren Buffet has a relatively prudent and conservative lifestyle, wearing the iconic yet less flashy Rolex Day-Date timepiece is undoubtedly a match made in Heaven. This Rolex gold watch is a timeless timepiece that we doubt will ever be out of fashion. 
See the watches worn by other top CEOs.