Movado and Rado are two well-respected Swiss watch brands on the market today. Movado has always delivered when it comes to producing some of the most elegant looking timepieces with its minimalist approach to aesthetics with its now icon Museum line. On the other hand, Rado has built a solid and excellent reputation from their top of the line ceramic watches, elegant and very thin dress watches and love for rectangular designs that have been a constant in the brand's lineup. This will be a battle of whose brand offers the more stylish and eye-catching watches in their catalog.
History of Movado



Movado started its journey in Switzerland back in 1881 and was initially known as LAI Ditescheim & Freres SA. The company changed its name to Movado, which translates to "always in motion" in 1905. By 1983, Movado finally managed to take a crack at the American market thanks to its purchase by the North American Watch Corp.
Movado managed to carve its path in the market thanks to its signature minimalistic design. Their flagship timepiece in this category is the famous Museum watch line. In fact, it is impossible to talk about Movado without mentioning their Museum watches. The museum is quite distinguishable by its single dot design and completely clean dials.
As a fancy-dress watch, Movado Museum is an excellent choice to enhance your attire. It also features Swiss quartz movements making it as reliable as it is attractive. Expect more changes and innovations in the future as Movado has just recently purchased the company, MVMT.
History of Rado



This Swiss-based watchmaker was founded in 1917, in Lengnau, Switzerland. Similar to the Movado, Rado wasn't initially known by its current moniker. Initially known as Schlup & Co. It wasn't until the 1950s when it was officially renamed as Rado.
Rado quickly expanded its reach within a decade with Rado watches available in over 60 countries during the 60s. One of Rado's most significant innovations came with their DiaStar 1 watch, which was known as the first scratch-proof watch in the world. Rado innovative watchmaking with this model by introducing the use of sapphire crystal and hard metal which was not synonymous with the watchmaking process at the time.
Another decade rolls in and Rado once again reached a new milestone with their Rado Integral watch which combines scratch-resistant glass with a ceramic bracelet. The Integral quickly rose to the top of Rado's timepieces and has since become the brand's signature series.
By the 90s, Rado has shifted most of its focus towards crafting ceramic watches with its Rado Ceramica and Rado Sintra models. Currently, Rado is the premier brand for individuals looking for elegantly crafted ceramic luxury watches.
Movado and Rado Watch Comparisons
These two brands compete with other luxury watchmakers in the market. However, both Movado and Rado manage to separate themselves from the pack with their unique signature design and construction. Between the two, who provides a better selection of luxury watches? Let's make a quick comparison to find out.
We will be primarily comparing both the brand's luxury timepieces as this is where both watchmaker's strength lies.
Movado Museum Concave Dot
Read Amazon Reviews | See on eBay
The Movado Museum has been around since 1947, and it is still Maovado's flagship series today. The Movado Museum Concave continues the tradition with its minimalist design and impeccable quality and construction.
As with all Movado Museum watches, the Concave Dot features a single plain silver dial located at the 12 o'clock position. That's pretty much it in terms of face dial detail. This leaves a clutter-free and elegant looking timepiece that fits perfectly with any formal attire and business meetings.
The band/strap is removable from the 40mm stainless steel case. This allows for more options in terms of design as you can easily swap the stainless-steel band with genuine alligator leather strap or fabric band of your choice.
The pitch-black dial perfectly complements the silver hands and Museum dot design. Sleek, elegant, with a mysterious appeal -the Museum Concave Dot is a perfect companion for any special occasion gatherings or if you want to make an excellent first impression.
As for the construction of the Concave, it features a scratch-resistant sapphire crystal and is designed to have a water resistance for up to 30m. All in all, the Movado Museum Concave is a highly stylish wristwatch that will surely turn heads with its contemporary sense of style.
Movado Museum Sport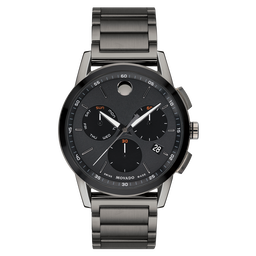 Read Amazon Reviews | See on eBay
The Movado Museum Sports combines the stylish appeal of their Museum series with the functionality and reliability of a sports watch. While certainly elegant, the Movado Museum Sport is a rugged and robust timepiece that can accompany in both formal events and casual daily activities.
The two-tone black and silver appearance with stainless-steel bands completes the Museum Sports perfect blend of grit and sophistication in one attention-grabbing timepiece. The Museum Sport is made primarily from stainless steel material for both its 42mm case and bracelet. The glossy silver luminescent hands emphasize the black PVD fixed bezel and black dial.
Unlike most Museum models, the dial features index hours and minute markers around the outer rim. The Movado signature Dot is still present and located over at the 12 o'clock position. Within the Museum Sport lies the always reliable quartz movement for high timekeeping accuracy. A scratch-resistant sapphire crystal window also protects the dial.
An additional feature of note is its 100 feet water resistance rating. While it won't survive to go for a dip underwater, it will be able to withstand splashes of water and the rain. The Movado Sport blends the sturdy construction of a sports watch with the gorgeous style of a luxury watch.
Rado Centrix Jubile Gold-Plated Stainless-Steel Watch
Read Amazon Reviews | See on eBay
The Rado Centrix takes a couple of cues from the minimalist look of the Movado Museum but manages to put their unique twist to it and make it their own. The Rado Centrix Jubile features an elegant black and gold design that suits both formal and casual attire.
Rado's signature feature is present in the Centrix as it primarily incorporates ceramic as its primary material. This gives the Centrix a lighter weight which improves comfort as well. The Rado Centrix comes in with a sleek 38mm diameter case.
The Rado Centrix uses Quartz self-winding movement with analog display. In terms of its inner workings, the Centrix uses a traditional approach. The Centrix also comes with an anti-reflective glass window and is designed with water resistance for up to 99-feet.
Rado Integral Analog Display Watch
Read Amazon Reviews | See on eBay
One of Rado's crowning glories, the Rado Integral is one of the most expensive timepieces in Rado's catalog. Look past the exorbitant price though, and you will find one of the finest and intricately crafted timepieces in the market today. With a rectangular shaped watch case, the Integral exudes an air of grace and complexity that few can rival.
While the rectangle dial has not been a popular design for men, the Rado Integral may change your stance on account of its superb craftsmanship. Coming in with a slightly slim 31mm stainless steel rectangular case, the Rado Integral is as sleek as they come without appearing feminine. That being said, the Rado Integral will fit the wrist of both male and female watch enthusiasts and remain equally attractive.
The Rado Integral utilizes a Swiss quartz movement that easily rivals its Japanese counterparts. As with all Rado timepieces, the Integral features of ceramic parts, mainly the stationary bezel. It is also designed to be water-resistant for up to 100-feet.
This is a nice touch but can be considered as irrelevant for the most part as you won't be wearing this to go to the beach. However, this aspect of the Integral is helpful insurance in the event where you get caught in the rain.
The Rado Integral does radiate similar characteristics of a luxury watch. However, it manages to counterbalance the natural flamboyance of its design with its signature minimalist aesthetics. You can never go wrong with the black and gold-tone design. The Rado Integral utilizes Swiss quartz movement, so you are guaranteed outstanding precision at all times, pun intended.
Conclusion: Movado vs Rado – Which is the Better Watch?
At first glance, Movado easily beats Rado when it comes to popularity. Fortunately, Movado does earn this reputation. But, do not sell Rado short as it is one of the finest makers of luxury watches today. With Rado's reputation for crafting some of the best ceramic watches, they are certainly an enticing choice for people who want to enjoy the more beautiful things in life.
However, therein lies one of Rado's hurdles. Due to their use of high-quality material, Rado watches are generally more expensive. Movado offers far more leeway in regards to the cost of their watches. Thus, making them a far more recommended brand for people who are not willing to spend a considerable amount of cash for a single timepiece.
Overall, we will give the win towards Movado as they offer a more extensive selection of fashionable watches at a more reasonable price tag.