Specializing in military specification watches, the MWC (Military Watch Company) was founded in 1974 by Swiss watchmaker Wolfgang Obrigheimer. Based in Zurich, the company is known to make timepieces to tender for contracts with armed forces and military units.
For decades, MWC has supplied military-grade watches to many armed forces and military units. Although they try to keep their list of clients top-secret, it has been rumored that it included London's Metropolitan Police Anti-Terrorist Unit and the British Army's Royal Gurka Regiment. They also make watches fit for airline pilots, mining workers, and people working laborious jobs.
Putting durability and reliability first and foremost, they are recognized as one of the world's top manufacturers and suppliers of military specification watches. Their timepieces are formidable and embody outstanding quality, accuracy, and precision.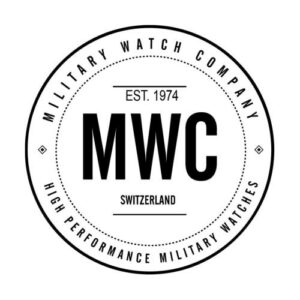 MWC (Military Watch Company) Brand History
In 1974, a Swiss gentleman by the name of Wolfgang Obrigheimer brought to the world the MWC (Military Watch Company) brand. He had many unique design ideas and concepts in mind that came from his watchmaking experience in the 1960s. He believed that durability and reliability should always come first, so he dedicated himself to designing and making watches with top-notch strength, performance, and utility.
In 1980, they released one of their most popular watches, the 1980s US pattern Military Watch. They were designed as a straightforward and low-cost basic military field watch. They had plastic material cases with simple hand-wound movements. But to keep up with the times, MWC decided to upgrade this watch model to suit modern needs. While bearing the same outward aesthetic, current versions of this watch model now have metal cases and modern quartz movements.
Over the years, MWC has come out with more watch collections and models that boast of features and functions that no ordinary wristwatches have. Their G10 watches and Water-Resistant NATO Pattern Military watches are two other notable models that perfectly embody the brand. As MWC continued to make a name, they got into more agreements and contracts with different military units and groups as their military specification watch supplier.


Today, MWC has become synonymous with military specification timepieces that are designed for hard and heavy use. Their extensive range of watch models is built not only for those in the military, armed forces, police, and other law enforcement units, but also for those in the mining, shipping, and salvage industries, government agencies, and outdoor adventure enthusiasts.
From their diver watches and their pilot watches to their classic watches and their chronograph watches, they use only the best materials that can offer utmost durability. They also incorporate various tried and tested technologies and movements to consistently deliver high caliber performance.
The MWC headquarters is still located in Zurich, the place where it all began. But in the last 50 years, they have greatly expanded their reach, with offices and stores in different parts of Europe, North America, and Asia.
MWC (Military Watch Company) Watch Collections
As one of the leading suppliers of military specification watches, MWC (Military Watch Company) offers a robust collection of specially designed timepieces with military specifications. If you want to buy one for personal use or to equip law enforcement units or blue-collar workers, you are guaranteed high quality, durability, and reliability. The list below showcases some of MWC (Military Watch Company)'s top watch collections.
Chronographs
The Chronograph collection is made up of watches that are specifically designed for civilian airline pilots, aircrew, military pilots, and GA pilots. Made with top quality stainless steel, it makes use of high-performance Swiss or hybrid movement and offers water-resistance of up to 100 meters. It has a sleek mechanical look, with black dials, two or three subdials, and black nylon or calf leather straps. Featuring anti-reflective sapphire-crystal coating and Super Luminova, it guarantees outstanding daytime and nighttime performance.
Classic Range


The Classic Range collection consists of watches made by the company before 1980. Among its most notable models are the A-11, which was one of the first military watches that had a sweep second hand, and the W10, which was supplied to the military from 1968 to 1979. Up to this day, these watches are still manufactured by the company but they now feature 24-jewel high-performance automatic movements. Some other worth-mentioning design and function highlights of this collection include thick and durable cases, water and scratch resistance, and military-pattern or leather straps.
Diver Watches


The Diver Watches collection consists of stainless steel watches powered by self-winding automatic or quartz movements. With the use of the Super Luminova and GTLS technologies, which can provide lume that is up to 100 times more brilliant and vivid than regular painted lume, its timepieces guarantee high-performance and high-visibility throughout the night. Robust, thick, and rugged, its watches are heavy-duty. They are resistant to water, scratch, shatter, and impact, and has long-lasting power reserves. Made for police and military divers, they also come with webbing or stainless steel straps.
Infantry Watches
The Infantry Watches collection is the largest collection of infantry watches ever made. It features many old and new timepiece models that offer high precision and accuracy but are low maintenance. Made with top-tier specifications, such as GTLS technology, hybrid or solar movements, and Super Luminova, and showcasing bold and rugged combat colors and designs, the watches are a perfect blend of the wartime years and the present in terms of functionality and aesthetics. They have stainless steel cases, hardened mineral glasses, and canvas straps in black, grey, or orange.
MWC P656 Tactical Series
The MWC P656 Tactical Series consists of watches specifically designed for various military applications. Whether surface, marine, or airborne, their designs and functionalities are high-caliber, making them the choice of many of the company's bulk contract clients. Featuring water-resistance of 300 meters, 24 Jewel automatic movements, and superluminous dials and hands, they promise high-performance for long hours in the daytime and the nighttime. They also offer high precision and accuracy even at altitudes of up to 40,000 feet or 12,000 meters. Their stainless cases and crystal-coated glasses also make them highly resistant to scratches, impacts, and shatters.
Navigator Watches
The Navigator Watches collection showcases robust and durable watches fit for underwater, land, or air use. Featuring stainless steel cases and 12-hour bezels, the timepieces have a very straightforward and neat appearance. In terms of functionality, they are top-tier — with Ronda movements, GTLS tritium technology, and Super Luminova illumination. They are also made to maintain top-notch accuracy and precision at altitudes as high up as 40,000 feet or 12,000 meters and as deep as 1,000 feet or 300 meters underwater. Featuring bezels, dials, and hands that have numerals and markings with high visibility, they are relentless for many hours at night. They are also long-lasting, offering a battery life of up to 10 years.
The official website of MWC (Military Watch Company) also offers NATO straps, batteries, books, clocks, clothing, military specification cellphones, watch boxes and cases, and other accessories.
MWC (Military Watch Company) Brand Reputation

MWC has been in the business of making military specification watches for almost fifty years. Because their brand values utility and function over all, they have introduced to the world timepieces that may not qualify as stylish or luxurious but rather are exemplary in durability and reliability.
With a deep and varied collection of robust watches, they have earned the trust of military and police forces, government offices and departments, aviation and marine industries, and mining and shipping companies around the world. They have been contracted to be the supplier of military specification watches to special field groups and units that are subject to working in extreme conditions.
Also available to individual buyers, MWC watches promise top-of-the-line movements and technologies that allow high-level accuracy and long-lasting performance. They have old and new models featured in their current collections, perfect for those who are all about watches that are utilitarian and purposeful.
Is MWC (Military Watch Company) A Good Watch Brand?

Reading feedback and reviews about MWC watches online shows you that these timepieces can be a hit or a miss.
Many watch enthusiasts like MWC watches because of their affordability and sturdy and robust design. They appreciate that for such a low-cost watch, they can get top-of-the-line specs and nice, rugged designs. They say that they consider it as more of an entry-level military watch that anyone can use as the first step in their deeper exploration of the world of military watches.
Those who were disappointed with their MWC watch purchases shared how they lost certain parts of the watch, particularly the pip on the bezel were hard to replace even after contacting customer support
Compared to other Swiss brands, such as Victorinox, Hamilton, and Tissot, some customers might prefer these three to MWC if they are looking for more well-established brands with a long history in the watchmaking industry.
Where To Buy MWC Watches?

If you would like to purchase a watch made by the MWC (Military Watch Company), you can go to the official website and place an order directly. There, you can see images of the different watch models available and also get an overview of the specifications and functions of the watches.
New and pre-owned MWC watches can also be found online.
See MWC watches on Amazon.
Shop for MWC watches on eBay.
Around the world, the company also has authorized dealers and distributors where you can buy authentic MWC timepieces. Here are some MWC Dealers and Distributors locations overseas:
Australia – Military Industries Inc, 135 King Street, Sydney NSW 2000, Australia
Canada – Military Industries LLC, 22 Frederick Street, Kitchener, Ontario N2H 6M6, Canada
France – Chez Maman, 4 Rue Tiquetonne, 75002 Paris
Italy – Orologi che Militari, Ruggiero Roberto, Via Scire 17, 00199 Roma
New Zealand – FiveFortyFive, L1 174 Cuba Street, Wellington City, New Zealand
United Kingdom – Axel Trenchartax, 9 Sorting Lane, Basingstoke, Hanys, RG24 9TD
Hong Kong and Macau – Hardcore Co Ltd, Flat J 20F Block 1 Vigor Industrial Buildings, 49-53 Ta Cheun Ping Street, Kwai Chung, Hong Kong
Switzerland – Antenbach Sicherheit und Militarprodukte, Badenerstrasse 120, 8004 Zurich, Switzerland
For more locations, click here.
Where Are MWC (Military Watch Company) Made?
All watches by MWC (Military Watch Company) are manufactured at its manufacturing facilities located in Switzerland and Germany.
In addition, its main office is located in Zurich, Switzerland, and over the years, it has built satellite offices, sales facilities, and retail outlets in various other countries in Asia, North America, and Europe.
MWC (Military Watch Company) Warranty
The MWC (Military Watch Company) offers an international 24-month warranty on all their watches, with certain restrictions, such as:
Manufacturing defects, dials or hands falling off
Movement failure, GTLS failure within 12 months
Watch gaining or losing outside of the normal range in the first 12 months
Water ingression (depending on if the watch has been mishandled and other factors)
However, the warranty does not cover the following:
Battery, bracelet, or strap
Scratched, loose, or lost bezels or crowns
Damaged, scratched, or broken glass, crown, or case back
Leakage as a result of using the watch in the bath or shower
Water ingression due to mishandling
All watches by MWC (Military Watch Company) can be registered on the company's warranty system by filling out this form. Registration is not a requirement to avail of the warranty but it can make processing a warranty claim easier and faster in the event that you cannot produce an invoice or proof of purchase in the future.
For more information, you can get in touch with MWC (Military Watch Company) via:
USA telephone number: 1-917-338-9657
International number: +44 20 7175 0614
Contact form: Click here