While Orient and Certina focus on two different timepiece categories – with Orient crafting quality and stylish automatic watches while Certina generally occupies the luxury watch market. However, the two do cross paths quite often as Orient also manufactures some stunning luxury style timepieces regularly.
In this article, we will be taking a look at what Orient and Certina watches offer in two watch type categories. We chose these two particular categories based on which ones these two top-notch brands are known for in the market – namely, style and precision. How does Orient's best compare to Certina's most elegant watches? Time to find out.
Orient Brand Overview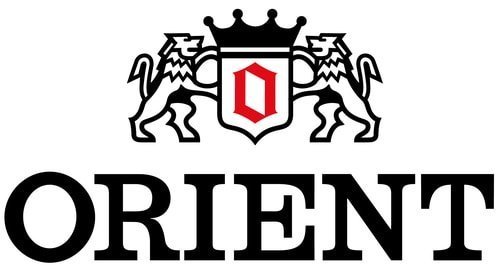 Orient is a famous Japanese watch brand, best known for crafting excellent automatic self-winding timepieces as well as diving watches. The company has been around since the early 1900s, but it was not until the 1950s when they officially used their current moniker, Orient.
There are two watch types that Orient is well-known for developing – these are the automatic self-winding movements and dive watches. They are also known for producing excellent entry-level mechanical watches at budget-friendly prices.
Diving watches are also one of Orient's best sellers. They have built quite a good reputation in this category, namely with their Mako series. Orient's dive watches are all manufactured in-house, which means the quality of each timepiece is guaranteed. Most of Orient's dive watches are also reasonably priced, which further makes them a favorite in this particular market.
Orient is one of the go-to brands for those looking for entry-level price dress watches as well. Don't think that just because these are entry-level dress watches that they lack that distinctive flair though. Orient dress watches are stunning in their own right and can equal, or even outclass, specific dress watches with a higher price tag. One prim of this is the Orient Bambino which is one of the most stunning mid-range dress watches.
Nowadays, Seiko is under the banner of Seiko after almost a decade of being part of the Seiko Watch Group. While they are under a parent company, Orient still manufactures and designs their watch movements which ensure that the quality their timepieces are known for is kept neatly intact.
Certina Brand Overview


If you are not quite familiar with Certina, don't worry as the brand is primarily sold in Europe and is quite hard to find anywhere else. Certina is a luxury brand watch that is known for developing high-quality sports and dive watches. Certina is also one of the original members of the Swatch Group. Certina was a member when the Swatch Group was still known as ASUAG.
Certina has made a reputation for crafting extremely durable timepieces, especially in their entries into the dive and outdoor categories. Certina watches are generally available in Switzerland; if you want to buy one, you will need to order from there. The watchmaker company was founded back in 1888 by Adolf and Alfred Kurth.
Certina is the epitome of the term "humble beginnings" as it initially began with only three employees. By the 1950s, Certina has grown to employ up to 500 people and can produce over 1,000 timepieces per day. As the 60s roll in, Certina upgraded its catalog and logo. They now incorporate the image of a turtle shell which perfectly encapsulates the toughness of their timepieces. Certina also partnered up with Sealab II and Tektite habitat and developed the DS-2 dive watches which are known for its high-water resistance and durability.
One of Certina watches primary features is their shock-resistant floating watch movement technology. This is their bread and butter and a signature characteristic of their timepieces. Certina, while a member of Swatch Group, is still considered a small brand. It seems that, for the moment, Certina is entirely satisfied with their placement in the watchmaker hierarchy.
Orient vs Certina Watch Comparisons
As you can see from both the brand's overview, both Orient and Certina are virtually cut from the same cloth. Both offer some stunningly beautiful dress watches but are also known for developing some of the most robust timepieces around. Let's compare two best-sellers from each brand's catalog and see how each stack up against each other.
Dive Watch – Orient Pro Saturation Diver Watch VS Certina DS Action Watch PH200M Powermatic 80
Orient Pro Saturation Diver Watch Review
See Amazon Reviews | See on eBay
While the Mako series is Orient's premier line in this category, one of their lesser-known dive watches is one of their best – a best-kept secret, as they say.
The Orient Pro Saturation Diver is one of their entries into the premium-grade dive watch category, and it brings everything you would expect from an Orient dive watch and then some.
The Pro Saturation Diver Watch is an impressive piece of accessory that is simply, built like a tank. The stainless-steel case measures in at 45.4mm in diameter and features a hard-nosed aesthetic that will fit perfectly amongst other diver tools.
The Pro Saturation also incorporates Orient's in-house CALIBER 40N5A automatic hand-winding and hacking movement with analog display. Also, the watch movement provides the watch with up to 40-hours of reserved power.
One vital element of the Pro Saturation, in regards to its capabilities as a dive watch, is the material used in its construction. The case and bracelet are made from corrosion-resistant steel which makes it suitable for everyday use on the beach or out in the open seas. The highly corrosive nature of saltwater won't be a factor with the Pro Saturation Diver's Watch, and that is a guarantee.
Overall construction also meets and surpasses the standards. The dial is well-protected using the scratch-resistant and superbly durable sapphire crystal glass. It also comes with a striking bezel that completes the watch's nautical charm. The dial itself is lush with exquisite detail, which is expected since it will garner 100% of the attention.
The Orient Pro Saturation Diver's Watch has also become a collector's item due to it having limited production. If you are an avid watch collector, this is one that you would want to include in your display case.
Lest we forget, the Orient Pro Saturation also clocks in impressive 300-meter water resistance. This makes the watch suitable for almost every single water activity you can think of, from swimming to diving.
Certina DS Action Watch PH200M Powermatic 80 Review
See Amazon Reviews | See on eBay
Certina watches are well-known for delivering top of the line durability, and the DS Action Watch certainly brings these qualities front and center. It has a more casual appeal to it compared to the Orient Pro Saturation, which is a good counter-balance in this comparison.
The casual appeal mostly comes from the robust leather straps which come in two variations. As for the case, it uses 316L stainless steel and measures in at 42.8mm in diameter. Within the timepiece's inner machinations lies the Powermatic 80.111 automatic movement with analog display. Certina indeed went full steam ahead with the watch movement as not only is it impeccably precise, it also clocks in a whopping 80-hours of power reserve.
This timepiece also uses the Hesalite crystal glass window, which is among the most scratch-resistant glasses used in wristwatches. Luminous silver-toned hands and markers accompany the black dial for added visibility in low-light environments. The minute markers are also neatly placed on the outer rim of the dial, which allows each essential watch elements to be displayed evenly.
The DS Action Watch PH200M also sports a date display that is located over at the 3 o'clock position. AT the back is a robust solid back case and over on the side is a screw-down crown. As you would have figured out from the name, the Certina DS Action Watch provides up to 200-meters of water resistance. The DS Action Watch is suitable for most water-based activities except for deep dives.
Winner: Orient Pro Saturation Diver Watch
The Orient Pro Saturation was simply built for the ocean. The corrosion-resistant case means this watch can easily survive saltwater and saltwater air even when exposed daily. The Pro Saturation Diver Watch also has a substantial 300-meter water resistance making it ideal for swimming and diving.
Moon Phase Watch – Orient Sun and Moon V3 Automatic VS Certina DS8 Chrono Moon Phase
Orient Sun and Moon V3 Automatic Review
See Amazon Reviews | See on eBay
First off, the Orient Sun and Moon V3 offer excellent versatility when it comes to design as it comes in four color variations. Watch enthusiasts can pick from different colored dials from blue, black, white with rose gold case, and white with silver case. Within the beautifully crafted dial is Orient's in-house Japanese-quartz automatic movement that accompanies its analog display.
This Orient Moon Phase timepiece comes with a 42mm in diameter stainless steel case. The dial is encased inside a sapphire crystal window which is known for its incredible scratch-resistant properties and reliable durability. Now over to the main attraction of moon phase watches, the dial. In this area, Orient managed to hit the ball out of the park with a tranquil design that perfectly fits the watch type category. The moon phase function aims to capture most of the attention, and it certainly deserves every ounce of it.
The moon phase function display uses classical style imagery which is almost dream-like. Additional sub-dials such as the day and date display help complete the overall look of the Sun and Moon V3 Watch. Of course, with such a stunningly designed dial, you would want to make sure it is appropriately protected. This is where the sapphire crystal window comes into play. Sapphire crystal glass is highly resistant to scratches and is quite durable as well.
Overall, the Orient Sun and Moon V3 watch bring an almost whimsical charm while being anchored and grounded by a traditional base design.
Certina DS8 Chrono Moon Phase
See Amazon Reviews | See on eBay
The Certina DS8 Chrono Moon Phase watch takes a widely different approach in terms of its design. Most moon phase watches feature a traditional and artistic approach when it comes to aesthetics, the Certina DS8, on the other hand, incorporates a more professional spin. This benefits the DS8 greatly as appeals to a broader audience.
The Certina DS8 incorporates a fully stainless-steel design for both case and bracelets. The dial features a beautifully polished blue sheen and comes with sub-dials that deliver a highly functional and reliable timepiece. In total, you have the standard chronograph three sub-dial design with dials that display seconds tracker, minute tracker, and the hour tracker/moon phase functionality. The watch also has a date display that is located over at the 4 o'clock position.
Within the Certina DS8 is a Swiss quartz movement that operates its analog display and delivers top-notch precision and accuracy. The DS8's case also measures in at a 42mm in diameter and provides water resistance for up to 100-meters. Not only is the DS8 highly functional, but it can also be used for swimming. This level of sturdiness is a signature of Certina watches, so it is pleasant to learn they included that quality in their moon phase watch as well.
All in all, the Certina DS8 Chrono Moon Phase delivers the right balance of functionality and style. While it certainly doesn't have that signature moon phase design, it more than makes up for it in terms of versatility.
Check out more of our favorite Men's Moon Phase Watches Here.
Winner: Certina DS8 Chrono Moon Phase
Taking all elements of each watch into account, the Certina DS8 leads in terms of overall functionality and reliability. While the Orient most certainly wins in regards to its design, Certina manages to power its way through with its features and robust construction.
Conclusion: Orient VS Certina – Which is Better?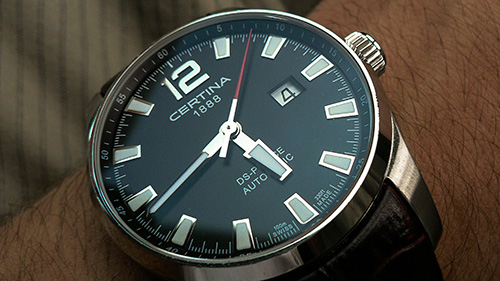 Certina has that premium-grade watch appeal and their selection of watches are incredibly sturdy and well-made. However, their catalog is severely limited when compared to the Orient's treasure trove of timepiece selections. Another issue here is that Certina watches are primarily sold in Europe, specifically Switzerland. This makes finding a Certina timepiece anywhere else a near impossibility.
While it may sound as if Orient managed to win due to their overwhelming watch options, keep in mind that Orient is among the most well-respected Japanese watch brand in the world. Orient watches come in a variety of choices, covering every occasion. As a brand, Orient is the more practical choice. However, if you find yourself in Europe, be sure to check out Certina watches as they stand on their own amongst the giants of the industry. See our top Orient Men's Watch Picks Here.