Orient is a well-respected Japanese watchmaker founded in 1901, then known as the Yoshida Watch Shop. The company initially sold imported timepieces then transitioned into creating their own watches in-house. After multiple name changes, and it wasn't until 1951 when settled on their current moniker, Orient.
Orient has built a reputation for crafting quality mid-range automatic mechanical watches.  The brand's catalog is known for delivering elegance infused with its traditional watchmaking expertise at an affordable price. Some of Orient's best-selling watches include the "Bambino" line of dress watches and the "Ray" and "Mako" dive watches.
In this updated list of best Orient watches, we've included a wide variety so there should be a good watch to match your style and budget.
Quick Picks

Best Orient Watches For Men
Orient Bambino (2nd Gen) Automatic Watch
You won't ever be able to keep a classic down. The Orient Bambino series is one of their most elegant dress watches within the mid-range watch market. Being affordable is not a knock against the Orient Bambino and is more of a compliment considering the quality of design this series is known for.
The Bambino series is currently at generation five, a testament to its longevity in the market. This Orient dress watch series incorporates a vintage aesthetic that makes this series a timeless masterpiece. The stainless-steel case is generally paired with leather straps which gives it a semi-casual appeal while still retaining its elegant and luxurious charm.
If you are looking for a classy dress watch with a vintage flair and a reasonable price, you really can't go wrong with the Orient Bambino 2nd Generation collection.
Orient Bambino (4th Gen) Automatic Watch
The 4th Generation line of Orient Bambino is everything you love about this automatic Orient watch series and more. One of the most noticeable changes with the 4th Gen Bambino watch is its sleeker stainless-steel case. It also upgraded its leather strap with a more ergonomic design for optimum comfort as well as a more modern look. The Gen 4 Bambino takes on a more retro-modern style that will surely win over even more customers.
What's more, the Gen 4 Bambino now includes a beautifully domed crystal which accentuates its classy aesthetics even more. As with previous iterations, the Bambino utilizes Orient's automatic mechanical movement with an analog display. This is simply one of Orient's finest that showcases their signature style and quality – and it won't be breaking your bank account as well.
Orient Ray II Automatic Dive Watch
Orient's premier dive watch series is the Mako line, but that series is not the only one the company has in its arsenal. Another excellent example of Orient's prowess in crafting top-quality dive watches is its Ray series. We are now at the second generation of this series, understandably called the Orient Ray II.
The Ray II comes with a considerable upgrade from its predecessor, most notable is the upgrade to the watch movement. The Ray II now comes with hand-winding capability with its caliber F6922 movement. This movement also comes with an impressive 40-hours of power reserve, pretty much guaranteeing that the watch won't run out of juice in the most inopportune moments.
The stainless-steel case also comes with a 120-click unidirectional bezel with the dials incorporating a highly luminous coating for enhanced visibility in low-light environments. The back case is screwed down, as well as the crown, which helps give the Ray II its 200-meter water resistance. Its all-stainless-steel design (case and bracelet) also gives it that 'icing on the cake' premium aesthetics.
Orient Defender Multi-Eye Function Field Watch
This particular Orient watch takes a slightly military watch design but with Orient's signature classy style. What you have is a robust and reliable field watch that can still pass for a dress watch. Also, this Orient field watch comes in four variations: two that utilize leather straps and another two that features stainless steel bracelets.
This timepiece is packed with features such as sub-dials that track the day and hours. There is also a small date display located at the bottom 6 o'clock position. This timepiece uses Orient's consistent 21-jewel Japanese automatic mechanical movement with an analog display. The watch also comes with a 40-hour power reserve and is constructed to provide up to 100-meters of water resistance.
Orient Mako XL Automatic Dive Watch

We have already introduced one of Orient's top dive watch earlier in this list – the Ray II, now it's time to give the spotlight to the TOP dive watch line – the Mako series. Specifically, the Orient Mako XL for this entry. As the name implies, the Mako XL is a considerably more considerable variation of the standard Mako dive watch. This was due to a good percentage of customers requesting a larger version of the already impressive Orient Mako.
Orient listened to their customers, and so now we have the Mako XL. So, what are the differences between the standard and XL variants besides the increased dimensions? First off, the Mako XL comes with an overhauled design with every aspect of the timepiece. From the hour and minute hands to the hour markers, everything is upsized and polished with even better detail.
The construction is pretty identical as well, which is not a downside as why should you change what is not broken? If you feel that the standard Orient Mako is too small, go with the XL. It is equally as reliable and precise with a more tank-like appearance.
Orient Nami Automatic Dive Watch

What's impressive about Orient is that they don't become complacent with their watches. Sure, they have already built quite a good reputation with their Mako series, but why stop innovating there? Enter the Orient Nami, which is one of the newer dive watch models from Orient.
Right at the get-go, the Orient Nami hits all the right notes with its 200-meter water resistance rating and nigh impenetrable construction. The watch takes on a more modern design approach compared to the Mako's luxury and professional-looking appearance. This should attract the younger generation to the Nami.
Within the 46mm stainless steel case are Orients proprietary automatic watch movement mechanism and analog display. It also features a unidirectional bezel to accompany its highly accurate timekeeping capability.
The Orient Star Retrograde

It's time to start bringing out the big guns in this list and what better way to do so with the Orient Star Retrograde.
This watch series is one of Orient's premiere models and is part of their high-end luxury watch collection.
One of the most distinct aspects of the Orient Star Retrograde, as well as most surprising, is that it features chronograph functionality. Whenever you think of a chronograph watch, style generally gets pushed towards the back burner – this is not the case with the Star Retrograde. This is one of the most fashionable chronograph watches that you can get your hands on today.
While it may not look like your typical chronograph watch, the Orient Star Retrograde still delivers an impeccable level of reliability in its functionality. The watch uses Orient's caliber 40150 movements with an analog display. This automatic movement also provides the clock with around 40-hours of power reserve for added dependability.
Orient Sun and Moon Open Heart Watch

If you are looking for something with a more theatrical flair, an open-heart dial will surely provide that eye-catching factor you are looking for.
The Orient Sun and Moon Open Heart is a premium-grade dress watch that is at an affordable price.
The day and night indicator, perfectly portrayed here with a sun and moon display, accentuates the open-heart dial. Having a peek inside the intricacies of the Orient caliber F6L24 movement is almost hypnotic with the perpetual ticking of each integral gear inside. This high-precision watch movement also comes with a 40-hour power reserve.
To add to its almost otherworldly charm, this Orient dress watch also features a transparent back case that gives wearers a full view of the watch's in-house movement.
Orient Polaris GMT Automatic Watch

Let's head on over to Orient watches that are not just stylish, but quite functional as well. GMT watches are designed so that the wearer can track two different time zones simultaneously. In that regard, the Orient Polaris GMT does so with a high level of precision while keeping its price tag at a reasonable level.
This type of timepiece is best suited for the avid traveler who wants a dependable and cool-looking watch to accompany them during their trips. This Orient watch is powered by their caliber 40P51 automatic hand-winding and hacking movement. This movement also provides the Polaris GMT with up to 40-hours of power reserve.
One of its more distinctive features is the addition of a 24-hour marker located on the chapter ring which helps the wearer track the two time zones easier. This Orient GMT watch is perfect for both casual and corporate occasions, making it an excellent timepiece for savvy businessmen.
Orient Aviator Flight Automatic Watch

Another Orient timepiece designed for travelers; the Orient Aviator Flight takes a relatively conservative stance when it comes to its design. That said, it downright excels with its performance thanks to the caliber 48743 automatic winding movements contained within its unassuming appearance.
The Orient Flight takes a minimalist approach with its design. The 42mm stainless steel case features a polished blue dial face. The dial itself is pretty traditional with its analog display with an inner and outer marker which gives it some character. There is also a date display window located at the 3 o'clock position. Overall, if you are looking for a traditional aviator timepiece, then check out the Orient Flight.
Orient Star Seeker GMT Watch
We have another Orient GMT watch rolling into this list in the form of the Star Seeker GMT. This is a mid-range Orient watch with GMT functionality. In terms of design, this is one of the most eye-catching timepieces in their catalog.
The Orient Star Seeker utilizes a polished stainless-steel case and bracelets which gives it a luxury watch appeal. Within the watch is the Orient caliber 40P51 movement and analog display which provides this watch with up to 40-hours of power reserve.
One of the main features here centers around two defined crowns on the sides—one located at the 2 o'clock position and the other one at 4 o'clock. The upper crown controls the winding function of the movement while the bottom controls the GMT hand and the date display.
All in all, the Orient Star Seeker is one of the most visually striking offerings from the well-known Japanese watchmaker. It blends a sporty design with the traditional Orient aesthetic for a unique charm.
Orient Esteem Open Heart Watch

Orient's open-heart dial watches once again make an appearance. This time we have a more subdued entry into this particular watch category. The Orient Esteem is a perfect moniker for this timepiece as its modest appearance exudes a level of confidence with its simplistic design.
The Orient Esteem is quite sleek, and the dial is incredibly neat with its minimalist design. The markers all utilize a barracuda tooth design, along with the hour and minute hands. The open-heart display is seamlessly situated over at the 7 o'clock position. The pure black dial face gives the open-heart showcase all the focus as it should.
Within this classy yet straightforward timepiece is a 21-jewel Orient caliber 46A40 movement with a power reserve of up to 40-hours. If you are looking for an open-heart watch with a more masculine aesthetic, check out the Orient Esteem.
Orient Monarch Mechanical Hand-Wind Watch

Orient's signature design revolves around its affinity to vintage and retro-style watches. The Orient Monarch is one such example of this signature Orient aesthetic, and it carries itself with a sense of style and grace that will appeal to traditional watch enthusiasts.
The Orient Monarch features a 40mm stainless steel case with a semi-domed shape which further adds to its vintage charm. Within the classic appearance of the Monarch is a mechanical hand-wind movement designed in-house by Orient to ensure reliability and precision.
The dial offers exquisite detail with a level of sophistication that only Orient can deliver. The Breguet style watch hands add an extra touch of class.
Orient Triton Dive Watch

Along with the Orient Nami, the Triton is another relatively new dive watch from Orient. The design of the Triton is based on the Orient Ray, and the phased-out Pro Saturation Diver watches. If you are not familiar with the Pro Saturation Diver from Orient, it is one of the best-designed dive watches to date.
The Triton combines several features found on both the Ray and the Pro Saturation to deliver a hybrid dive watch with impeccable performance and quality. As with all Orient timepieces, the movement used here was developed in-house. The Triton features the Orient caliber 40N5a hand-winding and hacking movement with an analog display. It also packs a 40-hour power reserve and is also certified by the Japanese Industrial Standards as a Class 1 diver watch giving it credibility in the dive watch market.
Orient Bambino (5th Gen) Automatic Watch

Let's end this list with the current entry to the Bambino collection, Gen 5.
At 40mm, this is a relatively modest-sized dress watch. Don't let its conservative appearance fool you, the Gen 5 Bambino has taken notes from its predecessor, and it can be considered as the complete Bambino version so far.
Its overall design makes it a perfect timepiece for both everyday casual use and for corporate meetings. It threads the line between casual and formal quite well and will fit into whatever your attire for the day calls for.
The dial is subdued and exudes a sense of sophistication and confidence with how it presents itself. That confidence is well-placed as the watch features Orient's top-notch automatic movement and analog display. There is also a date display feature here located at the 3 o'clock position giving it that added functionality.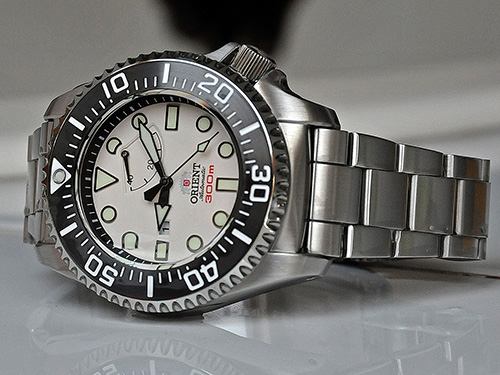 Orient vs Orient Star Watches
We've included some "Orient Star" watches on our list. When shopping for watches, this naming convention confuses many people. The Orient Star collection has an overall nicer quality finish and many consider them to be a notch up from standard Orient watches.
Orient Star watches have sapphire glass, often including complications (MoohPhase, GMT, Chronograph) and higher-end mechanical movements. Having said that, there are "regular" orients with Sapphire glass and added complications.
The Orient Star Classic is often viewed as an upgraded version of the Bambino series.
For another brand reference, some people compare the Orient Star collection up against the Seiko SARB line.
---
Featured Image: MIKI Yoshihito