We've featured different art styles on Watch Ranker such as Art Deco and Bauhaus —art and design movements that inspired different watch designs.
For this article, we're going to explore the Pop Art movement and how they're translated into unique timepieces. Some of these watches are already considered rare, while others have just been recently released.
What is Pop Art?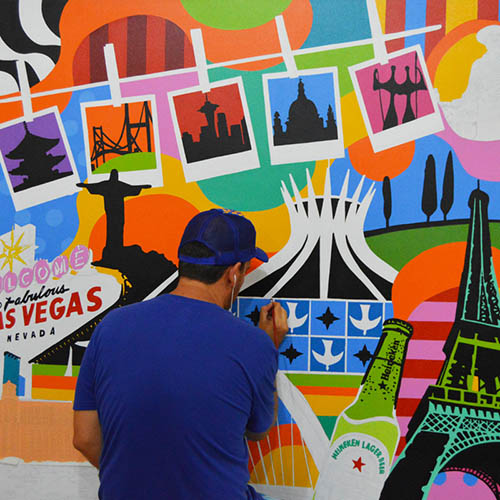 The Pop Art Movement became popular in the United States and the United Kingdom starting in the late 1950s.
The Pop Art aesthetic challenged fine and elitist art with images that concentrated on popular cultures, such as comic books, movies, commercial products, and advertising. Unlike the art movements that preceded it (like the Modernist movement), the goal of the pieces concentrated on providing entertainment to a mass audience, by using mass-produced designs, and occasionally low-cost.
Some of the most important proponents of the movement include Roy Lichtenstein, who made comic book-inspired paintings and made the "all American Men of War" scene "Whaam!"; Andy Warhol, whose biggest work include the Campbell's soup cans; Keith Haring, who first created art in New York City subway stations; and Jasper Johns, who is widely known for creating US-related issues (like this painting of the American flag).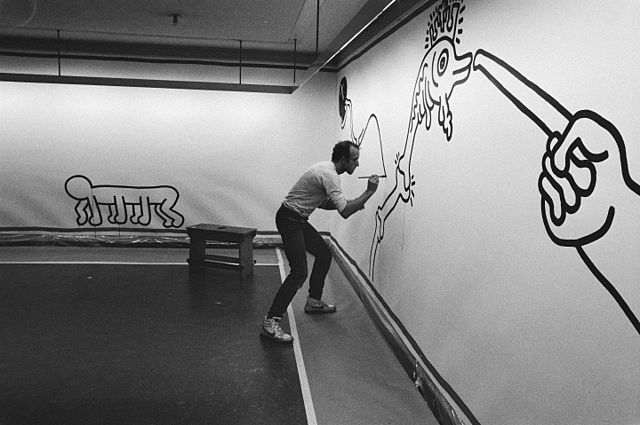 Inspired by the media boom after the war, the movement blurred the lines between what was consider "high" and "low" forms of art. It is also interesting to note that many artists from the movement started their careers with commercial art. For instance, Warhol was a graphic designer, and Clifford Richards was in advertising.
Below, we'll talk more about some of these artists and give you some history of each of their styles. We'll feature watches that incorporate their art, as well as those that were inspired by the movement.
Pop Art Watches
Most Pop Art designs focus on bold and bright colors, as well as repetitive designs, such as Warhol's popular "32 Soup Cans," which is a series of hand-painted works that depict the different flavors of the American soup can.
Mr. Jones
Read Amazon Reviews | See on eBay
Mr. Jones is a London-based watch company that makes unique timepieces—"unusual watches which tell a story, start a conversation or simply make you smile." The company aims to create original and unconventional designs that do not follow trends.
One of the brand's collaborations is with British designer and printmaker Clifford Richards, who created many vibrant Pop Art designs. According to his website, he first started with advertising, working for prestigious companies and having big clients such as Guinness and Michelin. He then moved on to set up his own graphic design consultancy company. You can read more about his career here.
The watch is, indeed, unique. In the middle of the dial is an owl's head that rotates and points on the markers. There is also an illustration of a mouse around the dial's edge, which moves around as the minutes pass. Mr. Jones describes these two movements like a dance: "The owl and the mouse perform their watchful dance – neither one ever quite able to escape the other!"
The size of the watch is 37mm (width) and 46mm (height from lug to lug). The case is a 31L stainless steel, polished silver; and the mechanism is single jewel quartz. "I've always loved to apply graphics to objects and designing this watch was a perfect opportunity – and owls seem to pop up regularly in my designs!" Richards said about the watch.
You can read more about Mr. Jones and other British watch brands in this article, where we talk about watches made in the United Kingdom.
Swatch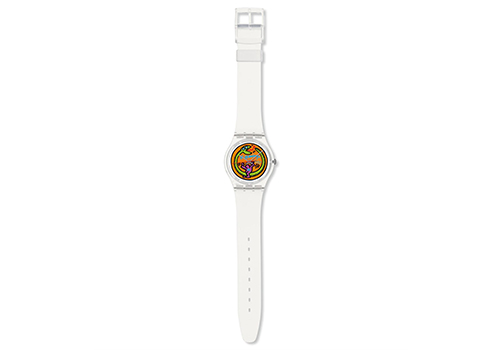 Swatch is known for its playful and artistic designs, so it's just fitting that the company always collaborates with artists.
One of the most popular Pop Art Swatch models is a collaboration with New York artist Keith Haring. Some of these models include the Swatch Serpent GZ102, which is a plastic 34mm watch with an illustration of Haring's famous Snake.
Other watches include the Mille Pattes GZ100 (here's a pre-owned model for sale on eBay). There's also the red and yellow-themed Modele Avec Personnages GZ100, and the black and white Blanc Sur Noir GZ104.
This Haring watches, Swatch says, "snaps, crackles, and pops with the energy of 1980s New York." These are now considered rare, but you can still find some pre-owned models on sites like eBay, such as this Serpent model, which is one of the 10 best Swatch Watches, saying that the watch now costs around $1,000.
American Pop Art icon Andy Warhol did not design a Swatch watch, but he gave friends and family designed watches for Swiss watchmaker Swatch.
According to Warhol's official website, the artist has been a fan of Swatch since early on in his career. He would give simple Swatch watches to family members as gifts—Donald Warhola, one of his nephews, has received wristwatches. Warhol also reportedly gifted watches to his staff during Christmas. Warhola recalls getting a watch from his uncle every year. You can read the story here.
You can read more about Swatch in our Swatch Watch Review here, and find some of the best models in this Best Swatch Watches For Men & Women article.
Apple Watch
Read Amazon Reviews | See on eBay
If you have an apple watch and like Pop Art, you can also opt for bands that incorporate these designs. One example is this leather watch strap, which has retro pop art design. The strap, which is available in 38mm and 40mm sizes, has the classic comic book style shouts, with words like "pop," "bang," and "boom." This watch fits into an Apple Watch Series 1-5, and is waterproof, flexible, and is made of quality leather.
If you'd like something similar but not as colorful, there's also this Apple Watch-compatible strap with the same features as above, but has a comic book-inspired design in black and white.
Zazzle Pop Art-inspired Designs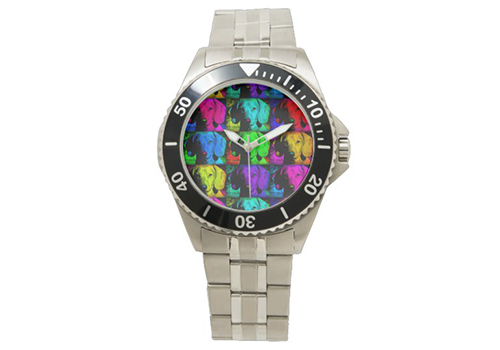 Zazzle also has a wide array of Pop Art-inspired watch designs.
This Zazzle page features designs such as this stainless steel watch with a custom print on the dial, clearly influenced by Warhol's style (such as the famous Marilyn Monroe print). There's also this one, which is available as a watch, a wall clock, and a pocket watch.
Hublot

Swiss brand Hublot also created special watches inspired by Pop Art—limited edition pieces of their Big Bang model. Paying tribute to Warhol, Lichtenstein, and Johns, these watches feature the bright and vivid colors that all three artists are known for.
One of these is the Pop Art Yellow Gold Blue watch is a 41mm with a satin-finished 18L 3N gold. The strap is a purple rubber and mixed colored alligator, and the dial has a striking matt orange with gold plated appliques. The bezel has blue topazes and polished gold, as well as titanium screws. This boasts of a stone setting technique, which is an old method that's passed down through generations. You can read more about it here.
Other colors of the bezels include amethyst, sapphire, and tsavorite—all of which are limited editions.
Meerson
London-based Swiss watch company Meerson has a Pop'Art collection, which according to this article, started with a commission by a collector who at the time bought Lichtenstein's "Girl in Mirror."
The brand is known for producing bespoke luxury watches. French designer Alexandre Meerson, the founder of the brand leads the watch designs in collaboration with the company's artisans in the Swiss Jura. Meerson is no stranger to haute couture watchmaking. According to this Barrons article, he has worked as a consultant for luxury brands like LVMG and Richemont. Meerson makes watches made to order for their customers—some of whom are featured on their website, which has interviews and stories behind the creation of the watches
Meerson said that the owner who inspired him to make the Pop'Art collection wanted the watchmakers to create a watch "for his passion, and, that piece in particular." The set of watches was released in 2019.
One model has enameled painted dots with the girl's ("Girl in Mirror") face on the left side of the dial (Girl in Mirror Bespoke timepiece), which Meerson said reflected and celebrated the artwork. What started out as a unique piece turned into a limited edition series (100 pieces) that used the brand's Altitude watch model.
Other models include the Cirque Altitude Pop'Art, the TickTock Altitude Pop'Art, and the Blue Dots Altitude Pop'Art. Take a closer look at all the models here.
There are six dial designs, a choice between a solid gold or mirror-polished titanium, and a made-to-measure strap with engraving. According to the brand's official website, the retail prices of the watches start from £23,000 (titanium) and £34,500 (solid gold). See the collection reviewed on A Blog to Watch.
If you'd like to learn more about art movements and their relation to watches, you can check out our site for more features. Here's one feature on Art Deco watches, and another of the 10 luxury and budget Bauhaus-themed watches.