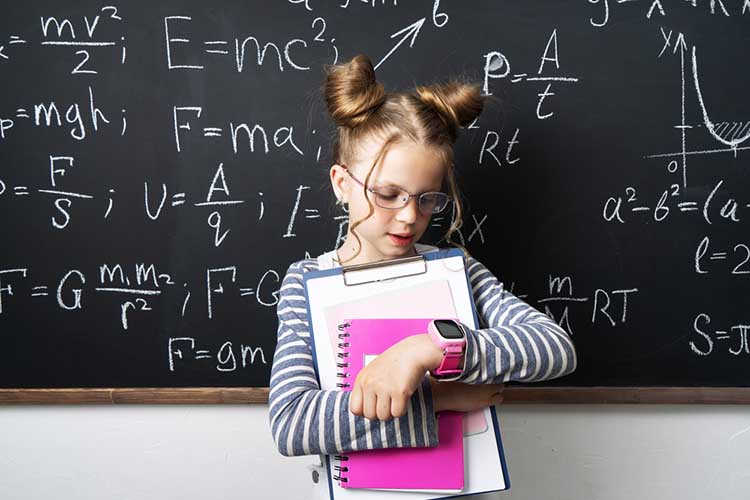 To buy or not to buy, that is the question. Literally, that's the question on a lot of parent's minds right now, and maybe even yours. Should you buy your child a smartwatch or not?
The answer is: It depends. You're a good parent doing your due diligence. You're researching. You're considering. And you're deciding.
There are a lot of differentiating opinions out there. In fact, we recently published an article recently in favor of banning smartwatches in schools.
But, as always, we want to give you information that can help you make the best decisions for yourself and your family
Today we are going to focus on the good reasons why smartwatches for kids can be a great thing.
Why Every Kid Should Have a Smartwatch
Smartwatches Can Help Kids Develop Good Habits

Let's face it, kids often need reminders to get up in the morning, brush their teeth, pick up their room, or do their homework. Imagine a world where your child is reclined on the couch watching their favorite show, glances at the alert on their watch, then hops up to feed the dog without a word from you.
Magic, right?
No. It's techno-magic. Watches like the Tick Talk 3 have built-in features that can make that world become a reality. With built-in and customizable alerts, smartwatches can give parents fun ways to help their kids remember and fulfill their responsibilities and create better habits.
The Octopus Watch even comes with a customizable magnetic daily routine chart for your fridge that matches the icons on your child's watch to ensure you're all on the same page.
Smartwatches – Stay in Touch Without Cell Phone
Some kids aren't ready for their own smartphones. Conversely, some parents aren't ready for their kids to have their own smartphones. Enter the kid-friendly smartwatch.
Some smartwatches are smart all on their own. With a SIM card (provided separately) watches like this one by MeritSoar allow parents and kids to stay in communication without the risk of purchasing, losing, or breaking expensive cell equipment.
Track Kids' Location in Real-Time

Sending your child off to school, on a field trip, to a friend's house, or even to the store on their own as they get older can be stressful for parents. The reality that kids get lost, lose track of time, sometimes make bad choices, or even take them while they're away from home is one parent would rather not accept.
Smartwatches equipped with GPS and linked to cell service, like this one, allow parents to keep tabs on their child's location when they're apart.
Help In Case of Emergency
No parent wants their child to experience a frightening or dangerous emergency. Luckily, some smartwatches, like this, have an SOS feature that allows their child to press and hold a button that sends a real-time alert straight to their parent's phone.
This feature alone is enough for many worried parents to purchase smartwatches for their kids.
Keep tabs on kid's communication
Ever wonder who your child is talking to?
We've all heard the dangers kids can face these days with bullying by peers or, even worse, inappropriate communication by older kids or adults. This can happen not just in person or social media, but on phone calls too.
Some smartwatches, like the Lil Trackers, allow parents to remotely monitor phone calls. By having the ability to listen in on conversations, parents are given greater ability to help keep their kids safe as well as teach them how to keep themselves safer.
Create "safe zones" for kids
Back in the day, kids could play outside as long as they stayed in the neighborhood and came home when the streetlights came on. But we live in a different world now.
Smartwatches like the IGPS Wizard allow parents to create outdoor "safe zones" for their kids. Parents can have peace of mind knowing they will receive notifications if their kids travel outside the safe perimeters.
Encourage Kids Fitness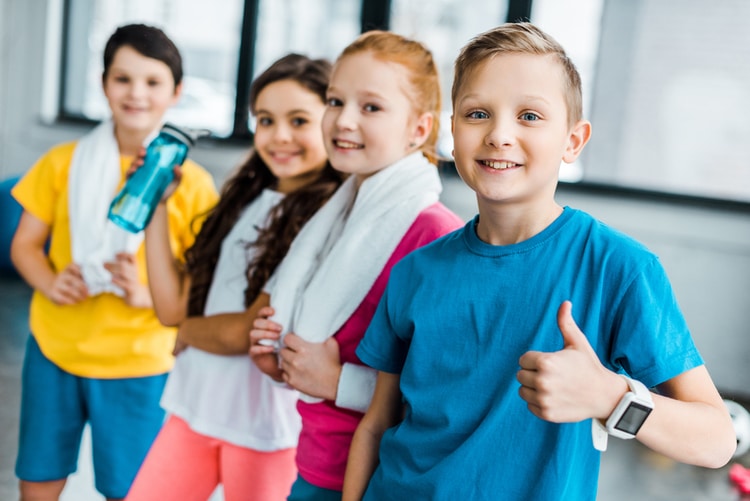 Kids today have access to more junk food than ever before. Coupled with cable and streaming TV, YouTube videos, and video games, kids today are more sedentary than ever.
Parents are looking for ways to get their kids up and moving, active and healthy. And smartwatches like the Fitbit Ace are a perfect remedy. Equipped with the ability to track steps, sleep time, and movement, these watches not only let kids know how much they're moving, but fun badges and motivating messages to encourage them to make and reach goals.
Smartwatches Are Fun Gadgets

Smartwatches for kids aren't all about safety. They can be fun too!
Watches like Vtech's Kidizoom include a motion sensor for immersive games like chasing and capturing monsters and more. This watch by WillowWind boasts games that aren't only fun but help develop a child's intellectual capacities as well.
Play Music

If music is important to your child, Bluetooth capability allows certain smartwatches to act as music players right on their wrist.
If your child loves music, this watch by Yenisey might be a great option. And this Prograce watch has an FM radio feature as well.
Take Fun Photos & Videos

Taking pictures and recording videos of friends and fun times is awesome, but even better in a kid's eyes when the fun and crazy filters can be applied.
Smartwatches like this VTech watch allow your child to get creative with their photo-taking skills, right from their wrist.
What to Watch Out For
Many of the watches mentioned above share similar features. When looking for the best watch for your child, make a list of the features that matter most to you. Whether it's location tracking, communication, productivity features, or fun, the wide range of smartwatch offerings gives you plenty of great options.
Other things to look for: Does the watch need a SIM card to work? Is the watch only compatible with certain cell phones? What is the battery life like? Is the information on the watch encrypted? What other features does the watch provide?
Smartwatches are great tools and even toys for your kids. They can teach and encourage independence, help your child stay safe, and allow you to stay connected with them. And let's not forget, they can be super fun too.