Everyone wants to drive a Ferrari. But what are you to do when you can't afford a supercar? You get yourself a Ferrari watch! The best part is that it doesn't take a petrol head to appreciate the glorious sound of a Ferrari.
Ferrari is renowned for lightning-fast, luxury supercars, and single-seater racing cars. Whether it's on the racetrack or gracing the streets, there's no doubt Ferrari is a head-turner. We could go on and on about Ferrari and the beauty of their signature red cars, but this article is about a Ferrari wearable—a watch that bears the same logo as a Ferrari supercar.
You probably want to know if there's a link between Scuderia Ferrari watches and the legendary red car. Well, read on and find out.
Scuderia Ferrari Brand History


Ferrari watches' history can be traced as far back as the 1950s when Enzo Ferrari began purchasing watches to gift his employees, drivers, and fans. Enzo would source watches in bulk from watchmakers like Gerardo Veronesi to customize and embed them with the famous prancing horse logo.
Shifting Partnerships
Ferrari watches debuted under the Zenith, then Longines brand. From then on, the company has dealt with the high and mighty of the watchmaking industry, the likes of Heuer (1970s), Cartier (1980s), Girard-Perregaux (1990s), Officine Panerai (2000s), Cabestan (2010)
Hublot and Movado
In 2012, Hublot and Movado signed a deal with Ferrari to produce watches for both ends of the market spectrum. While the former specializes in high-end Ferrari wristwatches, the latter manufactures affordable Scuderia Ferrari watches. Scuderia Ferrari watches hit the market in 2013.
Buying a Hublot-engineered Ferrari wristwatch is nearly as impossible as buying a Ferrari supercar, so in the interest of affordability, we'll be looking at the Movado-inspired timepieces.

Scuderia Ferrari Watch Collections
Ferrari is a darling to many, young and old alike. And in appreciation of all their fans, their watches are designed to cater to various tastes and preferences. While most of the models are colorful, sporty, a few dress watches are available for those looking for a dressed-up look. Let's consider some individual models and find out if their affordable offerings are just as beautiful and nostalgia-inducing as the famous Ferrari.
Ferrari Chronographs

We hardly, if ever, have nice words to say about watches with overly stylized dials. However, we might make room for a few exceptions, especially when the styling is thoughtful and practical.
Most of their watches are oversized Chronographs, which is understandable, given they like to go over the top with dial detailing. Like most of their timepieces, this Ferrari Race Day Stainless Steel Quartz Watch embodies practicality and thoughtfulness. A Chronograph quartz engine housed within a sizeable gold-hued stainless steel and secured by a silicone strap powers this beauty of a watch. The textured blue dial mimics the chequered flag, giving you a winner mentality all day.
If you are not big on silicone straps and plastic pushes, this Ferrari Men's SpeedRacer might be a worthy alternative. The dial is relatively cleaner. It might give your wrist a super aggressive look, but the presence of calfskin leather should dial things down a bit.
Scuderia Ferrari Dress Watches

If you must wear a Ferrari watch to the boardroom, the Scuderia Ferrari Men's Abetone is the ideal companion. It's small, less showy, and commands authority. It's also a watch for every occasion, thanks to the Chronograph function.
However, if you are into a rakish vibe, this Scuderia Ferrari Leather Men's watch will give you the perfect mix of casual and dress aesthetics. Legibility is not that great, but the crown detailing is refreshingly thoughtful.
Scuderia Ferrari For Women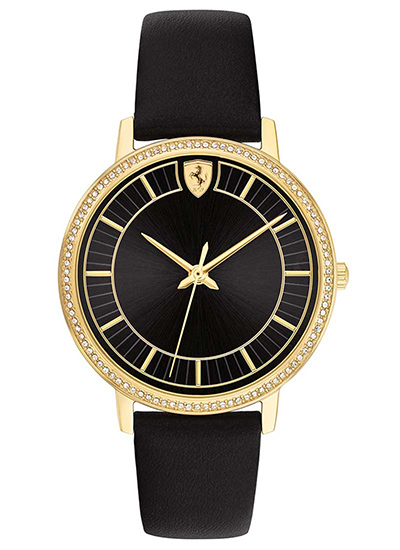 Not sure whether Scuderia Ferrari watches are meant to be unisex, but the women's collection is limited. They have the Clear Aspire Multifunction watch and Women's Gold Ultraleggero. The Aspire is a semi-skeletonized self-winding watch with a mix of athletic vibe and refined solutions. The semi-naked dial seems a bit cluttered, but if you fancy how stuff works, you will fall in love with this piece. It's like getting a rare glimpse of the inner workings of single-seater Formula 1 engine.
The Ultralegero is a simple quartz watch with relatively limited functionality. We'd say it's an accessory more than a timekeeping item. The design is minimalistic yet elegant. The small casing, paired with a soft leather strap, would be perfect for delicate, feminine hands.
Scuderia Ferrari For Kids

Ferrari's passion knows no limits, and thanks to this drive, children too get to pay tribute to Ferrari's success. The Pitlane Collection has the Boys' Pitlane version and the Girl's Pitlane one. Both models have highly stylized dials. The hour markers mimic F1 Speedometer, with the boys' model featuring a pit stop red chequered line that strikes through the dial.
Scuderia Ferrari Brand Reputation
Ferrari is without trouble the most successful F1 team in motorsports history—a brand that goes beyond racing—it embodies the Italian pride itself. They have never failed to field a racing team since the 1950s, making them the oldest surviving team.
Fans the world over want to be associated with a winner such as Ferrari, thanks to their success on and off the racetrack. The company acknowledges that not all their fans can drive a Ferrari or afford to follow their F1 racing team across different time zones. However, they can own a small piece of the Ferrari success through a range of affordable accessory items. Small, it may be, but they have been built in strict adherence to quality, in keeping with the automaker's tradition.
Ferrari is one of those seemingly unattainable brands, yet they have somehow established an unparalleled emotional connection with their global following—young and old. The company's reputation for speed, agility, and design aesthetics goes beyond their car factory in Maranello. Although they have outsourced watchmaking to Movado, they are involved in the design stages, ensuring every piece embodies Ferrari's ideals.
Is Scuderia Ferrari A Good Watch Brand?
You might not get the same feel wearing a Movado Ferrari as you would with the high-end Hublot one, but Scuderia Ferrari timepieces carry with them the brand's rich history and style, not to mention Movado's 100 years' worth of watchmaking experience. Even so, do not expect too much from a watch in this price range.
The watches are made for people who fancy fashionable accessories that combine style and status. Some watch buffs have a problem with status chasing, terming these watches as imposters. Some even expressed disdain at wearing a watch with an automobile logo on it, which might be double-speak, as such critics would have no such issue with a Hublot Ferrari watch.
If you can afford Hublot-powered Ferrari watches—good for you! If not, there's no shame in sporting the Movado version, even though watch snobs have claimed that the only thing the quartz version has going for it is the name and prancing horse logo. But going by upbeat Amazon reviews, we'd say the watches are popular for their aesthetic appeal and Formula 1 link.
Racing-Inspired Alternatives
If you can't afford a Hublot-powered Ferrari watch, but a racing-inspired watch is a must-have in your accessory box, consider this limited edition of Tag Heuer Formula 1 Chronograph Men's watch. It's comparatively pricey, but you get to sport a solid watch from a real watchmaker.
It belongs to the Aston Martin Racing team. For a neutral F1-themed watch, the TAG Heuer Men's Formula 1 Stainless would be a worthy substitute.
This Tissot V8 Automatic Chronograph is automotive-inspired. It's less bulky, restrictive, and more affordable than our alternatives. Also, the name speaks for itself.
Where To Buy Scuderia Ferrari Watches?
You can shop for new arrivals on Scuderia Ferrari online shop.
New and older models are also available on Amazon
UK shoppers can shop for Ferrari watches at Watchshop
New and vintage models can be found on eBay.
Where Are Scuderia Ferrari Made?
Scuderia is listed as one of Movado's licensed brands. Movado is an American corporation with manufacturing facilities in Switzerland. Yet you will find the 'Made in Italy' sign on all Scuderia Ferrari watches, suggesting that they are assembled in Italy.
Is Scuderia Ferrari A Luxury Brand?
If you're referring to Scuderia Ferrari watches that you can find online, no these are not luxury watches. Most of these are sub-$300 consumer quartz watches, many people would call them fashion watches.
If you're referring to the Hublot-engineered Ferrari wristwatch then yes, Hublot is clearly a luxury brand.
A good way to distinguish between the high-end Hublot-engineered watch and the Movado model is to look out for the label. The Hublot ones typically come with just the prancing horse emblem without the name 'Scuderia Ferrari,' while the entry-level, Movado-powered versions have both.
Scuderia Ferrari Warranty
Every Scuderia Ferrari watch is backed by a 2-year product warranty, which is valid from the date of purchase. What is not covered includes normal wear and tear, batteries, wrist straps, crystals, plating, and finishes.