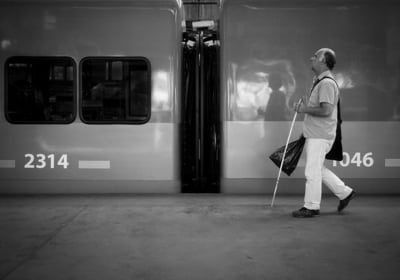 Watches for the visually impaired have been around for many years, coming in variations that utilize speaking or braille (or both in some cases).
Technology that allows clocks to "speak" has been around since the 1870s, but the modern speaking watches are far more sophisticated and now integrate many of the other timekeeping advances of the past few decades.
If you or someone in your family is dealing with any level of visual impairment and is looking for a talking watch to make things easier, read on to learn about some of the best options on the market.
History of the Talking Clock
In 1878, not long after Thomas Edison created the phonograph, another inventor, Frank Lambert, created the first talking clock. This clock wasn't created with the visually impaired in mind; in fact, at the time, the novelty of recorded sound was spurring on many inventors.
Besides for being the first talking clock, Lambert's recording was formerly listed by the Guinness Book of World Records as the world's earliest playable sound recording (until the 2008 discovery of an earlier recording in Paris).
Throughout the 20th century, other inventors and watchmakers continued to tinker with the idea and improve it. Many of these clocks were designed as children's toys to help teach them the time, but eventually, watchmakers understood that the technology would be just as useful as a visual aid.
As the technology grew more advanced, the clocks and watches gained a larger vocabulary, being able to announce alarms and other useful information.
Current Talking Watches

Since the time of Edison and Lambert, the talking watch has gotten considerably more advanced. This is to be expected since timepieces, in general, have steadily progressed in advancements across the 20th and 21st centuries. In terms of timekeeping capabilities and accuracy alone, the modern wristwatch has made astounding leaps forward.
With the current lines of talking watches, picking the right one has gotten a bit complicated. While the extra features and advanced technology is unquestionably a perk, it also means that the process of buying one is more involved. Whether you are searching for yourself or for someone else, there are many options to consider.
Options for Talking Watches
Some of the options that need to be considered are the same options that any watch buyer must consider: wristwatch or pocket watch, winding or battery-powered, large and weighty or thin and light. On that last point, talking watches also tend to come in different sizes and shapes for men and women.
The other factors that come into play are specific to talking watches. For instance, maybe the wearer has a particular preference for a male or female voice. Also, the volume of a watch could be very important depending on where the person spends their time.
Another consideration is how the watch functions are activated; some watches are controlled by voice commands.
For an elderly person or someone who doesn't have a lot of freedom of motion, the simpler the watch, most likely the better. On the other hand, for a visually impaired person who is still quite active and adept at using technology, there are watches that have wider functionality. All of these factors should be considered before buying a watch.
Let's take a look at some popular watches and what options they offer.
Atomic Talking Watches

Some of the simplest talking watches on the market are part of the Five Senses line as sold by Time Chant.
At the absolute most basic is the digital Top Button LCD Atomic Talking Watch. The voice function is activated by a single, large button on the watch's face.
When pressed, the watch will announce the time, date, day, month, and year in a male voice.
If the alarm is set, it will also announce that time by voice. Setting the watch time zone and alarm requires pressing three small buttons on the sides of the watch face, which may be difficult for some wearers (although, this is the norm with talking watches).


What is great about the Five Senses watches, like this Unisex Talking Watch, is that they are atomic watches. This means that once the time zone is set initially, the watch is automatically set by the most local atomic clock (in the United States, that's in Colorado). Atomic clocks are the most precise clocks on earth, so these watches are all incredibly accurate and easy to use.
The simplicity of the Top Button Talking Watch will certainly be a draw for many consumers, whereas the traditional analog look of the Unisex Talking Watch will likely appeal to others. Both have easy to read faces so that if the visual impairment is only minor, the wearer will also be able to see the time.
Women's Talking Watches
While many of the talking watches on the market could be considered unisex, many of them do look rather clunky on a ladies wrist with large case diameters and chunky watch bands. There are, however, a few talking watches specifically designed for women that do have slimmer watch bands and smaller case sizes for a more elegant, feminine look.


This Simply Talking Ladies Watch has the convenient feature of only one exposed button for easy operation. You have the option to change from male to female voice and to operate is simple: just press the button to hear the time. The case comes in a gold-tone casing, white face with black numbers.


This Women's Talking Watch By TimeOptics comes in an elegant two-tone silver and gold finish with a gold-tone going the length of the flex bracelet. male and female voice option. The talking features include the announcement of the time, day, date and year. It also has an alarm function and a crisp, clear talking voice. The analog display has large dark contrasting bold black numbers and second and minute hands. The case diameter of 34 millimeters and band with of 16 millimeters is a nice size for most women and a definitely more feminine looking watch compared to some of the men's and unisex models above.
You may also want to check out talking watches on eBay for other options.
Durable Talking Watches
It's pretty easy to find talking watches for less than $50 these days, which is great news. Unfortunately, what you save in costs, you often lose in strength. For most wearers who will only be doing basic tasks around the house, this won't be an issue. However, if there is a risk of falls or bumping into surfaces, a stronger watch may be in order.


The LED Digital Military Wristwatch by Chinese maker Skmei advertises shock-resistant construction that should help protect the watch against accidental contact. Other than that, it's a fairly straightforward, four button talking watch with large digital display and alarm (with music chime, not voice).
Be aware, while the case says "S-Shock", this is definitely not a G-Shock watch as made by Casio. At this time, it does not appear that the G-Shock line has a talking watch variation.
More Talking Watches

There are a number of brands that specialize in talking watches, so the trick is finding one that fits your style and preferences. The Reizen Talking Atomic Watch is another good value with a four-button system and a flexible expansion band to fit any wrist size. Again, as an atomic watch, once the time zone is set, the watch's time should be essentially set for life.
There is also Time Optics, a brand that sells a varied line of watches directly through their own website. They offer all styles of watches, including pendant and pocket watches, and leather and stainless steel straps for wristwatches.
You can also shop TimeOptics talking watches here on Amazon.
Finding the right talking watch for you or your loved one will involve determining what needs have to be met, and it may involve a little trial and error. Thankfully, there are a lot of options these days that should ensure everyone can enjoy wearing their favorite watch.
Related Video: Using A Talking Watch
If you are interested in hearing more about talking watches, here is a short overview of the different types of talking watches created by the CNIB (Canadian National Institute for the Blind).