A watch isn't just an item that tells you the current time. It's an expression of your personal style, a mirror of your personality, and the most important accessory that you will ever own. This is why most people are very selective and choosy when it comes to picking the perfect watch, as there is a lot riding on that purchase.
It wouldn't be incorrect to say that a person is judged completely by the kind of watch they wear. So, with that added pressure, picking the perfect watch becomes extremely difficult. That's where TechnoMarine Watches come into the picture. They have mastered the art of innovation to create timeless timepieces, pun intended.
TechnoMarine was founded in 1997, and the company is one of the few that have successfully mastered the art of merging horological innovation with spirited design. Their brand's spirit appeals to men and women alike as long as they possess the ability to differentiate between class and comfort. They are focusing on incorporating the very being of active luxury in their timepieces, and they are successful so far.
Technomarine Brand History


They say the swiss have mastered the art of watch creation, and after looking at TechnoMarine watches, this claim certainly holds true. Founded in 1997 in Geneva, Switzerland, by the eccentric French entrepreneur, Mr. Frank Dubarry, TechnoMarine has turned out to be a leading brand of quality watches.
TechnoMarine watches have a large part in changing the history of luxury watches forever. They accomplished this feat by launching a new, revolutionary watch called the "Raft." But what was so special about this watch? It was a chronograph with a transparent plastic strap. When it was released, it sold over fifty thousand( 50,000) models in its first year, and at the same time, it created a new luxury watch category.
The creation of the "Raft" is regarded as having induced a revolution in the luxury watch industry because while it was just considered a vacation timepiece that could serve as a souvenir of sorts, it paved the way for new luxury watch models.
In 2009, Vincent Perriard was hired by the brand in order to turn things around for them, and he was successful in doing so because the sales of the company soared and in 2015 the brand was acquired by the Invicta group, which has its headquarters in the United States of America.
Technomarine Watch Collections
TechnoMarine is known for creating watches that beat the expectations of watch lovers and critics alike. Their major selling point is that the intricate craftsmanship and design that is applied in creating every single watch ensures that the best features are presented to the customer at the best value. Currently, TechnoMarine has seven unique watch collections. Since being bought by Invicta, you can also see all Technomarine watches on InvictaStores.com/technomarine.
Cruise
Read Amazon Reviews | See on InvictaStores
The major unique selling point of the TechnoMarine Cruise collection is the bold design and color. It was introduced to be considered an outdoor watch that could endure any rugged adventure across land or sea. The Cruise Collection has a certain charm and fluency that attracts customers with a lot of personalities, as the watch itself seems to have a unique personality that complements whoever wears it. Technomarine's Cruise collection has a vibrant style, and its superior engineering includes interchangeable covers and straps that enhance the overall look of the timepiece and add an authenticity that is dynamic at the same time.
The cruise collection is divided into further models that are all available for sale on both Amazon and eBay:
Blue Reef
BlueRay
California
California II
Carbon
Ceramic
Diamond
Diamond Sea Lady
Diva Pave
Dream
Dream Ceramic
Freedom
Glitz
JellyFish
JellyFish Diamond
Locker
Medusa
Monogram
Night Vision
One
Original
Pearl
Sea Lady
Select
Manta
Read Amazon Reviews | See on InvictaStores
While the Manta Ray is considered a feared being in the water, it has a certain amount of elegance and grace that inspired this TechnoMarine collection's name. The Manta collection is the perfect example of Swiss watch-making because it seamlessly integrates motion in design while at the same time not compromising on the brand's image. TechnoMarine's Manta Collection has modern and sleek lines that add a futuristic and fluid look to the design.
The Manta collection is the embodiment of TechnoMarine's mantra of mastering innovation to create timeless timepieces. The Manta collection currently consists of the following models that can be purchased on Amazon or eBay:
Dual Zone Mechanical
Neo Classic
Ocean
Ray
Sea
Sea Automatic
Steel
MoonSun
Read Amazon Reviews | See on InvictaStores
The Sun and the Moon have been depicted across folklore and literature in different ways. Some have represented them as two sides of the same entity, complete only with each other. Some have represented them as lovers, that are fated never to meet.
TechnoMarine, understandably, took these factors into account and created the TechnoMarine MoonSun collection. It is a unisex model designed for both men and women. TechnoMarine aims at turning timekeeping into an experience with the MoonSun collection.
It is apparently inspired by the lines of urban landscapes. The MoonSun Collection aims to capture the sophistication of the youth. It is crafted with only the highest quality materials and represents the brand image of TechnoMarine by presenting an elegant look. TechnoMarine's MoonSun collection can be used to define both your night and day styles.
Reef
Read Amazon Reviews | See on InvictaStores
TechnoMarine's Reef collection is designed for outdoor activities and adventure, but you wouldn't be out of place wearing it for an evening outing. The Reef collection timepieces consist of high standard components in design that mirror the perfectly balanced inner working of each and every timepiece. The Reef collection by TechnoMarine is not designed to just blend into the crowd; it's designed to stand out and make an impact. TechnoMarine's Reef collection consists of the following models that can be purchased right now on eBay or Amazon:
Sea
Read Amazon Reviews | See on InvictaStores
The Sea collection by TechnoMarine is perhaps the most aesthetically pleasing collection offered by TechnoMarine. It derives its inspiration from the shining bright light of the pearls in the ocean. TechnoMarine's Sea collection has a wide variety of exquisite models that are extremely elegant and are designed for men and women both. The active innovations of the Sea Collection have been merged flawlessly luxury to create timeless models. TechnoMarine's most aesthetically pleasing collection, the Sea Collection is available on eBay and Amazon, and consists of the following models:
Technocell
Read Amazon Reviews | See on InvictaStores
TechnoMarine's Technocell series is a delight for all the watch fans that love little intricate details about their timepieces. It is a unisex series that is designed for both men and women and adds to the overall style of the wearer, while at the same time conforming to the elegant brand image of TechnoMarine.
UF6
Read Amazon Reviews | See on InvictaStores
If there's one thing that TechnoMarine knows how to do, it's innovation. Ever since its inception, TechnoMarine has innovated timepiece designs and laid a foundation of excellence that serves as a platform for constant change that drives the brand and the watch industry forward. The TechnoMarine UF6 collection is the embodiment of this drive to succeed and contains key elements that represent TechnoMarine's characteristic sophistication.
The UF6 collection by TechnoMarine has a very distinct look which makes it stand out from the crowd and also ensures that it is recognizable. The unique men and women's timepieces are engineered for outdoor activity and adventure, but it would not be out of place in any high profile social gathering. TechnoMarine combines only the highest quality and high-performance materials with attractive design to create the perfect timepiece, and that is the UF6 collection.
Technomarine Brand Reputation
As stated earlier, TechnoMarine was founded in 1997, and it successfully merged the art of horological innovation with aesthetically pleasing, yet active designs. This watch brand is not for everyone, it is only for those who are able to differentiate originality and quality because these are the two factors that TechnoMarine prides itself on. The brand is focused on combining the essence of sports with high-end watches, and hence they have attempted to create a niche of their own.
Their founding mission was to deliver a timekeeping article that contained attributes of freedom and elegance, and they have successfully completed their mission. Each and every timepiece that TechnoMarine creates is constructed with the highest standards and using only the best of materials. The Technical skill of their workers matched with their distinct design sets them apart from the crowd.
Ever since the first draft of the watch is conceived, till when it rolls out in production, every step of the design and manufacturing process is carefully supervised to ensure the perfect result, a timepiece that all the customers will love. TechnoMarine's attention to tiny detail has allowed them to earn the honor of international recognition, and their solid reputation throughout the world is a clear indicator of how committed they are to delivering excellence.
Despite the fact that TechnoMarine watches are essentially designed for people who have a more active lifestyle and love adventure, each TechnoMarine timepiece is actually a double-edged sword and can be used without any fear in more classy and sophisticated gatherings and meetings. Every TechnoMarine watch is inspired by the natural rhythms of the ocean, and it is solidified by the use of cutting edge technology to deliver the perfect timepiece. Since Technomarine fuses quality, motion, and color, they successfully capture the aesthetics of time.
Is Technomarine A Good Watch Brand?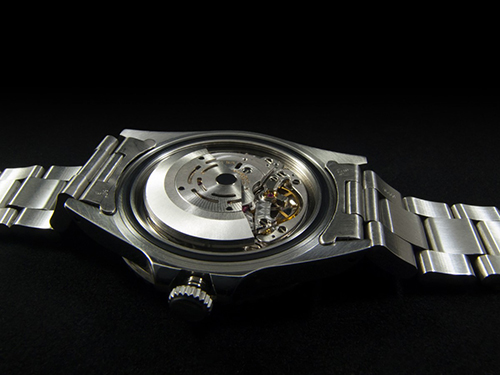 The answer to this question is very subjective because "good" depends on the definition of the user, and the answer can vary widely. In general, watch buyers in forums are pretty positive about the brand, considering the average price since the watches do use high-quality materials and finishes, and many models have good water resistance to 200M or more.
Others criticize the brand for marketing itself as a "Swiss Company" when many of the parts made and assembled in Asia. Some watch buyers also question the pricing since similar quality brands (i.e., Fossil Group brands) can be found for less. Many serious dive fans would rather wear any of these dive watches under $500 from brands such as Citizen, Seiko or Orient.
There are some clear indicators that can be used to determine whether and watch brand is "good" or not.
Technomarine Watches Build Quality
TechnoMarine watches use stainless steel, carbon fiber, and ceramic in the construction of their faces, so it is safe to assume that the build quality of their watches is quite high. Their watch faces are protected by the mineral crystal in their cheaper models and sapphire crystal in their higher-end models, which is scratch-resistant.
Most of their models are water-resistant up to 200 meters, which put the brand on par with many high-end watches in the same price range.
Technomarine Watches Movements
The biggest pet peeve of a watch enthusiast is probably not the exterior of a watch, but the interior. It is important to have a decent mechanism inside the watch, and TechnoMarine watches fulfill these criteria as their watches use highly accurate Swiss-made quartz electronic movements, and a few models even offer automatic mechanical movements.
The uniques selling point of TechnoMarine watches is definitely their style, which incorporates color and diamonds in activewear. However, they also have plenty of technical innovation with some of their timepieces offering an absurd water-resistance such as the Technomarine Abyss Diver with a claimed water-resistance of 12,900 meters.
Where To Buy Technomarine Watches?
TechnoMarine is an immensely popular brand worldwide, and most customers should not face any issues in purchasing any timepiece. Since being bought by Invicta, you can also see all Technomarine watches on InvictaStores.com/technomarine. They are available on Amazon and on eBay.
Where Are Technomarine Watches Made?
It a swiss company, but most of their quartz watches are produced in Asia. The automatic watches, on the other hand, are produced in Switzerland. The brand is Swiss in the same way as a lot of Eurasian watch manufacturing companies are German.
Technomarine Watch Warranty
TechnoMarine offers a three-year warranty right off the bat, however as can be expected, there are lots of fine details and terms and conditions that need to be considered, and once the warranty is voided, then there is no coming back. You can read more about the TechnoMarine warranty here.