This is another example of the old guard going up against a young upstart. Timex is one of the most longstanding watch company in the market and has built a reputation as one of the top entry-level brands in the industry today. Timex's impressive list of watches ranges in prices as well as in categories.
As for MVMT, the company is still quite young and is relatively in its infancy stage compared to Timex's history. However, there is a reason why this comparison is taking place right now. MVMT has managed to situate itself into the fray for its stylish modern timepieces. MVMT's popularity in the market is undeniable, but can it walk side by side, or even surpass, what Timex has to offer? Read on below to find out!
Timex Brand Overview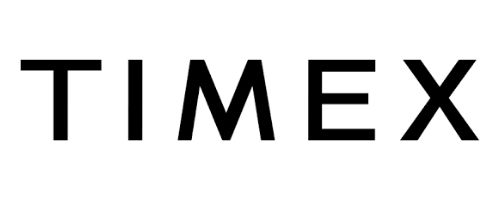 Timex is a highly established watch brand that has been around since 1854. Founded in Waterbury, Connecticut, Timex succeeded and thrived in the market thanks to its focus in developing and manufacturing reliable yet highly affordable timepieces. This strategy made Timex sort of a "Champion of the People" as they helped open up the market to a far broader audience during a time when pocket watches were seen more as a luxury item rather than an essential everyday commodity.
Timex watch designs were also brought variety which significantly helped boost their popularity. This meant that Timex watches are not only affordable; they are also designed to appeal to an equally broad market. Timex even knew the importance of creating their signature brand name as they also produced their iconic line of watches, namely the V-conic timepiece series and the Ironman sports watches. Speaking of sports watches, Timex was the first to manufacture affordable and durable sports watches in the market that targets runners and marathon participants.
This signature style in watchmaking is present throughout Timex's impressive history. To this day, if you are looking for robust, accessible, and affordable timepieces that you can rely on upon under strenuous activities and environments, Timex is the one brand that fits all criteria.
MVMT Brand Overview


MVMT is one of the newest brand names in the watch industry as it was only founded in 2013. That said, the fact that MVMT is one of the fastest-growing watch brands in the world today says a lot about the company. What's more impressive is that MVMT started with a highly successful Indiegogo campaign – how successful? Well, MVMT was the second most successful fashion-based brand in Indiegogo history as it managed to meet and surpass its target funding in record time. That, in itself, dictates the level of public support and interest to what MVMT has to offer.
Two highly ambitious young entrepreneurs founded MVMT. As we have stated earlier, the two Los Angeles based friends had big dreams but lacked the budget to achieve it – thus, they turned to crowdfunding in the form of their Indiegogo campaign. The rest is, as they say, history. MVMT's main selling point is their impressive and innovative looking modern watches that aim for the younger generation demographic. MVMT also took full advantage of social media marketing which undoubtedly helped further bring their timepieces to the public's attention.
MVMT is also known for its entry-level price range watches that further supplant their brand into the psyche of the casual consumer. Around 2016, MVMT also branched out in manufacturing sunglasses which proved to be quite successful as well. In 2018, MVMT was purchased by Movado. Fortunately, MVMT was left to their own devices even after the sale. It seems that MVMT benefited greatly from the acquisition as their watches saw a significant improvement in overall quality and movement.
At present, MVMT is still growing in popularity across the globe as a fashion watch brand. Their appeal is mostly within the younger generation of watch enthusiasts, but their modern and minimalist timepiece aesthetic is generally and unquestionably attractive to watch lovers of all ages. To learn more about MVMT – click here.
Timex and MVMT Watch Comparisons
Casual and Dress Watches:
Timex Marlin Automatic 40mm Stainless Steel Mesh Band Review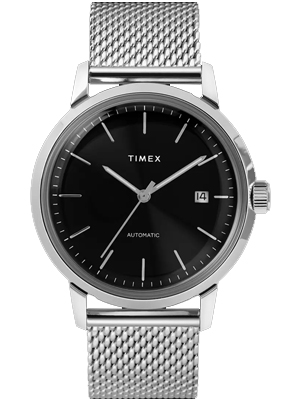 The Timex Marlin is one of the brand's most well-known watch series in terms of style. This Marlin model takes a more luxurious approach compared to previous iterations due to its all-stainless-steel construction. This Timex Marlin model also comes in two variations, silver-toned, and gold-toned design. Both are equally impressive visually.
Rather than incorporating a more casual leather, fabric, or rubber straps, the Marlin features a beautiful steel mesh bracelet. This is one of the Timex Marlin's most distinct aesthetic and gives the watch a more sophisticated charm. This Timex Marlin Automatic model also comes with a substantial size at 40mm. However, it manages to maintain its sleek appearance thanks to the minimalist design of the dial.
Inside the Marlin Automatic's stainless-steel case is an automatic winding watch movement with analog display. Additional features include a date display that is located at the 3 o'clock position. Also, of note is the dial window which uses acrylic glass which is more durable than standard glass. All in all, the Timex Marlin Automatic certainly doesn't appear like your typical Timex timepiece. It is quite a stylish watch that you can wear either for everyday use or during formal functions and gatherings.
MVMT Classic Monochrome Link Review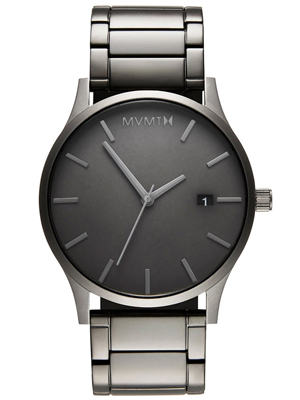 The MVMT Classic Monochrome is a perfect example of what the brand stylistically brings to the table in terms of aesthetics. With its modern minimalist dial design and a striking monochromatic finish for its 40mm case and bracelet. The case measures in at 40mm, which is the sweet spot if you are looking for a timepiece that exudes the right level of attention-grabbing charm without being 'too loud'.
The dial itself incorporates a subtle aesthetic that complements MVMT's signature appeal. The index hour markers and hands include a lighter shade of monochrome gray in comparison to the dial's darker hue. This is a simple yet effective design choice that provides decent legibility while sticking to the overall aesthetics of the watch.
Within this stylish and striking MVMT watch is the Miyota quartz movement with analog dial display. The dial is encased within a mineral crystal glass which gives it a substantial level of durability. The slick style of the Classic Monochrome makes it perfect for both casual and professional attire. Also, it has a date display over at the 3 o'clock position and a decent 30-meter water resistance rating.
GMT Watches:
Timex Allied Three GMT 43mm Leather Watch Review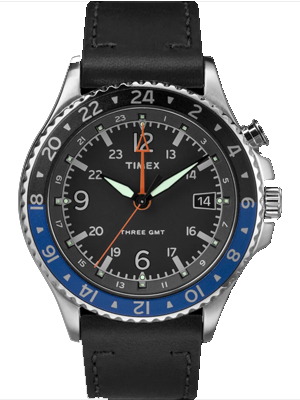 GMT watches tend to be on the expensive side, usually. But we are talking about Timex here, and the brand manages to stay true to their affordability mantra with the Allied Three GMT. The Allied Three GMT takes an extra step as the watch not only allows wearers to check two time zones but three. That's pretty impressive considering the affordable cost of this timepiece, but what did you expect from Timex?
It is also noteworthy how Timex managed to implement the three GMT functionality without the dial looking like a cluttered mess. To help differentiate each GMT zone, the Allied Three incorporates distinct colored hands that dictates each time zone. The white with luminous finish diamond-shaped hands displays the local time. The other two time zones are tracked by the orange-toned skeletonized arrow hand and the 24-hour rotating bezel with day and night layout.
Timex is known for designing dials with a focus on legibility; this streak is not broken with the Allied Three GMT despite the considerable hurdle of making a three GMT watch as easy to read as possible. Timex also included their Indiglo backlight technology into this incredibly functional watch that helps make visible even in complete darkness.
The watch itself is relatively sleek and compact at 43mm compared to other multi-functional timepieces. The polished stainless-steel case helps accentuate the black dial. There is also a black and blue bezel that further enhances the Timex Allied Three GMT's overall professional charm. The watch uses quartz movement with the analog dial; this mechanism also operates the GMT features. Also, the Allied Three GMT watch is designed to provide an impressive 100-meters of water resistance.
MVMT Voyager Monochrome Review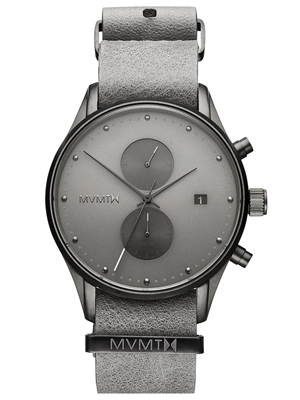 As with all MVMT watches, the Voyager Monochrome incorporates the brand's signature minimalist design to its fullest. Aesthetically, the Voyager Monochrome takes a sublime approach with its design. The watch features a matte gray finish that is both stylish and professional looking at the same time. The Voyager Monochrome will fit nicely with everyday casual wear or professional business attire.
The exterior aspect of the Voyager Monochrome is somewhat noteworthy as it manages to look sleek even with its 45mm diameter case. It leads to maintaining its casual, relaxed charm by incorporating a Nylon band rather than leather or stainless steel. The use of this type of strap also helps improve overall comfort with the added flexibility that nylon can deliver. Another notable element here is the hardened mineral crystal which is not only durable but also highly resistant to scratches.
Of course, this is a GMT watch and, in that regard, it can effortlessly display up to two time zones with the use of the dual sub-dials. Within the sleek looking case is the always reliable Miyota quartz movement which provides the Voyager with excellent precision in timekeeping. Additionally, the MVMT Voyager Monochrome comes with a two-year guarantee.
Conclusion: Timex and MVMT – Which is Better?
Well, as you can see from the comparisons made between key specific watch models taken from Timex and MVMT's vaults, there is a distinct element that separates the two.
Timex is, first and foremost, a watchmaker whose aim is to deliver a wide variety of reliable timepieces that cover the broad horology spectrum. It has over 165 years of watchmaking experience and in its price range is hard to beat on reliability.
As for MVMT, they are a fashion watch brand that focuses on providing impeccably designed watches that are designed to be visually admired.
If you prefer practicality and functionality, Timex wins by a large margin. MVMT is stylish, without a doubt, but it is a watch brand that you wear mostly to make a statement rather than as a simple way to keep track of time. All things considered; Timex gets our vote.