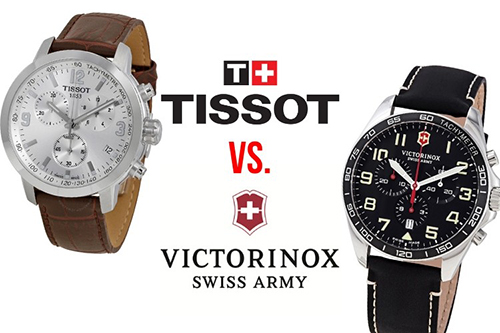 Tissot and Victorinox are two watch brands that could not be further away from each other in regards to their reputation in the market. Tissot is known for its high precision watches and is considered to be one of the best mid-range luxury Swiss watchmakers in the business. On the other hand, Victorinox focuses on a specific timepiece category, which is a robust tool watch. Victorinox's timepieces are designed to be as durable and reliable as possible.
This is an exciting match up as we will be able to compare critical qualities about each watch brand's design with the other. How does Tissot's watch build compare to the incredibly resilient watch construction of Victorinox? How does Victorinox's watch movement compare to Tissot? Let's find out how the two Swiss watch brand stacks up against each other.
Tissot Brand Overview



Tissot began operations back in 1853 and was founded by the father and son duo of Charles-Felicien and Charles-Emile Tissot. The company was initially named as the Charles-Felicien & Son. The company went through several name changes such as Charles-Emile Tissot & Fils (1865), Chs. Tissot & Fils – SA (1917), Tissot Marche Suisse SA (1976), and finally Tissot SA (1982).
From the beginning of Tissot, the company aimed for international recognition as their pocket watches were primarily for export. Within a year of operating, Tissot watches were already being sold in the United States. About five years later, Tissot watches were made available in Russia as well. Their sudden growth of popularity in Russia stemmed from when Charles Tissot settled in the country after marriage. Tissot's prominence in the country was further increased when their timepieces became the watch of choice of Tsar Alexander II's court.
Tissot built an impressive repertoire within the watch industry thanks to their fantastic and precise watch movements. They primarily utilize high precision quartz movement, which helps endear them to several companies in the sports industry. Tissot watches are also often seen within the lucrative sports industry. Tissot managed to land several partnerships within the F1 racing circuit.
In 1983, Tissot joined the world-renowned Swiss Swatch Group. At this point, Tissot watches were available in over 160 countries and was the Swatch Group's top mid-level luxury. Nowadays, Tissot is one of the most respected Swiss watch brands in the market. Throughout the years, they have proven the quality of their timepieces on all fronts. Tissot is also not afraid to take off the cuff watchmaking tactics, which is evident with their WoodWatch, RockWatch, and PearlWatch series.
Victorinox Brand Overview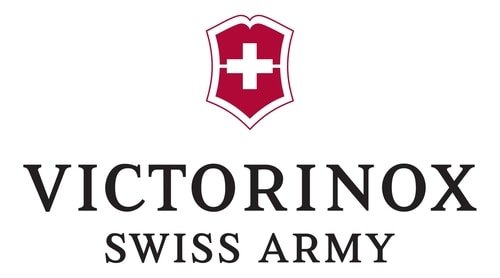 Victorinox is another noteworthy Swiss watchmaker who has a fascinating history. Victorinox, unlike Tissot, did not start as a watchmaking company. Founded in 1884, Victorinox was initially a manufacturer of army knives, in particular the Swiss Army Knife. Victorinox was one of the primary suppliers of army knives in Switzerland.
Throughout the years, Victorinox was one of the go-to companies if you are looking for a top-notch quality Swiss army knife. Their tagline was that they provide "Original Swiss Army Knives", and the quality and durability of their knives are undoubted. It wasn't until 1989 when Victorinox finally entered the watchmaking business. Victorinox took their approach in making robust and reliable army knives and applied it to their watches. What came about are tool watches that provide excellent levels of durability and reliability.
Victorinox's first crack at this market came when they debuted the Victorinox Swiss Army Watch. It proved to be quite popular with outdoor enthusiasts as well as military and police personnel. In 2005, Victorinox purchased and merged with their longtime rival in the Swiss army knife market, Wenger, which boosted both brands' standing as their catalog expanded exponentially afterward.
As of this writing, Victorinox manufactures various products under their wing, not just tool watches and tool knives. They make travel equipment and accessories as well as fragrances as well. So, how do Victorinox watches compare to other well-known brands? For the most part, Victorinox timepieces occupy a specific watch category, namely tool watches. In this regard, they do provide excellent and reliable timepieces that also feature their signature rugged sense of style.
Tissot and Victorinox Watch Comparisons
Chronograph Watches:
Tissot PRS 516 Chronograph Review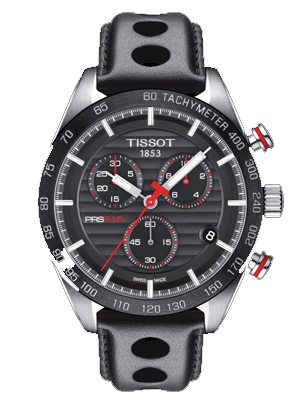 See on Tissot | Read Amazon Reviews
The Tissot PRS 516 features a sportier design compared to most of Tissot's timepieces. This is certainly a departure from Tissot's typical approach to their sports watch design which usually still comes off with a more luxurious and sophisticated appeal. The PRS 516 Chronograph is a straight-up sports watch from the black PVD coated stainless steel case to the highly flexible black rubber straps.
The Tissot PRS 516 managed to contain everything in a sleek build with its 42mm case. Within the PRS 516 Chronograph is the Swiss Calibre ETA G10.212 Swiss quartz movement. This watch movement is incredibly precise and can provide wearers with a highly dependable timepiece with chronograph functionality.
Of course, while the Tissot PRS 516 might not look the part at first glance, it is a luxury watch through and through. For example, the bezel here is made from ceramic material, and the carbon textured dial gives the watch another layer of detail. The dial is well-protected within a scratch-resistant sapphire crystal window which also utilizes an anti-glare finish.
Also, the build of the PRS 516 Chronograph gives the watch a substantial 100-meter water resistance making it suitable for light and water-based recreational activities such as swimming. If you are looking for a top-notch luxury chronograph timepiece with a contemporary sports flair, the PRS 516 offers all of these at a reasonable price.
Victorinox Swiss Army Alliance Chronograph Review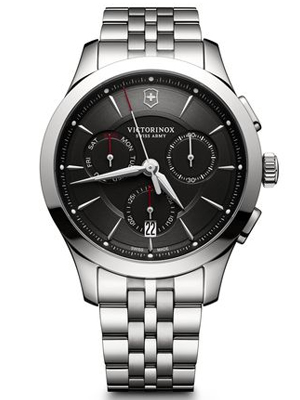 See on Victorinox | Read Amazon Reviews
The Victorinox Swiss Army Alliance incorporates a more luxurious build and design with its stainless-steel case and bracelet construction. In terms of design, the Swiss Army Alliance captures the robust aesthetic that Victorinox is known to deliver. The Swiss Army Alliance comes in at a relatively large 44mm stainless-steel case. The attention to detail is quite impressive as each component is carefully thought of and designed to provide optimum functionality.
First off, the Swiss Army Alliance utilizes quartz movement with analog display. The dial to the sub-dial all works in conjunction with its highly accurate Swiss quartz movement. There is also a date display located just above the 6 o'clock position. The dial window is made from durable sapphire crystal glass, which is also incredibly resistant to scratches. Also, the construction of the Victorinox Swiss Army Alliance gives the timepiece a noteworthy 100-meter water resistance.
In terms of design, the Victorinox Swiss Army Alliance hits all the right notes. The professional and sleek design exudes an air of confidence and sophistication. As for precision, it passes that category with excellent marks as well. We thoroughly enjoy what Victorinox has to offer with this particular chronograph watch. While its watch movement may not be able to match up with the ones you can find on the high-end watch market, it still delivers everything you need with a highly durable and smart-looking timepiece.
Pilot Watches:
Tissot Chrono XL Review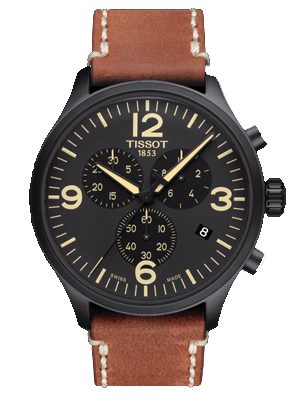 See on Tissot | Read Amazon Reviews
The XL on the Tissot Chrono XL is not just there to make the watch sound cool. This is a legitimately large timepiece that measures in at 45mm. Because of its relatively large build, the dial itself provides excellent legibility. This aspect is vital in pilot and aviation watches. The dial features bold Arabic numerals that incorporate color tones that contrast the dial face. The watch takes on a highly urban aesthetic making it quite an appealing timepiece for modern watch enthusiasts.
The Tissot Chrono XL comes in a variety of designs, making sure it covers as wide a customer base as possible. While most variations of the Chrono XL feature leather bands, there is also a stainless-steel bracelet version if you want something that has a more luxurious appeal. The design of the Chrono XL reels it back quite a bit and is almost minimalist in approach. I prefer a minimalist approach when it comes to my timepiece, making the Chrono XL quite attractive.
As for features, the Tissot Chrono XL features three sub-dials that track minutes (30), seconds (60), and 1/10th of a second. The watch incorporates the ETA calibre G10.212 quartz movement which provides excellent timekeeping accuracy 24/7. The clock is also designed to provide up to 100-meters of water resistance.
Victorinox Airboss Mach 9 Black Edition Review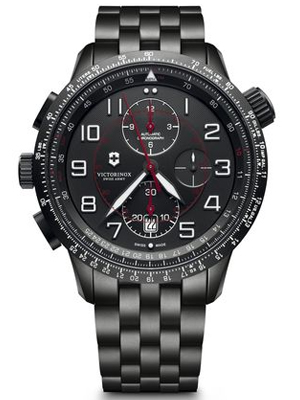 See on Victorinox | Read Amazon Reviews
The Victorinox Airboss Mach 9 Black Edition is a no non-sense aviation timepiece that is designed for pilots. The highly professional and elegant design speaks volumes of what this Victorinox pilot watch has to offer. True to the brand name, the Airboss Mach 9 is designed with durability, functionality, and practicality in mind. Of course, if you are familiar with Victorinox, you know what to expect when it comes to its design. With a 45mm stainless steel case, this watch leans on over towards a more masculine appeal.
The Victorinox Airboss Mach 9 uses Swiss automatic movement, the ETA VALJOUX 7750, to be exact. Flip the Airboss Mach 9 to the other side, and you'll notice a transparent back case that will significantly benefit from the intricate watch movement featured inside. Additionally, the watch movement used provides 48-hours of power reserve.
The dial and hands also incorporate a luminous finish for improved visibility, even in low-light environments. Legibility and precision are two of the essential aspects of a pilot watch, two factors that the Victorinox Airboss Mach 9 delivers impressively.
Conclusion: Tissot and Victorinox – Which is Better?
Choosing which is the better watch brand is relatively simple this time around. Tissot has been around crafting amazing timepieces since 1853. While Victorinox, a company that has been around since 1884, only began producing watches in 1989. Also, Tissot is a offers a more traditional collection of timepieces such as dress watches while Victorinox watches are considered to be outdoor and military watches. All in all, go with Victorinox if you prefer something rugged and functional and pick a Tissot watch if you prefer style and finesse.