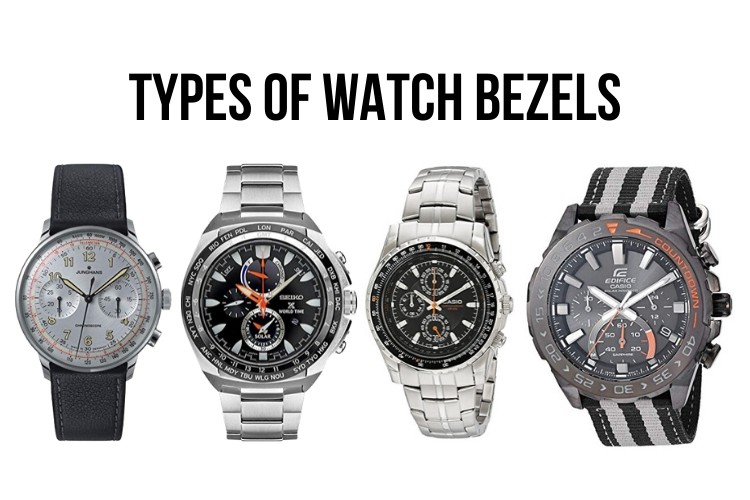 For this post, we will talk about the different types of bezels. But just before we proceed to that, let us first clarify what a bezel is. The watch bezel is simply the rim of the watch cover. Most are made of stainless steel as it is a versatile material, although there are also some that are made of ceramic for reinforced durability or of aluminum for budget watches. Watch bezels may also be plain, decorated, or numbered; some are also stationary while others may be rotated depending on their functions. To better understand these differences, here are the different types of bezel.
Types Of Watch Bezels
Plain Bezel
We start off the list with the simplest one – the plain bezel. Plain bezels are those that do not have any function so they are fixed on the watch cover. However, this doesn't mean that plain bezels are literally just "plain". Despite not having a function, plain bezels may have engravings, patterns, jewels, etc. to improve the aesthetics of the watch.
Count-Up/Dive Bezel
Count-Up bezels are sometimes called Dive bezels mainly because they are commonly found on dive or sports watches. Count-up bezels are characterized by a scale of 0 to 60 that's aligned with the minutes. Its main function is to count the elapsed time from the point that you set it. To do this, you only need to rotate the count-up bezel counterclockwise until the 0 is aligned with the minute hand. Then you can already track the time since you set it. It should be noted, however, that it can only track up to one hour.
Countdown Bezel
From the name itself, it's pretty obvious that countdown bezels are almost similar to the above count-up bezel. The primary difference is that it counts from 60 down to 0, pretty much like that of a stopwatch. As such, countdown bezels are usually used by runners, cyclists, and other types of racers. Another difference from the count-up bezel is that the countdown bezel may be rotated both clockwise and counterclockwise. To use the countdown bezel, simply turn it until the 0 marker is aligned with your target/desired time limit.
Tachymeter Bezel
On motorsports or racing-inspired watches, the most common watch bezel you would see is the tachymeter. It is a fixed bezel that is particularly useful in measuring speed with consideration to time and distance traveled. To use the tachymeter, make sure that the stopwatch has been reset to 0. Start and stop the stopwatch accordingly, then read the tachymeter scale.
Telemeter Bezel
The telemeter bezel is quite less common, especially if compared to the above-mentioned bezels. It is a scale that may be used to measure the distance between a person and a remote object or events, along with a chronograph. For example, a soldier may use a telemeter bezel to determine his distance from the enemy fire. It may also be used by scientists to measure the distance of a lightning strike from his position.
Decimal Bezel
Another type of bezel to measure or track time is the decimal bezel. It has a scale that's divided into 100 parts to aid its wearer in the decimal conversion of time, specifically for industrial and scientific timing operations. Decimal bezels usually come with a chronograph function to accurately measure and translate time.
GMT/World Time Bezel
For those who love to travel to different countries, this one may be familiar to you. The GMT (Greenwich Mean Time) or World Time bezel comes with a 24-hour marking. Watches with the GMT bezel also has a GMT hand. These two, the GMT bezel and hand are used to indicate your home time. Then, the primary 12-hour watch dial may then be set to the local time of the country/city you're currently on. Don't worry about confusing the GMT hand with the other hands on the dial as it is usually in different shape and/or color that makes it easily recognizable.
Compass Bezel
Compass bezels are easily recognizable since they are marked with letters indicating directions instead of numbers. Watches with this type of bezel are particularly useful for hikers, trekkers, and the like. However, since the bezel is not magnetic nor electronic, it is only useful under the sun.
Yacht-Timer Bezel
From the name itself, the yacht-timer bezel is mostly used for yachting or regatta racing. It is typically marked with a scale of 10 to 1 across the 2/3 of the bezel; although it may differ depending on the design of the brand. The yacht-timer bezel is used to determine the time remaining from the actual start of the race so as to avoid going over the starting line before the start of the race.
Pulsometer
Pulsometer bezels are less common nowadays considering that they were introduced in the early 1920s. This type of bezel was particularly designed for medical doctors and nurses and was used to determine the rate of a patient's heartbeat. Others can also determine the respiratory rate. Pulsometer bezels are characterized by markers on a scale of 40 to 200. They are quite expensive which is why we would more often see cheaper electronic versions of this device instead.
Slide Rule
The slide rule bezel is perhaps the most complicated one as it is also multi-functional. With a slide rule, you may do various calculations and determine speed, distance, flight time, exponents, logarithms, fuel consumption, etc. The slide rule bezel comes with a rotating and a fixed scale for all these calculations that you have to do.
Conclusion
If you've noticed markers or numbers on your watch cover, now you know that they're not just for additional design or detail. Most bezels can actually help you a lot especially if your watch has the bezel that best suits your profession or even hobby. As a recap, we presented 11 types of bezel: (1) plain, (2) count-up/dive, (3) countdown, (4) tachymeter, (5) telemeter, (6) decimal, (7) GMT/world time, (8) compass, (9) yacht-timer, (10) pulsometer, and (11) slide rule. If you wear a watch primarily for fashion and timekeeping only, a plain bezel is already enough. But, if you are into races or you need to constantly measure or track elapsed time, you may choose among the count-up, countdown, tachymeter, telemeter, and decimal bezels. For frequent travelers, watches with GMT are pretty useful. For hikers, those with compass bezels, and the yacht-timer for regatta racers. For health care professionals, of course, the pulsometer (if you're still lucky to find one). If you just want to be prepared for any calculation that you may need to do, the slide rule is the best option.