Temporal Thoughts: Inspiring, Funny, and Revealing Quotes about Time & Timepieces
Everyone loves a pithy or elegant quote. They can be used for big moments in life to put things in perspective, to celebrate success or to commiserate loss.
For the watch aficionados in the audience, we have compiled a list of inspiring, thought-provoking, and humorous quotes about watches, clocks, and the most inescapable of all forces, time.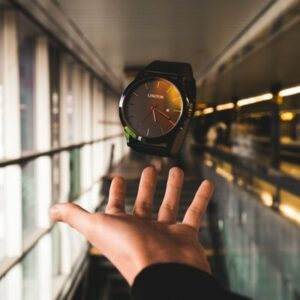 Whether you are looking for a nice quote to engrave on your next gift watch or just pondering the passing of time, we've got over 40 quotes from literature and historical figures for you below. Scroll through our list to find a perfect quote for any occasion.
Quotes About Watches
"A gentleman's choice of timepiece says as much about him as does his Saville Row suit." – Ian Fleming
"Unlike diamonds, watches were practical. They were for people on the run, people with appointments to keep and schedules to meet." – Jeannette Walls (The Glass Castle)
"Far out in the uncharted backwaters of the unfashionable end of the western spiral arm of the Galaxy lies a small unregarded yellow sun. Orbiting this at a distance of roughly ninety-two million miles is an utterly insignificant little blue-green planet whose ape-descended life forms are so amazingly primitive that they still think digital watches are a pretty neat idea." – Douglas Adams (The Hitchhiker's Guide to the Galaxy)
"People create all kind of fancy watches and clocks, never stopping to realize they're building monuments to the greatest of all thieves." – K. Martin Beckner (A Million Doorways)
"I like a few vintage Rolexes, and Panerais are good. I'm not into sports watches – I like chronometers." – Jason Statham
"I've always loved watches my whole life. When I was growing up, I always thought of having a great watch as that next step – of making it, of a rite of passage." – James Marsden
"Jewelry isn't really my thing, but I've always got my eye on people's watches." – Clive Owen
Quotes About clocks
"In Switzerland they had brotherly love, five hundred years of democracy and peace, and what did they produce? The cuckoo clock!" – Graham Greene
"Father said clocks slay time. He said time is dead as long as it is being clicked off by little wheels; only when the clock stops does time come to life." – William Faulkner, The Sound and the Fury
"Clocks in disagreement are worse than no clock at all." – David Mitchell (Cloud Atlas)
"One can expect an agreement between philosophers sooner than between clocks." – Seneca
"Unfortunately, the clock is ticking, the hours are going by. The past increases, the future recedes. Possibilities decreasing, regrets mounting." – Haruki Murakami (Dance Dance Dance)
"The clocks understood, they kept moving, motion, following the truth that change is the nature of God's mind, and resistance to it is the source of great pain." – Craig Ferguson (Between the Bridge and the River)
 "By putting forward the hands of the clock you shall not advance the hour." – Victor Hugo
"Even stopped clocks are right twice a day." – Paulo Coelho (Brida)
"Since 1987, when I got my first one, I've been wearing a clock around my neck 24/7. You feel me? 24/7." – Flavor Flav
"Don't watch the clock; do what it does. Keep going." – Sam Levenson
"The hours of folly are measured by the clock; but of wisdom, no clock can measure." – William Blake
"All clocks break, and what breaks them is Time." – Marty Rubin
Quotes About Time
"Time is an illusion." – Albert Einstein
"Lost – yesterday, somewhere between sunrise and sunset, two golden hours, each set with sixty diamond minutes. No reward is offered, for they are gone forever." – Horace Mann
"They always say time changes things, but you actually have to change them yourself." – Andy Warhol
"In the future, everyone will be world-famous for 15 minutes." – Andy Warhol
"Yesterday is gone. Tomorrow has not yet come. We have only today. Let us begin." – Mother Theresa
"You may delay, but time will not." – Benjamin Franklin
"Time is a created thing. To say 'I don't have time,' is like saying, 'I don't want to.'" – Lao Tzu
"The railroads needed standardized time; as a result, the technology of train travel shaped the way everyone gets up, eats, goes to sleep, calculates age, and, perhaps of no small importance, imagine the world as a whole, ticking reliably, with reliable deviations, according to the beat of one central clock in a physical location." – Stacey D'Erasmo
"Time is the longest distance between two places." – Tennessee Williams (The Glass Menagerie)
"The two most powerful warriors are patience and time." – Leo Tolstoy (War and Peace)
"In every day, there are 1,440 minutes. That means we have 1,440 daily opportunities to make a positive impact." – Les Brown
"A man who dares to waste one hour of time has not discovered the value of life." – Charles Darwin
"The future rewards those who press on. I don't have time to feel sorry for myself. I don't have time to complain. I'm going to press on." – Barack Obama
"There's never enough time to do all the nothing you want." – Bill Watterson (Calvin and Hobbes)
"Time you enjoy wasting is not wasted time." – Marthe Troly-Curtin (Phrynette Married)
"Time flies like an arrow; fruit flies like a banana." – Anthony G. Oettinger
"Learn to enjoy every minute of your life. Be happy now. Don't wait for something outside of yourself to make you happy in the future. Think how really precious is the time you have to spend, whether it's at work or with your family. Every minute should be enjoyed and savored." – Earl Nightingale
"It takes 20 years to build a reputation and five minutes to ruin it. If you think about that, you'll do things differently." – Warren Buffett
"A journey is a person in itself; no two are alike. And all plans, safeguards, policing, and coercion are fruitless. We find that after years of struggle that we do not take a trip; a trip takes us." – John Steinbeck (Travels with Charley: In Search of America)
"Like as the waves make towards the pebbl'd shore, so do our minutes, hasten to their end." – William Shakespeare (Sonnet LX)
"So we beat on, boats against the current, borne back ceaselessly into the past." – F. Scott Fitzgerald (The Great Gatsby)
"Carpe diem." – Horace (Odes)
"How did it get so late so soon?" – Dr. Seuss
---
Featured image: Photo by Harry Sandhu on Unsplash