Homeland is an award-winning American political thriller series that debuted way back in 2011 and just finished its run last year with its 8th season.



Based on the Israeli television series, Prisoners of War, Homeland stars Claire Danes and Damian Lewis. Danes are cast in the lead role of CIA officer Carrie Mathison while Lewis plays Marine Corps Scout Sniper and P.O.W. Nicholas Brody.
The story initially focused on Mathison believing that al-Qaeda has turned Brody into a spy for the terrorist organization during his capture. The series expanded from that premise through an entire eight seasons.
The series is known for its grounded, intense, and twisting plot, which helped garner its fans and awards. Today, we will be taking a look at the timepieces worn by the series' main cast.
Why? Because we found some genuinely lovely and notable watches throughout the whole series.
Before that, we have a little appetizer for fans of the series and those whose interest is now piqued. Here are some interesting facts about the TV series, Homeland.
A Fun Coincidence Changed a Character's Name
Claire Danes play a CIA officer named Carrie Mathison. Interestingly enough, in the original script, we find that Carrie Mathison was initially named Claire Mathison. The name change was due to actress Claire Danes landing the role.
Research and Preparation for the Role
Due to the sophisticated and complex character of Carrie Mathison, Claire Danes met with actual CIA officers to help her understand some of the intricacies of such a career.
She also studied bipolar disorder, which Mathison suffers from, to portray this condition on-screen accurately.
A Truly "Big" Fan of the Series
Former U.S. President, Barack Obama, has stated that he is a big fan of the TV series. For the country's highest-ranking official, a series about politics being his favorite is not so surprising, isn't it?
Damian Lewis' Proven Track Record
Traditionally, actors will need to audition for a role they want – the elites in this craft are generally excluded from this rule, though. Actor Damian Lewis was the first and only choice to play the role of Nicholas Brody. The TV series producers are familiar with Lewis' previous work and were so impressed by the acting chops that they gave him the part without requiring him to audition.
A Very Different Carrie Mathison
Halle Berry was on the shortlist of choices for the role of Mathison, but Claire Danes managed to land the role. Truth be told, we couldn't think of anyone other than Claire Danes that would have done the role justice. Danes IS Mathison.
An Interesting Side Job
Abu Nazir is the ruthless high-ranking operative of al-Qaeda in the series. However, actor Navid Negahban has a background in the art of theatrical mime. And now you have an image of the terrifying Abu Nazir in mime makeup and costume in your head.
Watches Worn in Homeland
Carrie Mathison (Claire Danes)
Hamilton Jazzmaster Women's Analog Quartz Watch (H42211655)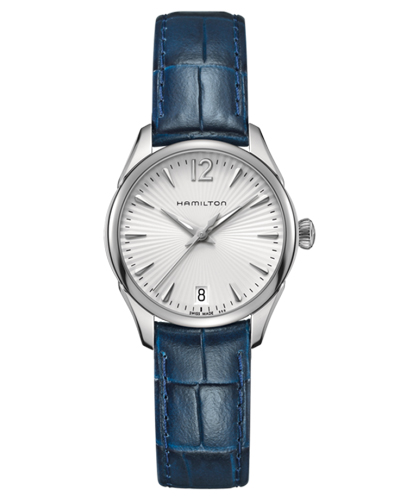 We get a good look at Carrie's watch in the sixth episode of the final season aptly named "Two Minutes" when Carrie tries to temporarily break the CIA surveillance cameras in Kabul.
Here we get a zoom-in shot of the Hamilton Jazzmaster Women's Quartz Watch, and it is a beauty. Hamilton infuses this Jazzmaster model with a feminine charm with its sleek and elegant design.
The midnight blue leather strap offers excellent contrast with the polished silver-tone case and sunray white dial. The dial incorporates silver-toned hands and teardrop-shaped hour markers for that added level of sophistication.
This Hamilton timepiece is also quite petite with its 30mm diameter case. That said, it is deceivingly durable and tough with its use of a sapphire crystal window. The case construction also provides this Hamilton Jazzmaster with decent 50-meter water resistance.
We can easily see the Hamilton Jazzmaster as Carrie Mathison's preferred timepiece. It is elegant, sophisticated, surprisingly tough, and efficient.
Nicholas Brody (Damian Lewis)
Timecenter Men's Sport Watch
We get to see what type of watch Nicholas Brody wears in episode 7 of the first season during Brody and Mathison's weekend together:

Interestingly enough, the watch is not a famous brand at all. However, basing it on the character, this choice is not that surprising. Army soldiers tend to go for reliability and affordability when it comes to picking their tools. Hence, we get to see Nicholas Brody wearing a Timecenter Men's Sport Watch. Unfortunately, it is virtually impossible to find this watch now.
Based on our research, though, it appears that the Timecenter watch that Brody is wearing in this episode is relatively cheap with a $12 price tag. Some of the remaining feedbacks that we saw also stated that the watch is surprisingly tough and durable. Other than that, this particular watch model has been lost to the ether.
---
---
Peter Quinn (Rupert Friend)
Not surprisingly, the CIA paramilitary and surveillance operative is keen on wearing the ultra-tough Casio G-Shock GA100-1A1, as can be spotted in this scene of season 4:

Casio G-Shock GA100-1A1

The shock-resistant and tactical design and features of the G-Shock GA100-1A1 make it a highly believable timepiece to be worn by a CIA operative. This all-black G-Shock watch has a tank-like build with its 55mm resin case.
This particular model also incorporates an analog-digital display, further expanding its functionalities. As you can expect from a G-Shock watch, the GA100-1A1 is ready for battle. It features an excellent shock-resistant build and comes with an anti-magnetic construction as well.
This G-Shock model is also quite affordable and looks fantastic with its black and silver aesthetics. The size will be an issue with those with smaller wrists, though. Also, this watch offers a 200-meter water resistance rating which makes it suitable for swimming and snorkeling.
Saul Berenson (Mandy Patinkin)
Marlboro Swiss Army Calvary Field Watch
It's pretty hard to get a good look at the timepiece seeing as actor Mandy Patinkin prefers wearing the watch from the other side, but based on our research, we are confident of the watch model. You can catch fleeting glimpses of the timepiece in this scene at the season finale of the series:

The Marlboro Swiss Army Calvary Field watch (eBay) is a vintage timepiece that perfectly fits the grizzled veteran of the series and is Carrie Mathison's mentor. The character was also the Acting Director of the CIA.
By the end of the series, he is the National Security Advisor to the United States president.
This particular Marlboro Field Watch is the 1994-1995 model with an after-market watch band to replace the original black leather strap. It comes with a 40mm stainless-steel case and features a pretty straightforward design. The watch also incorporates a Swiss mechanical movement with an analog dial display.
The white dial comes with luminous hands and bold Arabic numeral hour markings. Additional feature includes the date display located at the 3 o'clock position and water resistance of up to 100-meters. You can also see the Swiss Army logo prominently displayed as the 12 o'clock hour marker.
This timepiece perfectly complements Saul Berenson's character as it carries in itself a sense of tradition and formality. This watch also exudes a weathered charm to it that underlies Berenson's experience.