Mindhunter is a Netflix period drama and psychological crime thriller series based on John E. Douglas and Mark Olshaker's book of the same name. Mindhunter also had some big names behind the curtain, with Charlize Theron and David Fincher as executive producers, the latter also directing several episodes of the series.
As a big fan of Fincher, you know this man is perfect for this series with his gritty film-noir style, as seen with his prior films such as Seven, Fight Club, Zodiac, and Gone Girl.



Mindhunter follows the introduction of the criminal profiling technique and the foundation of the Behavioral Science Unit in the FBI. The series is set in the 70s, so expect to see some classic sets and attires throughout the two seasons.
Mindhunter is a series set in the 1970s means that watch enthusiasts will have a blast with all the vintage timepieces on display. This article will determine the watch models worn by the main cast in the series.
First, though, let us go over some interesting facts about this outstanding series that sadly got canceled after two seasons. Strap on your nostalgia hat, and let us begin our little deep dive into the series and the classic timepieces that the character wore.
This Series is a Long Time Coming
Both Charlize Theron and David Fincher have been floating the ideas for a Mindhunter TV Series since 2009, first approaching HBO to produce the series.
The duo wasn't able to land a deal with HBO at the time, and the project was in limbo for six years until Netflix picked it up.
The Series Based on Real People and Cases
The series takes inspiration from the book, Mindhunter: Inside the FBI's Elite Serial Crime Unit. The main character of the series, Holden Ford, is based on the book's author and actual FBI profiler, John E. Douglas.
John E. Douglas was also the inspiration for the character of Jack Crawford in the classic and disturbing film, The Silence of the Lambs.
The Serial Killers in the Series' Connection to Real Life Cases
It's not just the main characters that are based on real people; the serial killers in the series are also actual cases from the book. Some even incorporate specific quirks and quotes from these real-world monsters. Truth is truly scarier than fiction.
That Iconic and Chilling Question
Dr. Wendy Carr (Anna Torv) is heard in one episode asking: "What's in the box?" An iconic line and reference from Fincher's previous film, Seven. For those who are not familiar with that line, what are you waiting for? Watch Seven, now. You won't be disappointed.
Watches Worn in Mindhunter
As there aren't any official release notes about what watches the actors wore in the series, we will be going with good old-fashioned research with this set. As such, we will be giving you a couple of possible choices as to what timepiece models/brands are in the series.
Holden Ford (Jonathan Groff)
Throughout the series, we can see Holden Ford wearing a gold timepiece with a rather distinct case shape which helps narrow down the choices significantly. You can get a clear view of the said timepiece in this scene:

Can you guess what watch model Holden is wearing? Well, we have a couple of ideas about what timepiece it is.
Timex Automatic Self-Winding Vintage 1975 (4656103275)
Quite probably the closest similar timepiece that we can find and cross-reference, this 1975 Timex automatic watch (see on eBay) debuted back in 1975, which perfectly fits the setting of the series. We can also see Holden wearing such a timepiece with its reasonable cost, brand recognition, and traditional horological build – which complements the character's persistent and diligent nature.
This Timex Automatic Watch features a polished gold-tone 34mm stainless-steel case with a similarly designed bracelet. The dial is quite rudimentary with its three-hand analog dial design accompanied by luminous Arabic numeral 12-hour markers.
The 34mm x 6mm dimension of the case also allows it to be a suitable choice as a dress watch. Underneath the slender frame of the case is a mechanical self-winding movement. The revolutionary quartz movement was already overtaking this watch movement during this period. This aesthetic gives this Timex timepiece that vintage charm.
Other notable features about this watch include its date display and a 30-meter water resistance rating. This watch is undoubtedly a product of its time with its traditional construction and a simple yet classy aesthetic.
Lucien Piccard Seashark Hi-Beat Gold Plated Watch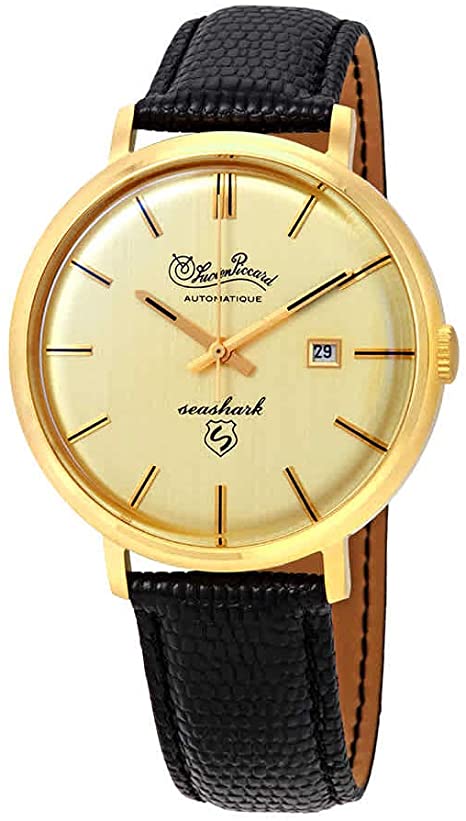 It is also possible that Holden is wearing a Seashark made by the Swiss watch brand Lucien Piccard which also has a similarly shaped gold-tone case. Seeing that this specific Lucien Piccard watch model also debuted around the 70s, there is a good chance this is the timepiece that we see Holden wear during the series.
This vintage timepiece comes with a 41mm polished gold-plated case and is made in Switzerland, so quality is not a question. The Lucien Piccard Seashark also incorporates self-winding mechanical watch movement with an analog dial display.
The dial looks quite dazzling with its mirror-like finish and gives it a dash of class and luxury. It also uses distinct black gem-like hour markers and features a day and date display. This watch model is undoubtedly a timepiece that exudes that vintage charm and will surely accentuate your chic and intelligent style.
Omega Constellation Chronometer Watch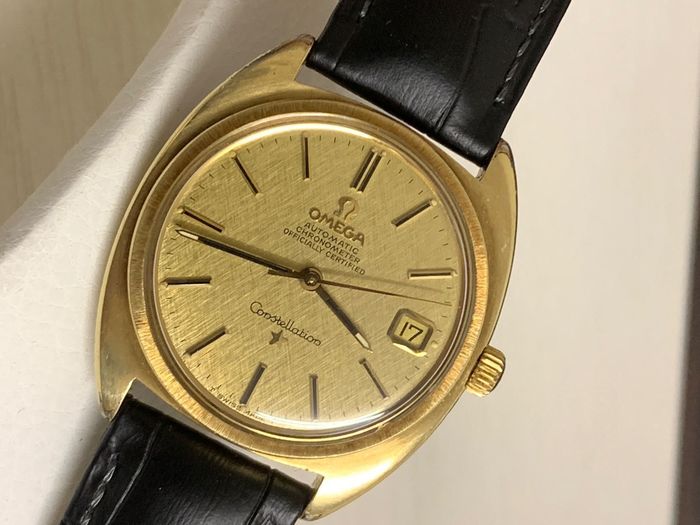 It's also possible that the timepiece that Holden Ford is wearing could be a gold variant of the Omega Constellation (find on eBay) collection. Holden certainly seems like the type of person to prefer Omega timepieces with the brand's professional and sharp aesthetic appeal.
The Omega Constellation features a refined style and a traditional horological build. It utilizes a chronometer caliber 564 movement with an analog dial display; there is also a date display feature at the 3 o'clock position.
The gold-plated model has a sleek measurement of 35mm diameter. Making it excellent fashion wear as well as a reliable timekeeping accessory.
Rado DiaStar Watch (R12393633)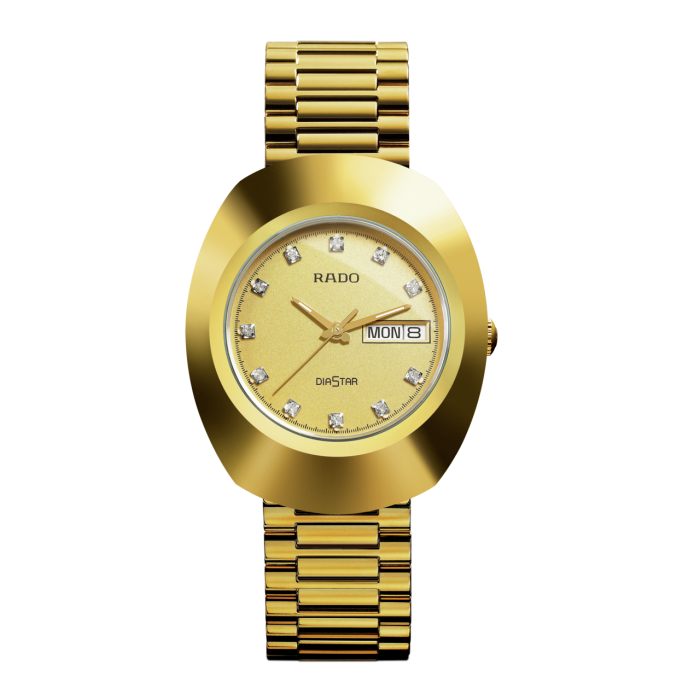 If you are looking for a current model that features similar aesthetics to the watch that Holden Ford is wearing in Mindhunter, the closest candidate is the DiaStar by Swiss watch brand Rado
Featuring an all-gold aesthetic, the Rado DiaStar incorporates a particular pillow style case – making it a pretty recognizable watch model.
This timepiece is a sleek and modern watch. It comes with a tinge of that vintage charm, thanks to the distinct shape of the case. Speaking of the case, the Rado DiaStar incorporates a CVD-coated Hardmetal case. The case uses a durable and scratch-resistant sapphire crystal window with an anti-glare finish.
Within the eye-catching gold-tone case is a Swiss quartz movement with an analog dial display. Over on to the dial, we have crystal hour markers and a day and date display. Simple and elegant, the Rado DiaStar showcases your luxurious sense of style without being 'too loud' about it. A perfect timepiece for those looking to make a statement while being as subtle as possible.
Bill Tench (Holt McCallany)
Hamilton QED II
You can get a good look at the advanced (for its time) digital watch in this scene:

Released back in 1975, the Hamilton QED II is a vintage digital watch that incorporates modern technology and encasing it in a refined body. If you think about it, this timepiece mirrors Tench's mindset to the letter. Bill Tench is a highly analytic and practical character, which makes sense that he will pick tools that will provide him with the best results. The aesthetic will be secondary to a man like Tench.
That's not saying that the Hamilton QED II lacks in the style department – far from it. This digital timepiece from Hamilton features a retro-futuristic design and certainly has its distinct charm. The Hamilton QED II also incorporates the Caliber 1602 movement, which Omega's Constellation series have also utilized—ensuring that the QED II delivers impeccable precision in timekeeping. Search for QED II on eBay
Wendy Carr (Anna Torv)
KDCJewelryCo Geneve Vintage 14K Watch
Dr. Wendy Carr is a driven, disciplined, and highly perceptive psychology professor who works closely with Ford and Tench in the FBI's Behavioral Science Unit. She also knows how to dress to impress, as can be seen throughout the series.
You can see the stunning Geneve timepiece worn by the equally beautiful Anna Torv during the triumphant elevator scene from season 1 when the trio manages to secure grant money to fund their research:

Similar to Dr. Wendy Carr, this timepiece commands attention. However, it is also exact and well-made. Its sublime beauty is there to catch the eye; once you take a better look at it, you will see that it offers a lot more.
The case is made from 14K yellow gold, while the simple white dial and classical Roman numeral hour markers add a layer of sophistication to the watch. This timepiece incorporates quartz movement and is also quite petite with its square-shaped case.