Overall Verdict
The Amazfit GTS 2 is finally the premium budget smartwatch that the original GTS was meant to be. And despite some of its downsides, the GTS 2 is a strong contender for the best smartwatch in its price range. 
| | |
| --- | --- |
| PROS | CONS |
| ✅ Premium-Looking Design | ❌ Not the best at displaying notifications  |
| ✅ Well Implemented Software | ❌ Companion app needs improvement  |
| ✅Edge to edge curved screen | |
| ✅ Alexa and Offline Voice Assistant  |   |
Amazfit GTS 2 Review
Amazfit's midrange GTS and GTR were two watches that had great aesthetics but subpar software. It was so unfortunate to see the potential of those watches wasted due to the budget constraints that they had. But this time around, Amazfit is looking to try again with the newer Amazfit GTS 2 and GTR 2. 
The model that we'll be checking out today is the more affordable square variant, the GTS 2. It shares a lot of similarities with the older model but has newer design elements and features. And most importantly, it features a revamped software that aims to fix the shortcomings of the original GTS. 
But the question is, can Amazfit redeem themselves with these newer models? Or are they bound to make the same mistakes that they did with the previous generation models? Keep on reading to learn our full thoughts on the Amazfit GTS 2. 
Amazfit Brand Overview 


Amazfit is currently the second-largest wearable manufacturer. They produce some of the best and most affordable smartwatches. They are a brand that we consider the gateway to the smartwatch world. 
This brand is owned by Huami, who is the exclusive business partner of Xiaomi. Huami was responsible for making basic fitness trackers for Xiaomi. But in 2016, they founded Amazfit to compete with brands such as Fitbit. 
Today, Amazfit not only makes great smartwatches. They have also ventured beyond smart wearables and have made devices such as the Amazfit Powerbuds and Amazfit Zenbuds. The company continues to grow and mature, as seen with recent releases such as the GTS 2 and GTR 2 lineup. 
Packaging & Accessories 
The Amazfit GTS 2 is off to a good start with the unboxing experience. The design of the packaging is very clean and minimalistic. It isn't cluttered with branding or excessive text and instead only has the relevant information. 
The GTS 2 makes things interesting by making the product photo slightly stick out to achieve a 3D effect. But aside from that, there aren't any gimmicks here. Amazfit knows that the product is the main focus. 
The unboxing experience is simple and straightforward. The only accessory included is the magnetic charging cable. So with the unboxing experience out of the way, let us finally get to what you all came here for. 
Design & Build Quality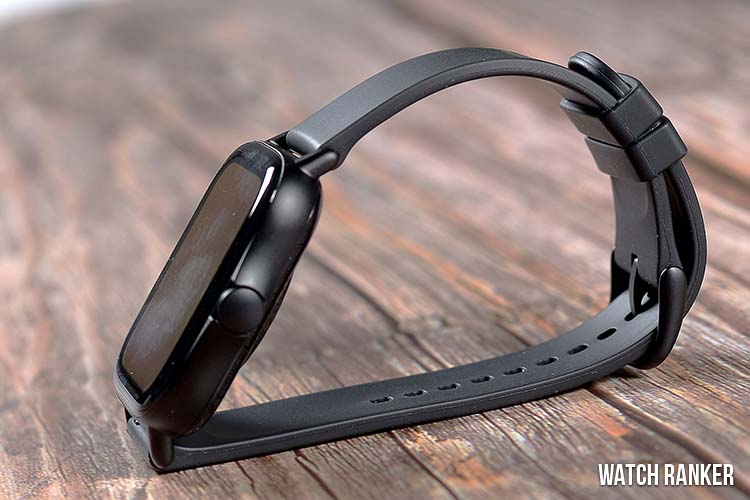 The Amazfit GTS 2 follows the same square shape design as the original GTS. And most of the design elements, such as its size and the placement of its side button, are pretty much the same. However, the GTS 2 isn't simply a rehash of the original model. This is a vastly superior watch that feels very premium for its price point. 
The main highlight of this new design is arguably its edge-to-edge 3D display. It gives the illusion that the watch's screen is bigger than it actually is. Amazfit truly nailed the aesthetics of the front side of this watch. 
But unlike other budget smartwatches, the good things do not end here. The entire watch is well built. Even the underside of the watch where the heart rate scanner is has been revamped with a material that is softer and smoother to the skin. 
Even the right side where the button is placed has seen some subtle improvements. The body now slightly extends to prevent the side button from sticking out. This looks great but does not affect its usability since the button is still very easy to press.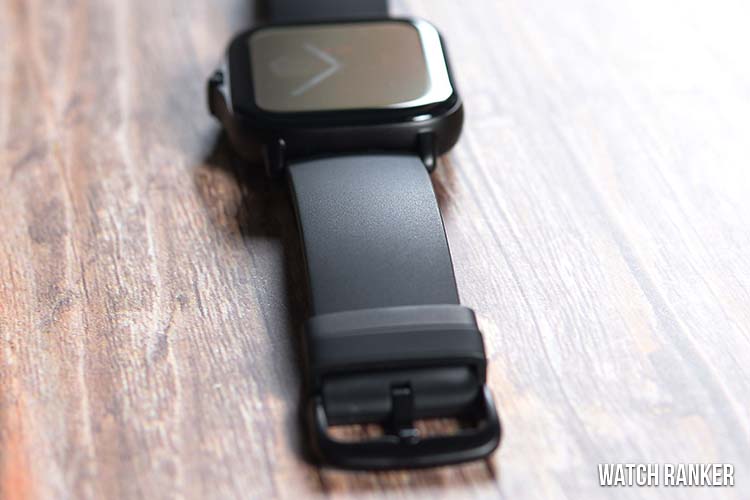 And speaking of the side button, pressing it feels a lot better on the newer GTS 2. Button clicks are more defined and less mushy than the original. This is very important since the button is a lot more useful now on the GTS 2. More on this later in the software experience section. 
The GTS 2 feels more substantial on the hand but does not introduce any additional weight. The watch weighs 24.7 grams which are very close to the original. You'll be able to wear this watch all day without having any problems. 
As for the color options, the only ones available are desert gold, urban grey, and midnight black. The original GTS had more colors, but I personally like the more mature color options available for the GTS 2. 
In terms of the included strap, you only get a single silicone strap. While I do not have any issues with this one, I find the leather strap that is included with the GTR 2 to be better. But, of course, you can easily replace the strap. 
Overall, the small tweaks that were made with the GTS 2 make it an even better product. This watch can now easily compete with similar offerings with its build alone. 
Display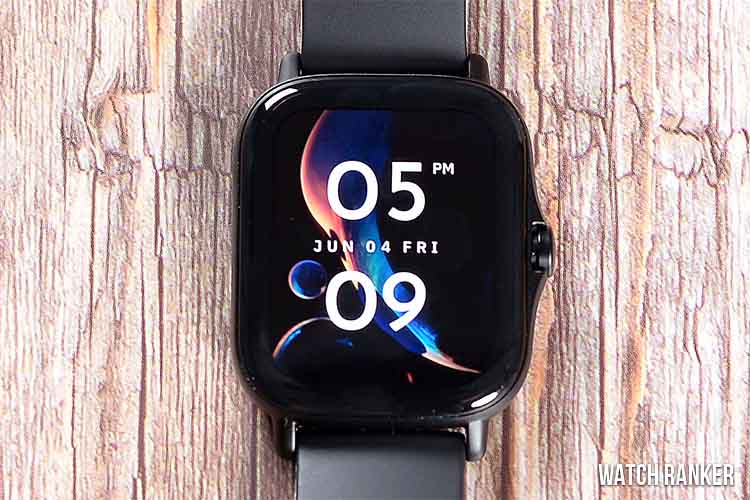 The Amazfit GTS 2's display is truly one of its best features. Aside from its gorgeous-looking curved screen, the actual panel used is capable of producing great-looking images. The GTS 2 is utilizing a 1.39 inch AMOLED display that is brighter, more vibrant, and sharper than the previous generation's display. 
Additionally, using the touchscreen has been a treat. Swiping to open my notifications and quick access menu felt a lot more seamless due to how smooth the edges were. This massively increased the accuracy of the touchscreen. 
Of course, what truly makes the display shine is the watch faces. After all, great hardware can only go so far without great software. We will be talking more about the GTS 2's watch face offering later in the review. 
Features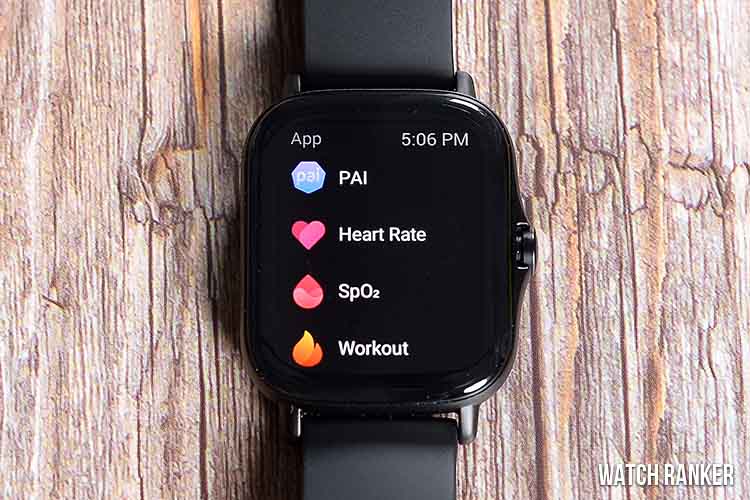 Just like its predecessor, the Amazfit GTS 2 offers all the essential smartwatch features, which include alarms, notifications, compass, barometric altimeter, etc. But, its capabilities are quite limited. It does not have advanced smartphone-like capabilities, unlike Wear OS-based watches such as the  TicWatch C2+. 
However, the GTS 2 has some unique features that make it more advanced than its competitors. The features that I am referring to are its two built-in voice assistants. 
The addition of a voice assistant is a game-changer at this price point. This not only improves navigation but also adds additional functionality with Alexa. You can control Alexa-compatible electronics as well as do Google Assistant-like features through your watch. 
Additionally, the GTS 2 now has a speaker and microphone. You can now answer phone calls using your watch. This feature will surely come in handy for those who do not wish to be glued to their smartphones but also do not want to miss important phone calls. 
The addition of a speaker is also great since it now makes features such as "find my watch" even better. Lastly, the GTS 2 now has storage for local music, which can be played via built-in speakers or Bluetooth earbuds. 
Voice Assistant 

Let us talk more about the two voice assistants of the GTS 2 and how well they work. First up is the GTS 2's built-in assistant, which Amazfit refers to as the "offline assistant." 
The offline assistant is used to control various local features of the smartwatch. You pretty much have access to any feature such as widgets, notifications, settings, etc. You simply have to follow the syntax, which is "open + app name." 
I initially found the implementation of this feature to be a bit odd. This is because, by default, you could only give a command when the "recognize voice" icon appears. You have a limited time frame to give a command since the icon will disappear after five seconds.
I do get that this is done to prevent battery life. However, I could not get used to this. Luckily, you can change the settings to make the watch constantly listen to commands. I would have preferred if Amazfit gave you the option to manually trigger the voice assistant, but this works pretty well. 
The other voice assistant that is offered with the GTS 2 is Amazon's Alexa. Unlike the offline voice assistant, Alexa can be manually triggered by long-pressing the side button. 
With Alexa, you can do most of the things that Google Assistant is capable of. You can ask questions and control any device that is part of the Amazon Alexa ecosystem. 
During my testing, I found that Alexa wasn't as fast as Google Assistant. However, unlike my experience with the Google Assistant of watches such as the TicWatch C2+ and S2/E2, I found Alexa to be more reliable. 
Overall, I thought the voice assistant for the GTS 2 was a gimmick. However, it provides excellent functionality, and I have found myself using the two voice assistants most of the time. 
Health and Fitness Tracking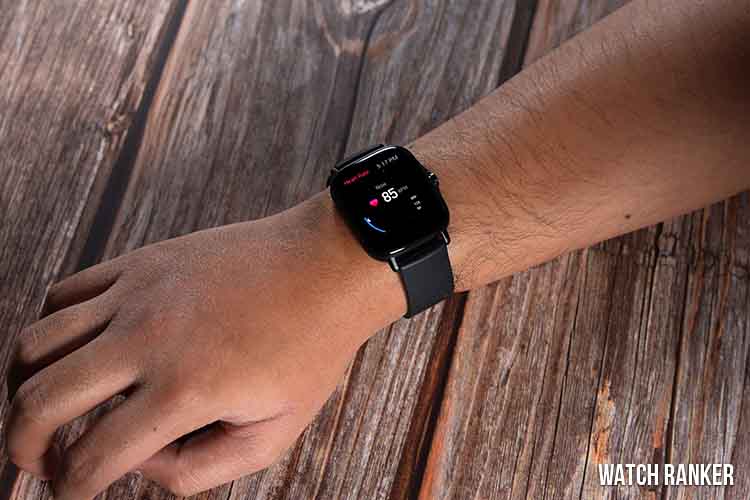 Amazfit isn't particularly well-known for the health and fitness tracking features of their watches. And given my experience with its predecessor, I wasn't too excited to try out these features on the GTS 2. However, I was quite surprised at how much Amazfit was able to improve
Unlike its predecessor, the GTS 2 now offers way more health tracking apps with the right hardware to back them up. The GTS 2 features a more advanced heart rate scanner, SpO2 tracking, and stress tracking. I wouldn't say the hardware has the most accurate tracking, but it is on par with its competitors. 
As for fitness activities, you get the same twelve basic activities that were featured on the original GTS. However, the GTS 2 features a "more" tab which gives you access to even more activities. There is plenty of variety here, including activities such as combat sports, leisure sports, swimming sports, etc. 
The number of included activities still isn't on par with the Huawei Watch GT 2e. However, it is more than enough to keep more casual users busy.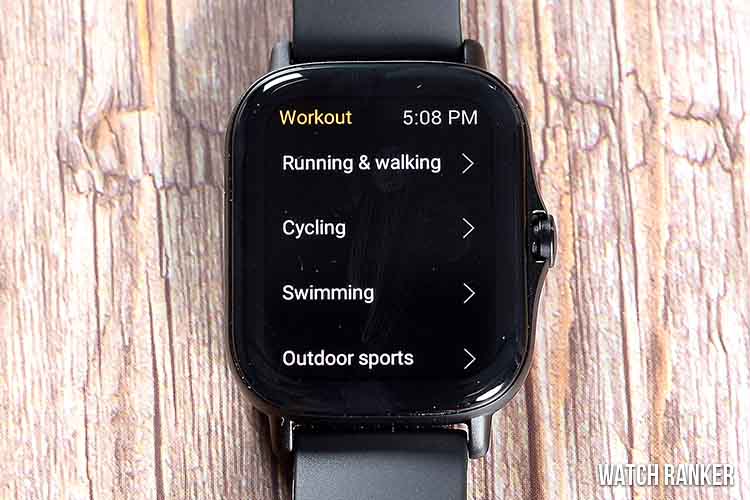 One issue that I had with the GTS that still isn't fixed with the GTS 2 is sleep tracking. You cannot view your sleep records directly on both watches. You'll have to access the Zepp app for this feature. 
Additionally, I did not find sleep tracking to be quite accurate. When compared to the GT 2e, I found that I was missing about one hour of sleep data. 
But, of course, having some form of sleep tracking is better than having none at all. But I do wish that Amazfit consider adding this locally to the watch in a future product or future revision. 
Amazfit GTS 2 Software Experience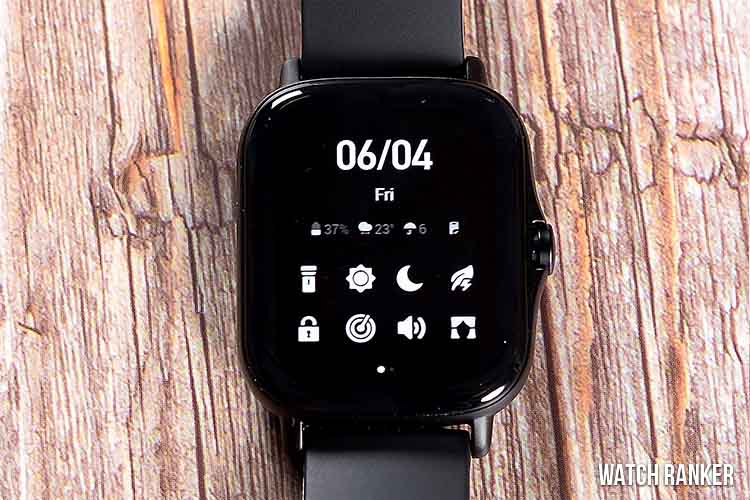 My biggest issue with the original Amazfit GTS was its software experience. It wasn't because it was slow or had random crashes. It was because the UI was poorly designed and inefficient. It was still usable, but with better options out there, I simply could not justify using it as my daily driver. 
I wasn't sure if Amazfit had all these issues sorted out with the GTS 2. But to my surprise, the software experience has been massively improved. Amazfit has even nailed most of the issues that we mentioned in our previous review.  And overall, the software experience is now very intuitive to use. 
The first thing that deserves mentioning is that the side button finally gives you access to the main menu. Pressing it twice gives you access to the app assigned to it, and long-pressing it gives you access to Amazon Alexa. This is a very basic design element that, for some reason, Amazfit messed up in the previous generation. 
Another misstep that is now finally fixed is the notifications menu. Just like with almost any smartwatch, swiping up gives you access to your notifications. Again, this was a very basic concept that Amazfit missed with the original model. But it now works well, and I'm glad they finally fixed it. 
All these fixes are great. However, I wish to emphasize that Amazfit did not just fix the issues of the GTS. They went beyond what was expected from them and implemented new features and design elements that truly make the software experience more advanced than its competitors.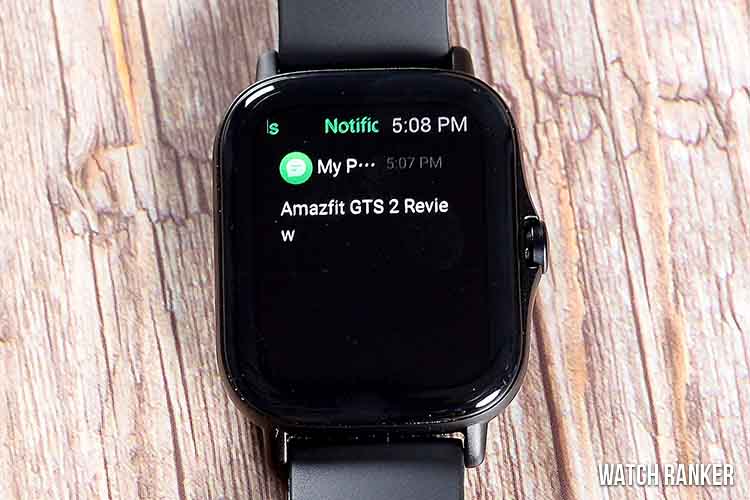 In terms of aesthetics, the software now looks a lot better, thanks to the redesigned icons. In terms of functionality, there are now more shortcuts, and the various features of the watch are way easier to access. 
The quick access tab, which can be accessed by swiping down, has more useful shortcuts. Also, you can now choose what features you get access to when you swipe left and right from the home screen. This is a game-changer since this was only available on Wear OS watches. 
And best of all, most of the features can be accessed within the watch. You can still use the companion app, but I am glad that you do not need to rely on it just to get things done. 
The only thing that I wasn't too happy with the GTS 2 was how it handled notifications. The GTS 2 isn't the best at displaying long text messages. It cuts some of the words, which makes it hard to read. Long sender names are also harder to read since they are not displayed fully. 
Additionally, notifications cannot be dismissed manually within the watch. They will only be dismissed once you have read the notification on your smartphone. Notifications still need some improvement, but it is more usable than its predecessor. 
Watch Faces 
Watch Face Library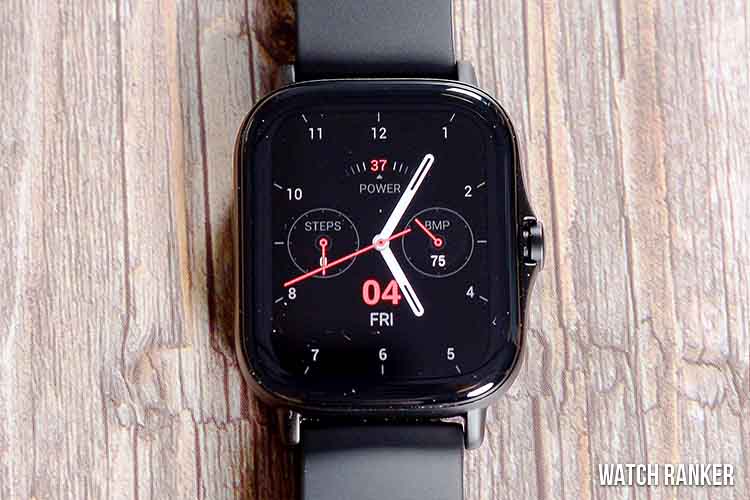 Aside from the software, the other main issue I had with the GTS was the watch face selection and implementation. Amazfit had the right ideas, but they just couldn't implement them properly. This was a big problem because watch faces play a big part in making a great smartwatch. 
Fortunately, Amazfit made sure that they were going to do it right this time around. At the time of writing this review, the majority of watch faces available look quite premium and perfectly fit the aesthetics of the GTS 2.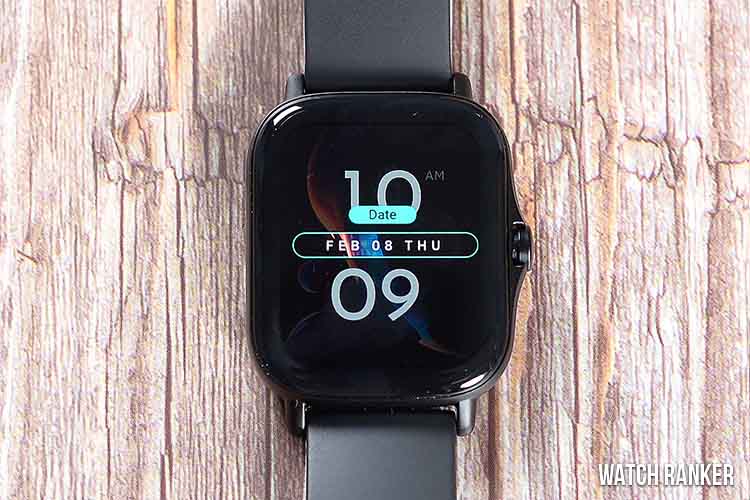 Additionally, some watch faces can be customized. Some elements can be modified to display the most relevant information to you. 
At the time of writing this review, there are only 85 available watch faces. It is uncertain if this library will steadily increase over time. But at its current state, we are very happy with the diverse selection available. 
Watch Face Syncing 
Another issue that the GTS 2 fixes are the slow watch face syncing of the original. Downloading and applying new watch faces is still not instantaneous. However, it is perfectly bearable and a lot faster than the original GTS. 
Also, you can now store as many watch faces as you want as long as the watch has enough storage. This is a massive improvement over the original, which can only store one downloadable watch face. 
AOD Watch Faces 
AOD watch faces aren't particularly a strong point of most watches in this price point. However, I am quite satisfied with how the GTS 2 handles it. Aside from the digital and analog AOD clock designs, you can now set your AOD watch face to be based on your current watch face. 
Some watch faces even retain their color even in AOD mode. This encourages experimentation since there are now more designs available. 
Amazfit/Zepp Smartphone App
The companion app for the Amazfit GTS 2 is the Zepp App (compatible with both iOS and Android). This app may have a different name, but it is exactly the same as the old Amazfit app. 
My thoughts haven't changed since there have been barely any changes made to this app. The app is easy to use and is feature-packed. However, I do not like how the watch needs to sync up for a few seconds before you can check your stats. Aside from that, I have not encountered any major issues while using the app. 
Battery Life 
One area that has received a slight downgrade is the battery life. Unlike the original GTS, the GTS 2 can now only last up to a week. And if you use additional features such as AOD, you will certainly get even less battery life.
I do not consider this to be a downgrade since you are getting lots of new features with the GTS 2. And since most of them have been implemented well, I am willing to take more trips to the charging station. 
One thing to take note of is that the proprietary magnetic charger does not feature a removable cable. This has been an issue with most chargers in this price range, and it is unfortunate that it is not being addressed. But again, you'll only be needing to use this charger at least once a week, so it should not be a major issue. 
Verdict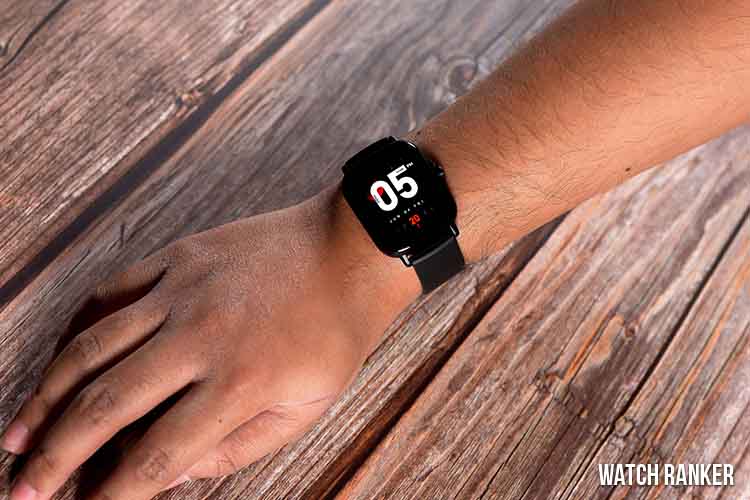 The Amazfit GTS 2 has shattered my expectations. I thought this watch was simply an updated version of the GTS with fewer issues. However, Amazfit shows that they are capable of creating an innovative smartwatch that goes beyond what is expected at this price point. 
Sure, it isn't a perfect smartwatch. It still has some imperfections in the software department. But even with those, I still enjoyed my time with the GTS 2. 
The new features that were only traditionally found on more expensive watches outweigh all the issues that I had with this watch. And for the first time, it seems that a product from Amazfit will finally be staying on my wrist. If Amazfit's upcoming flagship products are even better than the GTS 2 and GTR 2, then I'm very excited at what lies ahead.
Specifications  
Brand
Amazfit
Model
GTS2
Screen Size
1.65" Touch AMOLED
Screen Protection
Diamond Carbon Surface-
9H Scratch Resistance
Screen Resolution
348 x 442 pixel
Pixel Density
341 PPI
Input Type
Physical Button/Touch Screen
Watch Dimensions
42.8 x 35.6 x 9.7mm
Weight
24.7g (without strap)
Watch Case Material 
Aluminum Alloy
Watch Design
Rectangular, Curved
Strap Size
20 mm
Watch Colors
Midnight Black, Urban Grey, Desert Gold
Water Resistance
Waterproof (5ATM)
Swim-proof
Yes, recommended
NFC
Yes
GPS
GPS + GLONASS 
CONNECTIVITY
     Wi-fi
No
    Bluetooth
Yes 
 SENSORS       Accelerometer  
Yes
    Heart Rate
Yes
    Compass
Yes
    Gyroscope
Yes
    Altimeter
Yes
    SPO2
Yes
    Elevation  
Yes
    Ambient Light
Yes
    Barometer
Yes
FITNESS TRACKING
     Sleep tracking
Yes
    Steps
Yes
    Floors Climbed
Yes
    Heart Rate Monitoring
Yes
    Calories
Yes
    Distance
Yes
    Stress
Yes
    VO2 Max
Yes
    Blood Oxygen
Yes
    Blood Pressure
No
    Menstrual cycle tracking
No
    Swim tracking
Yes
    Underwater heart rate  
          tracking
No
    On-screen workout modes
–
    Triathlon mode
No
    ECG tracking
No 
    Preloaded sport modes
Yes
    Safety tracking
No
Battery Life
Basic usage scenario: 20 days; Typical usage scenario: 7 days; heavy usage: 3.5 days
Battery Technology
Li-Ion
Charging Time
About 2 Hours
Charging Type
USB based charging dock
Compatible OS
Android
iOS 
NOTIFICATIONS
     Email Alert
Yes
    SMS Alert
Yes
    Calls Alert
Yes
    Event Reminder
Yes
    Weather
Yes
    Third-party Apps
Yes
MEDIA
     Audio
mp3/mp4
    Music Streaming
Yes 
    Bluetooth Music
Yes
    Radio
No
    Loud Speaker
Yes
    Microphone
Yes
CLOCK FEATURES
     Time/Date
Yes
      Stopwatch
Yes
    Alarm
Yes
OTHER FUNCTIONS     Control camera
Yes
    Music Control
Yes
    Find Phone
Yes
    Text Response
No
    Answer Call
Yes
MISC 
     Payment System
NFC(Alipay)
      Companion App
Zepp App
Customizable watch face
Yes
Interchangeable band
Yes
Voice command
Yes
Internal Storage
4 GB
Operating system
Amazfit OS