TicWatch C2+ Review
The TicWatch C2+ is a beautiful smartwatch that manages to pack as many features as possible. This is truly a great entry-level Wear OS watch as long as you can tolerate the occasional performance drops and various software issues brought upon by poorly optimized software and its outdated processor. 
Please note, we purchased the TicWatch C2+ on mobvoi.com on 03/04/2021, click here to check the current price on the C2+. 
| | |
| --- | --- |
| PROS | CONS |
| ✅ Wear OS gives it smartphone-like features | ❌ Wear OS Bugs and Occasional Slowdowns |
| ✅ Gorgeous design | ❌ Lack of speaker for Phone Calls and Google Assistant Response |
| ✅ Decent Software Performance  | ❌ Short Battery Life |
| ✅ Good Number of Included Accessories |   |
Mobvoi is a household name when it comes to smartwatches. They offer some of the best Wear OS watches in the market. This is thanks to great design and innovations seen on models such as the TicWatch Pro Series. 
This time around, TicWatch attempts to recreate the TicWatch Pro Series's success by creating budget smartwatches that offer a lot of features and value for the money. Their best and the most stylish entry-level smartwatch is the TicWatch C2+. 
The Ticwatch C2+ promises to offer the Wear OS experience without spending an arm and a leg. And while it isn't a perfect smartwatch, it is still one of the most competitive watches that we have reviewed. Join us to see what makes the TicWatch C2+ such a great smartwatch. 
Mobvoi TicWatch Brand Overview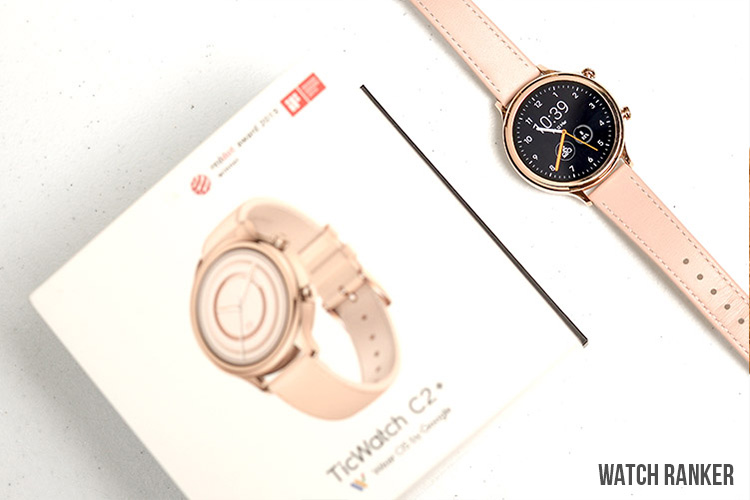 Mobvoi Information Technology Company Limited is a tech company based in Beijing, China. They were founded in 2012 by Google AI experts, Nokia employees, and researchers from top universities such as Harvard and Cambridge. The primary goal of this company is the integration and advancement of voice AI communication.
Some of their revolutionary products include voice search engines featured on WeChat. Mobvoi has also developed its own voice search app engine called Chumenwenwen. 
It was in 2014 when Mobvoi started venturing into the consumer electronics market. They developed an Android-based smartwatch operating system called TicWear OS. And soon after, they worked together with Frog Design to release the TicWatch. 
The TicWatch brand differentiated itself from other smartwatches by having a strong integration with their AI technology. Its launch was very successful and only trails behind the Apple Watch in the domestic Chinese market. 
Today, Mobvoi continues to bring its expertise to the smartwatch market with the newer versions of the TicWatch. And with each new iteration, TicWatch gets one step closer to fulfilling its dream of ushering in the next generation of human and computer interaction.
Learn more about Mobvoi in our full TicWatch Brand Review.
Packaging & Accessories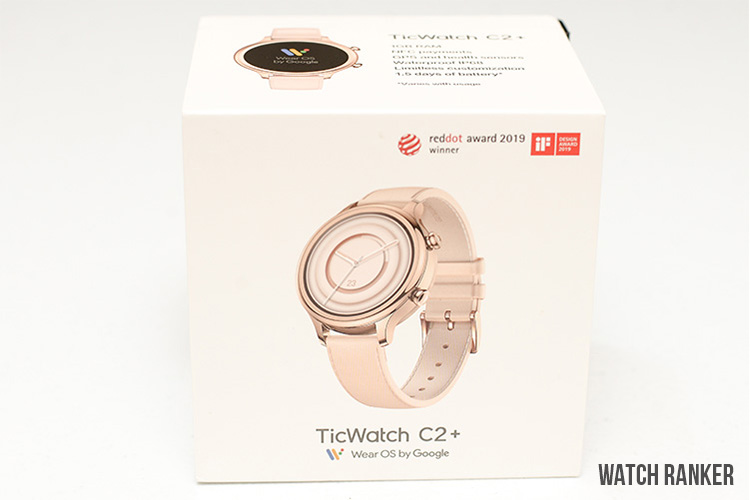 The TicWatch C2+ already feels premium right from the packaging
The packaging serves as our gateway to the smartwatch. And despite not adding anything to the performance of the device, we still evaluate it to see how much effort a manufacturer puts into their products. 
And in this case, it is apparent that Mobvoi has put a lot of effort into making a great unboxing experience. The TicWatch C2+ raises the bar and is the most exciting unboxing that we've had. 
Unlike most smartwatches, the packaging is divided into three pieces. These are the thin outer box, the inner box containing the watch, and another box containing the special accessory. 
The aesthetics of the packaging is simply gorgeous. The box art and the specs are well placed and are not too excessive. I could have easily mistaken this to be a product from a large smartphone company. 
The all-white inner box that presents the smartwatch as if it was a piece of jewelry further adds to the excitement of finally booting up the watch. And things do not end there. 
The smaller box that contains the extra silicone strap is also equally gorgeous. This kind of packaging is exactly what gives us high expectations and excitement to test the product. 
Design & Build Quality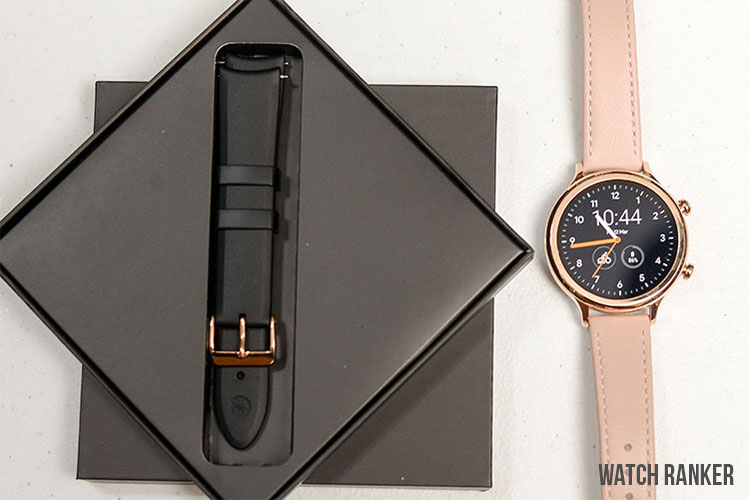 The excitement doesn't stop with the unboxing experience. The watch's design and build quality are even better.  
Compared to TicWatch's entry-level models, the TicWatch C2+ looks and feels more like a fashion accessory than a tool. This is very important because a smartwatch isn't just a piece of tech. It is something that is worn and, therefore, must help the user represent his/her style. 
The TicWatch C2+'s design is pretty much inspired by classic analog wristwatches. It has two fully programmable buttons on the side and an AMOLED display on the front. There aren't any bezel markings or curvature on the glass, but we still like its overall look. 
Everything about the watch feels premium. The button clicks are solid, the aluminum body feels sturdy, and the stock genuine leather strap feels great. There are even small details, such as the very subtle branding on the strap and the small textured logo on one of the buttons.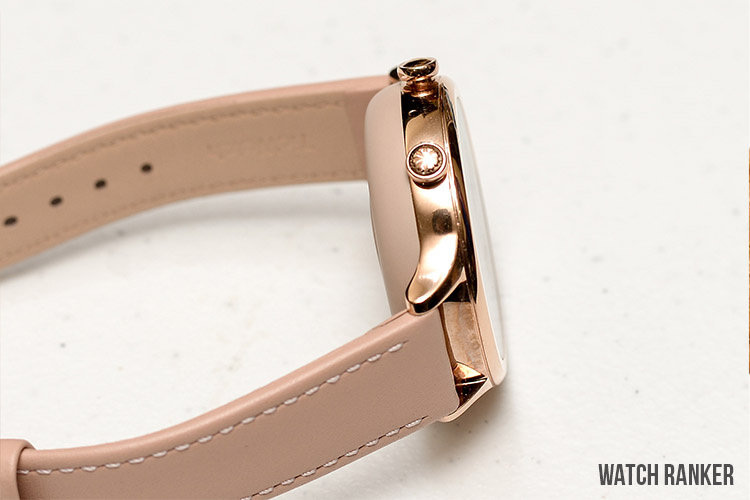 The only possible gripe that I have with the watch is that it only comes in one size. Its 1.3″ screen size makes the overall screen area smaller than the TicWatch S2, E2, and the Pro Series. This didn't pose any problems with using the watch, but I missed having the larger display of my previous daily driver, the Huawei GT 2e 
However, its smaller size means that its weight is greatly reduced. Despite the materials used, the watch manages to weigh only 42 grams. This gave me a very comfortable experience when using the C2+ during my workout sessions. 
The C2+ comes in two colors, black and rose gold. We chose the rose gold option just to see how good Mobvoi is at making watches that do not have a neutral color scheme. 
The product that we got exceeded most of our expectations. The TicWatch C2+ looks gorgeous with its rose gold finish. The matching genuine leather strap also helps complete the look.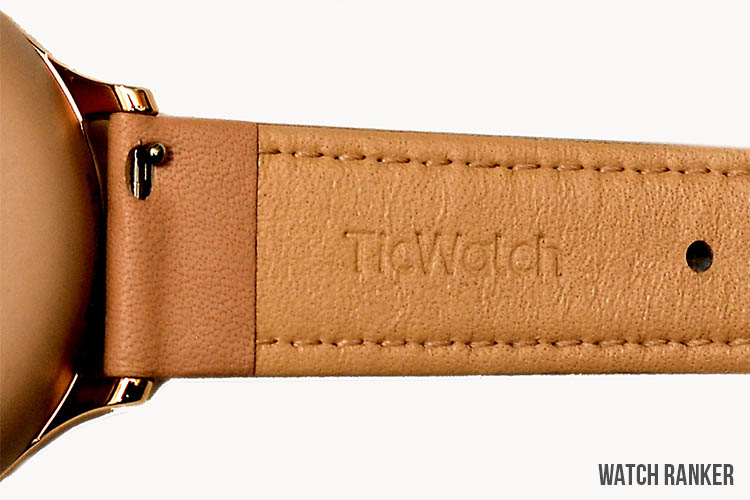 And if the color of the leather strip doesn't suit your taste, the C2+ also comes with a black silicone strap. Again, Mobvoi has outdone themselves by making the silicone strap incredibly detailed. The strap's lock color matches the body of the watch, meaning this isn't just an accessory recycled from the other color variations. 
We did notice, however, that the product that we got looks different from the renders found on the box and the official website. This isn't a problem for us since we like how it looks, but it should be something to take note of, especially if you are basing your expectations on the official photos. 
Display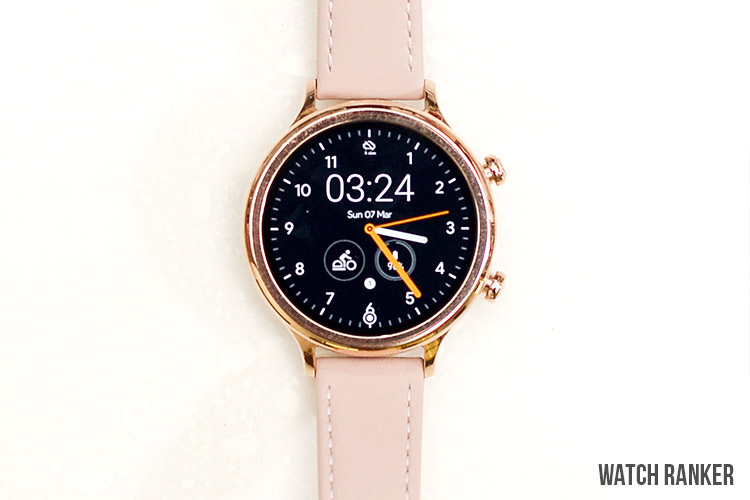 Check on Amazon | See More Details on Mobvoi
This Watch has gorgeous aesthetics with a design that can accommodate any kind of watch face
The TicWatch C2+ accompanies its great looks with a sharp and vibrant 1.3' AMOLED display. The resolution is lower compared to the TicWatch E2 and S2. However, given its smaller size, this does not negatively impact the image quality since the pixels are more tightly packed. 
Everything from custom watch faces to third-party apps looked great on the C2+'s display. Reading text was also very easy, and the screen was visible regardless of the lighting condition. It works great both at home and even in a sunny outdoor environment. 
The C2+ is utilizing Corning Gorilla Glass 3 to protect its screen, meaning you do not have to baby the watch every time you are using it. Of course, we did not do any drop tests or intentional damage to the screen. But so far, it has held pretty well in our daily activities. 
Features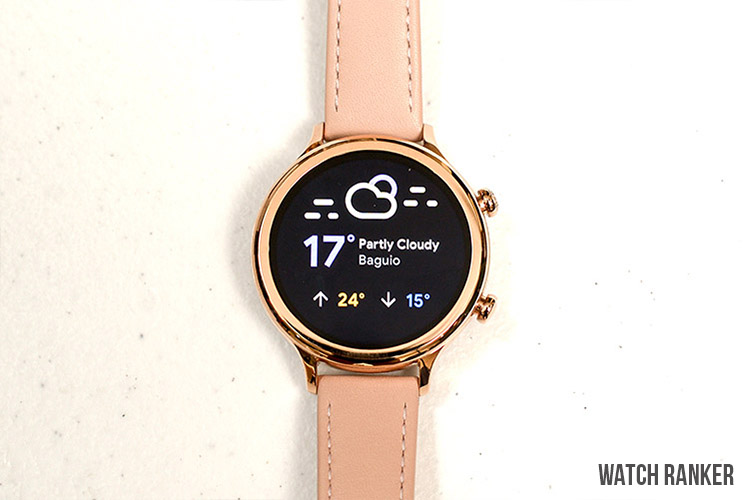 Being a Wear OS watch means that the TicWatch C2+ is a feature-packed watch. It is arguably the most capable smartwatch in its class. 
The TicWatch C2+ has continuous heart rate monitoring and all essential health tracking functionalities. It can also track various fitness activities and give you accurate readings thanks to the sensors found inside. And it can display weather, notifications, and a lot more. 
But unlike alternatives from the likes of Amazfit and Huawei, the TicWatch C2+ can do a lot more. The Ticwatch C2+ has superior notification support. It not only automatically sorts the notifications in a very clean manner, but it also allows you to respond to notifications using the onscreen keyboard, your voice, or even by writing on the screen. 
These input methods aren't perfect, especially given the small size of the screen. However, they are a massive step up to other watches that have very limited notification support. 
Additionally, the C2+ can connect to Wi-Fi which gives you the ability to access the Play Store as well as Google Assistant. With the Play Store, you can further expand the functionalities of your watch by installing third-party apps.  For the price, the C2+ is also one of our picks for top smartwatches with Google Pay (NFC).
These apps have allowed me to customize my desired watch faces and change the default fitness app to cater to my style and the activities that I do. Additionally, unique apps like "Water Drink Reminder" simply cannot be found on non Wear OS watches. 
Also, the Google Assistant is a very powerful tool that you can use to quickly set reminders, alarms, and various functions. This saves a lot of time and makes life a lot easier. 
But with that said, the TicWatch C2+ is missing a number of key features that are present in competing smartwatches. The most notable one is automatic sleep tracking.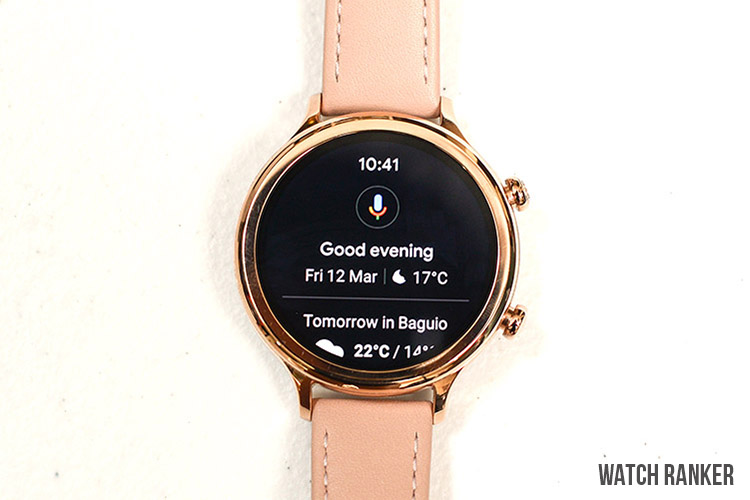 To be fair, Wear OS does not offer a native sleep tracking feature which has prompted Mobvoi to develop their own app called TicSleep. However, TicSleep is currently only available for the TicWatch Pro series, and there isn't any word on when it will be available for the TicWatch C2+.
There are alternatives on the Play Store, but we did not find any app that works as reliable as the one found on my previous daily driver, the Huawei Watch GT 2e. This meant that I had to change my watch before going to bed. However, the lack of a sleep tracking app isn't a big deal due to a major issue in the watch, which we will be talking about in the battery life section of the review. 
Another small gripe that we have is that the TicWatch C2+ does not feature a rotating crown. Other manufacturers now have this feature and prove that it is essential in navigating Wear OS. None of the current TicWatch models have this feature, so we are hoping to see this added to Mobvoi's future models. 
Overall, we are very happy with the number of features of the TicWatch C2+. However, it is the software experience that truly shows whether or not this watch can actually execute all of its intended features. 
TicWatch C2+ Software Experience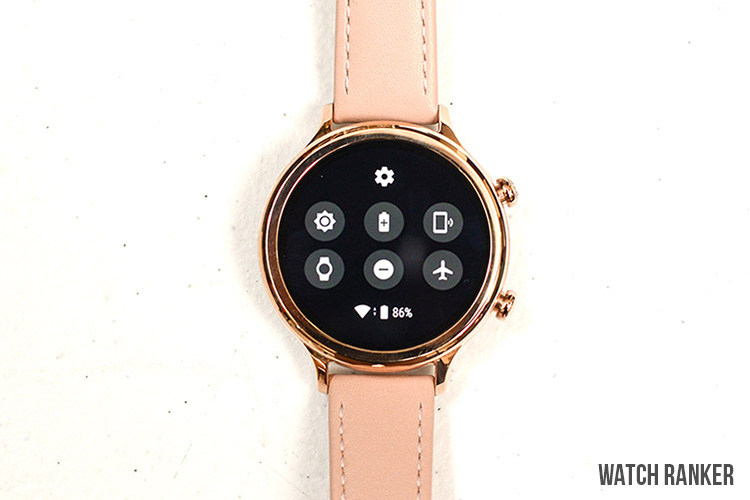 The TicWatch C2+'s design and build quality are exceptional. However, it is on the software side where things take a bit of a hit. The C2+ is powered by an older chipset, the Snapdragon 2100.
This immediately raises questions since this chipset is pretty much outdated. Sure, you get 1 GB of RAM to help with the software experience, but at this price point, I wish we could have at least gotten a more modern chip. 
Performance, for the most part, is smooth. Once the watch boots up and everything is set up, we did not run into major slowdowns. It is considerably more stable than the lower-priced TicWatch E2 and S2, which only have 512 MB of RAM. Both models ran into slowdowns and freezes more often than the TicWatch C2+. 
But with that said, we still encountered some issues. Most of these occurred while accessing the Google Play Store and while accessing the settings menu. They weren't enough to drive us crazy, but these are still worth mentioning.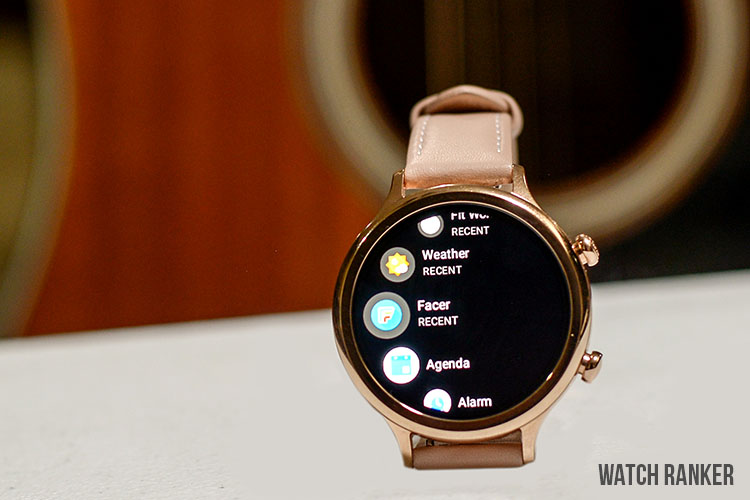 The TicWatch C2+ is considerably faster than Mobvoi's more affordable offerings such as the TicWatch S2
Some of the major issues that are worth noting include the bugs on Google Assistant and the issue with notifications. During our testing, Google Assistant sometimes stopped working. It will still accept commands but will not display results. 
This can be quite frustrating, especially if you are a more casual user who is not very familiar with troubleshooting problems and have very little experience with addressing other technical issues. 
But the biggest issue that I had is with the notifications. The watch randomly stops giving me new notifications, and there's no telling when it will work again. Both of these issues are well documented on online forums, but there's no telling when Google will update them. 
But with those said, Wear OS has lots of great features, especially with this watch. They were so well executed that we were willing to live with the major issues that we just mentioned. 
User Interface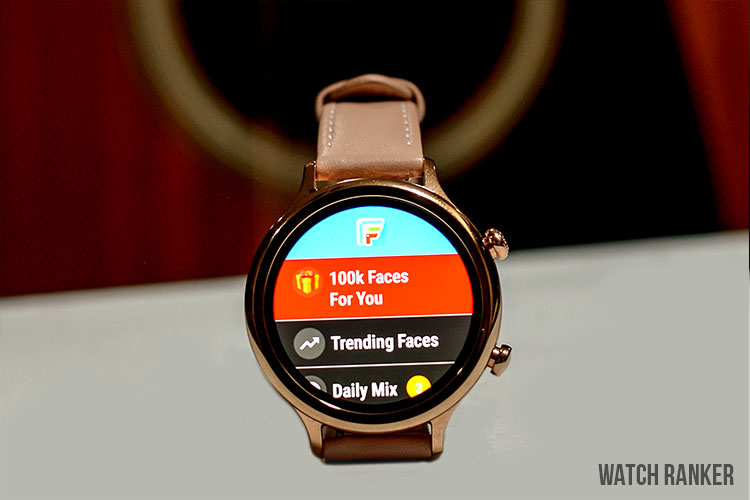 Thanks to Wear OS, the TicWatch C2+ offers a highly customizable user interface. You can set up and customize the tiles for quick access to essential apps such as Google Fit, automatic heart rate monitoring, news, and many more. You can also customize the second button to launch any app you want. 
And if you are a more advanced user, you can even completely change the launcher to give you a completely different look and add more functionalities. Additionally, you can add new gestures and shortcuts to make navigating Wear OS more efficient. 
Even with the outdated CPU, the C2+ kept up with most of our customization needs. And thanks to its well-executed bezel design, most of the customizations did not throw off the overall aesthetics of the watch. 
Watch Face 
And to add to our previous point, changing and customizing the watch face of the C2+ was a breeze. Mobvoi provides great-looking watch faces out of the box. But the real fun started when we used third-party apps.
The possibilities are endless. If you want a classic watch face, there are plenty of options. And if you want to be more creative with animated and custom watch faces, there are plenty of apps as well. 
And the good thing is that you can seamlessly switch between these watch faces through the watch or through the Wear OS Android App. The C2+ is capable of seamlessly switching and loading new faces without much delay. 
Notifications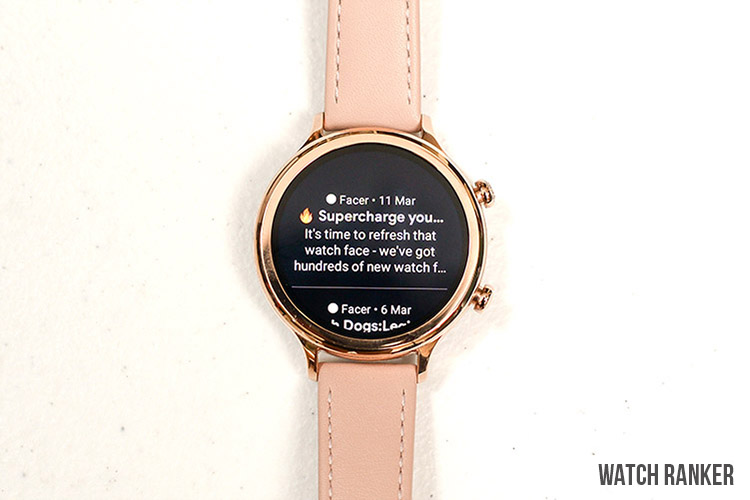 Despite the issues that we've mentioned, notifications are one of the best things that Wear OS does. The notification system is very similar to the implementation of the latest version of Android. Notifications are bundled depending on the app and can easily be accessed with just a few swipes. 
And as we mentioned earlier, you can interact with notifications in a lot of ways. Notifications are always complete and are readable. And unlike other watches that we have encountered, notifications do not just suddenly disappear. 
Health and Fitness Tracking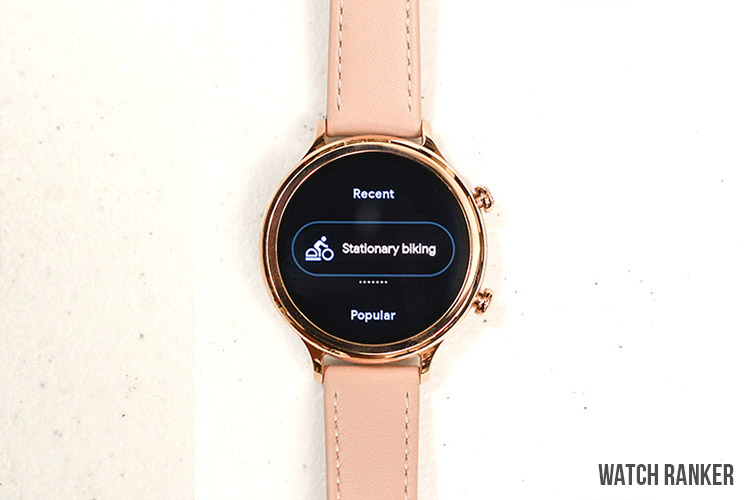 One key aspect of the TicWatch C2+ is its health and fitness tracking features. Right out of the box, you get two options; Google's Google Fit and TicWatch's TicHealth and TicExercise. 
Both apps have similar features and similar performance. We tested both with activities such as indoor cycling and running, and the statistics and other data retrieved were fairly consistent. The GPS was also quick to lock in my location and worked flawlessly. 
Additionally, both apps feature a huge range of workout activities. Anything from common exercises to sports and other specific exercises can be found here. The only real difference between these two apps is the user interface. 
Mobvoi has opted to use a more traditional approach when displaying health stats. TicHealth shows your active hours, steps, calories burnt, heart rate, etc., and also gives you the ability to set your goals. Google Health, on the other hand, shows your stats as heart points. This condenses the information to help you understand your stats easier.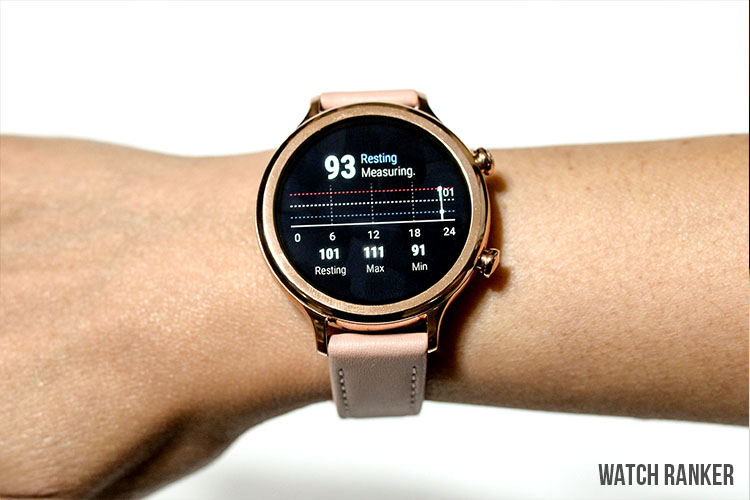 The graphics used makes the UI very similar to a video game which can surely appeal to non-fitness enthusiasts. Additionally, Google Health offers additional relaxation exercises such as breathing exercises which are also added to your heart points. 
One thing to note is that you have to use the TicHealth App to get continuous heart rate monitoring. Google's heart rate monitoring app requires manual activation. 
Since you can alternate between Google and TicWatch apps, this normally wouldn't be an issue. However, since these apps do not share data, this can become a bit annoying. 
Additionally, both apps require separate accounts. This makes a lot of sense for the security of your personal data. However, it can become a tedious process for users who have never used TicWatch's services. 
But overall, we enjoyed being able to choose which app best suits our needs. The health and fitness tracking capabilities of this watch can even be expanded by downloading third-party apps such as Fitify. These apps allow more in-depth workout sessions and activities not usually covered by smartwatches. 
Wear OS Smartphone App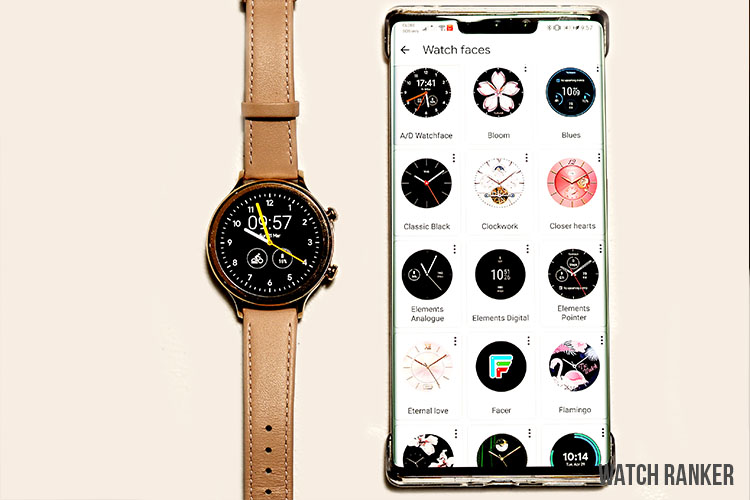 One thing to note with the C2+ is it is using the standard Google Wear smartphone app. This means that if you already own a Wear OS device, the transition is fairly simple. And if you are a new Wear OS owner, you do not need to install other external apps from TicWatch to get the C2+ up and running. 
The Wear OS app is fairly basic. You can change your watch face, customize tiles, change notification settings and agenda settings. You also get more advanced functionalities such as checking the storage and battery of the watch and modify behavior such as always-on display and tilt to wake. 
It is worth noting that you can do most of these on the watch. Changing watch faces and changing other settings using the watch isn't slow, so I appreciate the fact that you do not have to rely on the companion app to change these kinds of settings. 
Battery Life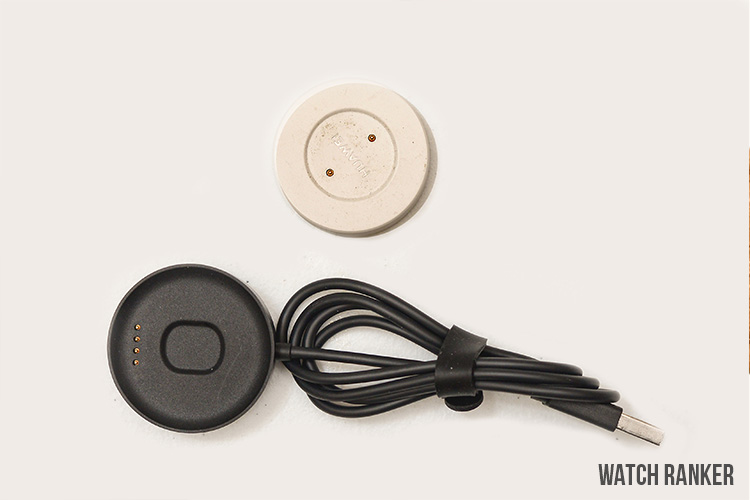 Unfortunately, the TicWatch C2+'s proprietary magnetic charger isn't as good as competing options from companies such as Huawei.
Aside from the software, the biggest weakness of Wear OS devices is their battery life. And unfortunately, the TicWatch C2+ is no exception. 
When utilizing most of the TicWatch C2+'s features, the watch needed a recharge by the end of the day. This is acceptable given that we mostly use features such as fitness tracking, always-on display, Wi-Fi, and continuous heart rate monitoring. 
Mobvoi does say that the watch can last up to two days. The only way we got it to last this long was to disable most of its features. You can also significantly prolong the battery of the watch using essential mode. However, both of these defeats the purpose of having a feature-packed watch. 
And to make things worse, the TicWatch C2+ uses a proprietary charger with a non-removable cable. So if you are planning on going for a road trip, you'll need to bring this charger. 
Unfortunately, this is the price that you have to pay for a feature-packed smartwatch. If you hate having another device that needs to be recharged daily, the TicWatch C2+'s battery life will be an instant deal-breaker for you. 
Verdict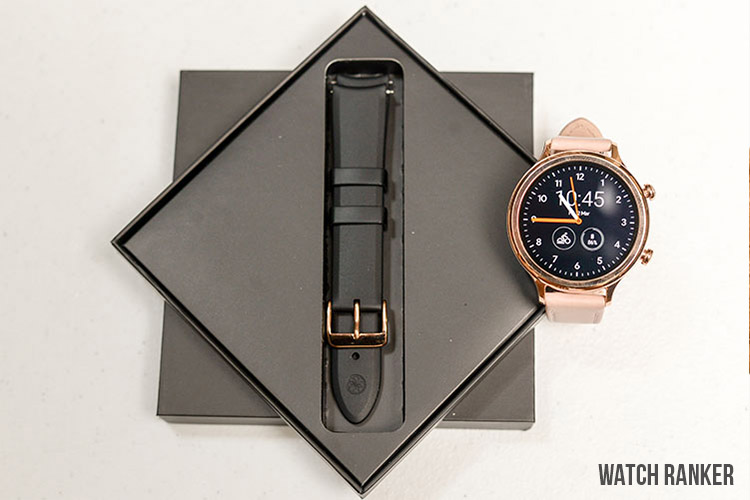 The TicWatch C2+ does a lot of things right. It has a gorgeous design, very capable hardware, and is overall very enjoyable to use. Everything from the unboxing experience to the small details on the watch simply shows Mobvoi's attention to details on their watches. 
However, it is very hard to ignore the Wear OS issues, especially if you are a casual user. We believe that any device should have a complete and seamless software experience, especially the ones at this price point. And while not all of it is Mobvoi's fault, we think the outdated processor used is a huge misstep. 
If you want a decent entry-level Wear OS watch and are willing to accept the issues and shortcomings in the software department, then the TicWatch C2+ is a great option. But if you want a smoother and more feature-packed Wear OS experience, we highly recommend going straight to the company's high-end TicWatch Pro 3. 
Alternatively, if you hate dealing with software issues and poor battery life and are willing to forego the benefits of Wear OS, you can also check out watches from other models such as the Huawei Watch GT 2e and Huawei Watch GT 2. 
Mobvoi TicWatch C2+ Specs
Screen Size
1.3" AMOLED Display
Screen Protection
Corning Gorilla Glass 3
Screen Resolution
360 x 360 pixel
Input Type
Touch Screen
Watch Dimensions
42.8 x 42.8 x 12.7 mm
Weight
42  grams
Watch Case Material 
Polyamide & glass fiber, aluminum back cover
Bezel Material
stainless-steel bezel
Watch Design
Circular
Strap Size
20 mm
18mm
Watch Colors
Black and platinum 
Rose-gold 
Water Resistance
IP68
Swim-proof
Not recommended
NFC
Yes
GPS
GPS/GLONASS/Beidou
CONNECTIVITY
Wi-fi
Yes
Bluetooth
Yes 
SENSORS 
Accelerometer  
Yes
    Heart Rate
Yes
    Compass
No
    Gyroscope
Yes
    Altimeter
No
    SPO2
No
    Elevation  
No
    Ambient Light
Yes
    Barometer
No
FITNESS TRACKING
     Sleep tracking
Yes
    Steps
Yes
    Floors Climbed
–
    Heart Rate Monitoring
Yes
    Calories
Yes
    Distance
Yes
    Stress
–
    VO2 Max
–
    Blood Oxygen
No
    Blood Pressure
No
    Menstrual cycle tracking
No
    Swim tracking
No
    Underwater heart rate  
          tracking
No
    On-screen workout modes
No
    Triathlon mode
No
    ECG tracking
No 
    Preloaded sport modes
Yes
    Safety tracking
No
Battery Life
Standby: 2 days+; Mixed usage: 1 day+
Battery Technology
Li-Ion
Charging Time
About 1-2 Hours
Charging Type
USB based charging dock
Compatible OS
Android
 iOS
NOTIFICATIONS
     Email Alert
Yes
    SMS Alert
Yes
    Calls Alert
Yes
    Event Reminder
Yes
    Weather
Yes
    Third-party Apps
Yes
MEDIA
Audio
mp3/mp4
    Music Streaming
Yes 
    Bluetooth Music
Yes
    Radio
No
    Loud Speaker
No
    Microphone
Yes
CLOCK FEATURES
     Time/Date
Yes
      Stopwatch
Yes
    Alarm
Yes
OTHER FUNCTIONS
Control camera
Yes
Music Control
Yes
Find Phone
Yes
Text Response
Yes(Android Only)
Answer Call
Yes
MISC 
Payment System
Google Pay
Companion App
Wear OS App
Customizable watch face
Yes
Interchangeable band
Yes
Voice command
Yes
Internal Storage
4 GB
Operating system
Wear OS by Google™