Amazfit is currently one of the biggest players in the smartwatch industry. They boast a diverse collection of smartwatches that are targeted towards different kinds of audiences, niches, and price points. They are also currently the second-largest wearable manufacturer.
In this article, we will be comparing their entry-level Amazfit Pace with the more advanced Amazfit GTR. We will be going over key aspects such as the build quality, features, and software experience. And ultimately, we will help you decide which smartwatch best suits your needs. Keep on scrolling to find out more.
Also, if you are interested in learning more about the Amazfit GTR, see our full review.
*Please note, Amazfit rebranded their entire product line to "Zepp" in mid-2020, so you may see watches advertised with the new or old branding while some shops list the products with a hybrid naming such as Amazfit (Huami) Zepp.
Amazfit Brand Overview
Amazfit is a US-based company that is owned by Huami. It was founded in 2016 and is the exclusive partner and smartwatch provider for Xiaomi. They serve as the extension of Huami and deal with the more expensive and more complex smartwatches.
The Huami branding was originally used for Xiaomi's basic wearables, specifically the Mi Band Series.
The success of Huami's wearables in Asia enabled them to expand globally. Huami then established Amazfit to compete with higher-end brands such as Fitbit. And in just a short period of time, Amazfit has managed to become the second-largest wearable manufacturer.
Aside from smartwatches, Amazfit has ventured into other wearables as well, such as wearables for the ears. These are the Amazfit Powerbuds and Amazfit Zenbuds. The Zenbuds include various health monitoring features similar to the ones found on their smartwatches. Amazfit is continuously going in this direction and is creating more fitness-oriented products outside of smartwatches.
Amazfit Pace vs Amazfit GTR
Design and Build Quality
Design Language
Both smartwatches share the same analog round analog watch design. But it becomes apparent that the GTR is the more premium smartwatch out of the two.
The GTR's aesthetics and the choices of materials are a big step up from the Pace. The body materials include aluminum, steel, or titanium.
Additionally, the GTR features two buttons that indicate more functionality. The bezel is also larger and has markings that resemble those found on analog watches. The GTR is in 47 and 42 mm to cater to different hand sizes.
The Amazfit Pace, on the other hand, is thinner and lighter. Its bezel is made of ceramic. Also, it only features one button and has an overall more limited functionality.
Overall, despite having a similar design, the Amazfit GTR is clearly a step above the entry-level Amazfit Pace both in terms of design language and build quality.
Screen Quality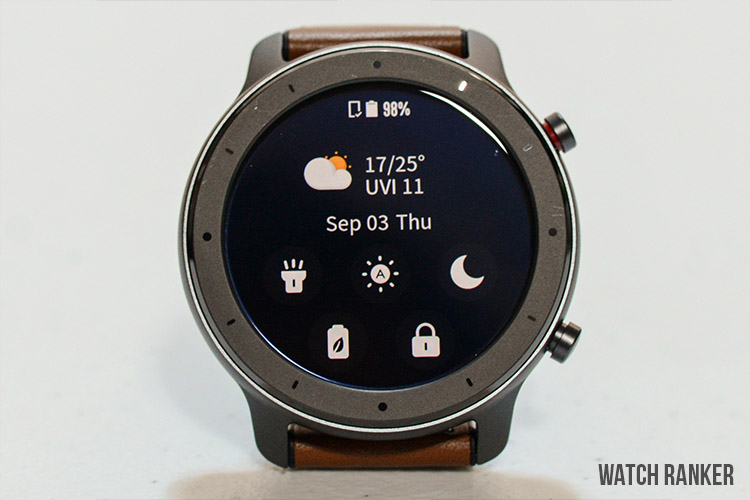 The Amazfit GTR has an excellent OLED display. It is capable of producing sharp images thanks to its 454×454 resolution. The text can also be easily seen regardless of the lighting conditions.
The colors are vibrant, which makes looking at the different watch face designs a treat. The GTR's screen can get bright. The auto-brightness does a good job, but you can set it to manual brightness and max out the display if you prefer to do so.


The Amazfit Pace, on the other hand, has a screen resolution of 320×300 pixels with 327 PPI pixel density. It also has an Always-on transflective color LCD touch screen.
The Amazfit GTR's display is both larger and sharper than the Amazfit Pace. The Pace's screen quality is still pretty decent. However, the Amazfit GTR is clearly the better choice.
Features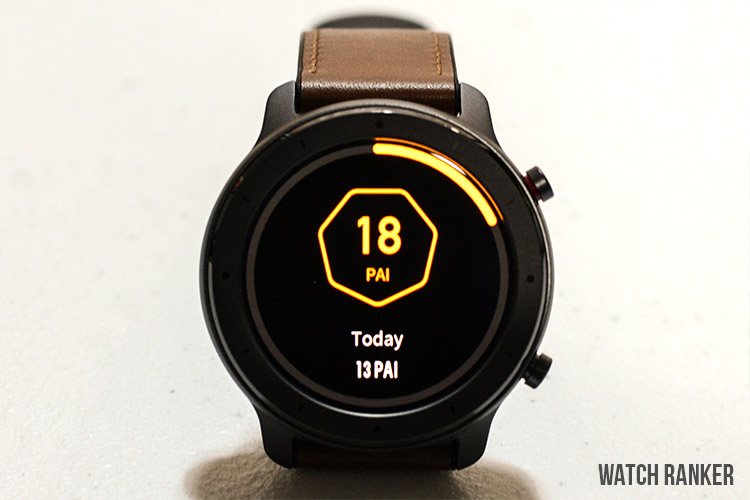 The Amazfit GTR and Amazfit Pace are both feature-packed smartwatches. Both of these watches give various alerts and notifications, such as phone calls. You can also interact with these notifications in different ways. Incoming phone calls, for example, can be muted or rejected by the user.
Both watches have stopwatch, silent alarm, vibrating alerts, and integrate with social networks. It allows you to share information on popular social networks.
The GTR and Pace also have a feature that can locate your phone, which can be helpful if you misplace your phone. Interestingly enough, the GTR also has a "find my watch" feature, but this functionality is quite limited since the GTR does not feature a speaker.


On the other hand, the smartwatch features of the Amazfit Pace are also quite limited. You can see notifications but not respond to them. This means that this wearable is much more of a fitness watch for runners, and notifications are a less important built-in feature.
Both watches also have inactivity alerts. Some notable features that both of these watches do not have are the built-in camera remote control function, shake to dismiss notifications and support for external memory.
The GTR has NFC (near-field communication) features allowing a device to perform simple wireless transactions. But the Amazfit GTR NFC feature function only with the Chinese version. This feature is absent with the Pace.
Software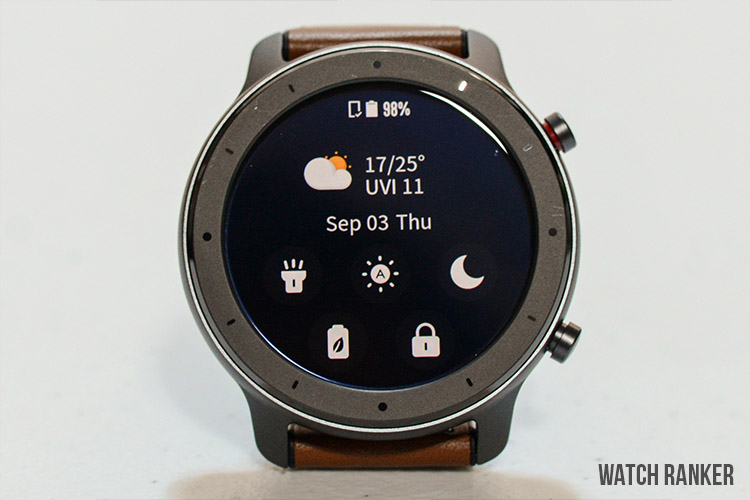 The software has always been a weak point for Amazfit's products. There are clearly better options when it comes to the software experience. But out of the two watches, the GTR offers a more modern UI with a better user experience.
Both watches run Amazfit's proprietary OS. The UI is fairly basic and is pretty similar to what other smartwatch manufacturers offer at this price point.
The Amazfit GTR and Pace's software experience is pretty fluid. There are some slight frame drops every now and then. However, they do not detract from the overall experience.
Additionally, you can rearrange the layout of the GTR's menu. This can be very useful if you want to have easier access to some of the GTR's functionalities.
One major issue that is present with both smartwatches is the implementation of watch faces. Both offer some pretty unique options, and there should be something that would fit the style of most users. However, the real issue for the GTR is changing watch faces.


The GTR can only hold up to one watch face at a time. On top of its limited capacity, the installation process is also a pain on the GTR. Installing watch faces takes around a minute. This entire process is discouraging, especially if you wish to cycle through different watch faces. Additionally, the GTR does not officially support third-party watch faces.
One major difference between the Pace and the GTR's software experience is that the Amazfit Pace can install third-party apps. However, this isn't a big deal since there are hardly any useful apps that you can install on the watch.
The Amazfit Pace does, however, come with an interesting companion fitness app called the Training Center App. This allows you to follow a plan and train for races.
Fitness and Health Tracker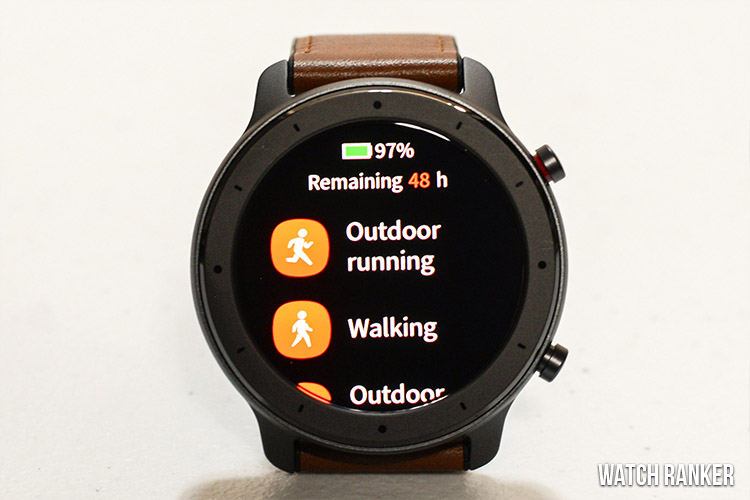 The Amazfit GTR and Amazfit Pace nail the basic health monitoring features that any smartwatch should have. They both have a heart rate sensor, sleep tracking capabilities, step tracker, and various workout modes.
Both watches also do a good job of tracking daily activities. They both also offer idle reminders, which can be disabled. Both watches automatically recognize and record various activities, including walking, running, climbing, and biking.
Overall, both watches are fairly basic in terms of the health and fitness tracking capabilities that they offer. They won't be able to keep up with watches made for sports and fitness enthusiasts such as the Huawei GT 2e but they do a great job in terms of what they offer.
Connectivity
In terms of their connectivity, the Amazfit GTR is utilizing the newer Bluetooth 5.0 chip, while the Amazfit Pace is using the older Bluetooth 4.0 chip. Both are excellent performers. However, the GTR should give a more stable connection thanks to its newer internals.
Both watches are compatible with Android and iOS devices via Bluetooth. The Amazfit GTR does not support Wi-Fi connectivity, while the Pace supports WiFi connectivity.
Lastly, the Amazfit GTR features NFC for wireless transactions. However, this is limited to the Chinese Version of the watch. The Amazfit Pace, on the other hand, does not feature any forms of NFC.
Battery Life
As for their battery life, the Amazfit GTR is clearly superior to the Amazfit Pace. The GTR can last up to 24 days with basic use. It can last up to 40 hours with continuous GPS use and will last up to 74 days when only using its basic functions.
The Amazfit Pace, on the other hand, can only last up to five days with regular use and up to 11 days with basic use. The battery life is reduced to half when consciously using the GPS.
Comparison Winner
Amazfit GTR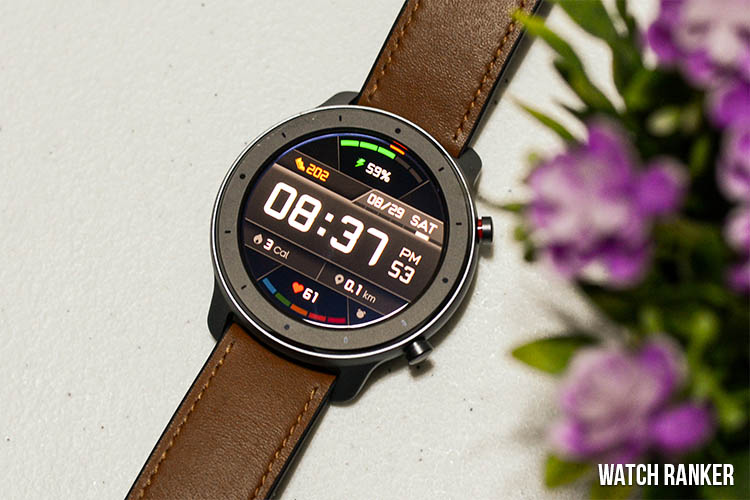 The Amazfit Pace is a great entry-level smartwatch. It has everything you need, from basic smartwatch capabilities to more advanced features such as fitness tracking. However, it is no match when compared to the higher-end Amazfit GTR.
If you are looking for the best Amazfit experience under 200 USD, then we highly recommend going for the Amazift GTR. You will be getting better battery life, better screen quality, more functionalities, and an overall better experience.
Specs Amazfit GTR vs. Amazfit Pace
Brand
Model
GTR 47 mm
Pace
Screen Size
1.39" AMOLED Display
1.34" LCD display
Screen Protection
Corning Gorilla Glass 3
Corning Gorilla Glass
Screen Resolution
454 x 454 pixel
320 x 300 pixel
Pixel Density Sharpness
407 PPI
327 PPI
Touch Type
Multi-touch
Capacitive Multi-touch
Watch Dimensions
47.2 x 47.2 x 10.75 mm
46mmx46mmx12mm
Weight
36 grams – aluminum alloy
48 grams -stainless steel
40 grams -titanium
54.5 grams
Watch Case Material
Stainless steel, Aluminum, Titanium
Polycarbonate; Bezel: Zirconia Ceramic
Watch Bezel Material
Ceramics
Ceramic
Watch Design
Circular, Flat Dial Design
Circular, Flat Dial Design
Strap Size
22mm
22mm
Watch Colors
Black, Gray
Case+Bezel: Black, Strap: orange or Red
Water Resistance
5 ATM
IP67
Swim-proof
Yes, Recommended
Yes
NFC
Supported
Not Supported
GPS
with GLONASS
With GPS+GLONASS
Wi-fi
No
Yes
Bluetooth
Yes
Yes
Accelerometer
Yes
Yes
Heart Rate
Yes
Yes
Compass
Yes
Yes
Gyroscope
Yes
Yes
Altimeter
Yes
No
SPO2
No
No
Elevation
Yes
No
Ambient Light
Yes
Yes
Cadence
No
Yes
FITNESS TRACKING
Sleep Tracking
Yes
Yes
Step Tracking
Yes
Yes
Heart Rate Monitoring
Yes
Yes
Calories
Yes
Yes
Distance
Yes
Yes
VO2 Max
No
No
Blood Oxygen
No
No
Blood Pressure
No
No
Menstrual cycle tracking
No
No
Swim tracking
Yes
No
On-screen workout modes
No
No
ECG tracking
No
No
Preloaded sport modes
Yes
Yes
Safety tracking
No
No
Battery Life
24 days typical use;40 hours GPS continuous use;74 days basic watch mode
5 days in regular use and 11 days in offline mode
Battery Technology
LiPo
Li-Polymer
Charging Time
1 – 2 hours
About 2 hours and 15 mins
Charging Type
Charging dock
Micro USB dock charger
Compatible OS
Android
iOS
Android
iOS
Email Alert
Yes
Yes
SMS Alert
Yes
Yes
Calls Alert
Yes
Yes
Event Reminder
Yes
Yes
Weather
Yes
Yes
Third-party Apps
Yes
Yes
MEDIA
–
MP3
Music Streaming
No
No
Bluetooth Music
No
Yes
Radio
No
No
Loud Speaker
No
No
Microphone
No
No
Time/Date
Yes
Yes
Stopwatch
Yes
Yes
Alarm
Yes
Yes
Control camera
No
No
Music Control
Yes
Yes
Find Phone
Yes
Yes
Text Response
No
No
Answer Call
No
No
Smart Companion App
Amazfit Watch App
Zepp App(Formerly Amazfit)
Customizable watch face
Yes
Yes
Interchangeable band
Yes
Yes
Voice command
No
No
Internal Storage
64MB
4GB
Operating system
Amazfit OS
Amazfit OS