An automatic watch is a type of mechanical timepiece that is powered by natural motion. Also known as a self-winding watch, these just need regular wear in order to continue running—simply, they are powered by the movement of the person wearing the watch.
These watches have rotor that "automatically" winds the movement as the wearer moves. The rotor swings back and forth and winds the gears. One of the reasons why automatic watches are preferred over battery-powered quartz models is the durability and longevity.
Though usually a bit pricey, these watches last for a long time. Many buy them for the craftsmanship and complexity, which can be seen in exhibition case backs or skeleton dials.
Not all automatic watches, however, are expensive. Both old and new watch brands produce high-quality automatic models that are relatively affordable. In this article, we're going to take a closer look at these watches with a budget about as low as you can go for an automatic- a hundred bucks or less!
(Please note, at the time of publishing, all these watches were selling for $100 or less. Prices may have fluctuated since then, possibly pushing them over the original budget).
Best Automatic Watches Under $100
Orient Tri-Star Stainless Steel Self-Wind Automatic Watch
Japanese watchmaker Orient is known for producing reliable automatic or mechanical watches, a good brand for those looking for an entry-level automatic watch. Since the 1950s, the brand has been making mechanical watches approved by watch experts and enthusiasts alike. This is one of the brands that will most likely be suggested by experts if you're looking for an affordable mechanical timepiece.
The Orient Tri-Star model has a 37mm stainless steel case, which makes it a good watch for both small and big wrists. The dial has with gold-tone hands and markers with a day/date window at 6 o'clock. This analog watch has a silver stainless steel bracelet, a dark blue dial. The water resistance is up to 30m.
You can take a closer look at the watch and its features in this TBWS article that reviews the teal version. To explore other Orient models, we also have articles on our sites that feature the Best Orient Watches For Men and the Best Orient Watches For Women.
Seiko 5 Automatic Stainless Steel Watch Green Canvas (SNK805)
Seiko is a brand that is often compared to Orient. Both brands are Japanese, and both are known for their excellent quality and reasonable prices.
The "5" in Seiko 5 is a reference to the attributes of the watch. All of Seiko 5 watches are automatic, have a day and date display, water resistance, a crown at 4 o'clock, and a durable case. The strap is a sporty green double-layered nylon.
The Seiko 5 SNK805 is a casual watch with a sporty design. This military/field watch-inspired timepiece has a black dial and Arabic numeral markers which are uniquely placed in two areas: the outer ring indicates the minutes and the hours in the inner ring. This watch has received many excellent reviews, with many praising the affordable price range and vintage tool watch-style design.
On the back of the watch is a see-through case back that shows the Seiko 7S26B movement.
Stuhrling Atrium Skeleton Self-Winding Watch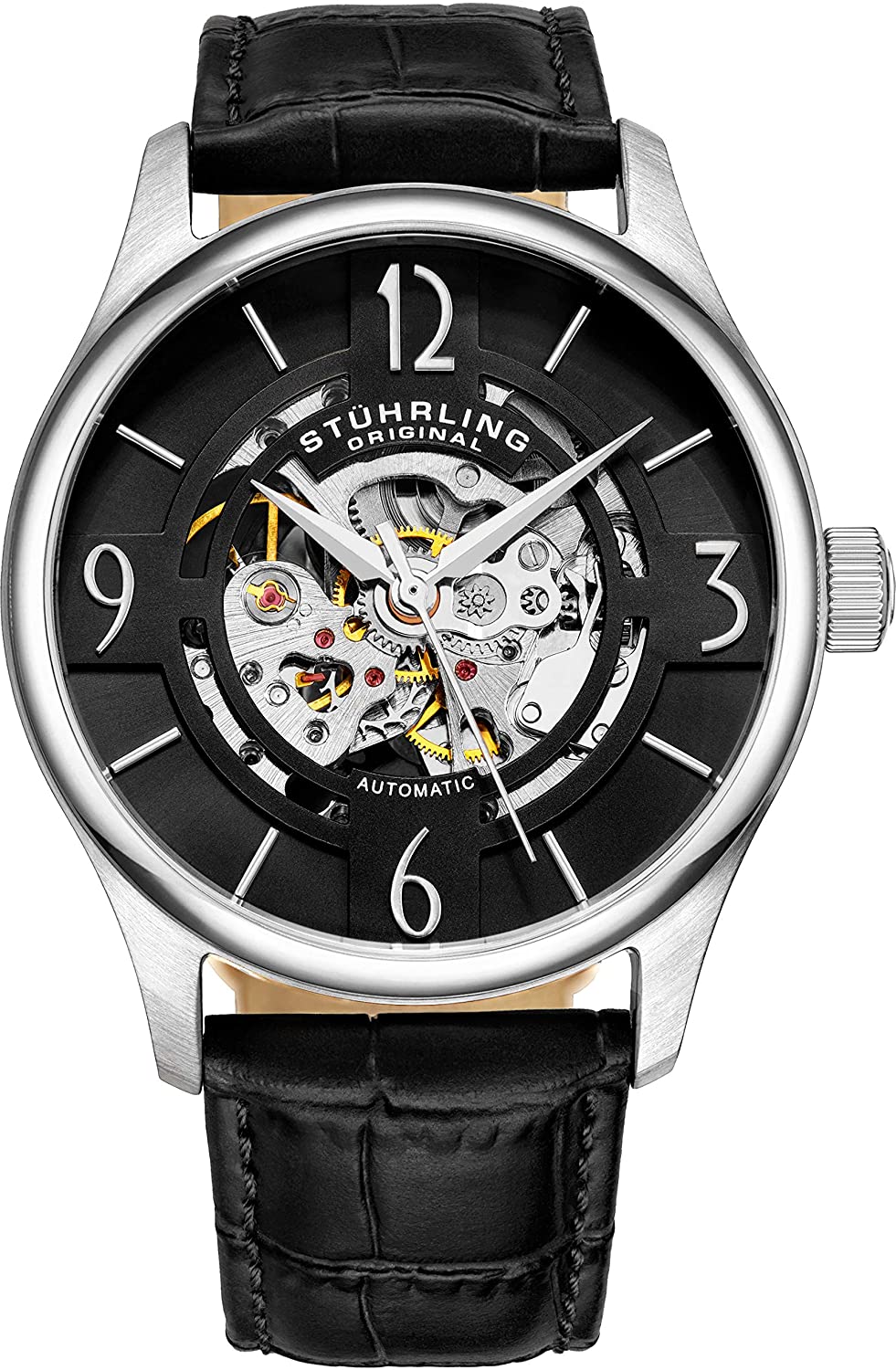 The Atrium 557 Skeleton watch by American brand Stuhrling has an automatic self-winding movement with a power reserve of 34 hours. The case is stainless steel with a brushed skeletonized dial where you can see the movement. The applied hour markers are a combination of silver Arabic and line indexes, with alpha-style hands.
This 42mm model has four different versions of different dial and marker colors (black and silver dials and blue, gold, and silver hands and markers). The strap is an alligator-embossed genuine leather. The water resistance is up to 50m.
A similar style in the same price range is the Stuhrling Atrium 3942, which also has a Skeleton dial, but has applied Roman numeral markers and Breguet-style hands.
Vostok Amphibian Scuba Dude Automatic Men's Wristwatch
Vostok is a Russian watch company that produces military and amfibia/amphibian mechanical watches.
An amfibia watch is a timepiece created for the Soviet army. Created by Vostok in the late 1960s, this watch would be referred to as a dive watch in the west. It was created by Vostok with a goal to create a contemporary dive watch like the Rolex Submariner of Blancpain 50 Fathoms.
The Vostok Amphibian Scuba Dude is a robust dive watch, with a 200m water resistance, luminous hands and markers, and shock-resistant features. Powered by an automatic self-winding movement, the watch measures 41x45x15mm, with a combination of Arabic and index markers.
This is a classic Vostok watch known for its durability. The brand is an official supplier of the Defense Department of the Soviet Union and modern Russian Army. For a closer look, you can check out this Blade Reviews article, which took the watch for a test run.
Casio Men's G-Shock Japanese Automatic Sport Watch (GA140-4A)
The G-Shock GA-140-4A is an analog-digital watch by Casio. Based on the famous GA Series, this model has a big case that resembles a portable music player from the 90s.
The resin watch, which is magnetic and shock-resistant, runs on a Japanese automatic movement, has a wide range of features like a 12/24 hour format, 1/1000 second stopwatch, World Time (29 time zones), countdown timer, a full auto calendar, and an hourly time signal. It has both analog and digital displays and has different strap and dial colors available.
This is a good model for those looking for a durable watch that functions well in both land and water. The watch has a protective mineral crystal and is water-resistant to 200m, which makes it a good watch for swimming or water sports.
You can learn more about analog and digital watches from this article that we have on the site. We also wrote about our top picks from Casio's wide selection of Ana-Digi watches.
Invicta Pro Diver Stainless Steel Automatic Watch (Model: 9403)
Invicta is sometimes referred to as an "affordable luxury" brand, or a brand that creates watches that look like a luxury timepiece but at more affordable price points.
One of these is the Invicta Pro Diver watch, a 40mm model with a stainless steel case and strap, with luminous hands and hour markers.
Powered by a Japanese automatic movement, this watch has a unidirectional bezel with a black and red bezel ring—also known as a "Coke" bezel. Other famous brands with this style include Rolex, Tudor, and Seiko.
You can read more about Coke bezel watches in this article on our site, which includes this Invicta model.
Other features of this watch include luminous hands and circle markers, a date window at 3 o'clock, and a mineral crystal. The watch is also water-resistant to 200m and is suitable for activities like swimming and surface water sports.
Seiko Men's Automatic Stainless Steel Watch (SNK375K)
Another watch by Seiko, the SNK375K is also from the Seiko 5 Series. This model is for those looking for an everyday watch that can also be used as a sleek dress watch.
Nicknamed the "Speed Racer," this 37mm watch has a self-winding mechanical movement. The watch has a stainless steel case and bracelet. The black dial (with some red highlights) has luminous stick index markers and a Hardlex crystal.
There is a day and date function at 3 o'clock, available in English and Spanish. The power reserve is up to 43 hours, and the water resistance is up to 30m.
Ingersoll New Haven Automatic Watch (Model: I00501)
Ingersoll Watch Company has been around since the late 1800s. The brand, originally from the United States, is now owned by Zeon Watches of Hong Kong's Herald Group.
This Ingersoll automatic watch, also known as the Ingersoll New Haven Automatic, has a 40mm stainless steel case and a sleek silver dial with a leather strap. This is a simple yet sophisticated timepiece that can be worn with casual clothes but will also look good as a dress watch.
The watch has thin index markers (except 12 o'clock, which is Arabic). There is a day/date function at 3 o'clock. The water resistance is up to 50m.
Fossil The Commuter Auto Mechanical-Hand-Wind Watch (Model: ME3159)
Fossil is widely known as a fashion watch brand that specializes in leather products. The brand has bags, wallets, accessories, watches, and other wearables. Their watch collection has a wide range of models with quartz and mechanical movements, as well as analog and digital.
A watch off of the brand's line of automatic timepieces is The Fossil Commuter, a 42mm watch with a stainless steel case, silver case, and a leather strap. On the blue dial is a combination of index and Arabic numeral markers (on 6 and 12 o'clock).
The watch has a skeleton window in the middle, which shows the mechanical movement. The water resistance is up to 50m.
Orient Blue Dial Automatic Men's Watch FAB0B001D9
Last but not least is another model by Orient. This is also a stainless steel model, with a 43mm case and a blue dial. This model has a combination of index and Roman numeral markers. There is a day/date window at 3 o'clock.
The Orient Blue Automatic Watch is a simple yet stylish everyday or dress watch with an in-house automatic movement. Other features include a mineral crystal, a solid case back, deployment clasp, and water resistance of up to 50m.