Orient is a trusted Japanese watch brand that is mostly known for its impeccable mechanical watches. Their watches also radiate a sense of class and elegance with its primarily traditional design. The classy aesthetics of Orient is one of the reasons why their brand is quite appealing to the ladies.
Orient has a treasure trove of watch selections for both men and women, in this list, we will shine the spotlight on their feminine timepiece catalog that highlights Orient watches ability to showcase the beauty, grace, and precision with their watches. Click here to see our companion list of top Orient Men´s Watches.
Best Orient Ladies Watches
Orient Disk Automatic Ladies Watch (Wv0051nb)
Read Amazon Reviews | See on eBay
The Orient Disk is the epitome of femininity with its demure stainless-steel case (29mm) with a rose gold finish. It features soft leather straps that give it a casual and fun charm. The timepiece comes with the signature in-house automatic movement developed by Orient, which guarantees its accuracy and quality.
The in-house automatic movement of Orient is one of the brand's biggest draws, and that aspect considerably accentuates the Orient Disk's overall appeal. The movement also provides the Disk with a power reserve of 40 hours. The Orient Disk is a classy lady's watch that emanates the beauty and chic charm of the modern woman.
Orient Blue Moon Open Heart Watch
Read Amazon Reviews | See on eBay
The beauty of open-heart watches is simply a perfect design for women. The Orient Blue Moon took the already striking visuals of this type of watch and infused it with a feminine touch. The dial design indeed went all out in terms of style as the midnight blue dial is crystal-studded that replicates the stunning night sky.
The gorgeous crystals that dot the dial along with the open-heart design truly helped separate this timepiece from all other open-heart watches. Such a configuration can only be appreciated when combined with an elaborate watch movement – something Orient is known to deliver in all their timepieces.
The Orient Blue Moon utilizes the brand's automatic second hand-halt mechanism caliber F6T22 (22 jewels and clocks in at 21,600vph). This movement also delivers a 40-hour power reserve which is present in almost all of Orient's timepieces.
The case comes in at a relatively petite (for an open-heart dial watch) 36.5mm. Along with the open-heart dial on the front, the Blue Moon also features a transparent back case to give wearers an even more unobstructed view of the watch's inner workings.
Orient 3-Star Automatic Watch
Read Amazon Reviews | See on eBay
The Orient 3-Star is a classic women's watch that checks all the traditional design features. It features a small 26mm diameter stainless-steel case which is only 10.5mm thick. It also has a stainless-steel bracelet with a fold-over deployment clasp. This all-stainless-steel construction gives the 3-Star a more luxurious charm, but with a highly affordable price tag.
Inside the Orient 3-Star is a 21-jewel self-winding automatic movement with an impressive 21,600 oscillations per hour which translates to excellent timekeeping precision. The white dial is emphasized by the gold-plated markers and hands, which further enhances the timepiece's elegance and sophistication. The Orient 3-Star is an affordable ladies' timepiece with a charm that is double its actual price tag.
Orient Crystal Dress Watch
Read Amazon Reviews | See on eBay
The Orient Crystal Dress Watch is not just stylish; it is also quite functional as well. This is thanks to the inclusion of the three sub-dial feature which shows the date, day, and a 24-hour GMT tracker. It also has a minute marker that is placed around the outer rim of the watch to avoid a cluttered appearance.
The aesthetics of the Orient Crystal maintains the traditional captivating charm of Orient while also improving upon overall functionality. Surprisingly enough, the stainless-steel case managed to limit its size to only 37mm with a thickness of only 9.1mm. For a timepiece with a chronograph design, the Orient Crystal amazingly managed to maintain a petite frame.
Orient iO Perfume Solar White Watch
Read Amazon Reviews | See on eBay
The Orient iO Perfume is one of the brands most elegant women's timepiece with its oval case and two-tone aesthetics of polished stainless steel and rose gold. The iO Perfume is crafted with such care, and every detail of the watch is painstakingly hewed to deliver one of the smartest looking lady's watches.
The dial is one of the iO Perfume's most striking features with its all-gold aesthetics. Simple yet elegant, this watch is a perfect accessory for formal and special occasions. Another notable design feature here is the Swarovski crystal that is installed on the crown to give the timepiece that added refined flair.
This watch is not just easy on the eyes, though. The iO Perfume also utilizes solar-powered technology to operate the watch movement. This is a nifty design choice and is most certainly Orient's way of experimenting with something new in their watches.
Orient Women's Analogue Rubber Strap Quartz Watch
Read Amazon Reviews | See on eBay
Let's leave the borders of traditional ladies' watches for a moment and check out some of the more casual entries by Orient in this category. In terms of casual everyday use, this Orient Analogue timepiece fits the bill.
The bubblegum pop hot pink and white aesthetic will appeal to young girls while the Japanese quartz movement within will ensure that this watch will provide excellent levels of precision. Also, this watch has a water resistance of up to 50-meters, this allows it to withstand the occasional splash of water, but you should refrain from submerging it underwater for any amount of time.
The simplicity and modern aesthetic of this Orient watch is a breath of fresh air and shows that the brand is game to lighten up and have fun in regards to the appearance of their watches. This timepiece is also quite affordable while still maintaining that signature Orient quality that the brand is known for.
Orient Analogue Automatic Stainless-Steel Watch
Read Amazon Reviews | See on eBay
Back to the head-turning watches from Orient, we have the Analogue Automatic Stainless-Steel watch. This Orient watch features an all stainless-steel design and construction. In terms of design, everything follows a traditional approach in all aspects of the timepiece. You can never go wrong with the timeless classic timepiece design, and there will always be a market for this type of watches.
This timepiece's design takes on a more regal approach as well for those who want to highlight a more confident look. The silver dial uses gold markers and hands to enhance its deluxe qualities. Also, the construction of this Orient watch gives it a solid 30-meter water resistance rating.
Orient Automatic Sports 100M Superior Ladies Watch
Read Amazon Reviews | See on eBay
The Orient Sports 100M Superior Ladies Watch is an excellent example of Orient's prowess in crafting a stylish and reliable timepiece. The most impressive aspect of this particular Orient women's watch is how practical it is while still being incredibly smart, modern, and visually stunning.
That top-mark performance stems from its use of the proprietary Orient 22-jewels caliber F67 movement with analog display. This is self-winding with hand-winding and hacking watch movement that Orient is well-known for developing in the market. This mechanical movement also provides the Automatic Sports 100M with a power reserve of around 40-hours, further elevating this already stellar women's timepiece.
The Orient Automatic Sports 100M Superior earns its moniker as it is one of the most confident looking timepieces around. A perfect companion for the modern woman that highlights their independent and robust nature.
Orient Charlene Automatic Watch
Read Amazon Reviews | See on eBay
The Orient Charlene is a beautiful women's timepiece but with a more casual tone to its design. The two-tone aesthetics of the Charlene is sublime with its pristine white and gold color palette. While the watch itself does appear delicate, there is nothing fragile about this timepiece at all.
The watch comes with a 31mm rose gold-plated stainless-steel case. It also has a full push/pull crown and a mineral crystal window that is known for its high scratch-resistance. Within the unassuming aesthetics of the case is Orient's signature level of quality, watch craftsmanship. The Orient Charlene utilizes the caliber 55741 automatic movement which keeps precision at tip-top shape.
The construction of this watch also provides it with a decent 50-meters of water resistance. It also comes with a one-year warranty for those who are still on the fence with Orient watches – full disclosure; there is no need to be cautious of Orient timepieces.
Orient Gem Women's Watch
Read Amazon Reviews | See on eBay
This is a pretty apt name as this timepiece is most certainly a precious gemstone that is as alluring as it is tough. The Orient Gem features a 32mm diameter rose gold-tone stainless-steel case and a robust and comfortable black rubber strap for added flexibility and comfort.
The Orient Gem uses the in-house automatic self-winding movement with its analog display. As with most mechanical movement watches from Orient, the Gem clocks in a solid 40-hours of power reserve to ensure it won't run out of juice anytime soon.
The dial elevates the timepiece's charm significantly with its gold markers with crystals embedded into each one. The gold-tone hands also come with a silver accent in the middle, which gives the overall aesthetic of the Orient Gem more personality.
---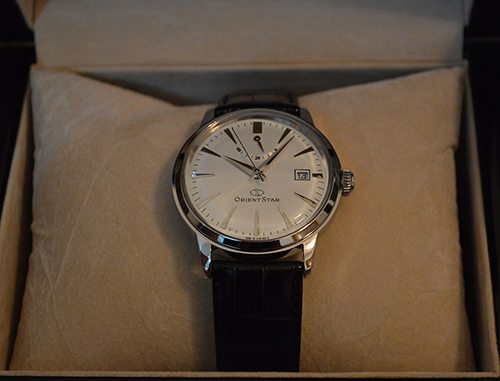 Featured Image: Free-Photos