In this guide, we've compiled a list of affordable men's watches including styles and options that should provide watch picks for almost any reader. Doubling the budget from our under a hundred list, the $200 price range gives us a lot more options. We've still included many budget watches from brands you'd expect such as Men's dress watches from Timex, Citizen and Seiko but also broadened the list to include some tactical, pilot and dive watches and even a few mid-level smartwatches. We hope you find something that matches your personal preference that's within your budget.
(Please note, all prices were checked at the time of publishing and all watches were selling for $200 or less. However, prices may have fluctuated since then, possibly pushing them over the original budget).
Best Men's Watches Under $200
Timex Men's Expedition Ranger Solar-Powered Watch

The rugged charm of the Timex Expedition Ranger Solar-Powered Watch perfectly complements the adventurous spirit of outdoor enthusiasts. The watch features a sturdy brass case that measures at around 43mm and is equipped with a durable mineral crystal window. The polished blue dial incorporates orange accents to give it an added layer of style. The hands and hour markers have a luminous finish for enhanced visibility and legibility even in a low-light environment. We would also like to note the striking textured leather straps which further enhance the Expedition Ranger's rugged appeal. In addition, this Timex solar-powered watch's build gives it a decent 50-meter water resistance which means it can withstand brief immersions underwater.
Citizen Men's Eco-Drive Chronograph Stainless Steel Watch (AT2141-52L)
Looking for a stylish chronograph watch that is at a reasonable price? You can check out what Citizen is cooking with the Eco-Drive Chronograph (AT2141-52L). It features a polished stainless-steel case that measures 42mm in diameter. The case also uses a highly durable and scratch-resistant sapphire crystal window. As we have stated earlier, this is a chronograph watch and features three sub-dials. There is also a date window located alongside the 4 o'clock position. The silver aesthetic of the case and bracelet is nicely accentuated by the blue dial with a sunray pattern, which boosts its visual flair by a significant margin.
Stuhrling Automatic Skeletal Watch (133.33151)
Skeleton watches are definitely in a league of their own when it comes to aesthetics, and the Stuhrling Auto Skeletal Watches proves this claim without a shadow of a doubt. Not only is the skeletal dial a stunning design, but Stuhrling also saw fit to equip this timepiece with an automatic self-winding 22-jewel movement. There is also a second-hand sub-dial that complements the plume-style hands perfectly. The hour markers use a shark-teeth motif in its appearance which gives this skeletal watch a certain edge to it that is not commonly found in skeletal dial watches. In addition, the Stuhrling Automatic Skeletal Watch also comes with a 2-year international warranty.
Luminox Black Carbon Reinforced Watch (A.0201.BO)
Luminox Black Carbon Reinforced Watch certainly brings a unique style to this list with its almost all-black aesthetics. This timepiece feels like something a certain caped crusader will have in his inventory. It features a 43mm diameter sturdy plastic case that is equipped with a mineral glass window. The rubber band has a textured design and uses buckle closure. Other notable features include a rotating numbered bezel and a date display window. The hands and hour markers also have a luminous finish for better legibility even in the dark. In addition, the Luminox Black Carbon Reinforced Watch also offers a robust 100-meter water resistance making it suitable for swimming and snorkeling.
Marathon Military Field Army Watch (WW194015)
The slick and lightweight build of the Marathon Field Army Watch makes it an outstanding outdoor timepiece for men. The unassuming appearance of the Marathon Field Army Watch might give you the impression that it lacks in the durability department, but you can't be further from the truth. This watch uses a lightweight high-impact 34mm fiber shell case which is partnered up with a scratch-resistant and durable sapphire crystal. Another notable feature is its use of tritium gas tubes which allows the watch to achieve self-illumination capabilities. It also stacks up in regards to precision thanks to the high torque quartz movement which also has an EOL or End of Life battery indicatory. This is one of the most robust timepieces on this list and it comes in the form of a lightweight wristwatch.
TRIWA Falken Men's Minimalist Dress Watch
The TRIWA Falken Minimalist Dress Watch may not look like it, but it is one of the tougher timepieces on this list. While designed for use in formal functions, the Falken's build guarantees it can withstand some pretty rough conditions. It features a 20mm 316L stainless steel case and bracelet which has a scratch-resistant finish. The stunning ivory white dial is well-protected within a mineral crystal window which also has a scratch-resistant finish. Underneath the elegant aesthetic lies the Citizen Miyota Japanese Quartz movement which ensures its accuracy. The TRIWA Falken timepiece is an elegant and handsome dress watch that won't cause you an arm and a leg while also having a robust and tough build. This watch is style and substance combined.
Orient Bambino Open Heart Japanese Automatic Dress Watch
The Orient Bambino watch series has always been one of the most aesthetically pleasing timepieces in the market. This particular Bambino watch takes it a step further with its open hear dial design. This perfectly complements the complex Japanese automatic movement that is placed within its 40mm stainless steel case. Of course, this watch also comes with the signature Bambino domed mineral crystal window which gives it that elegant and sophisticated flair. The Orient Bambino Open Heart Dial also offers a well-rounded 30-meter water resistance which means it will be able to handle the occasional splash or brief immersions without any issues.
Tissot Dress Watch (T1096101603100)
Simplicity with a dash of class, the Tissot Dress Watch does not go over the top with its design but focuses more on delivering that timeless classic aesthetic. The sleek and minimalist design of the Tissot Dress Watch makes it a perfect timepiece for formal gatherings. This Tissot timepiece is equipped with a Swiss quartz movement which is neatly encased with its 42mm stainless steel case. The white dial features reedy hands and hour markers with a gray finish. The watch also has a 30-meter water resistance rating which means it can withstand splashes of water and briefly getting submerged underwater.
Nordgreen Philosopher Navy Blue Nylon Watch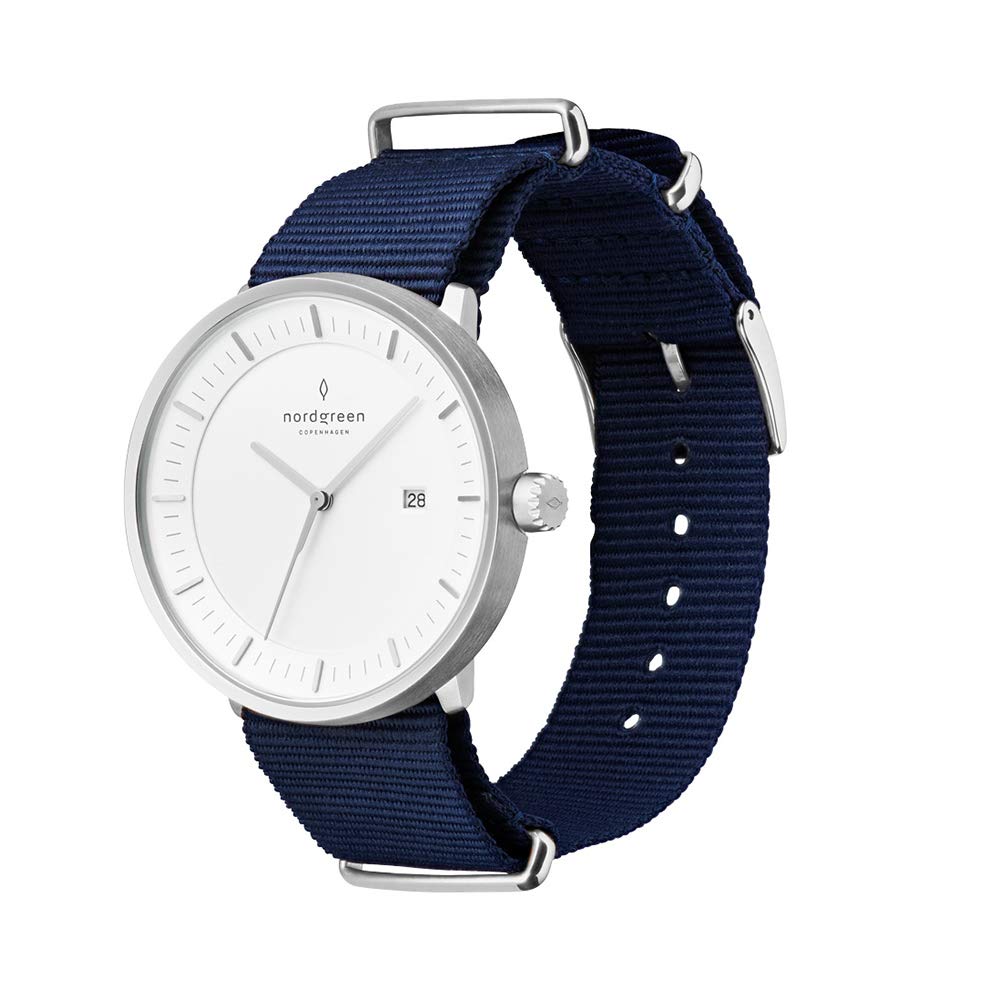 The Nordgreen Philosophy Watch features a classic aesthetic that focuses on practicality and reliability while infusing it with a top-notch build. The simplicity of the Nordgreen Philosophy is one of its strong points as it primarily zones in on delivering an outstanding timepiece with a robust structure and high-precision timekeeping. The Philosopher features a Japanese quartz movement with its analog dial display and is water-resistant for up to 30-meters. The 40mm diameter case also comes in several variations to give customers more options. The nylon strap is also interchangeable which makes this timepiece one of the more versatile in terms of aesthetics.
Bulova Classic Watch (96A169)
The Bulova Classic takes the timeless rectangular timepiece shape and infuses it with an elegant twist. This timepiece looks like a stunning blue gem imbued silver bracelet. It features a 35mm in diameter case with a curved mineral crystal window. The bracelet also uses a deployment closure that locks in securely while also being quite easy to unlock. The watch, as stated earlier, utilizes a stunning blue dial. The dial features silver-toned hands and markers that further pushes a luxurious and sophisticated aesthetic. In addition, the Bulova Classic also exhibits a 30-meter water resistance rating.
Casio Men's Pro Tek Digital Solar-Powered Watch (PRW2500R)
If you are looking for a modern digital watch with excellent features, a sturdy build, and an affordable price tag, then you can't go wrong with Casio. The Pro Tek Digital is packed with nifty features such as a chronograph display, solar-powered technology, and a multi-band 6 atomic timekeeping. All of these showcased on the duplex LC-Display. In addition to the wealth of functionalities, the Pro Tek Digital also comes with Casio timepiece's signature high shock-resistance and impressive 200-meter water resistance making the Pro Tek Digital a good timepiece for those who enjoy participating in a bunch of marine activities or sports.
Garmin Forerunner 235
Let us take a break from traditional timepieces and introduce a multi-function fitness watch from one of the premier brands in this category, Garmin. The Garmin Forerunner not only tells the time but also tells a slew of other information revolving around your physical state such as heart sensors. The Garmin Forerunner 235 also features a larger display screen than previous models which should please those who prefer larger screens. The Forerunner 235 also comes with your standard smartwatch features such as smart notifications that allow you to connect the Forerunner to your smartphone. Additionally, the Forerunner 235 packs an impressive battery life of up to 12 weeks (stand by mode) and up to 12 hours straight in training mode.
Invicta Pro Diver Automatic Watch
With a classic dive watch design and an affordable price tag, Invicta offers a budget-friendly entry-level watch option while maintaining the quality you would expect from a well-known brand. The Invicta Pro Diver watch utilizes an automatic self-winding movement with an analog dial display. This high-precision movement is encased with a 40mm stainless steel case with a flame fusion crystal window for optimum durability against impacts and scratches. The dial incorporates a metallic black finish and is equipped with luminous hands and hour markers. There is also a date display underneath a magnifying glass located at the 3 o'clock position. The overall build of the Invicta Pro Diver also gives it an astounding 200-meters of water resistance making it suitable for most marine activities with the exception of diving.
Nixon Base Tide Pro
Brimming with an energetic and contemporary design, the Nixon Base Tide Pro is a nice casual digital watch that will surely appeal to the younger crowd but also those who like a bit of retro 8-bit aesthetic in their attire. What's more, the Nixon Base Tide Pro is designed to be quite tough and robust. This is proven by its 42mm durable case. Comfort and flexibility are also achieved thanks to the silicone band. As for features, it comes with nifty pre-programmed tide information of up to 550 beaches around the world. It also displays date and day, sunrise/sunset, ocean tides, dual time, and even has chronograph functionality making it a great watch for surfers. Quite a surprising list of features from something so unassuming.
SUUNTO Core All-Black Military Outdoor Sports Watch (SS014279010)
The SUUNTO Core All-Black Military Outdoor Sports Watch is a multi-functional watch that is ideal for use in the outdoors. It comes packed with several features such as a weather tracker, thermometer, sunrise/sunset times for up to 400 locations around the world, and even a storm alarm. Not only is the SUUNTO Core All-Black feature-rich, but it is also quite a robust timepiece and is designed for the rough and tumble nature of the outdoors. If you are looking for a cool digital outdoor timepiece with several essential features to help you on your trip, then SUUNTO Core might just be the watch you are looking for.
Victorinox Swiss Army I.N.O.X. Watch
Victorinox is known for its distinct timepieces. The full-metal aesthetic that this brand has an affinity to is in full display with the I.N.O.X. Watch which gives it a highly robust appearance. Much like the Swiss Army knife, the Victorinox I.N.O.X. delivers in both functionality and style. This Swiss-made timepiece is designed to go up against the harshest environments. The 43mm case itself delivers comfort as well with its high-grade hypoallergenic stainless-steel build. Features found in the I.N.O.X. includes a battery gauge, military time display, date display, and a removable black protection bumper. It also provides up to 200-meters of water resistance thanks to the screw-down crown design. We also suggest you buy one from an authorized retailer to avail of the 3-year warranty.
AVI-8 Hawker Hurricane Analog Watch
Keeping the spirit of adventure alive, the AVI-Hawker Hurricane features a rugged aesthetic and features that will be greatly appreciated in the great outdoors. Along with the stainless steel with black finish is a sturdy genuine leather band with buckle closure for optimum comfort. The AVI-8 Hawker Hurricane utilizes a Japanese quartz movement that operates its dial and chronograph sub-dials. The black backdrop of the dial accentuates the hands, markers, and three sub-dials and eliminates that cluttered appearance. Other notable aspects of the AVI-8 Hawker Hurricane include the use of a sturdy mineral crystal window, a magnified date display, and 50-meter water resistance.
Orient Men's Mako XL Automatic Diving Watch
With its polished stainless-steel design, the Orient Mako XL is certainly an eye-catcher. The stunning aesthetic also pushes this timepiece as more than just a dive watch and will easily heighten even formal attires. As a dive watch, the Orient Mako XL is quite impressive with its 44.5mm diameter case with a 120-click unidirectional bezel. The dial incorporates a luminous finish for enhanced visibility in low-light environments. Underneath the sturdy build is an automatic self-winding movement with an analog dial to ensure the utmost precision in timekeeping. There is also a day and date display feature integrated into the all-luminous dial.
Swatch Swiss Quartz Transparent Silicone Strap
Leave it to Swatch to deliver one of the more artistically contemporary timepieces in this list with their experimentative transparent watch model. If you are a fan of skeletal dials then why not check out timepieces that incorporate a fully transparent build? Swatch never fails to deliver when it comes to modern style timepieces and this particular series further cements this reputation. The Swatch Transparent Watch features a 47mm in diameter round plastic case and a push/pull crown. This crown design gives the watch decent 30-meter water-resistance as well. As with all Swatch watches, you get a free battery replacement service in official retailers around the world.
Seiko Men's Analog Green Dial Automatic Watch (SNKM97)
With a beautiful dark green dial, the Seiko Analog Automatic Watch (SNKM97) certainly has a unique mysterious charm to it that will surely appeal to watch enthusiasts. The dark green dial is further accentuated by a gold-toned hand and markers that add a certain level of refinement to the already sophisticated aesthetic of this timepiece. Inside the handsome-looking timepiece is a 21-jewel automatic movement that operates its analog dial. The automatic movement also packs an impressive 41-hours of power reserve, meaning you needn't worry about this watch running out of juice.
Vostok Amphibian Scuba Dude (710634)
With its steel chain link mesh bracelet design, the Vostok Amphibian Scuba Dude nails that cool medieval look. The Vostok brand is the official supplier of the Russian Army so you can expect their timepieces to be one of the most functional and robust in the market. The Vostok Scuba Dude features the classic Vostok build and uses its proprietary automatic self-winding movement with 31-jewels. Once fully wound, the Scuba Dude can last up to 31-hours. This tough as nails watch also has a graduated rotating bezel and a water resistance rating of up to 200-meters. The Scuba Dude also features luminous hands and hour markers as well as a shock-resistant build.
Citizen Corso Eco-Drive Watch (BM7100-59E)
The Citizen Corso Eco-Drive infuses a high level of refinement with excellent functionality into one sleek timepiece. The silver-toned round stainless-steel case measures 41mm in diameter and is equipped with an anti-glare and scratch-resistant sapphire glass window. The dial features a cross pattern around the center as an added visual flourish. The hands and markers are all coated with a luminous finish for enhanced visibility in the dark. This timepiece uses high-precision Japanese quartz movement with its analog dial display and is powered using Citizen's signature Eco-Drive technology. In addition, this timepiece also has a 100-meter water resistance which means it will be able to withstand recreational marine activities such as swimming and snorkeling.
Fossil Nate Chronograph Quartz Watch
Fossil Nate Chronograph features a rugged all-black aesthetic that exudes confidence. This is not just an 'all-show' timepiece though as it is also equipped with chronograph functionalities. The Fossil Nate Chrono also comes with a significant heft to it with its staggering 50mm diameter case. This is definitely a timepiece designed for larger individuals. Its bold and prominent build is balanced out by the covert black plated design. The Fossil Nate Chrono also provides decent 50-meter water resistance to help it withstand the occasional splash of water.
Citizen Eco-Drive Watch (CA0649-06X)
The Citizen Eco-Drive is another excellent outdoor timepiece that features high-grade horological functionalities. It features a 44mm diameter stainless steel case and uses a Japanese quartz movement with an analog dial display. The chronograph features allow wearers to track minutes (60), up to 1/5th of a second, and a 12/24-hour format display. The Eco-Drive also has a 100-meter water resistance build which makes it suitable for recreational swimming, but do refrain from wearing it during scuba diving. As this features the signature Eco-Drive technology, the watch can recharge via natural and artificial light making it virtually impossible to drain the battery.
Timex Highland Street Watch
The Timex Highland Street Watch delivers an urban-chic aesthetic that blends together a casual and relaxed charm with a luxury appeal. The sleek 39mm stainless steel case adds a certain level of finesse by using a silver-tone finish. The blue dial also enhances its aesthetic quality while improving functionality with a date display window and the use of Indiglo light-up technology. The Timex Highland Street also has a 30-meter water resistance which allows it to withstand brief immersions underwater. The Timex Highland Street is a perfect complement to the modern urbanite who is navigating the concrete jungle.